We all use our computers quite often and looking at the same stock Windows cursors might make the experience annoying. The cursor is the object that you are looking at most of the time. Since Windows officially allows you to change mouse pointers for windows 10, make the most out of it. Changing your mouse pointer to a new one will take your PC customization to a whole new level. Thus, you must know how to get the finest Custom Mouse Pointers now!
In this article, we have listed some of the best custom mouse pointers available over the internet. In the last section of the article, we have even given steps on how to apply these custom pointers once you have downloaded them. The name of the members who created these packs has been mentioned in the content so that you can see all their creations and latest versions of the cursor packs in the list.
List of Best Custom Mouse Pointers
Here is the list of some of the best hand-picked custom mouse pointers.
Metro X3 Cursors
Metro X3 cursors is a custom mouse pointers pack and suits both professional as well as casual styles. The cursor is available in different colors to suit you accordingly and is made by the Devian Art member exsess.
The latest version makes the windows 10 cursors look sharper and clearer. Hence, these different style combinations accent all the color schemes available on Windows.
Visit: Metro X3 Cursors
Cut the Rope Cursors
Inspired by the official game Cut the Rope, this is a choice for your kids or the kid inside you. And also, some of the cursors are animated according to the feedback.
It is a selection of cute custom mouse pointers to consider for your PC regardless of your age. These cursors are designed by the Devian Art member iSpidder.
Visit: Cut the Rope Cursors
Crystal Clear
Crystal Clear is perhaps one of the most popular custom mouse pointers on the internet. It is by the Devian Art member BlooGuy and has two versions, the Free and the Premium versions.
Also, the premium version gives you access to more fluid and colorful animations.
Visit: Crystal Clear
See Also: Gaming Mouse vs Regular Mouse: What is Better for You?
Pulse Glass
Pulse Glass is a glossy custom mouse pointers pack. The cursors are animated and are available for your PC as a free download.
Also, the cursor changes colors according to the background. The custom mouse pointers pack is by the member Stamga on Devian Art and has a cursor for every action.
Visit: Pulse Glass
Mac OS X Cursor Pack
Mac OS X Cursor pack is a set of alpha-blended cursors for your PC. Hence, this is the custom mouse pointers pack to consider if you want an OS X accent to your computer. RaZcaLinSIDe makes the pack.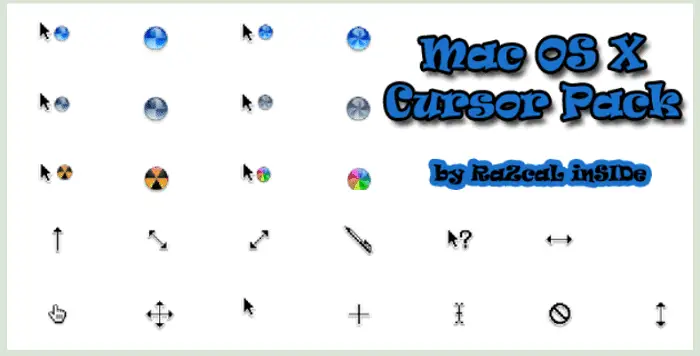 Mac OS X Cursor pack mimics the OS X environment quite well. You can also try getting the OS X wallpapers online to make it look even more like OS X.
Visit: Mac OS X Cursor Pack
Numix Cursors
Searching for a sleek, and professional-looking mouse indicator? Then the search ends here. Numix cursor is the popularly known custom cursor website that has these features.
With this tool, you can easily customize your workplace mouse indicator and customize your desktop to a professional set up. Also, you can switch from dark mode to light version. The installing process of Numix software is also easy.
Visit: Numix Cursors
Polar Cursor pack
Seeking a Linux inspired look? The Polar Cursor pack follows the Linux cursor style. Not just it has a while edition but all red, green, and blue colored versions as well.
With their rich shape and falling shade of dark, they look quite fascinating. If the image attached satisfies your ideal style, then you can click download below!
Breeze Cursors for Windows
This theme is designed by the free software community, KDE. They are free software distributors and also an open-source software company.
They are known for designing alluring desktop themes for Linux. Well, when such contributors develop a mouse cursor theme, it has to be beautiful, and it is. Here, you can find mouse pointer designs that define your taste.
They designed Breeze Cursors with the intention of creating fascinating cursor designs the best suitable for windows. In the design, white color surrounds the gray color in a pointer shape. There are also blue and orange versions. You can find how to install them explained at the end of this list.
Visit: Breeze Cursors for Windows
EvolutionOS
This is perfect for MacOS fans. Whether you shifted from working in mac to windows or you just want your desktop to feel like Mac, get this EvolutionOS software, and you are all set.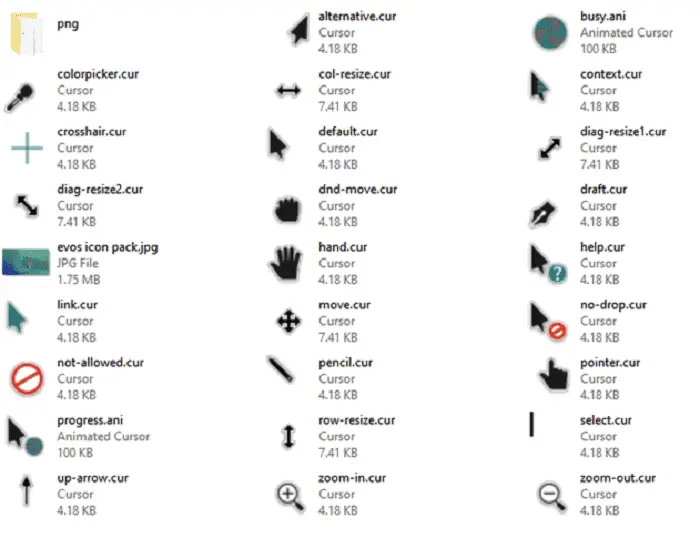 That's precisely what this EvolutionOS Custom Cursors pack offers you. This software doesn't come in an inf format, so you can follow the directions given in this article to safely install this custom pack.
Visit: EvolutionOS
See Also: Windows 10 Language Pack (Direct Download Links)
Android Material Cursors
Well, if you are not an iOS person but more of an android person, here's the cursor pack that fits your style.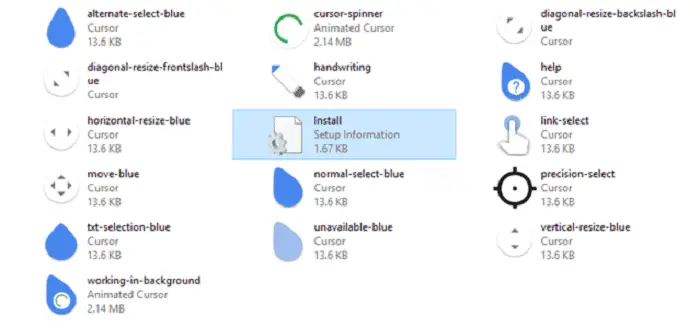 With these mouse pointer designs, you can easily get the feel of android design on your Windows desktop. Also, this app is easy to access as it is available in an inf file format.
Visit: Android Material Cursors
DIM Cursor Set
In case your everyday windows desktop theme feels dull to you, and if you are looking for some fun animated style cursors, then we recommend DIM Cursor Set. Moreover, the quality of the pack is also quite superior.
Blue (which is quite popular), green, and red are the 3 variations available with the set named as TechnoBlue, NitroGreen, and Infrared 3respectively. Furthermore, you will find some amazing bonus pointer sets with the pack. This is the best and also a free alternative for windows 10 cursors.
Visit: DIM Cursor Set
Gant Cursor Pack
For an individual with a unique requirement of large icons, the Gant cursor pack is best among the popular option available for you.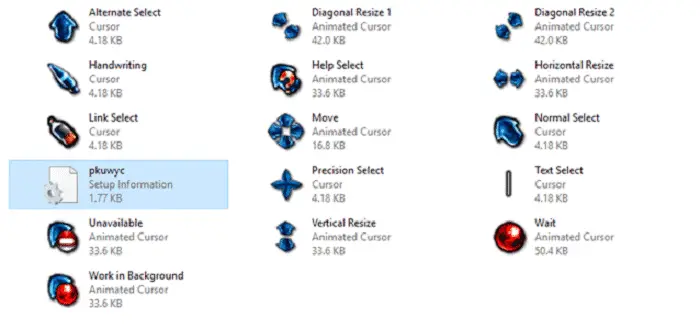 With one pack, you get 4 sets of pointer icons, which is a combination of several hundreds of icons. The colors of the icons available are yellow and blue. Also, the giant size cursors are 24×24 pixels.
Visit: Gant Cursor Pack
Blended
Blended is a cool mouse cursors pack by the member devlindd on Devian Art. This custom mouse pointers is specially made for those transparency lovers.
The transparency gives the Windows environment a fresh feel. Even though a bit old, you should consider getting this custom mouse pointers pack.
Visit: Blended
Blue Label Cursor
It is a minimalistic yet elegant custom mouse pointers pack available for Windows.
This pack by the Devian Art member tchiro and is one of the cleanest and simple looks on the list. Therefore, this should be your choice if you want it to accent a professional environment.
Visit: Blue Label Cursor
Rainbow cursors
The Rainbow cursors pack is based on the Mac cursors. This custom mouse pointers pack is made by the Devian Art member pkuwyc and features animated cursors in 24 different colors.
Each of these animated cursors run at a smooth frame rate of 24 frames per second.
Visit: Rainbow cursors
Neo Alien Cursor
This one is for the gamers. The Neo Alien Cursor is a custom mouse pointers pack by MP1331 on Deviant Art with the edgy gamer feel to it.
This is the dark version of the base Neo Alien cursor theme. The sharp and stealth design will go hand in hand with the look of a gaming rig. Therefore, making it one of the popular choices.
Visit: Neo Alien Cursor
Clockwork
This is a classic clockwork themed cursor pack by user AnBlues on Devian Art.
This is the cursor pack to consider if you want a retro look to your Windows PC.
Visit: Clockwork
See also:  – 14 Best Car Designing Software for Professionals [Updated]
How to Install Custom Mouse Pointers
Now, in order to install these custom gaming mouse cursors, you will have to follow these steps:
Extract the contents of the downloaded file using WinRAR.
Then open the extracted folder and look for a .inf file inside it.
After that, right-click on the .inf file and select Install.
Next, press the Win Key + S key combination simultaneously.
After which, type in Control Panel in the search box and hit the enter button.
Then, in the Control Panel window that opens, select the mouse category.
In the Mouse Properties window, select the Pointers tab.
Then, under the Scheme menu, click on the drop-down menu and choose the pointers pack you want to apply.
Then, press Apply and then click on OK.
After that, click Yes on any prompts that may appear.
Final Words
So this is our answer to how to get a custom cursor. Please note that in order to allow the new cursors downloaded to work correctly, make sure that you restart your computer once after applying them. Also, some of the custom mouse pointers packs might have compatibility issues as not all of them are design to support all the platforms. Furthermore, it is a good idea and we recommend to keep your version of Windows to the latest one.
If you like the developer's work, you can make donations of any amount using the link on the profiles too.