Wondering how to get a PO box for free? The need for efficient and effective communication has also increased in this fast-growing world. Since mailboxes were among the first significant communication tools, many people still rely on them because they haven't lost their significance. Even today, your courier package, driving license, etc., gets forwarded to your physical mailbox. However, maintaining a mailbox has become tedious in the current scenario. A Lot of expenses are involved, and hence, there arises a need for virtual PO Box services.
See Also: 000Webhost Review: Hassle-Free Web Hosting With Zero Flaws | 2023
What is a Virtual PO Box?
A virtual PO Box is merely a personal mailbox that you can use to receive your couriers and emails as if they were being delivered to your home. The only difference is that the emails are not directly received by you but by an online service that takes care of your letters and couriers before they reach you.
The service provider notifies you about the emails and opens the parcels to scan and upload them to your account. This way, you can get the mails as you get them in your email, and that too in an organized manner. Also, you get a commercial delivery address that is very professional and maintains your privacy.
18 Best Virtual PO Box Services Of 2023
When it comes to virtual PO Box free services, trust is essential because you give up your data to the service providers. Hence, it is always advised to do it legally to avoid any mishaps later. Here in this section, we shall examine some of the most trusted PO Box services to use in 2023.
PostScan Mail
PostScan Mail is one of the best virtual PO boxes with street address services that are available at present. You are notified about receiving mail on your phones, tablets, or computers. And then you can decide what to do with that mail. You can ask them to open it or scan it and upload it to your account. It helps to manage your emails while you are anywhere across the world.
They have quite an affordable pricing plan which is very competitive and will not disappoint you. Apart from that, they have great reviews in the BBB, quite a decent customer support, a super user-friendly website, and a sign-up process.
Or to wait for your physical presence. Also, after you've been sent the scanned copy of the mail, you can easily choose if you want to store the physical mail. Or shred it and recycle it. All this happens with simple commands and is extremely convenient.
Also, the shredding services are available until the account is deactivated or deleted. Hence, you can rely on the services efficiently. This service also allows you to receive emails from your employees if you run some business. Therefore, you and your employees can benefit from one account.
Visit: PostScan Mail 
Anytime Mailbox
Anytime Mailbox is also an excellent virtual PO box service provider, and you can use it easily. You only need to have an account with them and pay them their fee, and that's all. Now your mail shall receive by them, and you decide what to do with them. The Anytime Mailbox allows you to control your emails via an app but provides text alerts at no cost. Hence it is highly affordable.
Also, you can receive your letters easily while in any part of the world without worrying about anything. It is a suitable option for a business firm where everyone can receive mail. And provide that they have both a yearly and a monthly payment system. You can opt out any time you feel like it.
Visit: Anytime Mail Box 
Incfile
Incfile provides virtual addresses and a virtual mailbox for firms, virtual nomads, and offline workers. Through Incfile, these mailboxes may currently be found in 22 states. Only letters and big envelopes, not packaged products, are handled by Incfile. Checks and credit/debit cards will be mailed to the address provided. You don't have to install software; log in via the web from anywhere.
With Incfile, your mail is especially secure because all communications are encrypted, and only you can access them. Incfile, unlike PostScan Mail, does not have a physical location where you may pick up your mail.
Visit: Incfile
Mailroom by PackageX
PackageX's mailroom is a virtual mailroom management solution that allows you to automate, organize, and manage all of your mailroom's activities. When you use the PackageX Mailroom app on your phone, you enjoy a service that takes care of everything. Outgoing and arriving mail and other shipments are all scanned, forwarded, and traced. The majority of these features reduce the need for other solutions.
Mailroom's API may be incorporated into your current mailroom settings without needing additional hardware. It is cost-effective for any company because your phone and the software are all you need. Receivers can electronically sign for goods thanks to a digital signature function and picture IDs, making contactless mailrooms and delivery systems conceivable. This removes the need to contact shared surfaces, ensuring the safety of both you and the receivers.
Visit: Mailroom by PackageX
iPostal1
iPostal1 is another virtual PO box that manages packages and online mail through a simple mobile app. It provides your company with an exact street address and postal mail services. It allows you to send packages to one or more addresses per your wish. Like other Virtual PO Box services, you can manage emails from your iPhone, Android, or other devices. 
Along with access to unlimited online addresses, it deposits your check directly into your bank account. Lastly, it securely lets you receive essential emails from DHL, FedEx, USPS, and UPS.
Visit: iPostal1
Traveling Mailbox
The traveling mailbox is again excellent and highly reputed, allowing you to receive your physical mail at an online address. You can practice it efficiently if you are a frequent traveler and cannot accept emails at your address. You have, and they will take care of your mails from thereon. This Virtual PO Box provides many services, such as envelope scanning, mail scanning, and sending the mail directly. This guards your privacy as you choose what mail to open. And then what has to be in storage merely for you to arrive?
It also provides some extra services such as fax numbers. And other things for you to be a wholly professional and commercial person. The customer support services of Traveling Mailbox are also a great feature of this service. They are online 24×7 and are there to address your needs and grievances. Hence, you can contact the customer support team whenever you like it. So, you can have a fantastic experience.
Visit: Traveling Mailbox 
Earthclass Mail
This virtual PO Box/mail offers online postal and scanning services. It supports every company providing all suitable needs, from large corporations to small businesses. Some features are the envelope, content scans, mail forwarding services, and checkstream. Once you receive the scans, you can give the directions for the check deposit. The check stream service automates deposits to save time and improve workflow. 
Apart from the high-resolution features, you can add, link, and manage extra things within the file accordingly. Moreover, it approves optical character recognition, i.e., it makes the content readable. 
It supports security premises using 256 encryption and ensures data security through 24/7 video monitoring. 
Visit: Earthclass Mail 
USA2me
USA2me is a mail bundle sending administration free virtual PO box that gives clients the transportation address they can use to get their mail and bundles.
Their administration is quite easy to utilize. You start by pursuing their administration, and they will give you an actual location in the USA. You would then utilize this location to get your mail, buys, and bundles.
They will get the entirety of your mail and bundles and afterward mail them to your USA postage information and register everything to your letter drop. This software can deliver your things anyplace throughout the planet.
They can help you fabricate a business in the USA and build a presence. USA2me can sell your things in the USA as you can send them your stock, and they will satisfy your orders. You will want to transport or email to USA clients at standard USA rates.
Visit: USA2me
PO BOX Zone
It is a virtual PO Box service shredding online mail services concerning your US address. Along with receiving mail at your US address, it helps you to forward mail as promised. 
One of PO Box Zone's features is uploading scanned mail and letters on your Google Drive, Microsoft One Drive, or Dropbox. It accepts any message on your behalf, along with intricating scanned letters to the cloud. 
Virtual Post Mail
Virtual Post Mail is also a leading Virtual PO Box service provider of online mailbox services and is highly reliable. Once you sign up with their account and make the payment. Then you are provided with a commercial address, which will be your street address for the emails to receive. The authorized workers shall handle your mail so that you can be least concerned about the security of your mails.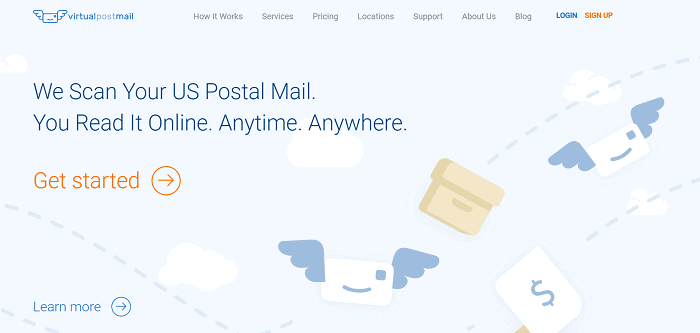 This is the best service if you are not residing in the United States. You can have an account at this service and receive emails from the United States at your virtual address. Also, this free PO box allows storing your mail in a secure location with plenty of surveillance cameras and alarm systems.
Also, the plans for these virtual mailbox services are very affordable, and you are not required to pay any surcharges or additional fees for receiving, shredding, or scanning your mails. Therefore, it is an excellent service to rely on.
Visit: Virtual Post Mail 
Switch
Switch promises to reinvent postal solutions for small businesses. They seek to make mailing mail more efficient, simple, and cost-effective. This is an amazing firm that can take care of all of your company's mailing requirements.

The Switch is a virtual mailing service created specifically for small businesses. It is completely automated. Therefore there is no human participation. They can print your papers and letters, insert them into an envelope, and mail them to the right person. It eliminates the need to wait at the Post Office or purchase postal supplies.
Planet Express
Planet Express is a US-based mail and package forwarding service. Despite being only three years old, the company has built a reputation for itself in the shipping industry. Planet Express has kept its pricing among the lowest in the business while simultaneously providing numerous unique features to its consumers, exhibiting aggressiveness that only a start-up could show.
They also provide a Shop For Me feature that allows you to shop in the United States even if you don't have an international payment card or credit card; they will make your purchases for you. Another option they provide is package consolidation, which allows you to select which shipments you wish to send together. Consequently, you will then be able to save a significant amount of money on delivery. They offer these services at a very low cost, and their Basic service does not require a monthly membership.
Visit: Planet Express
PhysicalAddress
PhysicalAddress.com says they're among the very few digital PO Box service providers who control and maintain all their address locations. They allow users to choose their physical locations and number for the virtual PO box when they subscribe to their service. Any place you select is then handled by PhysicalAddress.com employees and becomes a PhysicalAddress.com location for the user.
It's a low-cost digital mailbox service that provides real street addresses in major cities around the country, including New York, Orlando, Las Vegas, and Atlanta. These one-of-a-kind addresses may be used for personal or business correspondence, with the cheapest starting at approximately $8 per month in Boise and the most costly at around $20 per month on Wall Street. Along with the services they deliver, they include envelope scans, content scans, shredding, and more.
Visit: PhysicalAddress
Sasquatch Mail
Sasquatch Mail is an online-based digital mailbox service. They provide both online and physical mail forwarding services. They also provide free shredding, recycling, and limitless storage for mail scanning.
There is also the option of a monthly phone subscription. Sasquatch Mail now serves four states. They give a real street address in a reputable office space with a unique unit number, which aids in the company's reputation development.
Visit: Sasquatch Mail
Regus 
Regus is more than a Virtual PO Box service. It helps businesses to establish a virtual presence in foreign markets. The settings of an office like this are similar to the physical environment. You may hire a live receptionist to take your calls while establishing a virtual office in one of the prime locations in the world. 
Users can use their Regus addresses for sending and receiving emails. They can also forward you in case of any requirements. If you are looking for business relocation, this Virtual PO Box is ideal for all your requirements. Lastly, you can change your address anytime at no extra cost.
US Global Mail
US Global Mail is a virtual post office box like Gmail in the U.S. utilized by many explorers and organizations. Their incredible notorieties joined with their high appraising with the Better Business Bureau, exhibit their capacity to furnish ex-pats and organizations with excellent assistance that can be trusted.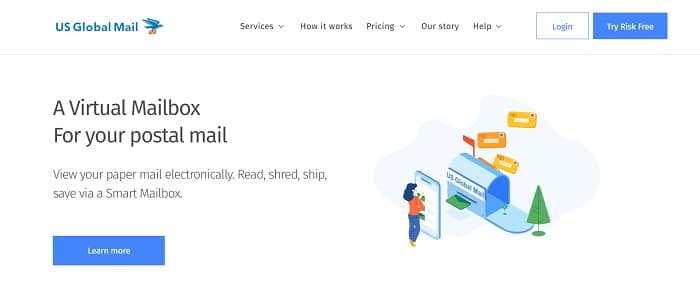 US Global Mail offers limitless sweeps with no covered-up or additional expenses. There is additionally no beginning up charges, so you can join and begin utilizing the arrangement immediately.
Nonetheless, even though they are one of the least expensive virtual letterbox administrations you can discover, it ought to be referenced that they offer one area in Houston, Texas, which is worth considering when contrasting virtual postbox suppliers. This is one of the best virtual PO boxes available in the market.
Visit: US Global Mail
GRM Digital Mailroom
GRM is, for the most part, a B2B archive, the executive organization that began in 1986. They have been doing archive stockpiling, filtering, and destroying for an extremely significant time frame, making them very respectable. During the COVID-19 pandemic, they got numerous solicitations from their clients for mail-checking administrations.
GRM Digital Mailroom is a help that turns your actual mail sent to their area (or got) into an advanced PDF by filtering it into the cloud. Their administration is exceptional because all correspondence and archives are to their Content Management Platform, which gives you numerous mechanization abilities and has highlighted to advance your rapid reports to another person through email.
GR this arrangement in the whole of the urban areas and states they work in, including New Jersey, New York, Chicago, Philadelphia, Indianapolis, Houston, Baltimore, Austin, Washington, D.C, Miami, San Francisco, Los Angeles, Dalla, Atlanta, Boston, and San Diego. This is one of the best online PO boxes available out there.
MailBox Forwarding
MailBox Forwarding is a Virtual PO Box that benefits individuals and business profiles. It offers standard services with competitive pricing. Along with providing scanning services for your email, it gives the same for your fax machines. It is one of the features not offered by other Virtual PO Box services.
There is only one disadvantage: they are not much appropriate with locations as it is only a small corporation climbing ladders to success.
Visit: MailBox Forwarding 
See also: 10 Best Email Spoofing Tool With Advance Features
Features:
Here are some of the best features of the digital PO box:
Convenience:

 With an internet connection, you can handle your mail and packages with a digital PO box from anywhere. Not travelling to a real post office to retrieve your mail can save you time and effort.

Privacy:

 A digital PO box keeps your mail and shipments more private. Since you won't be utilising a physical address, you may keep your home address a secret and guard against fraud or identity theft.

Flexibility

: Various capabilities, including mail forwarding, scanning, and shredding, are available with digital PO box services. Whether on the go, operating a business, or just trying to clear up some space in your mailbox, you may select the solutions that best fit your requirements.

Security:

 Reliable digital PO box providers secure your mail and personal information using cutting-edge encryption and security methods. To further increase security, some services demand two-factor authentication or a PIN to access your mail and account information.

Cost-effectiveness:

 If you don't need to receive mail regularly, using a digital PO box may be less expensive than renting a traditional PO box. Although some providers offer variable price options based on your consumption, some offer free or inexpensive programmes.
FAQs
What is a digital PO box, and how is it different from a physical one?
A digital PO box is an online service that offers a virtual address for receiving mail and shipments. With a digital PO box, you can handle your mail from any location with an internet connection instead of a physical PO box, which needs you to go to the post office to pick up your mail.
What are some popular online PO box services to use in 2023?
iPostal1, Anytime Mailbox, PostScan Mail, Earth Class Mail, and Virtual Post Mail are well-known online PO box providers. These services are practical and effective solutions for handling your mail since they include a variety of capabilities, including mail forwarding, scanning, and shredding.
How to get a PO box for free?
While most virtual PO box providers charge a monthly cost, some provide a brief free trial period. For instance, Virtual Post Mail provides a free basic package with restricted functionality or a 30-day trial for iPostal1 users.
How does PO box management work with a digital PO box?
A digital PO box allows for online management of your mail and shipments via a user dashboard. You can have your mail shredded, forwarded, or scanned and sent to you.
With a digital PO box service, how can I make sure my mail is secure?
To secure your mail and personal information, reputable virtual PO box providers employ cutting-edge encryption and security procedures. Also, some services strengthen security by requiring two-factor authentication or a PIN to access your mail and account information.
How long does it take to set up a digital post office box?
A digital PO box may be set up quickly and easily and generally only takes a few minutes. When signing up for a service, a virtual address selection and other essential details are required. Once set up, you can start receiving and managing your mail immediately.
Conclusion
These were the best and the most trusted virtual PO Box free services you could use in 2023. All of them are highly reputed and reliable so go for them. And use them as your virtual address while you're on the go.