Wondering how to get a po box for free? In this fast growing world, the need for efficient and effective communication has also gone up. Everyone in this world needs to be at the reception of a quick and useful communication tool. Since mailboxes were amongst the first significant tools of communication, a lot of people still rely on them because they haven't lost their significance as of now. Even today, your courier package, your driving license, etc. gets a forward to your physical mailbox. However, the maintenance of a mailbox has become a boring and tedious task in the current scenario. A Lot of expenses are involved, and hence, there arises a need for virtual PO Box services.
What is a Virtual PO Box?
A virtual PO Box is merely a personal mailbox which you can use to receive your couriers and mails as if they were being delivered to your home. The only difference is that the mails are not directly received by you, but by an online service that takes care of your letters and couriers before they reach you.
Refer:
The service provider notifies you about the mails and opens up the parcels to scan and upload it to your account. This way, you can get the mails as you get them in your email and that too in an organized manner. Also, you get a commercial delivery address which is very professional and also maintains your privacy.
4 Best Virtual PO Box Services of 2019
When it comes to virtual PO Box free services, the trust is an essential factor because you are initiating up your individual data to the service providers. Hence, it is always advised to do it legally so that any mishaps can be avoided later on. Here in this section, we shall examine some of the most trusted PO Box services to use in 2019.
PostScan Mail
PostScan Mail is one the best virtual PO box with street address services that are available at present. It helps a lot to manage your mails while you are at any place across the world. You are notified about receiving a mail on your devices such as phone, tablet or computer. And then you can decide what to do with that mail. You can either ask them to open it and scan and upload it to your account.
They have quite affordable pricing plan which is very competitive and will definitely not disappoint you. Apart from that, they have great reviews in the BBB, quite decent customer support, a super user friendly website, and an sign up process.
Or to wait for your physical presence. Also, after you've been sent the scanned copy of the mails, you can easily choose if you want to store the physical mail. Or to shred it and recycle it. All this happens with simple commands and is extremely convenient.
Also, the shredding services are available throughout the time until the account is deactivated or deleted. Hence, you can rely on the services efficiently. This service also allows you to receive mails for your employees if you run some business. Therefore, by one account you and your employees all can be benefited.
Virtual Post Mail
The Virtual Post Mail is also a leading Virtual PO Box service provider of the online mailbox services and is highly reliable as well. Once you sign up with their account and make the payment. Then you are provided with a commercial address. Which will be your street address for the mails to receive. The authorized workers shall handle your mails, and hence you can be least concerned about the security of your mails.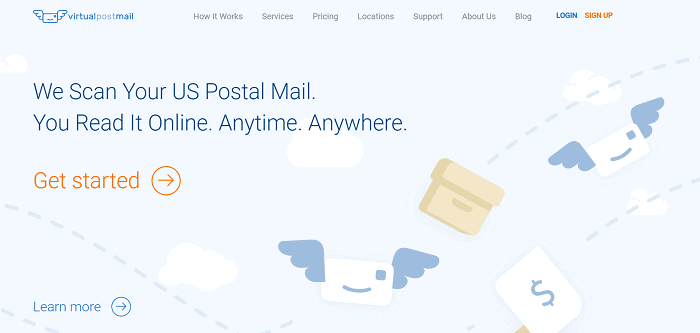 Also, this free po box provides for the storage of your mails in a secure location with plenty of surveillance cameras and alarm systems. This service is the best service if you are not residing in the United States. You can simply have an account at this service and receive mails from United States at your virtual address.
Also, the plans for this virtual mailbox services are very affordable, and you are not at all required to pay any surcharges or additional fees for receiving or shredding or scanning of your mails. Therefore, it is an excellent service to rely on.
Traveling Mailbox
The traveling mailbox is again an excellent and highly reputed a that allows you to receive your physical mails at an online address. You can practice it efficiently if you are a frequent traveler and are unable to receive any of the mails at your address. You have, and they will take care of your mails from there on. This Virtual PO Box provide a lot of services such as envelope scanning, mail scanning and sending the mail directly. This guards your privacy as you get to choose what mail is to open. And the what has to be in storage merely for you to arrive.
It also provides some extra services such as the fax number. And other things for you to be a wholly professional and commercial person. The customer support services of Traveling Mailbox is also a great feature of this service. Hence, you can contact the customer support team any time you feel like. They are online 24×7 and are there to address your needs and grievances. So, you can have a fantastic experience.
Anytime Mailbox
Anytime Mailbox is also an excellent virtual PO box service provider, and you can use it very easily. You only need to have an account with them and pay them their fee, and that's all. Now your mail shall receive by them, and you decide what to do with them. The Anytime Mailbox offers you to control your mails via an app, but also provides you with text alerts at absolutely no cost. Hence it is highly affordable.
Also, you can receive your letters easily while you are in any part of the world without being worried about anything. It is a suitable option for a business firm where everyone can receive their mail at. And provide that they have both a yearly and a monthly payment system. You can opt out any time you feel like.
Conclusion
These were the best and the trusted virtual PO Box free services that you could use in 2019. All of them are highly reputed and reliable so just go for them. And use them as your virtual address while you're on the go.