Email Spoofing Tool is a useful tool to send fake emails to avoid spamming of fraud and advertisement emails. Contact information sales are a significant part of the Internet, with marketers buying and selling emails back and forth. This can lead to weird advertisements in your inbox, even if you don't remember signing up for them. Let's review the top Email Spoofing tools.
10 Best Email Spoofing Tools
Emailfake.com
Email Generator
YOPmail
Throwawaymail.com
Mailinator V1
Guerrilla mail
Maildrop
SpoofBox
Fake Mail Generator
Malinator
Temporary emails can be created quickly and easily, but who should create them? To create a temporary email on any valid server, you need to fill out a form and use email spoofing tools. This post is all about the top Email Spoofing tools and their advanced features.
See Also: Top 10 Best Dummy Text Generator Tools in 2023 (Updated)
List of Best Email Spoofing Tool
I physically got out of my bed to do some research on this one, so you better thank me for this. Here are the 6 best email spoofing tool or fake mail generator websites that you can find on the face of the Internet. (not a Reddit post) Let's get started.
Emailfake.com
The very first email spoofing tool that comes to my mind is Emailfake.com. Now generate fake email IDs and use them wherever you feel insecure about putting your real credentials. Register on any website, receive confirmation mail without any worries.
Follow these elementary steps mentioned below. First of all, you have to select a username, domain name and set up DNS. Once you do these primary steps, you can use this email address and receive numerous emails. You might be worried about your privacy or online safety. Do not take tension, this site is made for your to know how to send a fake email online safely.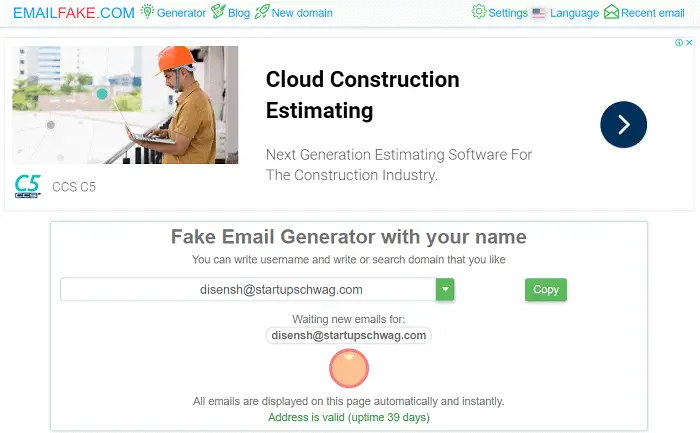 However, there are plenty of exciting things that you can do with this email ID. You can be anonymous on the internet, protect yourself from hacking and other threats. Also, you don't have to register yourself or put in any data to generate these IDs. You can visit this website via the following link.
Website: Emailfake.com
See Also: 10 Best Free Fake Email Address Generator Tools
Email Generator
After Emailfake.com, another free email spoofer that seems to be amazingly good is Email Generator. Here also, you have to select a domain, and you can only use this mail ID until this domain is in existence. Make sure that you create your own domain and prevent losses if you do not want to lose your access to this Mailbox.

You can either put an email address of your choice or generate a new one. Also, if you are not aware of the domains, use the drop-down button, and choose one of the domains. You can create a test account, sign up on various social networking platforms, or any other sites via using this mail address. Want to try it? Visit this website via the mentioned link.
Website: Email Generator
See Also: Top 12 Free Writing Software of 2023 | Create Better Content Faster
YOPmail
Now that we are irritated by deleting the unwanted mails and handling the spam, the YOPmail email spoofing tool will do this tedious task for you. Generate a fake mail ID, subscribe to various activities with this tool. This site will send spoof email with a unique ID for each of its users and keep the mails up to eight days.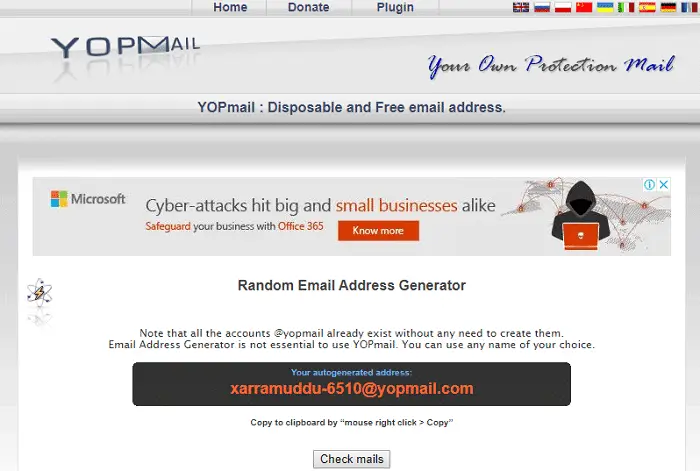 Inbox is auto-generated, and neither you are mandatorily asked to put in your real data. It gives you a plethora of options.
Also, a password is not at all required. You can use this website for free via the following link.
Website: YOPmail
See Also: Best Movie Downloading Sites For Mobile | Top 16 In 2023
Throwawaymail.com
This website provides us with a very straightforward interface. This email spoofing tool displays the already autogenerated mail which you can alter as per your choice. You have to visit their mail inbox within 48 hours after opening that site. If you do not check the mailbox, it will be deleted permanently.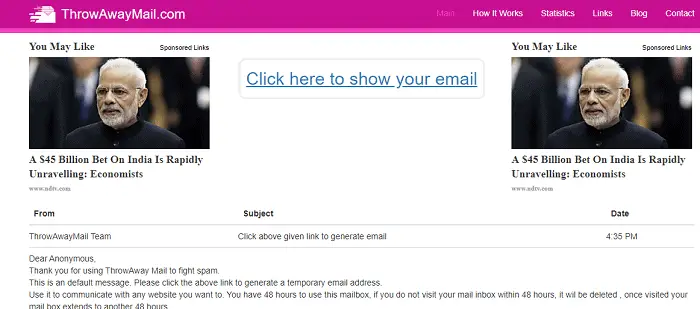 Apart from this, if you are using this website, then you have to enable cookies and javascript. Also, this site guarantees your privacy is covered. Go ahead and let us know your views about this site in the comment section.
Website: Throwawaymail.com
Mailinator V1
Mailinator is one of the best email spoofing tools that you were possibly in search of. This website is quite cool. It does not require you to enter any credentials of yours, and lets you create an email address with a @mailinator domain instantly!
On top of that, it enables you to check any inbox if it already exists. For instance, I typed in imdb@mailinator.com and I could access an email inbox mad by someone in that name.
This facility of checking your temporary mail inbox becomes very handy when there is some annoying verification or something which requires you to go to that spoof email address that you typed in and click on some link to confirm your purpose.
With mailinator, you can do that and still not worry about getting tons of junk ads and other spam emails from the residue of that signup.
On top of that, they even suggest you some email names if you cannot think of a random name to generate at that second. The suggestion which I got was "DimmestMan." Coincidence?
Why We Prefer Mailinator?
Although don't expect any of these email spoofing tools to give you an email to linger around for eternity. That kind of email service would be too perfect for this world. They explicitly say that all emails will auto-delete after a couple of hours, which is sensible and understandable.
Maintaining servers is no easy task, and keeping it as an active email server for that many users, for free? Forget about it. As I said, it would be too good for this world.
So if you want a quick email address that is not yours and is auto-generated, but has an inbox facility for a limited period, definitely go for mailinator. I highly recommend this email spoofing tool.
Website: Mailinator
See Also: 7 Best Random Username Generator Websites | Cool Usernames
Guerrilla mail
If the above service with a single server name did not tickle your fancy, try Guerrilla mail. It has a lot of different server names for you to choose your temporary email addresses from.
The upside (depending on your requirements) is that, unlike mailinator, the addresses generated here will stay forever according to the guerrilla mail guys. So you can create a temporary spoof ID for some subscription trial period and share it with a friend as well.
If you can't be asked to create an address of your own, you can choose to generate a scrambled email address for yourself using the on-site tools.
But beware, the scrambled address is almost impossible to remember entirely, and will always have to be copied from the guerrilla mail website to wherever you plan on using it.
This makes for a slightly more unique inbox ID but makes sharing it a little bit inconvenient, as you may not be able just to type it from your memory and send it to someone.
Why Guerrilla Mail is beneficial?
All the emails received will be available directly below the email generator on the same page of their website, easily accessible. They do a fantastic job with it as well.
I mean, they have apparently processed over 6.5 billion emails so far. That is pretty impressive, even if guerrilla mail says so them. They also have a small donation link right below your inbox, so consider donating a bit to them.
I mean, they work hard to keep your original inbox cleaner and tidier, so it would be an order for you to buy them a beer, don't you think?
Try out guerrillamail.com and see if you like their spoof mail service from dozens of available servers. I wonder if these guys are normal humans because they are managing terabytes of data on the fly, and here I am, struggling to finish one article per day.
But if you appreciate that, you could buy me a beer as well; I wouldn't mind!
Website: Guerrilla mail
See Also: 7 Best Random US Address Generator Websites
Maildrop
Maildrop is an excellent email spoofing tool that provides a great email generation service for all those (pretty much every one of us) who doesn't like giving their work email address.
It works exactly like the other mail generators that create an inbox of your desired name. Just enter an ID I the text box to your top right or at the bottom left, and click Go. This restricts you to only one server, and that is mailbox. cc.
Not that anyone would mind. I mean, who cares which server you get, as long as it is not your email address. This email spoofing tool even gives you unique and rather witty suggestions if you are creating a new one.
The suggestion that I got was "AntitoxicTaiwan." What is up with me getting the weirdest suggestions for a name? But of course, that is why there is a refresh symbol to get a new suggestion.
You should check out maildrop over at their website maildrop.cc. It is simple, minimalist and easy to use. You'll love it because you won't have any reason not to love this email spoofing tool. Enjoy your clean personal inbox with this email spoofing tool!
Website: Maildrop 
SpoofBox
Spoof Email allows you to alter your name anonymously and confuse your senders with any title name. In addition to the name, you can also develop an email address of your wish.
This email spoofing tool comes with a mobile app which is available for both Android and iOS platform to enhance the ease of accessibility.

You can mail to any person in the world without revealing your real name or email address with the help of this email spoofing tool. The process of sending the mails is quite simple and works with almost all the existing mail services.
Website : SpoofBox
Fake Mail Generator
Fake mail generator is an incredible email spoofing tool to protect your privacy and account from spammers. The website is quite famous for pranking and generating adult advertisement emails.
It allows receiving sending option and enables to exchange of emails quickly and reliably. Further, it maintains a database which can be found on its website about all the sents performed via this platform.
From a total of 10 extensions, you're free to choose anyone you want. Cross-platform emailing has never been more fun than what is offered by a fake mail generator. Additionally, the webpage design has been kept straight and simple for a decent user experience.
This email service doesn't ask you for any registration and updates and displays email in a smoother way. There's no limit to anything. So what are you still thinking of? Just go to the website and start generating as many emails as you want with this email spoofing tool.
Website: Fake Mail Generator
Malinator
Malinator is also one of the simplest and fastest Email Spoofing Tool. The flexible emailing system allows you to provide them with an email address where you want to receive the response of all your emails. Simplicity and user-friendliness is something which takes it everything for this fake Email Spoofing Tool.
Further, the claims by the organization are more inclined towards Email workflow testing for software and services. Malinator offers two types of services to its consumers.
Public Malinators that come up with an extension that is @malinator.com Public Malinator provides temporal inboxes and does not require any sign-ups. All the emails circulated via the public domain are readable and discoverable to anyone across the world.
But they keep on cleaning and dumping the old emails within a few hours as well. Moreover, public domain emails don't support attachments. The emails cannot be forwarded or sent to any person from @malinator.com.
You can also try bringing your private domain emails to Malinator or Malinator can provide you one with its subscription. In the subscription package, your emails are private to you, and you can access them from anywhere. Storage issues and everything else comes inside these subscriptions too. Can't think of a unique username or scared of your privacy? Try some fake email address generator websites for free.
Website: Malinator
Click Here to reduce the bounce rate of emails in marketing.
FAQs
How do you perform email spoofing?
A lot of spam and phishing attacks use this trick. Email spoofing is a trick these spam messengers use to con random users into thinking that the electronic message they have received comes from a very reliable source and they can access or open it without any further concern. Spoofing consists of a pattern of spoof attacks where the person sending the con mail actually plagiarises email headers from reliable sources so that when people finally access this mail, they will be tricked into thinking that the mail is coming from a verified source and is actually not spam. Try to avoid taking these mails at face value which may cause you to enable more spam on your mail.
Why is it so easy and convenient to people to create spoof emails?
This is actually a very glaring flaw in the IP networks, but the flaw is a necessary evil. It is convenient to make emails like these very easily because the Simple Mail Transfer Protocol which is actually the IP protocol that determines mail passage in the TCP/IP connection of networks has no guard against these spoofing. All that is required of the sender is a name in which the mail will be sent. This is probably done to promote more business opportunities but almost all the time it becomes a humongous hassle.
Could you explain what spoofing is with an example for a better understanding?
Like most modern lingo, the meaning of spoofing started off initially as something completely unrelated to electronic mail. What it really meant was duping a person via the telephone over calls. This could be anything from a harmless prank call to a serious fraud call where people pretend to be your finance representative or your bank officer asking to confirm your details via phone over a transaction issue or something else. If you answer these calls and actually give in the details, you'll probably be another victim to this chain of frauds.
Is it possible to report a spoof email on Outlook? If yes, how?
All you need to do is follow these basic steps. The best way to do this to follow the simplest protocol and report the email as phishing content on Outlook. To do that, all you have to do is is select the messages that are coming to you as spoofs or the ones which you think are spoof. Then, you have to navigate to the reading pane section of Outlook, select the option Junk and then go to "phishing". Once you click on this, an option to report will appear. You can confirm it to report these electronic messages.
Is there a precaution that can be taken against these spoof mail that spams the internet?
Yes, you can always use the anti-spoofing software which is called the EOP. The function of the EOP is to detect any sort of lies or false information in the mail header as well as in the body of the email. Once, EOP is up and working you can easily identify emails coming off as spoofs on your device.
See Also: What Is Spear Phishing: Everything You Need To Know
Conclusion
So this is the list of the best hand-picked email spoofing tools. Do share your thoughts and let us know if you know other useful services as well. While most advertising agencies use these technologies to con people, you may as well use them to avoid exactly the same thing. have a good time reading this article. We hope you Cheers!
Also, check out Email Client For Chromebook | 7 Best Tools for 2023