Most Windows users who aren't familiar with technical knowledge will surely fail to restore their Windows administrator password if forgotten. Indeed, you can format and re-install operating system to remove the password from your computer but that will destroy all the data contained inside your PC. But never fear as we are going to list down the best and top 5 free and paid Windows password recovery tools that will help to reset your computer password without losing any data at all.
Windows password recovery tools are mostly used for recovering or cracking the password of your PC. Most password recovery programs remove the password from your computer so that you can login without any password at all and few of them also helps to recover the password that you have used to encrypt your computer.
Top 5 Windows Password Recovery Tools
So, here's a list of some of the best hand-picked Windows password recovery tools out there.
Ophcrack
Ophcrack is the most widely used Windows password recovery tool to this date. It is quite old but still manages to recover simple and weak passwords flawlessly.
To use this program, all you have to do is download the ISO image file of this tool, burn it on a CD/DVD or USB drive then use it to unlock your main system. It may take some time to crack the password but it is one of the fastest Windows password cracker available on the internet.
Pros
Free and open-source program.
ISO image file is bootable.
No installation is needed.
No matter if you remember the old password or not.
Flawlessly work with Windows XP, Vista and Windows 7.
Cons
Can only crack passwords up to 14 characters length.
Only simple passwords can be recovered.
Doesn't work with the latest Windows 8 and Windows 10 version.
Some antivirus detects it as malware by mistake.
TunesBro WinGeeker Ultimate
One of the most amazing Windows password recovery tools is TunesBro WinGeeker Ultimate. There's no password of any strength or length in the world that cannot be cracked using this program.
It is super easy to use and doesn't take more than 10-15 minutes to crack your computer password. TunesBro WinGeeker Ultimate is a desktop program so you can easily install and burn the ISO image file directly to your removable device.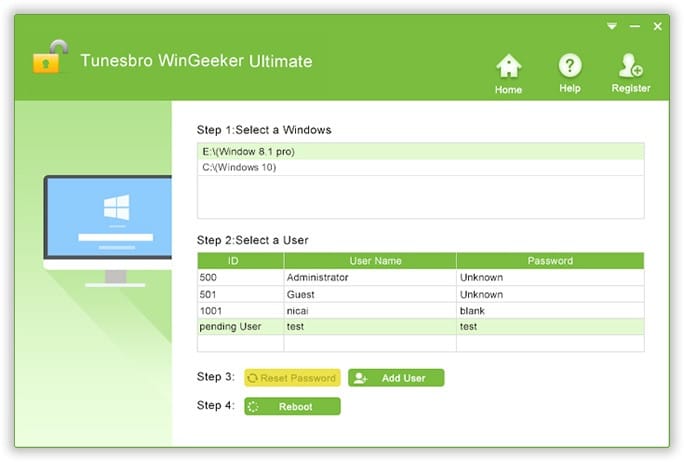 It allows you to create a password reset disk with your thumb drive or CD/DVD then you can use it remove the password from your locked system.
The USB drive will be bootable by default and you will only have to click on "Reset Password" once the program is loaded on your locked computer to remove the password from the system.
Pros
Easy to use.
Crack any length of the password.
Removes all types of encryption like text, PIN, Microsoft and picture passwords.
Works with over 2000+ computer and laptop brands like HP, Dell, Sony, Samsung, Toshiba, Lenovo, etc.
Compatible with Windows XP/Vista 7/8/10 as well as with Windows servers.
Cons
Analyzing the locked accounts is free but you will have to register the program to unlock your PC.
John The Ripper
Another one of the most reliable Windows password recovery tools is John The Ripper. It is entirely free to use but you can also upgrade the program to take full benefits.
John The Ripper compares all the words from the saved files to match your password. It is an astonishing program if you are using a dictionary based password.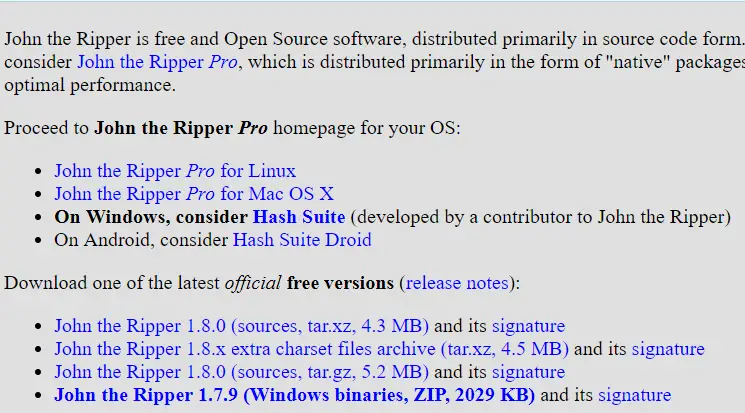 First, you will need to download the application from the official website and write the ISO image file on a CD/DVD then use it to reset the password of your original computer.
Pros
Free to use and readily available.
Perfectly works with Windows XP/Vista/Unix and Windows 7.
Compatible with 64-bit version computers.
Cons
Difficult to install.
A complicated program that requires technical knowledge to operate.
A free version is not usable at all.
Offline NT Password & Registry Editor
Offline NT Password & Registry Editor is one of the fastest Windows password recovery software which is available without any cost.
This program needs no installation at all, just download the ISO image file, burn it on a CD/DVD or a pen drive and then follow through the instruction to reset the password of your computers administrator account.
This program removes the password from your PC so that you don't need to remember any past password at all.
Pros
Freely available and you can download it from the official website.
The ISO image file is minimal in size.
Password recovery is rapid.
It helps to reset other file passwords as well as WinZip, RAR files, etc.
Cons
A text-based program, so a bit complicated to use.
Not recommended for computer noobs.
Any wrong selection of options may crash your hard drive.
Trinity Rescue Kit
The last but not least, we have Trinity Rescue Kit which is another flawless Windows password recovery program. It uses a robust algorithm to erase the login screen from your computer.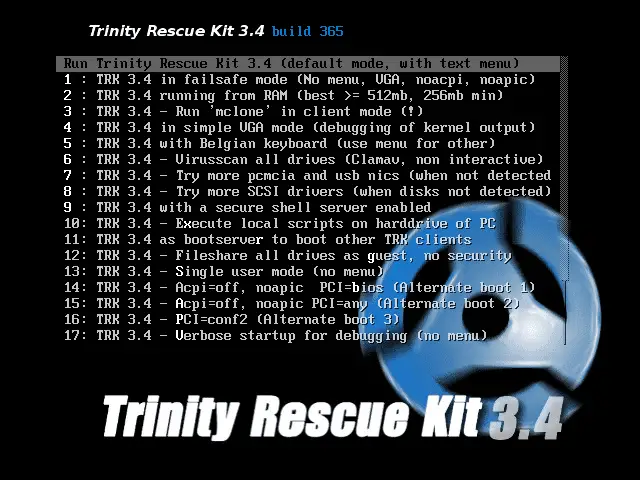 So, it doesn't matter what kind of password you have used to protect your computer because it is simply going to destroy the login screen so that you can enter into your PC without any login password.
Pros
Reset any Windows passwords.
Works perfectly with local and administrator accounts.
Tested on latest Windows 10 with successful results.
Smaller in size and easy to burn the ISO image file.
Cons
Challenging to use since the program is depends on the text.
Doesn't work with Windows 64-bit versions.
You should also have adequate Computing Knowledge.