This blog is about bin file opener software, but before that, let us understand some basic things about it. BIN files are binary files with compressed code that different applications can use. They are created by updating software and can be challenging to access using the default file manager. BIN File Openers support many other compressed file extensions, such as .zip or .rar, which are handy for uploading visual media.
Here is the list which we've created for the Free BIN File Opener Software for Windows:
Ultimate ISO Maker
7-Zip
AnyBurn
DAEMON Tools Lite
ISO toolkit
So this article is all about helping you out. This lists the 10 best free BIN file opener software for your Windows OS machine and its features. This software helps you extract and store your BIN file and help convert the file to other formats. So let's get on with it.
See Also: How to Convert ETE to PDF Files | Latest Ways (2023)
10 Free BIN File Opener Software for Windows
Here is the top 10 free Bin opener software for Windows that you can use with a hassle-free experience.
See Also: Bin Bash Bad Interpreter Issue? Fixing Guide [2023]
Ultimate ISO Maker
Ultimate ISO Maker is a simple yet truth-worthy software that makes ISO files from any (Compact disks) CDs and (Digital versatile discs) DVDs. It also permits you to quickly burn or erase particular ISO files to utilize CD (imitation) emulation programs (so that there's no original use of the CD), or it has created a backup of the copy.
This utility is straightforward to use. you have to select the desired DVD or CD and click "Create ISO." This creates an ISO file. You can find the link below to download the software. 
Download: Ultimate ISO maker
7-Zip
The ratio of compression in this software is high. 7-zip can support files of size as large as 16000000000 gigabytes. This software compresses the headers that are present in the archives. It generates and removes the archive data and examines them for any errors.
You can use a benchmark tool to check the computer's performance. The inbuilt calculator checksum comes in handy to check the quality of the downloaded files.
Also, it groups a handful of options in the window context menu for more comfortable usage. To download 7-zip, click on the link below.
Download: 7-zip
AnyBurn
In this section, we will see Anyburn software. This BIN File Opener is a free extractor tool for handling BIN files and supporting many other image files. You can even burn CDs with this.
There are options to burn an audio CD from mp3s, burn images to CDs, and more. You can access BIN files from the extract image file from the options menu on the home screen.
Download: AnyBurn
DAEMON Tools Lite
This is my favorite tool, and I use it all the time. It is popularly used to open .img and .iso files but can easily handle .bin files.
Using this tool, you can create a virtual hard drive, mount the same hard drive, create RAMdisks (A high-speed drive partition), and extract and open BIN files.
Download: DAEMON Tools Lite
See Also:- 13 Best Free & Paid Windows Password Recovery Tools
ISO toolkit
You can use the ISO toolkit software to mount the BIN files after extracting them. Just move to the extract ISO tab and specify the pathname of the BIN file.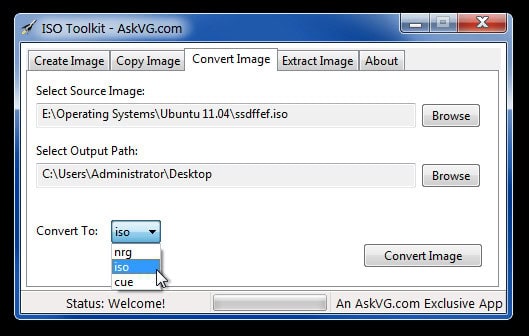 This is one of the most accessible BIN File openers. It supports .img, .nrg, .cue, .iso, and many more. Then, hit the extract button to get it out.
Download: ISO toolkit
Find methods to shut down the CTF loader process here!
WinISO
WinISO has some somewhat limited functions compared to others on this list. You can do basics just fine, such as converting ISO to BIN and making a bootable drive with the help of this software using an ISO image file. You can browse your files through the included file system manager and open the required BIN files.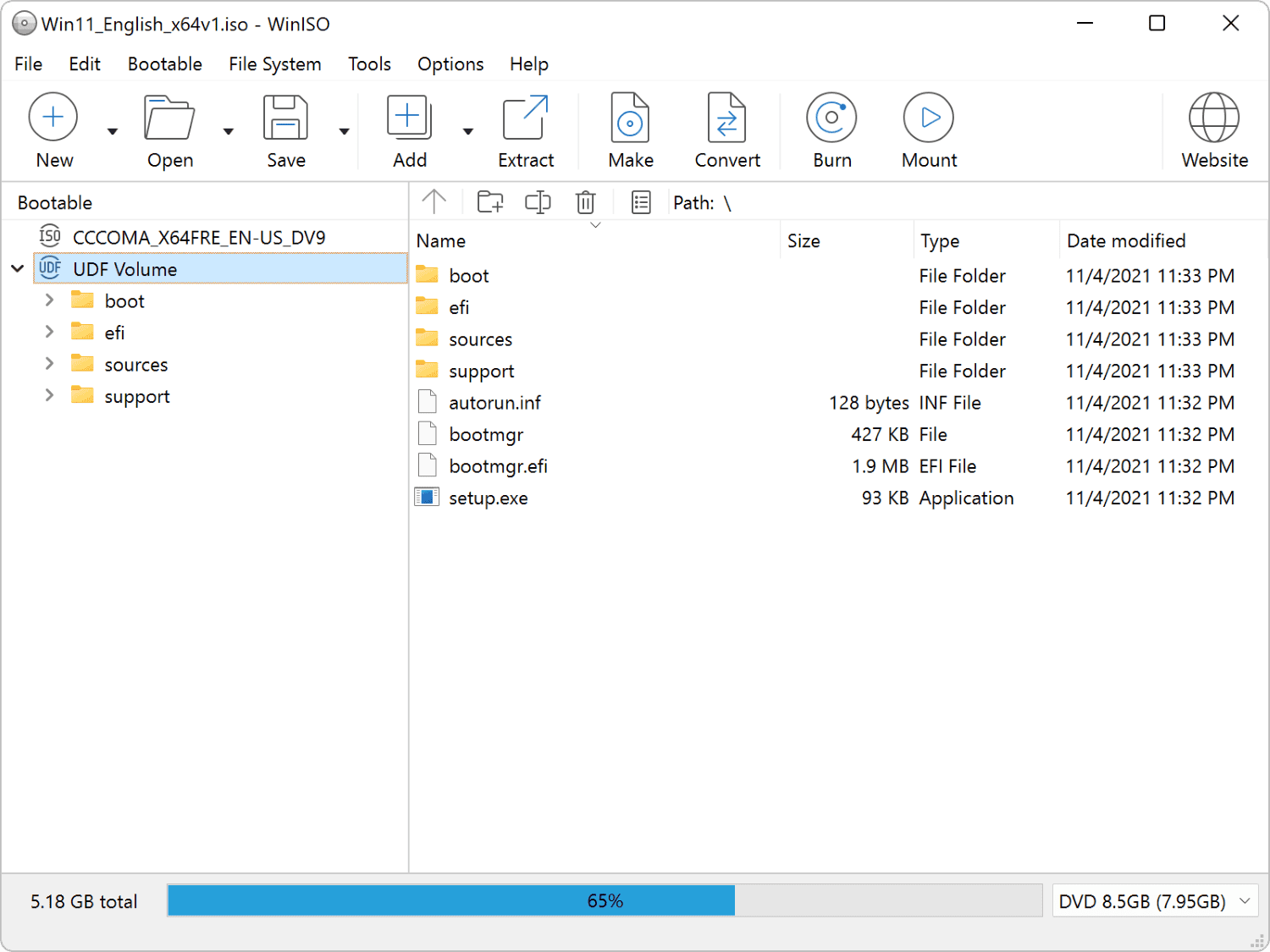 I did like the batch convert BIN to ISO in this tool. It was pretty unique for its minimalist functionality. WinISO also supports all the famous and essential formats for images. It includes. ISO.FCD, NRG.CIF. VCD and others. WinISO is a pretty good freeware, nevertheless.
Download: WinISO
ISO Workshop
It is an extraction software tool to extract commonly used image file formats. You can extract BIN, ISO, IMG, and other files from your computer's storage.
Just browse to the location of your BIN file, click on it to open it, and then select the extract option. Please choose the place where it needs to be extracted and confirm. It's as simple as that.
Download: ISO Workshop
See Also:-Top 10 Free Malware Removal Tools For Windows (Updated)
AnyToISO
This BIN File Opener software is primarily used to convert image formats from one to another. But You can also use it to open and extract BIN files. In the first tab, which says file extract/convert to ISO, browse your BIN file on the source image/archive file text field. Select the extract folder radio button, and select the path of the destination folder where you want your BIN file to be extracted.
Hit the extract button and wait for it to complete. Upon completion, it will even give you a hyperlink saying click here to open the output folder. It will take you to the extracted contents of your target BIN file. AnyToISO is effortless and straightforward to use, and it works very well. It has also been swift to load in my time using it.
Download: AnyToISO
See Also:- 6 Best ISO Maker Software for Windows (Free & Paid)
Magic ISO Maker
This is another free BIN File Opener software that lets you efficiently extract BIN files. A panel on the left-hand side lets you pick your BIN file from a specified location on your system. You can convert it into an ISO or a UIF file. Or else you can extract it as it is to the desired location.
Additionally, you can handle other image formats, such as. ISO.IMG, NRG, CIF, CCD, and much more. You can also burn these images into CDs and make them bootable if you choose to do so. It's a pretty good all-around tool for general-purpose image files.
Download: Magic ISO Maker
PowerISO
Much like the "home" version of the operating system, PowerISO has a somewhat restricted set of functionalities on the free version. Browse for your BIN file and open it. You can extract it to the destination of your choice.
You can convert the BIN file into an ISO file too. There are a few other basic options available in this freeware.
Download: PowerISO
See Also:- 5 Ways to Recover Deleted Files on Mac | Recover from Emptied Trash
FAQs
What software opens BIN files?
Several software options can open BIN files, including PowerISO, Daemon Tools, UltraISO, and WinCDEmu. These programs create virtual drives that allow you to mount the BIN file and access its contents.
How do I run a BIN file in Windows?
BIN files are typically not run directly but instead mounted as virtual drives using software like PowerISO, Daemon Tools, or UltraISO. Install one of these programs, right-click the BIN file, choose 'Mount' or 'Open with,' and select the software you installed.
Can WinRAR open BIN files?
No, WinRAR cannot directly open BIN files. WinRAR primarily compresses and decomposes files in formats like .rar and .zip. Use specialized softwares like PowerISO, Daemon Tools, or UltraISO to open BIN files.
How to open a BIN file online?
Visit the website of the chosen tool which will help in opening a BIN file. Look for an option to upload or select the BIN file from your device. Upload the BIN file to the online tool. Follow the instructions provided by the tool. Once completed, download the extracted content or converted file from the website. Access the extracted or converted file on your device.
Conclusion
So here we have covered almost all the special tools which can be helpful for BIN File Opener. We hope this helps. In case of any doubts or if you want to give your reviews, please feel free to tell us in the comments.
See Also: Best File Manager For Chromebook | Top 10 Reviewed