Data sharing is users' most significant task, especially when physical data files like CDs are involved. It is commonly observed that CDs can break, and you can lose data present on them. Users also have to share it by giving the entire CD manually, as you can't transfer them over the Internet. Thus, we require a better solution- Daemon Tools. It is a great tool to resolve all your problems and provide better accessibility. Today we will discuss the software's working, how you can use it, and some Daemon Tools alternatives that can be worthwhile.
Top 5 Alternatives to Daemon Tools:
Alcohol Portable
Inbuilt Windows Mounting
Virtual Clonedrive
WinMount
ISO Disk
Moreover, our team compiles some top picks for the Demon Tools alternative worth trying. You will most likely find suitable software to help you create a digital CD copy.
What are Daemon Tools?
It used to be commonly used to make ISO image files of physical CDs/DVDs for better usability. Users can easily store them on the hard disk and share them online. Therefore, and you, which was more convenient. The software probably isn't handy nowadays since everything is downloaded or stored on a disk. Daemon tools also provided the software to make a virtual drive with the image loaded in it.
It converts physical disks and image files into easily accessible copies. Thus, you can organize and use them much more efficiently than standard methods. As per the latest configurations, the software is compatible with Mac OS, Windows XP, and proceeding OS versions.
See also: 9 Best ISO Maker Software for Windows (Free & Paid)
Top 5 Alternatives to Daemon Tools
We hope you are familiar with the platform's functioning as we head towards an alternative to Daemon tools. You can easily download the following alternatives from trusted sources. Users can install and set up the same without a technological background. Therefore, let's dive straight into the alternate tools.
Alcohol Portable
The first name on our list is Alcohol Portable, a simple yet effective tool to create virtual space. You don't need to download any additional APK setup or extract large files to use the app. It will create separate folders for every content and organize them accordingly. When running a program, a single click is enough to terminate it.
Moreover, users can add image files by the drag and drop command. On the contrary, right-click the icon to remove the image file or access other options.
Download: Alcohol Portable
Inbuilt Windows Mounting
It is not any external app or tool. Instead, it is an in-built function that helps you mount image files. You only have to double-click on the file, and the work is done. Users can right-click on the file and select the Mount option from the list.
Although, this alternative doesn't provide many variations in the process. Hence, you are stuck with a single-step procedure without additional features. This option might not work in some old versions of Windows OS. Thus, make sure your system is compatible with the configurations.
Virtual Clonedrive
It is a free Daemon tools alternative that doesn't charge any additional fee for completing the task. Users can select various image file formats like DVD, CD, IMG, BIN, etc. Once you enter the tool, you can also explore some extra options. The best feature is that you can replace existing drive icons without much effort.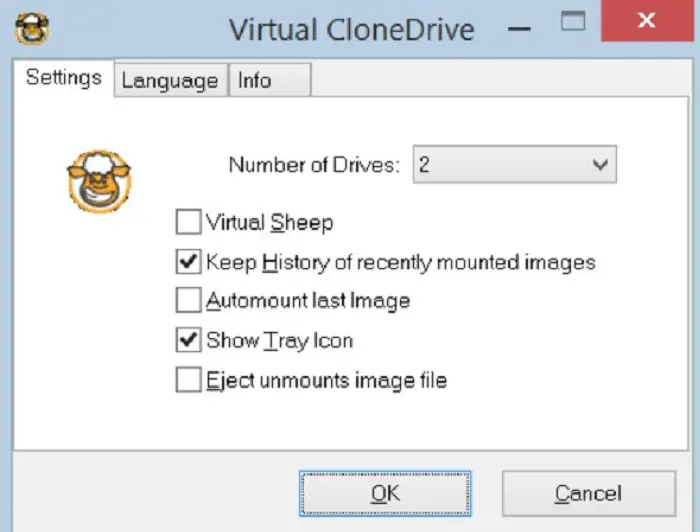 Virtual Clonedrive has a 'history' feature that helps smooth navigation between image files. There is no issue in making multiple instances, as the software is quite reliable. However, you don't want to cross the threshold of '15' as you might experience latency.
Download: Virtual Clonedrive
WinMount
As the name suggests, WinMount is one of the perfect Daemon tool alternatives that you can use for free. It has a highly well-managed interface allows you to interact with the system. Undoubtedly, it is a better Daemon tool alternative to several industry experts.
It can mount virtual disks and local folders with the proper extraction of files. You can convert various images and document files according to the requirement. Thus, it is a solution to all your problems during the procedure.
Download: WinMount
ISO Disk
At last, you must use ISO Disk, a powerful Daemon tools alternative for the latest computers. You can effectively store virtual image files in the drive and access data conveniently. It allows the creation of up to 20 drivers, including images in each.
Moreover, ISO Disk supports DVDs, CDs, and multiple file formats. Therefore, it works without installing external files or applications into the system. Despite being compact software, it works pretty fast and smoothly.
Download: ISO Disk
Is Daemon Tools Free in 2023?
As mentioned earlier, Daemon tools are popular, and many people actively use them. Daemon Tools is a free-to-use application.
Moreover, it can be a cross-platform software supporting Windows and Mac devices. This is why Daemon tools and their alternatives are getting much attention even in the 21st century.
See Also: 14 Best BIN File Opener Software For Windows [Updated]
FAQs
What are daemon tools?
It is a drive and disc used for authority programs in Windows and Linux.
What can I use instead of DAEMON Tools?
Alcohol portable, Inbuilt Windows Mounting, Virtual Clonedrive, WinMount, and ISO disk are the top picks for alternatives for daemon tools.
Is there a free version of DAEMON Tools?
Daemon Lite is the free version where you can use primary tools for free. You can also pay and buy the tools to get lifetime access.
What is the equivalent of the daemon process in Windows?
Windows runs a background process which is known as a service. It performs the same functions as that of a daemon process.
Conclusion
Ultimately, you will likely find an ideal Daemon tools alternative suitable for your needs. Also, try properly handling these tools, as you don't want to lose critical data files. Ensure you are not risking any central image files without creating a backup.
See also: 12 Best ISO File Extractor Software for Windows [Free & Paid]