Did you realize that over 58 percent of the cyber-attacks carried out each year target small businesses? The businesses targeted in these attacks will have 250 employees or less. Instead of waiting until your data is wiped out or compromised to take action, you need to device a plan to combat this problem. Here is when Server Backup Software comes into the picture as a savior. 
One of the best alternatives to keep your data safe is by investing in backup software. With this software, you can save copies of your data in the cloud, meaning if a network crash or ransomware attack; you can avoid losing important information. Employ a company that offers managed IT services or hire a team of qualified people to help maintain all your servers. Whichever route you choose, having backup servers becomes more and more essential for businesses in the digital age.
Are you looking for the best server backup software on the market? If so, check out the recommendations below.
See Also: 6 Best Free Paid Backup Software for Mac in 2019
Best

Server Backup Software
Here are the best Backup Software for you to use in 2019 to secure your data.
The KeepItSafe Online Backup
If you are looking for a way to manage your digital assets in a simple and affordable way, then the KeepItSafe Online Backup is an excellent option. This is a small business backup software. The team at KeepItSafe is passionate about providing backup solutions for business that are easy to use and effective. This small business server backup online system can provide you with a host of benefits.
The automated backup feature allows you to eliminate the headaches and stress caused by trying to manually backup your data. The KeepItSafe system also provides redundant backups, which means you can keep a copy of every file on your server. You can also rest assured your data is safe when transferring it to other data centers because of the iron-clad encryption offered by KeepItSafe.
See Also: What Is Server Virtualization?
The Power of ESET Endpoint Security
One of the main things business owners look for when choosing server backups software is the additional features a company offers. When using the ESET Endpoint Security software, it will provide you with a host of different tools like backup for windows server. These tools are designed to help you keep your network safe and functional.

Not only does ESET Endpoint Security software provide an automated backup system, but this system also features web controls, anti-spam systems, and botnet protection. If you are thinking for an all-in-one security system and backup solution, then using ESET Endpoint Security is a good idea.
Visit: ESET Endpoint Security
See Also: 5 Best Backup Camera to Install in Your Car for Total Safety
The Altaro VM Backup
Are you looking for a virtual machine server backup software? For years, IT departments, consultants, and resellers have trusted the Altaro VM Backup. The bill for this program is as a virtual machine backup and replication solution. Most IT professionals use this in conjunction with VMware and Hyper-V.
Altaro VM Backup
In addition to the online backup software, this system offers enterprise-level tools like WAN replication and CDP. Professionals who use this program claim that it is simple to operate, affordable, and fast. You can try this system free for 30 days to see if it is the right fit for your needs before making a purchase.
Visit: Altaro VM Backup
See Also: Simple Steps to Add Bots to a Discord Server – TechWhoop
Resilio Connect
For companies looking for a fast and effective way to move their data, Resilio Connect is a fantastic Server Backup Software. You will get the bill as a P2P solution used to sync and transfer data. It is both reliable and effortless to scale. Many logistics, engineering, and tech companies using this program.
When used correctly, Resilio Connect provides smart data routing and WAN optimization at lightning speed. You can also use the scripting hooks and automation provided by this program to construct workflows around the movement of data.
Visit: Resilio Connect
Acronis
Acronis True Image is a veteran in the backup industry. It began as a disc imaging tool but has since evolved into the greatest all-in-one backup solution, complete with sophisticated features such as ransomware prevention. The most important part is that this service backs up entire disks to the cloud and not to a local network. It's also a genuine Windows backup service, allowing you to create backups on your local drive, an additional disc, and the cloud. It also has more backup schedule choices than most other solutions, including a one-of-a-kind feature called Upon Event.
It can be used to generate backups in specific situations, such as when an external hard drive is connected. To top it off, there seems to be a Try and Decide feature that makes it possible to create potentially risky modifications to your system, such as installing new software, without fear of harm.
Visit: Acronis
CloudBerry Backup
CloudBerry isn't your typical server backup software. It's a backup control centre and doesn't provide cloud storage and is one of the best among server backup solutions. However, it enables you to back up your files on one or more cloud services of your choosing and monitors all of your backups from one location. Power users and IT experts will benefit from the software.
CloudBerry offers two distinct selling factors that distinguish it as one of the top backup solutions in 2021. To begin, it provides 65 storage options, including all of the major players such as Amazon S3, OneDrive, and Microsoft Azure. Second, it handles nearly all mixed storage scenarios. You receive real-time backups with CloudBerry and a variety of schedule choices, such as hourly, daily, and weekly. On the user end, it encrypts files using 256-bit AES encryption, protecting data in transit via the TLS protocol.
Visit: CloudBerry
O&O DiskImage
O&O DiskImage has all of the standard functions as well as a few extras. You could backup files and discs, choose or deselect parts of a local drive, generate differentiated and cumulative backups, and utilize virtual and network-based storage devices. In addition, you may divide huge files into small pieces and password-protect your files.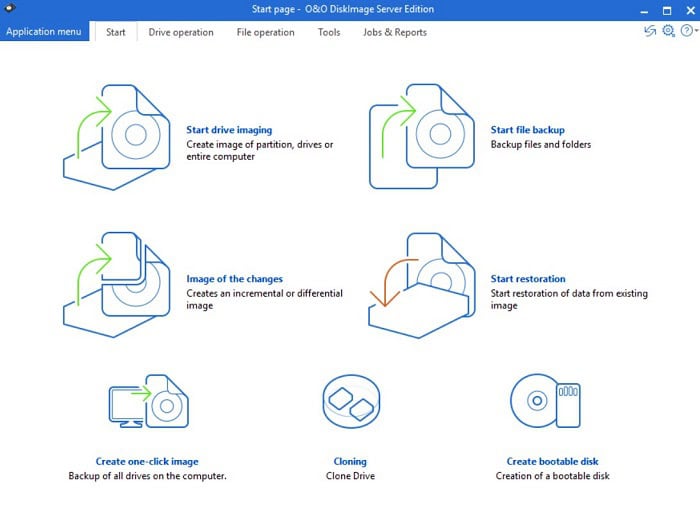 O&O provides unique features such as one-click imaging in addition to these basic functions. With a single click, you may create a picture with default settings. Another handy feature is Disk Image to Go, which relieves you of the burden of producing boot media. It makes new boot media on an external storage device or a Memory stick effortlessly.
Visit: O&O DiskImage
See also: What Is Server Virtualization | How It Works And Its Benefits!
Paragon Backup & Recovery Free
Paragon is one of those services that have been in the industry of server backup softwares for a long time. Over 6 million customers have installed the free backup, as per the organization, which is very noteworthy. Even though it is freeware, it allows you to encrypt the data that is backed up. You're also able to choose the encryption type you want!
When you initially start the software, you'll need to create a MyParagon registration. Paragon Backup & Recovery is an excellent alternative for anyone who wants to backup their Windows PC for free but doesn't mind preceding cloud storage or sophisticated capabilities like outlook backup.
Visit: Paragon Backup & Recovery Free
See Also: How To Update PHP in WordPress [Simple Steps]
Conclusion
The only way to get the best server backup software in place is by doing your homework.
Considering the needs of your business will help you narrow down the selection of Server Backup Software solutions at your disposal.
Also Refer: Top 10 Best & Fastest Free Public DNS Servers (Updated)