Did you realize that over 58 percent of cyber-attacks each year target small businesses? The businesses targeted in these attacks will have 250 employees or less. Instead of waiting until your data is wiped out or compromised to take action, you need to devise a plan to combat this problem. Here is when Server Backup Software comes into the picture as a savior. 
Investing in backup software is one of the best alternatives to keep your data safe. With this software, you can save copies of your data in the cloud, meaning if a network crashes or ransomware attacks; you can avoid losing important information. Here is a guide on What Does An Embedded Software Engineer Do?
Employ a company that offers managed IT services or hire a team of qualified people to help maintain all your servers. Whichever route you choose, having backup servers becomes increasingly essential for businesses in the digital age. Are you looking for the best server backup software on the market? If so, check out the recommendations below.
Best

Server Backup Software
Here is the best Backup Software for you to use in 2023 to secure your data.
BDRSuite Windows Server Backup
A powerful and all-encompassing backup solution meticulously designed to safeguard your Windows servers. The BDRSuite ImageBackup software ensures the complete protection of your physical computing environments in a single, seamless pass, including the operating system, applications, and critical files. 
In case the hardware of the Windows server has been damaged or got corrupted, BDRSuite ImageBackup can recover it immediately from the backup data utilizing the Quick VM Recovery and Instant File Level recovery options. The best part is that it won't affect your ongoing business and will complete the recovery without interruptions.
Furthermore, BDRSuite Windows Server Backup offers near-continuous data protection and reduces storage needs by backing up only the changes ensuring increased availability of your physical servers. All this is possible due to its proprietary CBT driver, which allows RPO & RTO are both less than 15 minutes, so you can quickly get back to work if anything goes wrong.
A few notable features are listed below:
BDRSuite ImageBackup supports Windows Server versions such as Windows Server 2008, 2008R2, 2012R2, 2012, 2016 & 2019 
At the time of Incremental Schedule, BDRSuite's proprietary Image Backup driver blocks the hard drive that has been changed since the previous Windows server backup by tracking it instead of backing it up as a whole. This helps in improved performance by reducing the size of the increment data to be sent. 
All the backups can be scheduled using BDRSuite ImageBackup, making it hassle-free and easy. 
Visit: BDRSuite
MSP360 (Server Backup Software)
MSP360 is a fantastic server backup software that you can use for working in different kinds of circumstances. The software has limitless capacity for Backup and has features that give unlimited access to a desktop that Fastracks trouble-shooting with onboard integrations with third-party RMM/PSA packages.
A few notable features are listed below:
This software keeps complete track of the company's storage and calculates prices and capacity with preloaded reports.
This website offers a centralized system of management. This allows the party employing them for Backup to access their own systems from one place using the web-based console.
Access your storage and back up from the comfort of your home or a cozy mountain BnB. This allows you to work from anywhere in the world. The best part is that you can schedule jobs through the small tool from anywhere you want and even make sure that the Backup is occurring promptly.
You can collaborate with multiple software vendor companies and not fret at all. You will have no data loss with MSP360 APIs.
Visit: MSP360
Carbonite- Windows Server Backup Software

This software is designed to provide data backup to all kinds of devices. It covers a wide range of products suitable to the consumer level and satisfies enterprise requirements. Whether it's a single computer or a whole range of machines, carbonite has got you covered.
This software can differentiate between which data needs a complete backup and which requires incremental saves. It also gives you a fair idea of when to go about each process.
A few notable features are listed below:
You can buy the amount of storage you need at very low prices, and offers cloud storage. You can use this cloud storage for Backup for small businesses, with some packages starting at prices as low as 6 USD a month, depending upon the amount that you would require.
Carbonite is suited for small businesses to big corporations alike. They can store and back up small amounts of data and handle the multi-server level of backup options for enterprises at the same time.
It also provides end-to-end encryption. This ensures that your data's privacy is completely maintained and no one can detect anything while it travels from the server it was into the storage.
Cohesity DataPlatform
Cohesity DataPlatform is your one-stop solution to all your data problems and is the best backup server software for windows. It provides a holistic methodology for dealing with data and goes beyond just plain old Backup and recovery.
It eliminates silos, collects all possible data in one place, and increases and helps boost access across various fronts. Cohesity uses a web-enabled platform that is also scalable, and it allows you to deduce your workflow needs and delegate them across your company.
Its notable features include:
This software lowers your data footprint and, at the same time, ensures that efficiency is enhanced at lowered prices.
A single-user interface provides the user entry to all data, which they can then manipulate according to their needs.
The KeepItSafe Online Backup (Server Backup Software)
If you are looking for a way to manage your digital assets affordably, then the KeepItSafe Online Backup is an excellent option. This is a small business backup software.
The team at KeepItSafe is passionate about providing backup solutions for businesses that are easy to use and effective. This small business server backup online system can provide you with many benefits.
The automated backup feature eliminates the headaches and stress caused by trying to manually Backup your data. The KeepItSafe system also provides redundant backups, which means you can keep a copy of every file on your server.
You can also rest assured your data is safe when transferring it to other data centers because of the iron-clad encryption offered by KeepItSafe.
The Power of ESET Endpoint Security
One of the main things business owners look for when choosing server backup software is the additional features a company offers. The ESET Endpoint Security software will provide you with various tools, like a backup for the windows server. These tools are designed to help you keep your network safe and functional.

Not only does ESET Endpoint Security software provide an automated backup system, but this system also features web controls, anti-spam systems, botnet protection, and free server backup. If you are thinking of an all-in-one security system and Backup solution, then ESET Endpoint Security is a good idea.
See Also: Top 10 Best IP Camera Software For Security (Updated 2023)
The Altaro VM Backup (Server Backup Software)
Are you looking for virtual machine server backup software? IT departments, consultants, and resellers have trusted the Altaro VM Backup for years. The bill for this program is as a virtual machine backup and replication solution. Most IT professionals use this in conjunction with VMware and Hyper-V.
In addition to the online backup software, this system offers enterprise-level tools like WAN replication and CDP—professionals who use this program claim that it is simple to operate, affordable, and fast. You can try this system for free for 30 days to see if it fits your needs before making a purchase.
Resilio Connect
For companies looking for a fast and effective way to move their data, Resilio Connect is a fantastic free windows server backup. You will get the bill as a P2P solution used to sync and transfer data. It is both reliable and effortless to scale. Many logistics, engineering, and tech companies use this program.
Resilio Connect provides smart data routing and WAN optimization at lightning speed when used correctly. You can also use this program's scripting hooks and automation to construct workflows around data movement.
Acronis (Server Backup Software)
Acronis True Image is a veteran in the backup industry and is one of the best server backups. It began as a disc imaging tool but has since evolved into the greatest all-in-one backup solution, with sophisticated features such as ransomware prevention.
The most important part is that this service backs up entire disks to the cloud, not a local network. It's also a genuine Windows backup service, allowing you to create backups on your local drive, an additional disc, and the cloud.
It also has more backup schedule choices than most other solutions, including a one-of-a-kind feature called Upon Event.
It can generate backups in specific situations, such as when an external hard drive is connected. To top it off, there seems to be a Try and Decide feature that makes it possible to create potentially risky modifications to your system, such as installing new software, without fear of harm.
CloudBerry Backup
CloudBerry isn't your typical server backup software. It's a backup control center, doesn't provide cloud storage, and is one of the best server Backup solutions.
However, it enables you to back up your files on one or more cloud services and monitors all your backups from one location. Power users and IT experts will benefit from the software.
CloudBerry offers two distinct selling factors that distinguish it as one of the top backup solutions in 2023. It provides 65 storage options, including all major players like Amazon S3, OneDrive, and Microsoft Azure.
Second, it handles nearly all mixed storage scenarios. You receive real-time backups with CloudBerry and various schedule choices, such as hourly, daily, and weekly. It encrypts files using 256-bit AES encryption on the user end, protecting data in transit via the TLS protocol.
O&O DiskImage (Server Backup Software)
O&O DiskImage has all of the standard functions and a few extras. You could Backup files and discs, choose or deselect parts of a local drive, generate differentiated and cumulative backups, and utilize virtual and network-based storage devices. In addition, you may divide huge files into small pieces and password-protect your files.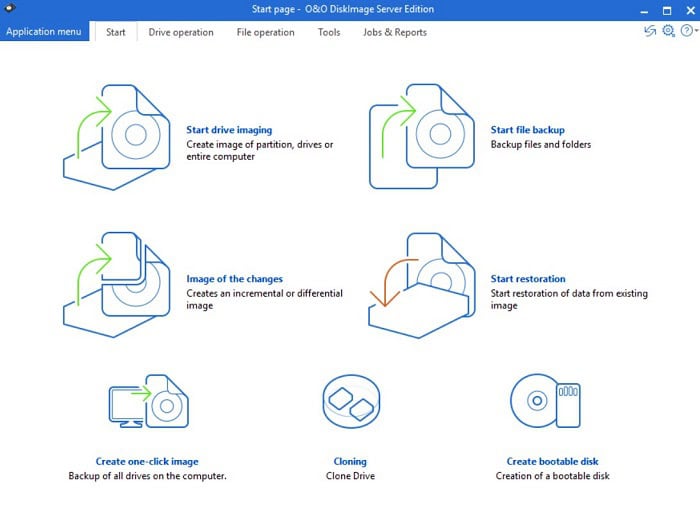 O&O provides unique features such as one-click imaging in addition to these basic functions. With a single click, you may create a picture with default settings.
Another handy feature is Disk Image to Go, which relieves you of the burden of producing boot media. It effortlessly makes new boot media on an external storage device or a Memory stick.
Paragon Backup & Recovery Free- Server Backup Software
Paragon is one of those services that have been in the industry of server backup softwares for a long time. Over 6 million customers have installed the free Backup, as per the organization, which is very noteworthy.
Even though it is freeware, it allows you to encrypt the data that is backed up. You're also able to choose the encryption type you want!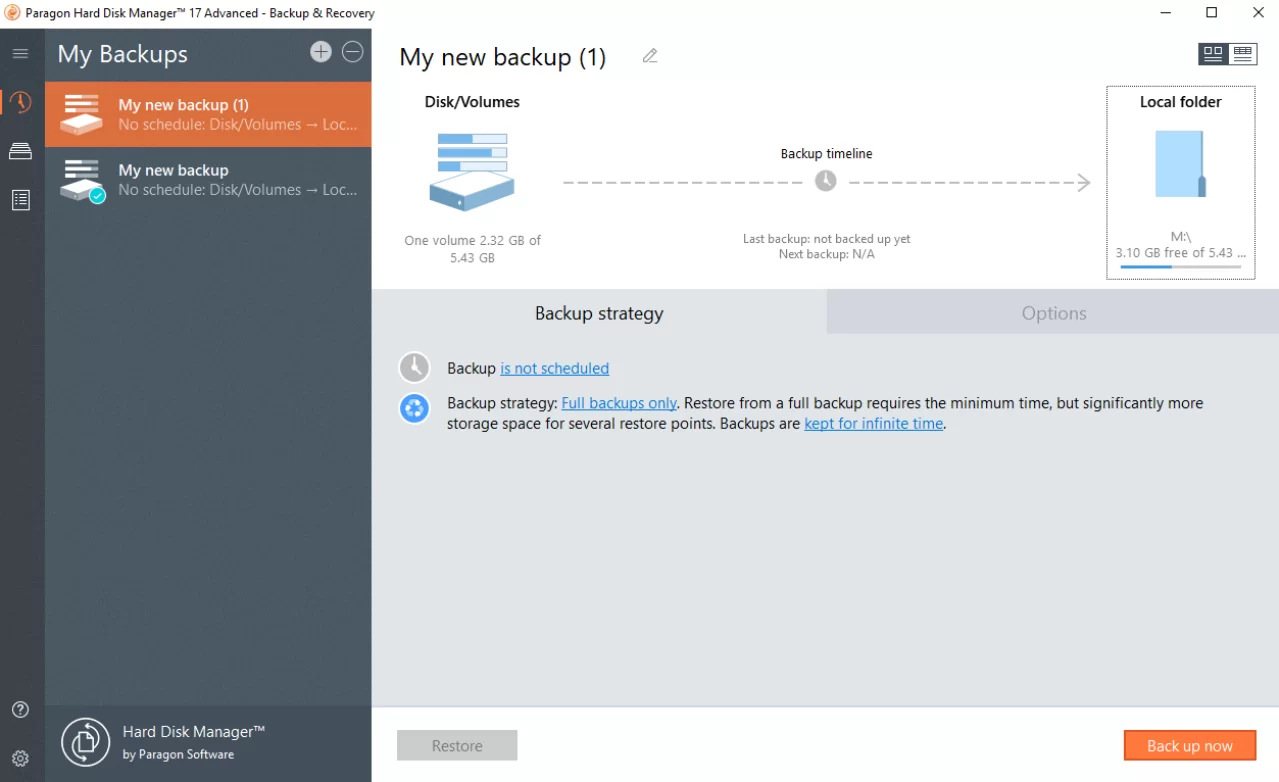 When starting the software, you'll need to create a MyParagon registration. Paragon Backup & Recovery is an excellent alternative for anyone who wants to back up their Windows PC for free but doesn't mind preceding cloud storage or sophisticated capabilities like outlook backup.
FAQs
What is server backup software?
Software for managing and creating server backups of data and configurations is known as server backup software. However, it automates moving crucial server files and settings to a secure storage place to enable data recovery in the event of data loss, hardware failures, or calamities.
Why do we use a backup server?
You can use a backup server to guarantee data availability and integrity. They guard against data loss brought on by hardware malfunctions, mistakes made by people, malware, or natural calamities. Hence, organizations can retrieve crucial information and guarantee business continuity by backing data to a different server.
What is a full server backup?
A system-level backup, commonly called a full server backup, duplicates all the data and configurations on a server at a particular time. Although it offers thorough recovery capabilities, it takes more time and storage than incremental or differential backups.
Which backup is the fastest?
The quickest sort of backup is usually an incremental backup. It minimizes the quantity of data downloaded and the time needed by just backing up the changes made since the last backup. In contrast, differential backups are quicker than full but slower than incremental because they save modifications.
Conclusion (Server Backup Software)
The only way to get the best server backup software in place is by doing your homework.
Considering the needs of your business will help you narrow down the selection of Server Backup Software solutions at your disposal.
See Also: Top 10 Best & Fastest Free Public DNS Servers (Updated)