What if you were working on an essential project for months on your computer, and you lost it just a day before your submission due to some malfunction in your computer? Or what if, due to a malfunction in your computer, you lose all the memorable photos you had stored in it over the years? There are various ways to share photos and keep them safe using Vault apps, but things cannot come for granted. Thus, you should know about the finest DVD creator tools out there.
A computer is a machine, and like any machine, this can malfunction at any given time without prior notice. To avoid the scenarios mentioned above, it is best always to maintain a hard copy of your important documents, photos, videos, etc., to keep it safely stored in one place. What is a better option for creating a safe hard copy than a DVD?
DVD is a straightforward and cheap option for creating a hardcopy backup of all your essential files. Copying files into a DVD is not as easy as copying them to a pen drive. It would be best to have DVD writing software to quickly and safely write all your files to DVD.
There are many DVD creator tools; choosing the best tool for creating a DVD might be complex and confusing. We understand this and have done the job of shortlisting the best DVD creator tools to download right now for you.
See Also: 10 Best Free Movie Catalog Software for Windows | Updated (2023)
DVD Creator Tools to Download Right Now
Here is the list of the best DVD Creator tools on the market.
Unit converter
Wondershare Uniconverter is regarded as one of the best DVD creator tools that provide a mind-blowing experience. It is a whole package designed not only for Windows but for Mac as well. Now you can easily share your files in over 1000+ formats glitch-free and 30x faster.
Once you visit their site, they offer you a free trial. If you like it, you will click on the buy option. You can download, compress, transfer videos, and much more. Make your creative videos stand- out flawlessly.
Now quickly make GIFs and change your templates according to the occasion. The software can burn DVDs and CDs at ultra-high speed and high quality.
Buy: Uniconverter
See Also: Best free XML software for Windows
Xilisoft
Another one of the best DVD creator tools that we would like you to recommend is Xilisoft. Surf from a pool of video formats and make a special one for you. Quickly burn HD videos to DVD. Take images and videos from your smartphone+ and edit them using this tool.
This tool is designed for Mac and Windows. A plethora of DVD menu templates are provided too. Make all kinds of edits to your videos and enjoy streaming them! Buy this tool by clicking on the link provided below. If you do not like these DVD creator tools, try the others mentioned below.
Buy: Xilisoft
See also: VideoByte BD-DVD Ripper Review in Detail And It's Working
Aimersoft
Effortless and attractive, Aimersoft, is another recommended as one of the best DVD Creator tools one could ever buy.
Burn your videos from the camera, smartphone, android or IOS devices, or other formats like MP3, MP4, MOV, etc. Burn the DVD in one single click.
This tool also provides you with an option of a real-time preview to experiment with the effects you want. You can check out the Screenshots by clicking on the link given below. Along with many DVD menu templates, you can burn to any blank recordable and rewriteable DVDs.
Buy: Aimersoft
RZ
Make different chapter menus and vibrant DVD titles with this fantastic tool, RZ. This also comes in the list of best DVD creator tools, which lets you customize your stuff. It offers high-quality video along with high performance.
It also has a built-in, highly compatible DVD burner. Convert your gifs, videos, images, or movies from one format to another with this tool. Create a multi-channel Dolby surround and PAL DVD. It has a lot of features that are mentioned in the provided link. Please go and check by clicking on the link. You might wish to buy it too!
Roxio My DVD
Roxio My DVD is one of the best DVD creator tools available. You can use this software to burn all your files to the DVD quickly and safely. The best feature of this software is the built-in editor. This editor can be used for further improving the video and audio quality before burning it to the DVD.
You can add cool effects and choose from many available layouts too. Using Roxio My DVD, you can improve the audio and video quality of the video you want to burn to the DVD. The price of Roxio My DVD is 49.99 USD.
Another cool feature of this DVD creator tool is that you can add background images of your choice for creating menu layouts. Burning on Roxio My DVD is easy; you only have to drag the file from your computer and drop it to add movies.
Visit: Roxio, my DVD
DeVeDe 
DeVeDe is a free DVD-creating tool that you can download. This software is supported in Windows OS only. For a free DVD-creating tool, it does a great job at it. It is a fundamental and straightforward DVD-creating software. If you are looking for something professional, this is not the software for you.
You cannot make professional-looking DVDs with this software. This software is specifically designed for home users who want to make a hard copy of their important files and documents to a DVD using the software. If you do not want to shell out any cash for software, DeVeDe is just for you.
Visit: DeVeDe 
DVD Lab Pro
DVD lab pro is high-end DVD-burning software. If you are a professional looking to make a professional DVD, DVD lab pro is perfect for you. The best thing about DVD lab pro is that it offers a trial version to every user for a small glimpse of the things one can do using it. However, you cannot try or use every feature in the free version.
If you like the free version, you can get the full version and avail all available features by paying. The starting price of DVD lab pro is 99 USD, and the maximum is 160 USD. Using this software, you can improve the audio and video quality of the file before burning it to the DVD.
The burning process is straightforward. Rest assured, the result will be of excellent quality, and you will get value for the money you pay.
Visit: DVD Lab Pro
iSkysoft DVD Creator
iSkysoft DVD Creator is one of the best DVD Creator Tools mentioned in the list. It is so good that even in its free trial version, you can choose from many templates. Using this software, you can burn movies and other files to the DVD using a customized theme.
There is a free- version and paid version of this software. The official website of iSkysoft DVD creator claims that over 5 million users have downloaded this software worldwide.
You can quickly burn videos and audio of all formats to DVD using iSkysoft. The price of the pro-version of this software is 39.95 USD. The conversion speed is very high, and the quality of the end product is also excellent.
Visit: iSkysoft DVD Creator
Power Producer
Power Producer is more than just a DVD-creating tool. A unique feature you get with this software is the member zone. Here, you can download templates that other users have uploaded. You can also share your templates which other people can download.
The process of burning DVDs using the Power producer is easy and quick. You can choose your template and theme. You can also add an image of your choice and set it as the background of your DVD template.
The starting price of the Power producer is 39.99 USD. Try out some other DVD creator tools mentioned down below.
Visit: Power Producer 
See Also: Best Movie Downloading Sites For Mobile | Top 16 In 2022
DVDFab DVD Creator
DVDFab is one of the DVD Creator Tools software that can be a decent choice to create excellent DVDs. This DVD-making tool allows various functionalities and means to make DVD production a straightforward job. This best DVD authoring software enables users to burn copies of DVD movies simultaneously.
The DVDFab DVD Creator will combine all the different kinds of video into a single disc of high quality. This way, you can mix the camera-recorded and downloaded videos to create unique DVDs using this DVD authoring software.
This is counted in our list of the best DVD Creator tools because of its smooth and engaging interface.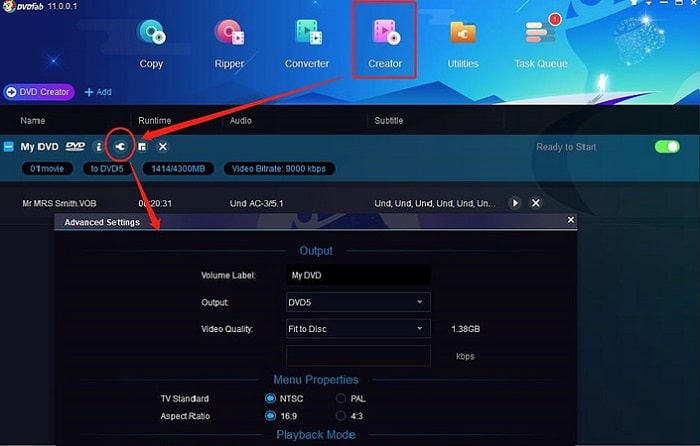 The DVDFab Creator can burn any video to the DVD. You can customize it to have the choice of writing a disc utilizing this DVD authoring software.
This DVD authoring software is probably the best as it easily converts ISO files from burning movies to discs.
See Also: Top 6 Piano Software for Windows+Android to Download
Its tool supports all the different DVD formats, creating a DVD from any video or mixing other videos of various sizes into one master DVD without any problems.
This Creator can prepare different videos at one time. Through this software, one can systematize the turned videos in order of their wish for playback.
Visit: DVDFab DVD Creator
CyberLink PowerDirector
CyberLink PowerDirector is a fabulous, easy-to-use, and non-conventional DVD Creator Tool that can produce professional DVDs. This tool provides more or less identical features granted by the DVDFab DVD Creator.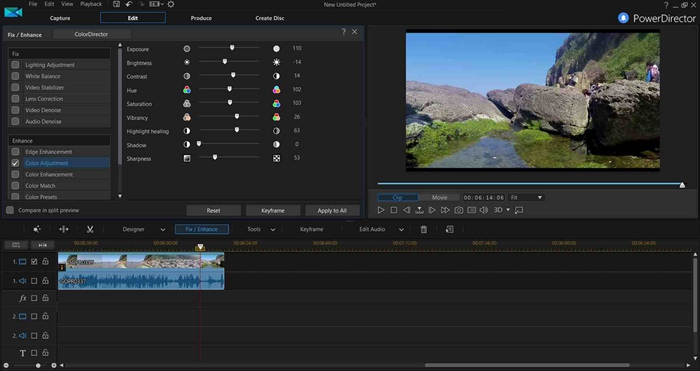 It is effortless to use for novices despite having advanced features in it. It can efficiently work on any file format and codec to create the best-quality DVDs. Further, it can convert the videos shot on any device to a quality DVD and save the final video in any digital format.
Also, this DVD-creating software has an extensive option for templates to create your disc how you need to. The DVD project can be segmented into many different chapters for chapter-based viewing.
See Also: 5 Best DVD Burner Software for Windows/Mac (Free & Paid)
Visit: CyberLink PowerDirector
DVD Styler
Of all DVD Creator Tools, this is a lovely and free DVD-creating software enabling users to burn quality DVDs with the exact video clips and audio tracks. It provides many functionalities but does not match the DVD quality standards offered by DVDFab DVD Creator.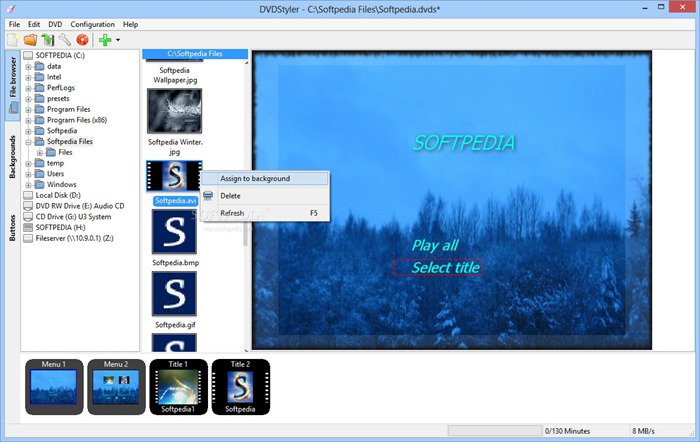 It is effortless; even novices can create a DVD using their videos. Also, It supports most of the popular video and audio formats. The users can create a stylish and attractive menu using the excellent templates offered by the DVD-creating tool.
Visit: DVD Styler
Conclusion
This is the list of the best DVD creator tools. If you have any doubts, please add them in the comments. Also, if you use other DVD creator tools, share them with us in the comment section below.
See Also: Top 12 Best Karaoke Software for Windows – TechWhoop