As the name suggests, Vault Apps are a type of security application where you can keep all your personal and private photos, essential data, private social accounts, etc., and ensure they wouldn't be leaked online. Thus, you must know about the best Vault Apps out there.
Best Vault Apps for Android (2021)
Hicalculator
FotoX
Hide it Pro
GalleryVault
Photo locker
Private Photo Vault
Gallery Lock
Best Secret Folder
KMYS
Keep Safe
With the rise of hackers and crackers hacking social media, wifi passwords, etc., your phone's security is in your hands, especially your photos. According to PIA's study, there are so many countries that whose online privacy is at stake. And it should better be protected. As phones are becoming easy targets for these hackers, and they can retrieve all your data and sell or leak them online, which can be devastating for you, irrespective of your phone's content. (explicit included, if you know what I mean). It's time to look for the finest vault apps to use.
14 Finest Vault Apps to Use
Here are the top Vault Apps to protect your essential data and privacy.
Hicalculator
Want to do some calculations along with protecting your photos?
HiCalculator is one of the fantastic Vault Apps that could be used to protect your photos, videos, and essential documents.
You have to set a password and a decoy password. Another mind-blowing fact about this app is that you can set different passwords for different folders. However, unlike other apps, HiCalculator allows you to send all the files via email.
Isn't it amazing? Then what are you waiting for? Go ahead and protect your important stuff before it could get leaked by downloading one of the Vault Apps that suits you the most.
This didn't help you? Don't worry; we got your back. Try out the below-mentioned Vault Apps and secure your files.
See Also: How To Track A Cell Phone Location Without Them Knowing
Visit: HiCalculator
FotoX
This app is very different from the rest of Vault Apps and comes with a unique feature. If someone else tries to open this app, it fakes crashes like any other Android app, and there is nothing to be suspicious about. It takes a picture of the intruder trying to hack in the moment it crashes.
FotoX has other features, like cloud, but they have a paid version. The benefit of storing our files in the cloud is that one can access them from any other device. And want to know the best part of this app? You can hide this app and stay secure. In these ways, Vault Apps are helping us protect our data.
Visit: FotoX
Hide it Pro
Although other Vault Apps are just designed or can secure files like videos and photos, this app stands out from them as it allows you to save additional data, too—files like apps, contacts, audio messages, videos, and photos. The exciting part about Hiding it Pro is that you can secure all these files without spending any penny or buying any subscription.
This app is best suited for everyone. You can customize your data the way you want, too, and this app doesn't even appear on our apps list.
It uses AES-256 encryption for protection. Not only it comes with these many features, but it also comes along with different plugins to improve the functionality.
If you aren't satisfied with Hiding it Pro, then go for the below-mentioned Vault Apps.
See Also: Top 5 Online Study Tools For High School Students In 2023
Visit: Hide It Pro
GalleryVault
GalleryVault is one of the fantastic app Vault Apps that allows you to hide photos and videos. But want to know what is different about this app?
Accessing and securing your photos or audio offers us a hidden, protected web browser that we can use to surf anytime. Now how to use this app. It is effortless.
First, open the app, tap + on the main screen, select the source from which to import files, and start it. Done importing? Now GalleryVault will ask you to delete the original ones from your mobile. It also records attempted break-ins, making it better than other Vault Apps.
See Also: 8 Best Co-Parenting Apps To Download After Divorce
Visit: Gallery Vault 
Photo locker
Photo locker provides us with many features except for uploading our files to the cloud. You can add photos that you want to hide. This app will ensure that they are safe inside. Once they are imported and encrypted, one has complete control over the app.
It gets locked if the phone goes into sleep mode. This app is linked to your mail for password recovery and other safety measures. Don't think much and download these Vault Apps as soon as possible.
See Also: Top 8 Free Voice-to-Text Apps for Android (2023)
Visit: Photo Locker
Private Photo Vault
Since photos are the most scrutinized and easily hacked, a photo vault deserves the first place. Private photo vault is a secure digital Vault app through which you can keep your photos confidential and hide them from all the users of your phone. (if any)
The app can be encrypted with a four-digit pin code and will open only when the pin matches the code you set. Other than the pin password, you can also have a pattern password.
All the unwelcome people are put to a fake password employed by the application, which automatically tricks them out of the application. You can keep photos and even videos in this application.
The coolest part is that any break-in will be directly reported to you with the time and the accurate GPS location. When you have this app, forget all the tension of getting a hack.
Today, people keep photos of their essential document and themselves and their family on their smartphones. Photos are the one which is easily hacked and are primarily in tampering. Hackers misuse other people's pictures for their benefit.
Private Photo Vault is one of the secure digital Vault Apps allowing users to keep their private photos safe and hidden from any other user. This app can be used for photos and videos.
A user needs to set either a four-digit pin code or a pattern that can be set to encrypt the app.
The app will only open when the correct pin or pattern is inserted. If someone enters the wrong pin or pattern, they are automatically pushed out of the app. If there is a break-in, it will be directly reported to you with the time and accurate GPS location.
Visit: Private photo vault
Gallery Lock
A sweet, simple, and easy-to-use application for protecting your phone gallery pictures and videos.
You can select the photos you wish to keep private and select the gallery lock option in the options menu that will appear in your gallery.
The best part about Gallery Lock is that you can hide your images from others and this application by switching to its in-built stealth mode. Isn't that cool?
You can get it quickly on the play store. And don't worry about calling customer care again and again. This app takes care of it all and provides instructions every step of the way.
It also assists in protecting your phone gallery pictures and videos. This app is simple and easy to use. Select the photos and videos you wish to keep private, then select the gallery lock option under the options menu of your phone's gallery.
See Also: 14 Best Free & Paid Secure Password Generator Tools
It has an in-built stealth mode that means you can hide your images or videos from others and the application. This application provides instructions at every step, so you don't need to worry about a thing.
Truly a savior!
Visit: Gallery Lock
Best Secret Folder
Another name in some of the most amazing Vault Apps in the line is 'Best Secret Folder.' This application got a step further and taught a feature to click photos and shoot videos directly through the application and store it there.
It has complete password protection. And even keeps a track record of the time and date of the login. And exit so that the user can be one hundred percent sure of the safety of his photos and videos.
The salient feature of this application is that even if the intruder tries to enter or hack into your photos. It gets detection by the application as an unauthorized entry. And it displays random videos to let the intruder believe he has successfully broken in.
This application is another great application for keeping your photos and videos private. This application is completely password protected. Besides encrypting the pictures, this application allows the user to click images and shoot videos and store them directly in the application.
This application keeps track of the time and date of log in and exit so a user can be sure of the safety of his files. This application has one fantastic feature. Even if someone tries to enter or hack into your photos, their entry identification is still present.
Some other videos appear to them that are not actually in your media. This feature lets the intruder believe that he has successfully hacked.
(Don't worry; the application is still completely safe. The video played are entirely random and are not from your saved ones)
Visit: Best Secret Folder
KYMS
KYMS is also as fancy as its name. Performing all the functions of Vault Apps, like saving photos and videos in different formats and sizes. And protecting them with a pin and password, this application has something extra special for intruders.
It pretends to be a calculator on the face whenever you open the application. And does not change even if you tap on it.
It lets you hide your private photos and videos as well as documents. This application has an in-built web browser and an automatic video downloader. One can quickly transfer files to a PC via wifi. This app has both pin and password protection.
It has an extra unique feature. This app pretends to be a calculator. It always opens in the form of a calculator and works as a calculator unless you enter the correct pin and password.
The application will only appear when you enter the correct pin password into the fake calculator. Astonishing! Right.
Visit: KYMS
Keep Safe
Another application on our list is 'Keep Safe.' This one of the Vault Apps is quite simple and is handy for people who do not have formulas for nuclear and atom bombs in their mobile phone photos.
You enter the pin password that you authorized at the time of the registration to access your photos and videos. Albums and slideshows can also create with the help of this application.
The most fantastic feature of Keep Safe is that if you have a terrible memory like me. Then you probably will forget the pin password multiple times.
It is a relatively simple and secure application that encrypts photos and videos. This application has a pin, password, and fingerprint protection. You can access your files using any of the ways mentioned above.
One can also use it to create albums and slideshows. This app also has a feature of cloud backup which means you can easily access your files from any device by installing Keep Safe.
This application also takes your email id, so if you forgot your pin or password, don't worry; you can reset it easily.
See Also: How to Find Someone Using their Social Security Number?
Not to worry now if you have forgotten the password. You need to click on the application logo for an extended period (a few seconds). And a reset pin window will appear to put an end to all your panic.
Visit: Keep Safe
Vault
Vault deserves a place on this list of Vault Apps. This application not only secures your photos and videos. But it can also protect your SMS, calls, and other applications (Unlike other apps). There is a pin password for your authorization, without which nobody can enter this application.
The remarkable feature is that if you browse the internet, call someone, or even send an SMS to someone through this app. It stays private and is not in your public call log or browser history.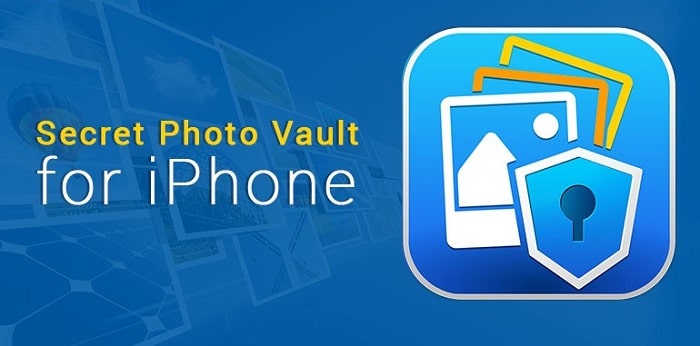 You can even pay for an upgrade where you will get the photo as well as the GPS address of the intruder if someone breaks into your phone and hide the app logo, but the free features are sufficient to make your data secure.
It is one of the best free Vault Apps. This app is handy for securing photos and videos and protecting your SMS, calls, and other applications. It requires a pin for authorization, without which one cannot access the application. It has an in-built web browser and a cloud backup facility.
This application is also helpful for browsing, making calls, and even sending private SMS to someone. It has some extra features you can access at a nominal fee.
In the upgraded version, if someone tries to break in, you will get the photo as well as the GPS address of the intruder. In the new version, you can also hide the app logo, but the benefits of the free version are sufficient to make your data secure. What else do you want in decent Vault Apps?
Visit: Vault
PhotoVault (Hide Pictures)
PhotoVault is an app that hides your pictures and is designed for Android, and individuals can download it from the Google Play Store. This app packs a lot of unique features. For instance, the image is encrypted when you hold your thumb on the picture. Isn't it amazing! Do you need any other reason to install this app?
One more feature includes long-pressing the folders to hide/unhide them. It also has a cool feature to create two private and one public gallery. Show your public gallery to fool your friends and family while keeping the personal account unnoticed.
Visit: PhotoVault
Safe Gallery (Media Lock)
Safe Gallery lock is an innovative way to hide your photos and videos. This vault app is available for Android devices. It will remind you of the IceCream Sandwich OS if you are a veteran Android user. It is straightforward to access. Besides photos and videos, you can also save audio in this app.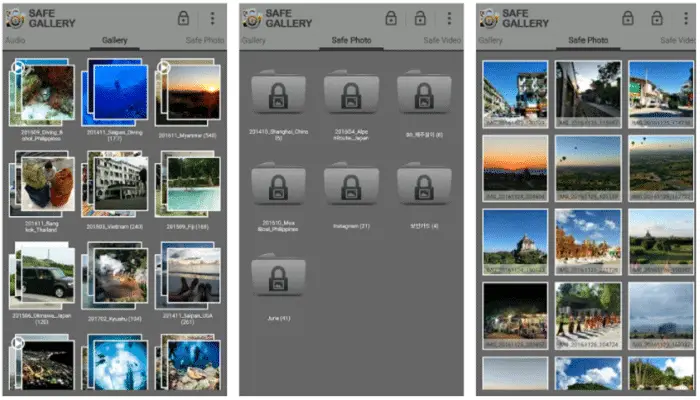 "It also enables you to view hidden files and folders."Be careful; anything that needs to be hidden should not be deleted, as it can be permanently deleted."
Visit: Secret Gallery lock
See also: 10 Best Facebook Spy Software to Track Your Friend   
Lock Photo Vault Video Safe
This is another vault app you can trust. It helps you archive your images, videos, gifs, audio, or document files. You can hide any file, including text, presentation, pdf, etc. This app works like a file manager. It also supports all types of video and photo formats. This software comes with an easy-to-use and customizable interface. You can also archive your software codes in this vault.
It offers the user three types of locks: pattern, password, and touch ID. Choose what's convenient for you. This app allows you to save your data in iTunes.
Visit: Lock Photo Vault Video Safe
FAQs
Is there an app vault for iPhone?
App Vault app empowers you to designate the apps you wish to maintain as private actively. Select your preferred apps, pick an authentication method, and establish the desired privacy settings. By downloading App Vault, you can fully enjoy the benefits of enhanced privacy and app security.
What is the app vault app in Android?
By swiping the home screen to the right, users can effortlessly access App Vault, which offers a collection of app cards for easy app opening, data access, and real-time news reading. App Vault prioritizes user privacy and ensures a user-friendly experience in its design.
Does iOS have a password vault?
iCloud Keychain continuously updates your passwords, passkeys, and other secure information across your iPhone, iPad, iPod touch, or Mac.
Is the iOS Photo Vault safe?
Private Photo Vault prioritizes security by actively implementing commercially reasonable safeguards. These measures protect Your Personal Information from unauthorized access, use, modification, destruction, or disclosure.
Conclusion
Let us know if you use or have an idea about any other set of cool Vault Apps in the comments section below.
See also: Best 5 Keylogger for iPhone You Can't-Miss in 2023