As the name suggests, Vault applications mean a type of security application where you can keep all your personal and private photos, important data, etc. and assure that they wouldn't be leaked online. Thus, you must know about the best Vault Apps out there.
With the rise in the number of hackers and crackers, your phone's security is in your hands especially your photos. Phones are nowadays becoming easy targets for these hackers and they can retrieve all your data and can sell or leak them online, which can be devastating for you irrespective of your phone's content. (explicit included, if you know what I mean)
Finest Vault Apps to Use
Private Photo Vault
Since photos are the most scrutinized thing which is easily hacked, therefore a photo vault deserves the first place. Private photo vault is a secure digital Vault Apps through which you can keep your private photos private and hide it from all the users of your phone .(if any)
The app can be encrypted with a four digit pin code and will open only when the pin will match the code which is set by you. Other than the pin password you can also have a pattern password.
All the unwelcome people are put to a fake password employed by the application which tricks them out of the application automatically. You can keep photos and even videos in this application.
The coolest part about it is that if there is a break-in of any sort, it will be directly reported to you with the time as well as the accurate GPS location. When you have this app, forget all the tension of getting a hack.
Gallery Lock
A sweet, simple and easy to use application for the protection of your phone gallery pictures and videos.
You can simply select the photos that you wish to keep private and select the gallery lock option in the options menu that will appear in your gallery.
The best part about Gallery Lock is that, not only you can hide your images from others, you can also hide this application as well by switching to its in-built stealth mode. Isn't that cool?
You can get it easily on the play store. And don't worry about calling the customer care again and again. This app takes care of it all and provides you instructions in every step of the way.
Truly a savior!
Best Secret Folder
Another amazing vault application in the line is 'Best Secret Folder.' This application got a step further and inculcated a feature to click photos and shoot videos directly through the application and storing it there itself.
It has complete password protection. And even keeps a track record of the time and date of the login. And exit so that the user can be one hundred percent sure of the safety of his photos and videos.
The salient feature of this application is that even if the intruder tries to enter or hack into your photos. It gets detection by the application as unauthorized entry. And it displays a bunch of random videos to let the intruder believe that he has successfully broken in. (Don't worry, the application is still completely safe. The video played are completely random and are not from your saved ones)
KYMS
KYMS is also as fancy as its name. Performing all the functions of a vault application like saving photos and videos in different formats and sizes. And protecting them with a pin and password, this application has something extra special for the intruders.
It pretends to be a calculator on the face whenever you open the application. And does not change even if you tap on it. The real application is only reveal if you enter the correct pin password into the fake calculator. Astonishing! Right.
Keep Safe
Another application in this highly-secret game (pun intended) is 'Keep Safe.' This one of the Vault Apps is quite simple and is specially designed for people who do not have formula for nuclear and atom bombs in their mobile phone photos.
You simply enter the pin password that you authorized at the time of the registration to access your photos and videos. Albums and slideshows can also create with the help of this application.
The coolest feature of Keep Safe is that, if you have a bad memory like me. Then you probably will forget the pin password a multiple number of times.
Not to worry now, if you have forgotten the password. You need to simply click on the application logo for a long period (a few seconds). And a reset pin window will appear to put an end all your panic.
Vault
Vault deserves a place on this list of Vault Apps. This application not only secures your photos and videos. But it can also protect your SMS, calls and other applications as well (Unlike other apps). There is a pin password for your authorization without which nobody can enter this application.
The remarkable feature is that if you browse the internet or make a call to someone or even send an SMS to someone through this app. It all stays private and none of it is in your public call log or your browser history.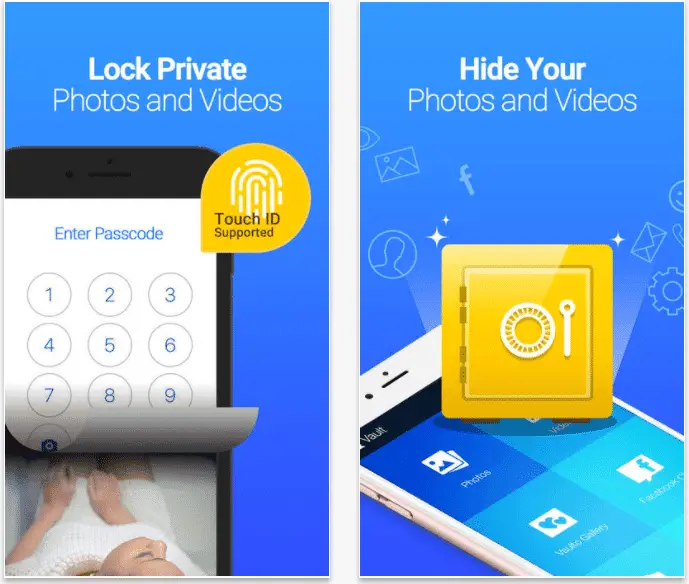 You can even pay for an upgrade where you will get the photo as well as the GPS address of the intruder if someone breaks into your phone and to hide the app logo, but the free features are sufficient to make your data secure.
Do let us know if you use or have an idea about another cool vault app in the comments section below.