These days, everything is password protected and for a reason. Cyber crime is at large and to keep your privacy intact; you have to take specific measures like safeguarding your applications by passwords. The catch is that even if your application or device is password protected, hacking can take place, releasing your private information into the world. The solution to this is other apps that secure your password. A password is a tool, which is supposed to defend an app, but nowadays, even passwords need protection from hacking. Several websites provide secure password generator service and by using them; we can rest assure that the password would be safe.
Sometimes, people tend to forget their passwords, as almost every app that they use is password protected. Thus, it is very usual for such an event to occur. No need to worry as you can use a password manager that will remember all your passwords and thus, you will not have to keep 'easy to remember' passwords for fear of forgetting them. Instead, you can put complicated and hard to crack passwords as the password manager will act as your back-up and will help you remember all of your passwords.
It is understandable that you are tired of remembering all of your passwords and want to take the easy way and have someone remember it for you. It is sometimes challenging to make passwords that are safe and ones that have the least probability of being hacked. You can go to a secure password generator website and generate a password that is unlikely to be hacked. But, the next problem is how to remember the password, for that there are various password managers and you can download any one of them to help you solve your issue.
See also: 8 Best Folder Lock For PC To Ensure Your Privacy
List of Best Secure Password Generator
The secure password generator too are as follows:
This is a secure password generator website that enables you to make safe passwords to maintain your privacy. You must be wondering what if the site remembers your password and leaks out your information. If this is what you are honestly thinking, then get that thought out of your mind as the password generation is client-side, i.e., you do it on your computer, with JavaScript.
These passwords that you generate never share with the website and are only known to you. Thus, it is a very reliable source and can help you make passwords that are tough to crack. LastPass also acts as a password manager as it enables you to store your passwords in one safe place, where they encrypt and accessible only to you.
It also helps you create secure random passwords as and when you need them. It is a very trustworthy website to create a safe password. So, what are you waiting for, generate a secure password and start using it?
This website allows you to create random passwords. The randomness derives itself from atmospheric noise, which for many reasons is better than the random numbers. The password creation that this site undertakes transmits itself via SSL to your browser. Being a secure password generator website, it provides you with options on what should be the length of your password, how many passwords do you want to generate.

It creates passwords that do not contain digits or characters that can be easily mistake for each other. When you press on 'Get Password,' it gives you your password/ passwords as per your specifications. Thus, it comes handy when you want to create a sound password.
This is a secure password generator website and tells you the requirements of a stable and sound password, the haves and the have-nots.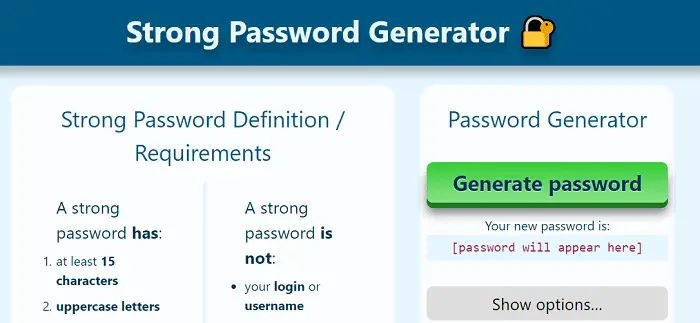 To create a password, you just have to click on the green color option 'Generate Password,' and your new password generates within seconds. It offers you advice on how to remember your password.
This is a secure password generator site that vouches to be suitable for your private and work email accounts, financial, banking, and savings online services, and for keeping your social network's information safe.
To help you create a new password, it asks for your specifications regarding the type of password, i.e., easy to remember, containing both the cases, comprising digits, having all characters, etc. It then wants to know the preferred length of your password.
The longer your password is, the more secure it will be. We recommend to be at least eight characters long. Ideally, the length is greater than ten. Then, when you click on the blue color tab 'New Password,' it generates a unique password for you and also tells you the strength of the password.
This is a secure password generator website that offers a useful and free password generator. You have the option of choosing the letters, symbols, numbers or any other character that you want to include or exclude from your password. The best part of this website is that it can create 50 passwords at a time, with a single click of the mouse.
It also provides you with software that you can download and save your passwords for future reference, which is useful if you want to access your password anytime and anywhere. It is a very reputable website and has acclaim.
This site is a secure password generator website and helps you to decide what kind of characters you want to include in your passwords and what you want to exclude.
It can generate up to ten passwords at a time.
This is an efficient and effective secure password generator website through which, you can get a new, sound password without much hassle. There is a pattern in the passwords that generate by this site. It creates ten passwords with just one click and all of them start with a capital letter and end in two digits, which is ideal for meeting the criterion for almost all the apps and sites.
Some of the other secure password generator tools are as follows:
The Bitmill
Domain Diagnosis
Techzoom Password Generator
Password Bird
Littlelite Password Generator
XKPASSWD
Password Creator
All of the websites mentioned above are secure password generator tools. And can be in use at any time, whenever you want to create a stable and reliable password. They are all free to use. However, even though all these websites claim to be safe and secure, you are taking a chance by storing your passwords online, so always think before you opt for going on these sites.
See also: Internet Scams: What Are They and How to Avoid Them?