JavaScript is a programming language that allows you to implement different things on the web page. It enables you to create 2D and 3D animated images, interactive maps, etc. Thus, you must know how to Update JavaScript now.
It needs to be updated from time to time; the old version might contain holes that allow malware to reach your computer without you doing anything.
How to Update JavaScript
Here are some of the simple steps that you can follow to update JavaScript:
Change in settings
The best way to keep your Java updated is to change the update settings and set it to auto-update.
Go to the control panel and launch Java Control Panel.
Click on the 'Update' to access the settings.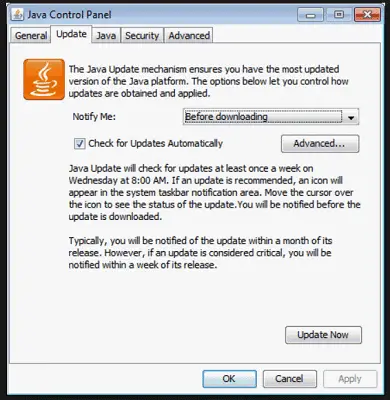 Press on 'Check Updates Automatically' to set it in an auto update.
Click OK to apply changes.
Install Manually
If you face problems with the method above, you can perform a javascript update by downloading the latest JavaScript version and installing it manually.
Open your browser and navigate to the Java website.
Click the 'Download' button at the top of the screen.
Once you click on the Download button, a window will pop up with the terms of the End User License Agreement. Click on 'Agree and Start Free Download' at the bottom to download the software for free.
Choose the file where you would like to save the installation file.
Now go to that open, double-click on it, and follow the instructions to download.
Reboot your computer once the installation process is over.
Update your Browser.
JavaScript runs in your browser, and your browser provides JavaScript with the interpreter to interpret the Java in the website. So when you update your browser, the JavaScript automatically gets updated.
The methods listed above are the most straightforward ways you can upgrade JavaScript. I hope this article was useful to you.
See also: 6 Best Apps for College Students to Simplify Your College Life
See also: 4 Tips To Fix Java Virtual Machine Launcher Errors – TechWhoop's Guide