Animation is the ideal way to express your ideas more easily and reach everyone. As animation is a visual medium, it will be in memory of those who watch animated movies. We have enjoyed the fun of watching Minions, The Incredibles, Frozen, Finding Nemo, and many other famous animated movies. You might be able to match up with them using the Best Free 2D Animation Software.
List of Top 2D Animation Software to Get in 2023:
SVGator
Pencil
Synfig Studio
OpenToonz
Creation
Plastic Animation Paper
Tupi
PowToon – Best Free 2D Animation Software
Have you thought of making your animated movies with your loved cartoon? If yes, you can do it after reading this article. Professionals do not only do it; even beginners can learn to animate their ideas in their way. The one thing that you will need is creativity. However, if you want to create slides, we suggest getting SmartSHOW 3D.
List of Top 2D Animation Software to Get in 2023
Here is some Best 2D Animation Software available on the internet which you download to your PC and start practising on making your cartoon. Some of the software that can be used for drafting purposes I have given a list of some Best Free 2D Animation Software. Have a glimpse and decide using which you can start spreading your creativity.
SVGator
SVGator is a fantastic tool that provides its user with the ability to create 2D animations effortlessly. It's smooth UI and vast library, which consists of several pre-made elements, aids the user in producing stunning animations. And the best part is that it takes little to no time to do that.
Being a browser-based editor, the user does not need to download and install software.
Pencil
The Pencil is a tool for artists. In the same Pencil, animation software plays a major role in beginners learning animation. This is the open source available on the internet in which you have many tutorial pages to create as an animator. It is 2D drawing software that can work on MAC, Windows, and Linux. You can also refer to Netbooknews to know the perfect laptop you can use precisely for animation. It uses bitmap and vector graphics to create your hand-drawn animation.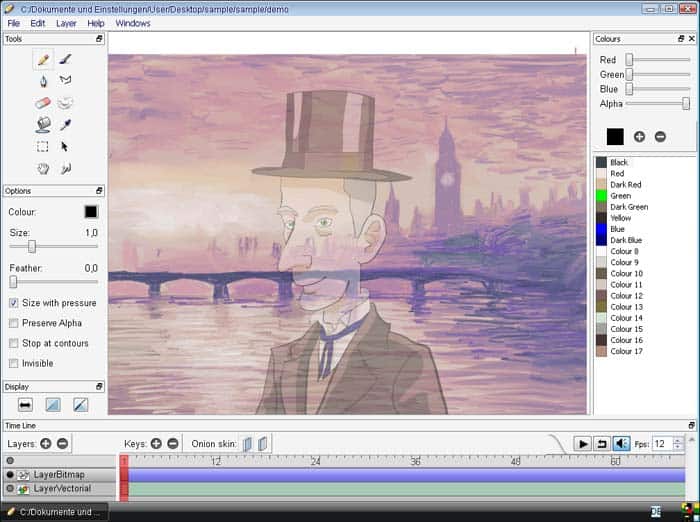 The features available in this software are it can determine the frame rate, you can add colours and can import sounds and images into the software to create your best cartoon. Here you can export your hand-made animated graphics in Flash Video, FLV, and other formats.
Synfig Studio
Synfig is open source 2d animation program to create your animation. Using this software, you can apply geometric, filters, distortions, gradients, and transformations to your animation.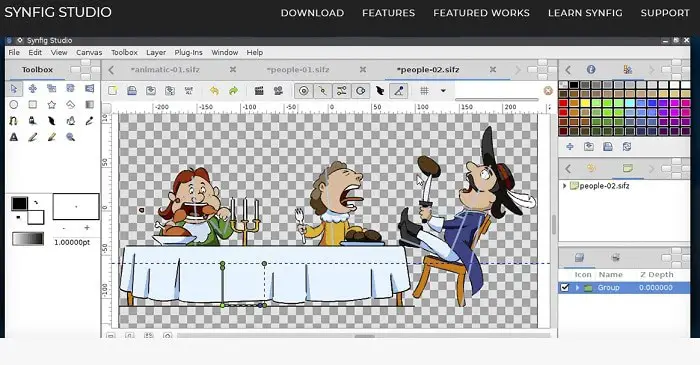 Bitmap images or vector artwork help you to create cutout animation. It has the basic feature of adding sound to your animation. Training course for beginners is available on the site to learn how to create animation.
OpenToonz
If you are looking for software that provides you with 2D animations like Studio Ghibli animations, then OpenToonz is an option for you to try. It is an open–source animation platform and is completely free compared to its paid counterpart Toonz.
This one is software that both beginners and professionals can use. It's pretty easy to use and a good starting point for those who want to learn and get good at 2D animations. You can scan and start with the animations. There are a total of four different scanning types for variations and variety. This software is compatible with the TWAIN standards. The software also allows you to integrate with various SDK plugins for extra features.
Creation
If you are interested in creating animation in cut-out fashion, then this software plays a major role in your creating your cartoons. The working area offers menus for adding the main features to your drawing.
You can easily personalize your drawing tool, which is simple to work in. You can select the format you need to create your animation. This can determine the frame rate within seconds. Your work will automatically be gets saved for which 5 mutes. Add special effects to your cartoon and show off it with your friends.
Plastic Animation Paper
Use Plastic Animation Paper to spread your animation among your friends in GIF, PNGAVI, and TGA formats. As a primary tool anyone can easily handle, it is considered one of the best software for beginners.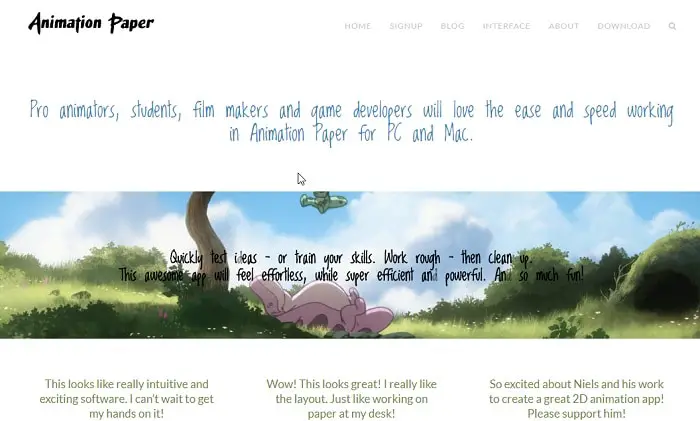 The main features that make you use this software are it can easily set the frame rate, have your drawing area, insert colours in the drawing, add music, and have the zooming feature to create your animation more precisely.
Tupi
It is open source animation program that can be used by children too. Export your animation projects into video files using Tupi.
The features of the Tupi include illustration tools like Pencil, Polyline, and Ellipse, tweening tools such as position, opacity, colour, and scale, and an exposure sheet to develop your animation. It has an object library in which SVG, JPG, and GIF file formats are available.
PowToon – Best Free 2D Animation Software
Create animated videos and presentations to simplify your project explanations. PowToon is free software to work on projects or play according to your creativity. The best teacher should engage all the students perfectly, and Powtoon will support you in explaining your concepts easily.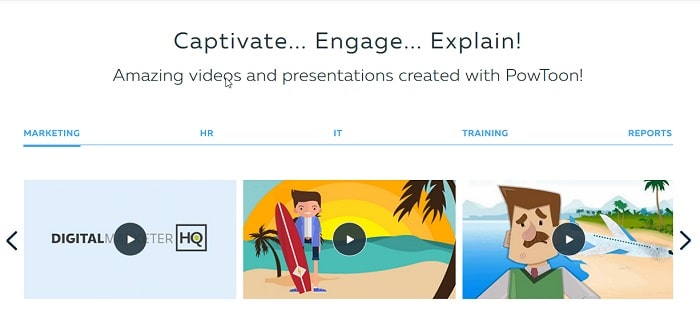 It offers you a lot of amazing templates where you fix your content in it. Many marketing companies are using PowToon to reach their customers.
Anime Studio
Moho Anime Studio brings out your inner animator to the world. It assists you in creating 2D animates, drawing backgrounds, adding soundtracks, and inserting text boxes. Anime Studio has two modes, one for beginners and the other for advanced animators.
It offers you the opportunity to upload your videos on YouTube. It has a bone-rigging system and plenty of pre-made content in the studio. A magic formula for developing this app is a little pinch of Adobe Photoshop and a few hints from Adobe Flash and Adobe Illustrator.
Toon Boom Harmony
Have they ever wondered which tools professionals use for their 2D animations? Which tool was used to animate popular series like The Simpsons and the very loved Rick and Morty? The answer is this heavy and professional 2D animation software, Toon Boom Harmony.
This paid platform has so many features to give your animation life. It isn't exactly an easy tool to use. It may take a little bit of extra time to know how it functions and works and functions, but once you do, you can make animations other animation software can't. This is a software full of advanced painting and deformer tools. Moreover, it supports both vector and bitmap customized drawings. You can add various visual and glow effects to your animations, making them stand out easily. If you plan to pursue 2D animation professionally, Harmony by Toon Boom is the best software for you!
Moho Pro
Are you looking for software that works best for animations by freehand drawings? Then Moho Pro is one of the best options to consider. This is a paid animation software with amazing bitmap capabilities and, most importantly, a custom bitmap brush; you can try out the demo for free.
This platform is a good way to integrate and combine traditional freehand and professional animations, as it has an amazing inbuilt brush, making it easier to draw. It has smart bone technology, which helps clean up the distortions and allows boolean operations. It may not be very simple and easy to use, especially for beginners, and may take a good amount of time to get used to and perfect. But once you perfect it, you can take your animations to a whole other level.
Vectorian Giotto
Vectorian Giotto offers you effective tools to create extraordinary animates. The tools available in this software are eye droppers, shapes, pencils, and brush and text tools.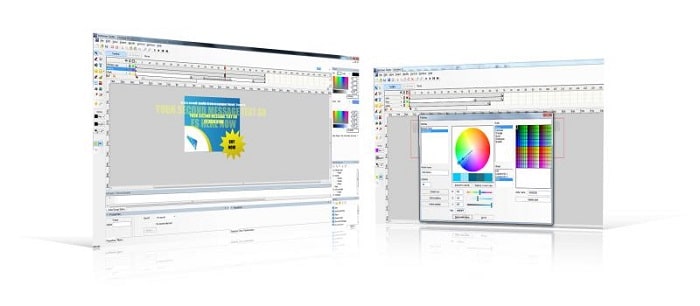 You can insert images, a soundtrack, a timeline, and scenes into your animation. Finally, using this, you can easily create complex flash 2D animates. Thus, it deserves a spot on our Best Free 2D Animation Software list.
Crazytalk Animator
To create a striking creation by combining flash videos, animations, scenes, landscapes, actors, and images, use this Crazytalk Animator software. Add different facial reactions to your cartoon using this software.
You need prior practice and knowledge about the animation tools to work on this software. So watch some tutorials about Crazytalk animator before getting into this tool.
Selection
Love working with colours? Then Selection is your tool to try! You can quickly create storyboards and animations using this tool, as it is one of the fasted 2D animation software available. If you are planning to create a complex and big project, then this software's layering structure can help you handle and manage every little detail easily.
You can get a demo kit version of this software to try it out and test it, and if you like it, you can get the paid version with hundreds of features to make your animations even better. One of the best things about this software is that you can create your shortcut keys conveniently. It is a pretty easy–to–use software and something you should surely check out!
Spine
The Spine is one of the Best Free 2D Animation Software. Mostly this software can produce game animations. Artists, game developers, and 2D animators can handle this software more easily than beginners.
Find the best which suits you from the list according to your knowledge. Start giving lives to your creative creatures.
Make your cartoons. Click here to read our article on how to make your cartoon.
FAQs
Which software is best for 2D animation for free?
Out of the software available in the market, 2D animation can be used for free from the websites like Pencil2D, Animation Paper, Animaker, Opentoonz, and Synfig.
Is Animaker Free or paid?
Animals are entirely free to use. It is one of the most downloaded websites for 2D animation as well.
Does Animaker Free have a watermark?
Animaker does come with a watermark. While making a video, The App automatically adds the watermark. There are many third-party apps and websites that help in removing the watermark imyFone is one of them.
Is 2D animation cheaper than 3D?
3D animation is competitively more challenging to implement than 2D because of the dimension and involved resources, and therefore 2D animation is cheaper than 3D animations.