So once again, you ended up with a pile of gorgeous pictures – either from a vacation, your wedding, or a glamorous photoshoot – and with no idea what to do with them. Why not turn them into a stunning slideshow? Making a visually engaging slideshow is no longer a tedious or complicated process. In fact, you can create a piece of art in under five minutes. All you need is your pictures, an efficient automatic slideshow maker, and just a bit of your time. Sounds too good to be true? It's not when you use SmartSHOW 3D.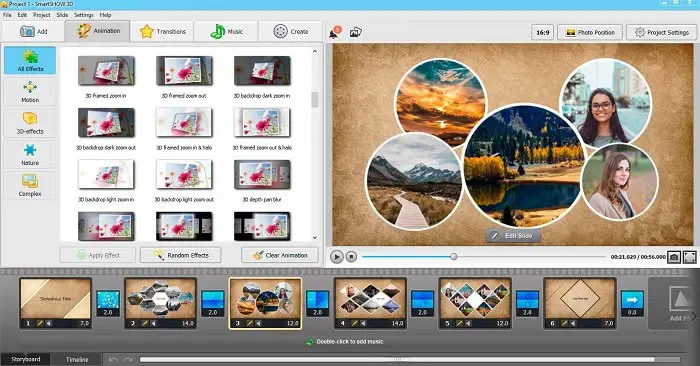 Slideshow Making
The application is loaded to the brim with eye-catching transitions, animation, and natural effects. It has a collection of professionally designed templates as well, so SmartSHOW 3D is the perfect tool for creating a cool-looking slideshow in no time. Let's see how to do it
Pick the Perfect Template
Run the software and pick the Slideshow in the 5 Minutes option. Browse through a vast library of templates. There you'll find templates for almost any occasion – from religious holidays to weddings and birthdays.
If your Slideshow is devoid of a certain theme, pick any of the gorgeous multi-purpose templates. You can also Check out how to See 3D Movies in PC 
Add Your Favourite Pictures
Now choose the pictures you want in your Slideshow. You can either drop them in one by one or add the whole folder to the timeline. Shuffle your pictures or put them in a strict order if you are opting for continuity.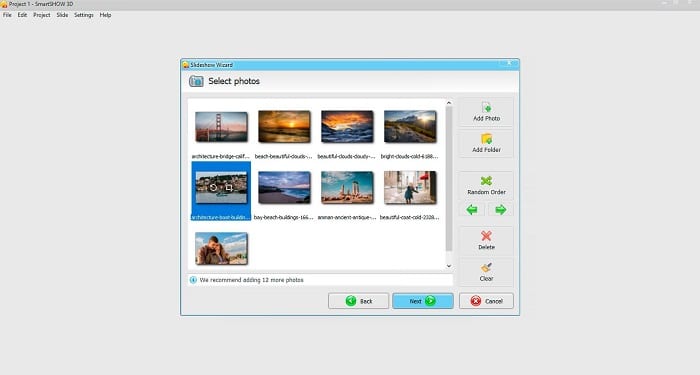 You can even add videos to the Slideshow to make it more memorable.
Create Your Slideshow
Once you've added your pictures to the template, choose a tune from the software's 200+ library or use a track of your own. You can even record and add voice comments. Apply some flamboyant effects and funny or heartfelt captions if your Slideshow calls for them. Now save your creation in a chosen format – a video for a TV, tablet, smartphone, or a video to post on your Facebook page.
So you see, it took you just three simple steps to achieve a professional level result. You have an amazing looking slideshow that automatically with your pictures and SmartSHOW 3D's ready-made template.
If you are more of an artistically adventurous type, then fully explore SmartSHOW 3D's possibilities. Why limit yourself to the predesigned templates, when you can make a slideshow from scratch? Just opt for the New Project option when the software runs, then unleash your inner artist. Use the built-in Animation module to create your own animation effects. Design your own title cards, customize the natural effects, apply masks to your pictures, and even create 3D animation. And it's not as complex as it seems – thanks to its intuitive interface, SmartSHOW 3D is easy and quick to master.
FAQ's
What is the price of SmartSHOW 3D?
The SmartSHOW 3D photo slideshow software is available in two versions: Standard and Deluxe. The Standard version costs $39.90 (about £32), while the Deluxe version costs $59.60 (approximately £47).
What is the best Windows 10 slideshow maker?
The Best Windows 10 Slideshow Maker Filmora is a video editing software. Theatrical Presentation of Photographs. PhotoStage Slideshow Pro is a program that allows you to create slideshows. CyberLink MediaShow is a multimedia player Beirut. Wondershare Filmii.
what's the best way to make a slideshow?
11 Best Free Slideshow Makers in 2022 Overall, PowerDirector is the best slide show, creator. PixTeller is the best marketing tool. SmartSHOW 3D is ideal for creating 3D collages. Animoto is the best for creating templates. Kizoa is the best online slideshow maker. The Best Slideshow Software for Non-Commercial Use is PhotoStage
What exactly is SmartSHOW?
SmartSHOW 3D Review Professional Slideshow Software image result SmartSHOW 3D provides a full toolkit for making professional-level photo movies with outstanding effects, compared to regular slideshow generators. You can add numerous layers to the slide, apply animation to chosen layers, and fine-tune the display with keyframes.
Is the 3D smart show free?
Yes, there is a free trial available for SmartSHOW 3D.
What is the most straightforward free slideshow maker?
The best free desktop photo slideshow software for Windows and Mac Movavi Slideshow Maker is a program that allows you to create slideshows. Free Slideshow Maker from ThunderSoft. Bolide Slideshow Maker is a free tool for creating slideshows. iMovie. NCH photo stage Focusky is a presentation maker Freemake Video Converter is a free video converter. Resolve by DaVinci
Is there a slideshow maker in Windows 10?
Icecream Slideshow Maker is a fantastic program for making slideshows on Windows 10, 8, or 7. You may simply achieve the best results for slideshow creation thanks to an easy-to-use and straightforward design. Continue reading to learn how to create a slideshow on a Windows PC in four simple steps
What program should I use to create a music-driven slideshow?
The Best Professional Slideshow Software is a list of the best professional slideshow software available. 3D SmartSHOW (Recommended Slideshow Software) PhotoStory Deluxe by Magix. PTE AV Studio is a company that specialises in audiovisual production. Another video editing programme is Adobe Premiere Pro CyberLink MediaShow is a multimedia player SlideShow by AquaSoft. NCH Software's PhotoStage.
What program is best for making a slideshow with music?
Adobe Creative Cloud Express is a great slideshow program that allows you to easily incorporate music. It includes a set of pre-designed graphics and images created by professionals. You can choose among video clips, photos, text, and icons with this app.
Is there a slideshow maker in Adobe?
You have a lot of customizing choices with the Adobe Express slideshow builder, so you may make something unique and strong. Choose your slideshow's content carefully so that you can include all of your favorite photographs and video clips.
What is the quality of Movavi Slideshow Maker?
Simple to use – The first and most important advantage of the Movavi slideshow generator over other software on the market is that it is extremely simple to use.
Conclusion
Don't let your best pictures roam around your hard drive for days on end. Use SmartSHOW 3D – a powerful automatic slideshow maker – to turn them into a mesmerizing video to wow everyone!