So once again, you ended up with a pile of gorgeous pictures – either from a vacation, your wedding, or a glamorous photoshoot – and with no idea what to do with them. Why not turn them into a stunning slideshow? Making a visually engaging slideshow is no longer a tedious or complicated process. In fact, you can create a piece of art in under five minutes. All you need is your pictures, an efficient automatic slideshow maker, and just a bit of your time. Sounds too good to be true? It's not when you use SmartSHOW 3D.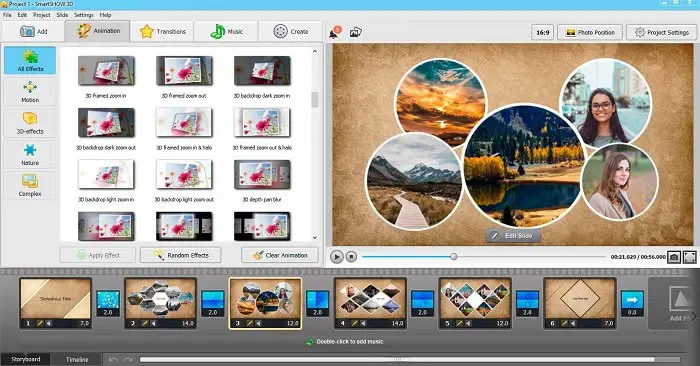 Slideshow Making
The application is loaded to the brim with eye-catching transitions, animation, and natural effects. It has a collection of professionally designed templates as well, so SmartSHOW 3D is the perfect tool for creating a cool-looking slideshow in no time. Let's see how to do it
Pick the Perfect Template
Run the software and pick the Slideshow in the 5 Minutes option. Browse through a vast library of templates. There you'll find templates for almost any occasion – from religious holidays to weddings and birthdays.
If your Slideshow is devoid of a certain theme, pick any of the gorgeous multi-purpose templates.
Add Your Favourite Pictures
Now choose the pictures you want in your Slideshow. You can either drop them in one by one or add the whole folder to the timeline. Shuffle your pictures or put them in a strict order if you are opting for continuity.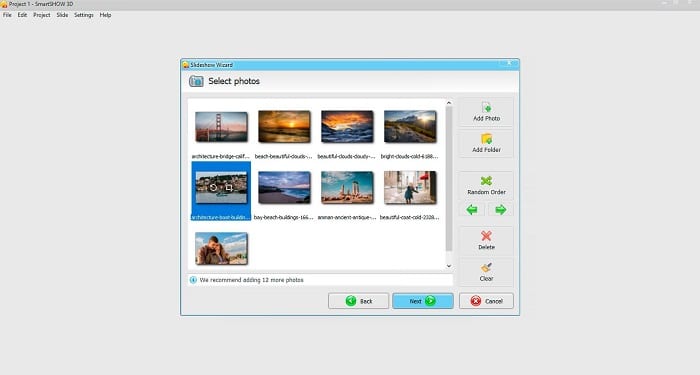 You can even add videos to the Slideshow to make it more memorable.
Create Your Slideshow
Once you've added your pictures to the template, choose a tune from the software's 200+ library or use a track of your own. You can even record and add voice comments. Apply some flamboyant effects and funny or heartfelt captions if your Slideshow calls for them. Now save your creation in a chosen format – a video for a TV, tablet, smartphone, or a video to post on your Facebook page.
So you see, it took you just three simple steps to achieve a professional level result. You have an amazing looking slideshow that automatically with your pictures and SmartSHOW 3D's ready-made template.
If you are more of an artistically adventurous type, then fully explore SmartSHOW 3D's possibilities. Why limit yourself to the predesigned templates, when you can make a slideshow from scratch? Just opt for the New Project option when the software runs, then unleash your inner artist. Use the built-in Animation module to create your own animation effects. Design your own title cards, customize the natural effects, apply masks to your pictures, and even create 3D animation. And it's not as complex as it seems – thanks to its intuitive interface, SmartSHOW 3D is easy and quick to master.
Conclusion
Don't let your best pictures roam around your hard drive for days on end. Use SmartSHOW 3D – a powerful automatic slideshow maker – to turn them into a mesmerizing video to wow everyone!