How to hack into WiFi? Generally, people try to attempt hacking WiFi newtworks to get a fast internet connection completely free. Most of the time people want to know, how to crack WiFi passwords? from their Android mobiles. As with an android phone, a lot of hacking attacks can be tried. Thus, you must know about the finest WiFi Hacking Apps out there. Know about the best wifi router for homes and offices from this article.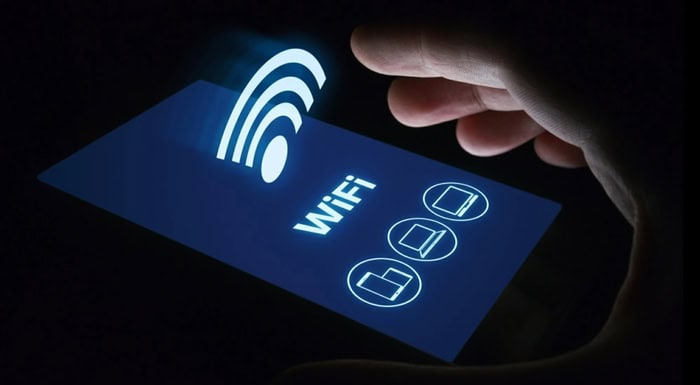 Though WiFi hacking is not everyone's cup of tea as it is a complicated task with the help of some real wifi hackers for android, it is possible to hack WiFi network, as gone are the days when hacking was only done by people who were experts in the field of technology. Due to the rise in technological advancements in the field of mobile phones, hacking has acquired the place of a common phenomenon.
See Also: 11 Best WiFi Routers For Home (And Office Purposes)
So if you are one of those who are thinking about the possibility of knowing "how to hack WiFi" using android phones, you should learn that now. With the help of some apps and the basic knowledge of Android smartphones, you can also try your hand at hacking.
If you are someone who wants to monitor your Child's browsing patterns, then MSpy is the best app for that. This app offers information on calls, IMs, media interactions, locations, tracking, and other things. Notably, the program operates completely anonymously in the background to avoid being traced by the target phone.
You can access the dashboard from a computer or a mobile device. A great option with many applications is mSpy. It is the best parental control app trusted by many to monitor their children's mobile activity.
See also: How To Hack An Android Phone Using CMD [Stepwise Guide]
Below here are a list of the 10 best WiFi hacking apps for android phone users that are used to crack the WiFi network security. So have a look at these apps, and you must download them to have the experience of hacking WiFi networks. You can also opt for the best Tethering Apps For Smooth Wifi Tethering.
Prerequisites 
One needs to root their android phone first. Rooting in an android phone is means of unlocking the operating system so that you can install unapproved or unauthorized apps, deleted unwanted bloatware, overclock, replace the firmware, customize anything, and so on.
Your target Wi-Fi network should be within your range with great signals at the time when you are trying to crack its password.
Your Android device's version must be 4.0 or more than that because some apps in the below-given list might not work on the low-quality android devices.
See also:11 Best WiFi Routers For Home (And Office Purposes)
Top WiFi Hacking Apps For 2023
This list will be very helpful to you if you wish to hack a WiFi password. In actuality, obtaining your neighbors' WiFi network login information gives you access to various services and free internet. You can hack WiFi credentials online; numerous WiFi hacker programs are available. 
Additionally, it is tedious trying out every program. A WiFi password hacker needs advanced systems available to hack practically any WiFi network while navigating all security barriers. Learning to hack WiFi is an easy process and requires following of proper steps. You must download any one of the best WiFi hacker tools mentioned below to crack WiFi passcodes without altering the system software.
Disclaimer: The WiFi hacking Android apps listed above are meant to be educational, and you should only use them responsibly. It is unlawful to hack or make an attempt to hack someone else's WiFi security without that person's consent. So, handle these tools at your own risk.
WIBR+
Everybody loves the free WiFi of our next-door people. In this world of technology, hacking is becoming an upcoming trend. The WIBR+ helps in making your wishes true. WIBR+ is an amazing Wi-Fi hack app for Android. This app uses a whole different approach to hack Wifi passwords.
Like Brute force and Dictionary Based methods for helping you to know "How to Hack WiFi networks." You can use custom dictionary techniques to steal and sniff the WiFi passwords of others.
Depending upon the user's priority and the network type, users can have many options such as numbers, lowercase, uppercase, and special characters – for creating a different dictionary-based attack. Depending upon the user's password strength, WIBR+ adjusts its time to steal the password.
Download: WIBR+
AndroDumpper
AndroDumper crack application is a gem in the list of apps to get WiFi passwords. It is beneficial and easy to use too. A notification pop-up, if there is any new WPS WiFi is come to your phone vicinity.
This app provides an easy user interface and helps in accessing a wireless network. And also, it comes with a modified interface that is user-friendly and It supports almost every Android architecture.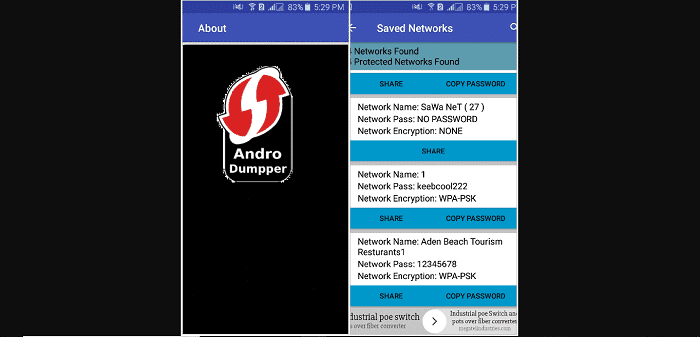 Due to its popularity and good results, people use it for searching open UDP ports, and also it will help in discover hosts, protocols, open ports, and other services as well.
Download: AndroDumpper
NetSpot
One of the most popular WiFi analyzer applications on the Play Store is NetSpot. It's not a WiFi hacking program, but it does provide thorough visuals to assist with WiFi coverage analysis.
You may scan your wireless networks and those around you using NetSpot, compare networks based on signal strength, test your internet speed, apply filters for scanned networks, and more.
Although the software lacks several technical and advanced features, it is the perfect app for those just learning about the network or wireless security.
Download: NetSpot
Intercepter-NG 
Intercepter app has gained popularity as a WiFi hacker tool for android, and also, we can use it as a monitor app. The Interceptor app has numerous features that should take into consideration before using it.
This app offers many functions like you can access cookies that have been registered and see which sites they go to. This app can also do data traffic monitoring and can help in knowing the WiFi password of the connected network.
Download: Intercepter-NG
Dspoilt
Dspoilt is an excellent option if you are looking to discover many options in just one wifi cracking app. Versatile functions like WiFi Cracking, Vulnerability detector, and Login credentials.
One of the significant features is its password sniffing and hacking of all the essential data files. With extra features, the Dspoilt app provides a tremendous amount of satisfaction to its numerous users around the globe.
Download: Dspoilt
See also: Top 5 Best Spy Apps for iPhone and Android
WPS Connect 
This is an immensely popular and the best WiFi hacker app that you can install on a rooted Android smartphone. Through WPS Connect, you can easily hack WPS secured WiFi passwords. This app works with almost all routers and can also be used to disable other users' net connections on the same Wi-Fi network.
This application enables a person to hack any protected Wi-Fi network. This one of the WiFi hacking apps works with all the routers. You can download it easily from Google Play Store. Users just need to download this app and then can search for available Wi-Fi signal then after scanning they need to select one network amongst the various available networks. After that, they can choose the password of the selected Wi-Fi network.
A point to be noted is that this app only works with WPS security-enabled Wi-Fi. This app was mainly created to assure that your Wi-Fi router is secure and not hacked by anyone. WPS Connect for android works with android with 4.0 or higher than that. This app turns your android device into a running hacking machine.
Download: WPS Connect
WPA WPS Tester Premium
This is also one of the best Wi-Fi hacking apps that works on a rooted android phone to crack into any Wi-Fi network that is within your range. So if you do use a rooted android mobile phone and you want the best app for cracking secured Wi-Fi networks, you must download this app on your mobile phone. It was developed with the motive to scan the Wi-Fi networks for vulnerabilities.
This app is very well known for its ability to break the security of Wi-Fi networks. This app uses the connection to access points with WPS PIN which is possible to calculate using algorithms like Zhao, Asus, Arris, Blink, etc.
This also requires Android 4.0 or a higher version to work. But this app does not work with all the routers. Only WPS and WPA Wi-Fi networks can get a hack through this one of the WiFi hacking apps. So checking out this app is definitely worth your time.
Download: WPA WPS Tester Premium
WiFiKill Pro
As the name of the app itself suggests, this app kills all the devices that are connected to a Wi-Fi network. WiFiKill Pro enables the user to block all the other devices that use the internet access from the same Wi-Fi network.
It also displays the network names and some other details of other devices that are in the same Wi-Fi network. This Wi-Fi hacking app only works on a rooted android phone.
When a user scans the network, it shows different other users connected to it, and by clicking on the kill button, you can end their internet connectivity. This app is also used to boost your Wi-Fi speed.
This app is easy to use due to its lucid and interactive interface and easily used tools. Its main feature is that it enables a user to see what other users are browsing and downloading through your selected Wi-Fi network.
Download: WiFiKill Pro
NetCut
Netcut is another celebrated WiFi hacking app that also protects your device from its own kind. The features are quite similar to the WiFi kill app, which is listed in this feature. Netcut proudly belongs to Arcai.com.
Originally the developers built the app for Windows Store, but eventually, the creators released it for Android users as well. Moreover, it is also available for Mac OS. However, to gain protection from other Netcut users, you will need to buy the paid version.
Even if you are seeking a WiFi controlling app for older versions of Android, this is your application. Netcut is available for android versions as old as Gingerbread. It will protect you from IP spoofs.
Other praiseworthy benefits you get from Netcut are WiFi trailing and complete power to block unauthorized users. Moreover, the user interface is non-demanding and easy to use. However, you find might find the ads annoying in the free version. In that case, you can always opt for a paid subscription.
Also, to note, the site arcai.com claims that the Netcut app on the play store is fake. Thus, they suggest downloading the app from the original site. You can find the site link below.
Download: NetCut
Aircrack-ng
XDA Developers launched Aircrack-ng Linux kernel-based app for Ubuntu. This app has quite a good reputation among hackers. Also, it is one of the extensively used apps in the ubuntu platform.
Although the app is available for Android, the requirements are a little demanding. But if you are a hacker and rooting your android device is something you prefer, then this app might perfectly fit your needs.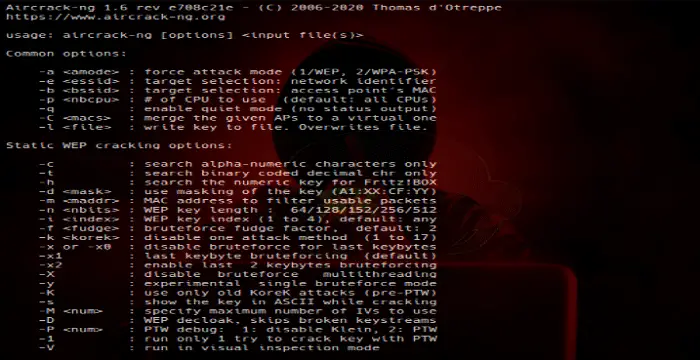 Some other demands include having a Linux-based computer, USB OTG Adapter, and Wireless USB Adapter (crucial). Other than this, we suggest having lots of patience and time for this.
Moreover, YouTube is a great platform to learn all about the Ubuntu installation process and Aircrack-ng installation. We will leave the developer's link for you below.
If this isn't something you are ready for, you can always go for other free tools from this list.
Download: Aircrack-ng
WiFi Analyzer
Not just is it a waste of effort when you perform the tedious task of cracking a network and find it crowded, but it is also frustrating. To avoid this situation, many network solution providers started launching WiFi analyzer apps.
However, the one that gained the most popularity is developed by Olgor.com. Olgor.com is one of the top software distributors in PlayStore. They have been providing internet solutions since 2014.
As the name indicates, the WiFi Analyzer app analyses and builds reports suggesting the best WiFi network available in your area. In two years of the WiFi analyzer launch, it has gained over 5 million downloads and an excellent rating of 4.7 stars.
With this tool, you can search for WiFi connections having the least interference in real-time. This way, you can enjoy high internet speed and stability. Other amazing features of this reputed tool are channel analyzing, distance calculation, showing hidden WiFis, and much more. Utilizing this software, you can find the best reliable networks for you.
Download: WiFi Analyzer
Zanti 
Zanti is known as one of the best mobile toolkits for hacking Wi-Fi networks. This Wi-Fi hacking app has used for checking the security of your Wi-Fi network and also for killing other Wi-Fi connections.
For using this app, a person needs to download it, and after that, he needs to verify his E-mail by simply entering it. After you log in to the account, the user needs to click on the '' start now'' button.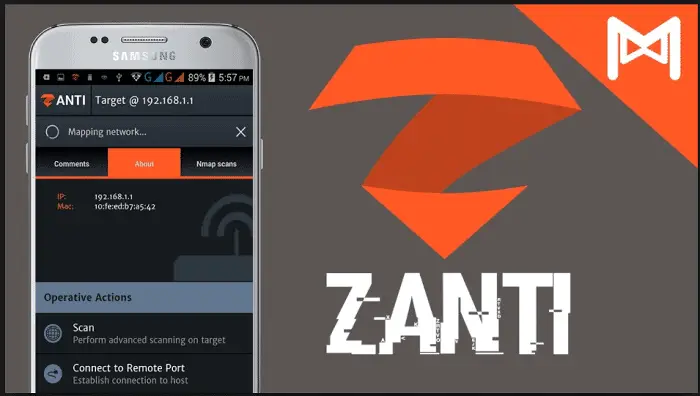 This app is a little complex as compared to others. So a professional and ethical hacker must have this on his android mobile. However, this app comes with no guarantee of hacking. Its Wi-Fi scanner displays the access points with known default key configurations.
You can also check the vulnerabilities that are in your Wi-Fi network by using this app on your mobile phone. However, this app comes with no guarantees as its creators claim to take no responsibility for it.
Download: Zanti
See also: 4 Best Free VPN For Chrome To Ensure Complete Safety
WiFinspect
This app is more secure app than for hacking. WiFinspect is intended for computer security professionals and other advanced users who want to keep an eye on the networks that they own or have permission to access.
So every user would not be able to operate it without specific knowledge. This Wi-Fi hacking app enables a user to perform multiple tasks as a user can change or track someone's Mau address and such related tasks.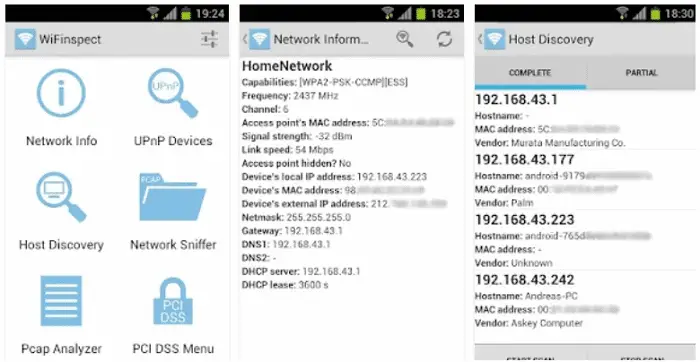 So if you are interested in trying this cool Wi-Fi hacking app on your android mobile, simply download it from Google Play Store. And then after installing it on the device, allow the root permission. Then users need to click on the Access Point Security Test button and try to connect.
After scanning, the application will show you the password of your selected network. This app also performs some other functions like Hosts Discovery and Network information. It provides Port scanning, Traceroute, Hosts Vulnerability Scan, Network Sniffer, etc.
Download: WiFinspect
Network Spoofer
This Wi-Fi hacking app allows a user to change websites on other people's computers from an android phone. After downloading this app, you need to log onto a Wi-Fi network and then choose a spoof to use, and press the start button. The creator of Network Spoofer claimed to not have any intention to include any malicious features.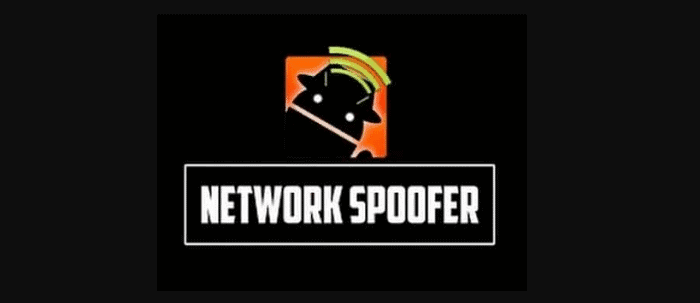 This app proves how easily home networks can suffer attacks with the permission of the network owner. It answers your question, "how to hack wifi password on Android?". It is also one of the great security testing tools. This app shows the user how easy or difficult it is to hack a particular network through an android phone.
However, you should not make an attempt to use this app on any industrial or non-residential networks. As the use of Network Spoofer on a non-residential network is a malicious hacking by network administrators.
Download: Network Spoofer
See Also: 7 WiFi Hack Apps For iPhone You Need To Know About
Kali Linux Nethunter
This is another popularly known wifi password hacker app for ethical hacking purposes. Kali Linux Nethunter is the first open-source android penetration testing platform that can be used for hacking.
This app is generally used by professional hackers. Only a few android mobile users know that you can install this operating software on your android mobile. For using this hacking app you need to launch Kali's Wi-Fi tool to continue the process.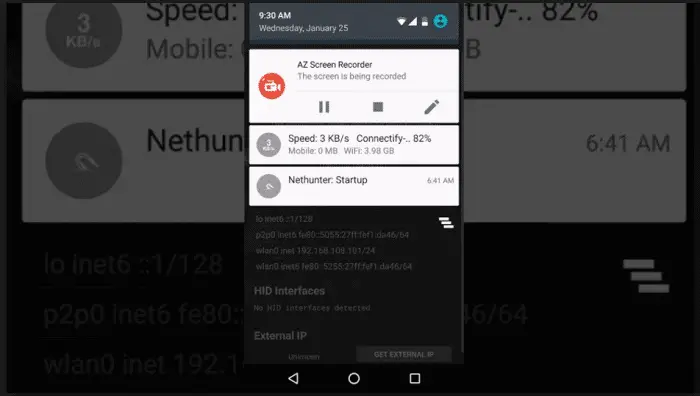 Kali Linus Nethunter's configuration interface allows you to protect complex configuration files. Kali's custom kernel supports 802.11 wireless injections making it a must-have hacking operating system.
You can simply download it from Google Play Store for use on Android smartphones. After installing Kali Linus on your phones you get a variety of Wi-Fi hacking tools on your android mobile phones.
Download: Kali Linux Nethunter
Shark For Root
Shark For Root may be your best option if you're seeking Wireshark for Android. The best part is that W  Hackers and security researchers frequently utilize Shark For Root.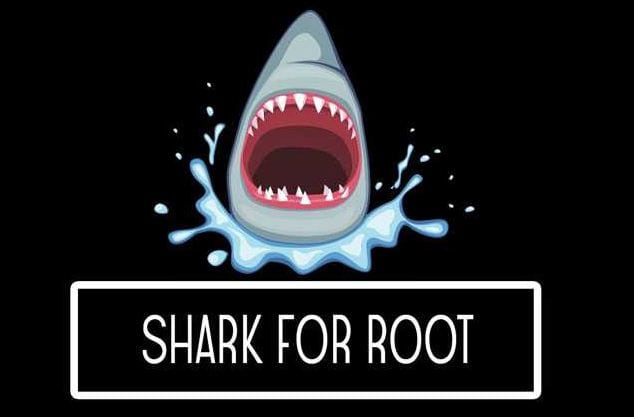 It's a WiFi-compatible traffic sniffing tool. You must use pre-made commands for the app to function.
Download: Shark For Root
Nmap Mapper 
This one of the WiFi hacking apps is a very important tool in network testing used by ethical hackers. It is an unofficial Android frontend for the popular N-map scanner. Frontend enables you to download and install N-map to use it.
N-map lets you discover hosts, protocols, services, open ports, and its configuration and vulnerabilities on different networks. It is in use by professionals for exploring different networks.
It can work on both rooted as well as non-rooted smartphones. Moreover, if the android device has root access, you always have access to more features. This app lets you do wifi password hacks and scan networks for finding ports and system details.
Download: Nmap Mapper
See also:4 Best Free VPN for Chrome to Ensure Complete Safety
Fing Network Tools
Fing is one of the greatest wifi hackers for android mobile users. This one of the WiFi hacking apps is also in use by professionals for network analysis. Its simple and intuitive interface helps you perform different functions like evaluating security levels, detecting unwanted intruders, and resolving network issues. Fing is a network analyzer tool for android mobiles.
This app enables you to find out how many users and devices are in your Wi-Fi network. It works only on rooted Android devices and attempts to hack Wi-Fi using an android phone root.
This Wi-Fi hacking app works very fast, accurately, and efficiently. So you can download this Wi-Fi hacking software to your android phones to use without facing any issues.
Download: Fing Network Tools
Network Discovery 
For using this one of the WiFi hacking apps, you don't necessarily need a rooted android device. This networking tool is quite simple to use. This is an amazing app to find free or paid public Wi-Fi hotspots online or offline; It is perfect for Skype users. The use of this app is to track all devices that are in a particular network.
It works on android 3.0 or higher. This WiFi password cracker uses your device's built-in 802.11 radio and collects information about nearby wireless access points and displays data in useful ways.
Network Discovery allows you to make the best choice in configuring your Wi-Fi network. This is for the best channel and to determine whether all areas have sufficient Wi-Fi coverage.
Download: Network Discovery
WiFi Password
WiFi Password app is a really popular Android app. We can use this without needing to hack the password or anything, and we can use WiFi without knowing the password of any WiFi network.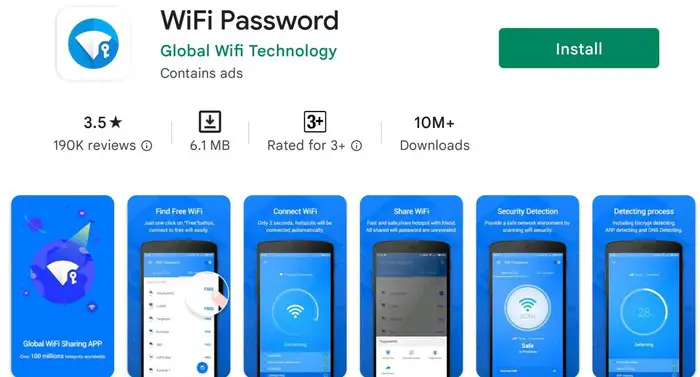 This app has 10M downloads on the Google Play Store with 3.5-star ratings.
The WiFi Password app automatically shows you all of the available WiFi networks around you. It is a secure app that lets you only connect to safe networks to use.
WiFi Warden 
WiFi Warden is a two-in-one app for Android users, and you can download it directly from the Play Store app. This app detects the Free WiFi networks around you and gives you password-protected ones.

With WiFi Warden, you can easily find who is using your WiFi network and test your internet speed. You can keep your connection secure by using DNS over HTTPS (DOH) on this app.
This app needs mobile data or any other internet connection to run. Once you find the network, you can turn off your mobile data. This app can connect to your WiFi using WPS.
This app does not need a rooted device to connect using WPS if you're using Android 5-8. But if you have the Android version 9, you need to root your device first.
FAQs
Is free WiFi safe?
Free WIFIs can be unsafe often, e.g., hackers can see your personal information, Man-In-The-Middle attacks, Session hijacks if you log in to unencrypted sites, viruses, or Malware distribution. Many issues can occur with free WIFI. You can use the WIFI safely by using a VPN, turning off sharing, using AntiVirus, enabling Firewall, etc.
How can I stop someone from using my WiFi?
You can block unauthorized WiFi access, use modern encryption methods like WPA2-Personal and WPA3-Personal, Disable WPS (WiFi Protected Setup), and Disable broadcasting of your network SSID.
How do you check if someone else is using your WiFi?
There are Android apps or software for you to check who is using your WiFi. You can use Arcai NetCut software, WiFi Warden, Who's on my WiFi, WiFi Inspector, etc. Another way you can is by logging in to your router's webpage and checking details there.
Can the hotel WiFi admin check what you are doing?
Yes, hotel WiFi is highly unsafe. They can see your personal information, credit card details, what web pages you visit, etc. You should avoid using your banking apps or websites while using free WiFi.
What is the WiFi Password Show app?
WiFi Password Show is an Android app. This app shows you every network password you've ever connected and saved. This is not a WiFi password hacker app. Also, this app only works on rooted devices. You can see connected WiFis information and saved passwords, and it is completely free to use.
Can I hack the WiFi password using a PC?
Yes, there are many tools and softwares for this. You can refer to the Aircrack-ng, WireShark, NetSparker, Kismet, Medusa, Ettercap, Nikto, and OpenVas.
Conclusion 
Here is the list of some Top WiFi Hacking Apps for you. With the help of hacking tools, you can easily get access to the free Internet. I hope you loved this article and got the information for your hacking work. Give these apps a try and we hope you will be able to improve your ethical hacking skills.
Keep visiting us!