Have you ever found yourself in a situation where you desperately needed some Wi-Fi? Or are you going on vacation but do not want to pay a boatload of money for a decent internet connection? If yes, then you've come to the right place. Everything we do, everything we see today revolves around the Internet. However, a stable Wi-Fi connection is necessary to access the Internet. If you're an iOS user, these WiFi hack apps for iPhone are for you.
See Also: How To Get Water Out Of Apple Watch-Easy Steps
WiFi Hack Apps For iPhone
Here is our top list of WiFi hack apps for iPhone that will indeed work for you. 
Wifi Master 
The first Wi-Fi hacking app for iPhone on our list is Wi-Fi Master. The app allows you to connect to shared Wi-Fi near you. The app will enable you to find a stable internet connection in over 233 countries and claims to have a community of over 900 million users. The developer is continually updating the app.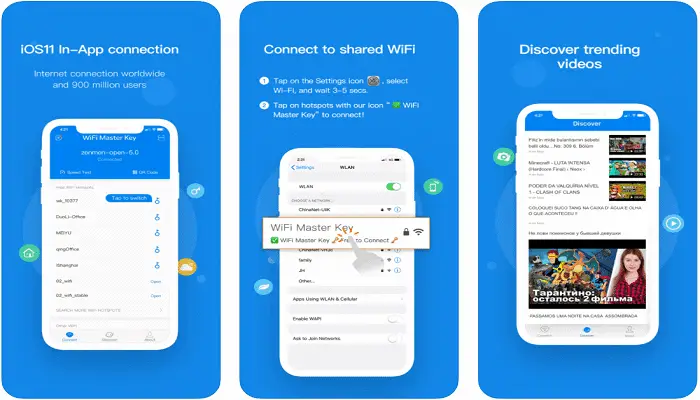 Simply all you have to do is to go to settings. Click on 'Wi-Fi' and allow the list of options to load. Select any Wi-Fi connection that has the app's icon, and you're good to go.
It also claims to be completely safe and has received a decent user rating on the app store. 
Visit: Wifi Master 
See also: 12 Best Free Apple IMEI Checker Tools
Wifi Map
Another easy-to-use Wi-Fi hack app for iPhone is Wi-Fi Map. It allows you to find fast and free Internet at your fingertips efficiently. The app will enable you to access a stable network connection worldwide and is also the number 1 Wi-Fi app in almost 50 countries. This offers various Wi-Fi connections available in a particular locality alongside its password.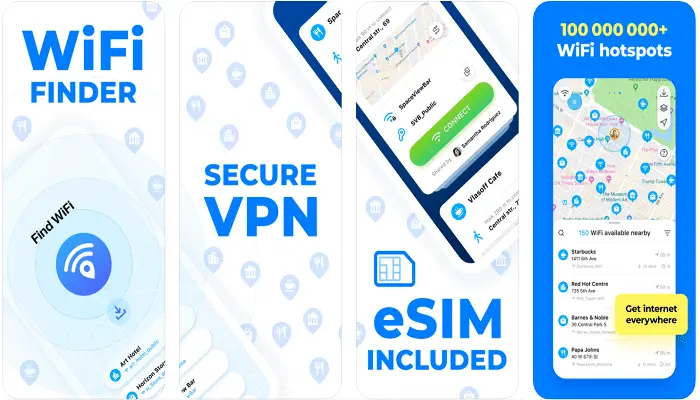 Wifi Map also provides a security scan to ensure and identify any intruders on your Wi-Fi network. So if you want to save money on data, download this app now! The best part of the app is that it allows downloading Wi-Fi maps for offline use when traveling abroad. The app has also got rave reviews on the app store. Also, see this article about how to hack Sky Fiber WiFi.
Visit: Wifi Map
See Also: Key To Unlock iPhone – On Passvers iPhone Unlocker Review
Wifi Connect
Wi-Fi Connect is the most promising of all the WiFi hacker apps for iPhone, with a rating of over four stars on the app store. This app is the perfect accompaniment when traveling overseas. Simply all you have to do is type in the address of the place you are at and let the app do the rest of the work.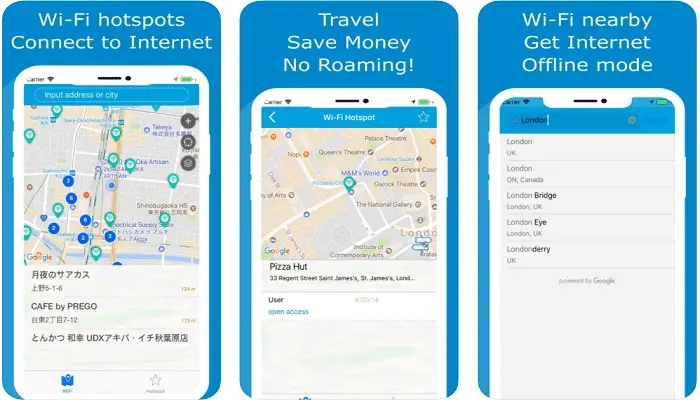 The app finds Wi-Fi connections in and around where you're at and claims to provide passwords and credentials if the network is protected. With its availability in over 50,000 cities and the promise of unlimited access to the Internet, it is the perfect app to have on your phone. 
Visit: Wifi Connect
Wifi Around
Wi-Fi Around is the last app on our list of WiFi hacking apps for iPhones. The app offers almost every service concerning obtaining a stable WI-FI connection. You can check your current download speed, find hotspots nearest you, and check how secure a particular network connection is. It has a good rating on the app store and is continuously updated by the developer. 
So here is a list of apps you can legally and safely download from the AppStore. However, if you want to find apps that give you access to private network connections, you must jailbreak your phone, as iOS has stringent laws regarding software restrictions.
Jailbreaking can increase your Apple device's speed and open up a new set of apps to download. However, do keep in mind that once you do jailbreak your device, there is no coming back, and your device will no longer be able to benefit from its warranty. Furthermore, if done incorrectly, it could permanently damage your Apple device. 
Visit: Wifi Around
WiFi Pass Universal
WiFi Pass Universal is a free and handy utility that converts 6-digit passcodes into 64-digit keys to access a WiFi network. The brute force assaults against WPS and PINs resulted in you recovering the WPA/ WPA2 passwords. Also, learn here to perform Wifi recovery without root!
This is how its WiFi hacking technology works, and you may use it to disrupt the WiFi network at any time and from any location. And the best part, up to 6 people can connect to one network. Most apps of this genre lack efficiency, but WiFi pass universal makes up for that gap.
How to use Pass WiFi to hack WiFi on an iPhone: Pass WiFi can be downloaded for iPhones from their website. And Open the application on your smartphone. Then, Permission must be granted for the app to locate neighboring networks and obtain passwords.
You can connect to whatever network you choose.
When using Pass WiFi on your smartphone, the security key associated with the WiFi terminal is displayed along with its name. Passwords are automatically decrypted for you, and you can save them in a text file to ensure you never lose them again.
Visit: Wifi Pass Universal
Aircrack-ng
In 2021, Aircrack-ng, one of the top computer hacking tools, will also be available on iPhones. iPhone users can use this application to hack local WiFi and breach network security. It's simple to hack a WiFi and exploit its data for internet demands with Aircrack. It's important to understand that you must jailbreak your iPhone before you can even utilize Aircrack-ng to access the Internet.
It keeps an eye on various aspects of wifi security, including:
Capture packets and export the data to text files for processing by third-party software for monitoring. Injection attacks have replay attacks, removing authentication, and creating bogus access points, among many different things. Verifying the validity of network cards and drivers (capture and injection) WPA PSK and WEP Hacking (WPA 1 and WPA 2)
Visit: Aircrack-ng
Instabridge
Instabridge is also one of the top iPhone wifi hacker apps in 2021, compatible with both iPhones and Android devices. This program allows you to connect to any free WiFi network without entering the password each time. You may use this software to search for, find, and connect to any WiFi network nearby, no matter where you are. This app is great for travel.
Instabridge understands which WiFi network works and keeps you away from the ones that do not. You do not even have to set up anything. It simply works. 
If you live in a big city, InstaBridge is the perfect WiFi hacker app that allows you to connect to public WiFi networks for free. You can find encrypted codes on your iOS app to connect to any network.
Open iPhone Settings, select "Wi-Fi," then select Wi-Fi with the text "Connect with Instabridge." Your iPhone will connect to the network once you type in the WiFi name.
Visit: Instabridge
WiFi Finder
WiFi Finder is one of the most prominent wifi password hacking programs, and wifi finder is entirely free to use on the app store—the best iPhone wifi hacking app for local hotspots. When you use WiFi Finder, you can submit your local hotspot locations to a central WiFi Finder server, which will subsequently store and distribute all accessible WiFi information to users.
You can quickly browse and check all WiFi hotspot details before selecting one to connect to. This intelligent WiFi hacker program will suggest the best WiFi network for you.
Visit: Wifi Finder
WiFiAudit Pro
Apple Watch App is now available. Assist in generating network keys. Get information from the network you're connected to. WPA keys can be generated. Keep the keys on your device. Simple to use It can connect to the iPhone, iPod Touch, and iPad easily.
Designed to work with iOS 12 WiFiAudit Pro assists you in generating network keys. Examine your wireless network and produce WPA keys. It is an excellent app for the Wifi hack app for iPad.
Hack a WiFi using WiFi Audit by getting the application from the Cydia Store. Activate the location and WiFi. Allow the app to scan all neighboring networks. It will show you various password combinations when you tap the network you wish to connect to. Up until you join, try every password.
Visit: Wifi Audit Pro
Wifi Hacking Apps To Download From Cydia
Here are a couple of WiFi hack apps for iPhone and Android that you can download from Cydia-
iSpeedTouched
The app claims to hack Wi-Fi passwords for any network.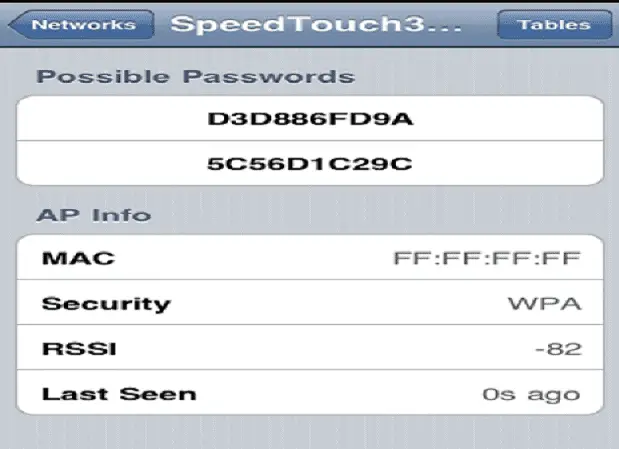 Download it onto your Apple device only after you jailbreak it. Follow these steps: Get the application from a third-party shop, then enable WiFi and Location in the app by opening it. Activate the WiFi network scanning. Connect by tapping on the available networks.
Visit: iSpeedTouched
See Also: HOW OLD IS MY IPHONE? THIS IS HOW YOU FIND OUT!
iWeb Pro
This is a WiFi hack app for iPhone that provides two functions. It checks the vulnerability of your router and claims to provide names of local Wi-Fi networks and their passwords in 5 minutes. You should try it.
How to use iWepPro to wifi hack an iPhone? On your iPhone, download the iWepPro application. On your device, enable WiFi and Location. Launch the iWepPro app and allow it to detect WiFi networks. After connecting it to a network, click on it and let it do its thing.
Visit: iWeb Pro
See Also: Best 5 Keylogger for iPhone You Can't Miss in 2023
WPA Tester
WPA Tester differs from the other two apps because it requires no jailbreaking. It can be downloaded from the Cydia app and is claimed to be one of the leading apps for Wi-Fi breaking.
Please note that jailbreaking opens up a lot of Wi-Fi hack apps for the iPhone for download. It is risky and must be undertaken with extreme precaution and care.
Visit: WPA Tester
See Also: How To Take Pictures Of Stars With IPhone? Easy Tutorial
FAQs
How Do I Use WPS On An iPhone?
WPS is absent from iPhones (Wi-Fi Protected Setup). Most of the time, you'll see that on printers and other devices that employ the WPS button to connect quickly to a Wi-Fi network. You must locate the Wi-Fi network in Settings and then input the Wi-Fi password in order to connect to it.
Is it Possible to Connect to WiFi Without a Password?
In addition to using the apps mentioned above, you can connect to a WiFi Network without entering a password by scanning a QR code. Just navigate to your phone's settings and look for the add network option. You can then use the WiFi without a password by scanning your QR Code.
Can iOS be Hacked for WiFi?
You need a third-party app to crack a WiFi password on an iPhone. The top wifi hacking applications for iPhones with and without jailbreaks are listed below.
Is it Legal to Hack a WiFi Connection?
Even if breaking into a private network is illegal, no specific statute specifically defines it as such; yet, there are some jurisdictions where even simply accessing the network without permission could result in legal repercussions.
Conclusion
Now that you have a good list of WiFi hack apps for iPhones, you can also check out how to receive Wi-Fi Signals from a long distance. This way, you can travel anywhere feeling secure over having a stable internet connection and benefit from the free Wi-Fi by saving money on data.