As you use your iPhone, the operating system and third-party apps create some files that might be unnecessary after some time. These files stay on your iPhone forever even if they do not serve any purpose. Over time, these files accumulates and take up space. Not only this, these files can even hinder the performance of your device. Searching and cleaning for such files is a tedious job for most users. Thus, you must know about the finest iPhone Cleaner Apps out there. If you are looking for RAM cleaner for your PC, click here.
This is why we recommend using iPhone cleaner apps in order to permanently remove these files from your system. So the "Storage Almost Full" error should not bother you anymore. Just use any of the iPhone cleaner apps mentioned in the list below, and the cleaning process will be a simple task for you.
Also read about 16 best defrag software for windows(2020) edition. Click here! 
Top 7 iPhone Cleaner Apps of 2020
These iPhone Cleaner Apps are the best in class and will help you deal with the unnecessary storage issues.
See also: Recover Deleted Files iPhone X | XS | XR | 8 | 7 | 6 | Plus
Cisdem iPhone Cleaner
If you are facing storage issues on your iPhone like whenever you download something on your iPhone, it becomes slow. You often get a notification that shows your phone doesn't have enough space. The first thought which comes to a person's mind is that they have to delete their photos, some apps, or other data. But for this problem, we have Cisdem iPhone Cleaner app. This app is considered as the most trustworthy iPhone cleaner app, and it immediately and securely finds out the unnecessary files.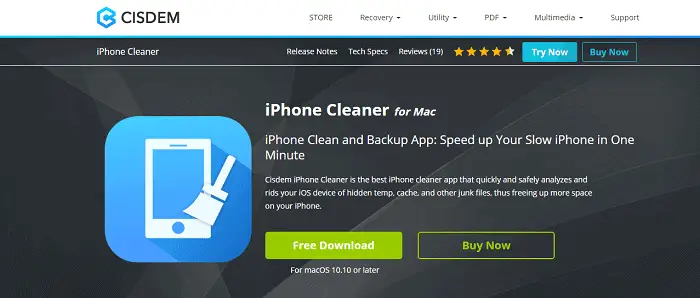 Unnecessary files like hidden temp, large cache, junk files, and other irrelevant data files. This app automatically detects and starts the process of cleaning to make your device faster. This app has various features like it has a well-designed and easy interface that provides users no problems and difficulty in using the app. It is a protected app that won't cause any harm to your stored data. You can generate a full backup of your iPhone and iPad also while using this app.
Read More: Top 6 iPhone Projector Apps To Use in 2021
iMyFone Umate 
iMyFone is a wonderful app that identifies and removes all the unnecessary files, large cookies, and caches. It works to increase the speed and performance of your iPhone. This app works with three methods to deal with the user's needs. It gives enough removal facilities for your data and helps in keeping your data secure. It will make your phone's speed lighting fast so that the user can play games without lag-off. This cleaner app is also a great way to delete files like temporary files, junk files, and uninstall unwanted non used apps from your device.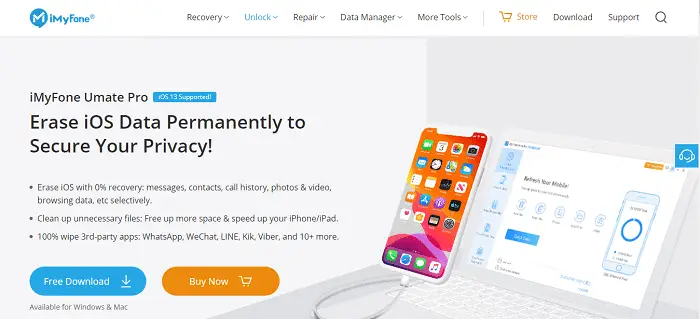 iPhone Cleaner Apps are currently is in trend and this app has a perfect security option, as well. So, if you are looking for a cleaning app, we would surely recommend this iMy fone umate app to keep your phone, experience much better and faster.
Download:  iMyFone Umate 
See also: 6 Methods to Fix "iPhone Won't Charge" Problem
 Phoneclean
PhoneClean app is created and designed by iMobie. It is a cleansing app for both your iPhone and iPad. This app delivers users different features to make in-depth cleaning of your device. It provides you different maintenance tools that upgrade your phone to the best level. This cleaning app completely controls your RAM operations and other speed blocking issues that might be slowing the performance of your iPhone.
It has features like quick clean options for users to remove large files quickly in one click. It can track all the unwanted cookies, browsing history, and automatically deletes them from time to time to make your device faster. This app is available in different languages as well, so that language can never be a barrier for its users of iPhone Cleaner Apps.
Download:  Phoneclean
Magic Phone Cleaner
This is one of the free iPhone cleaner apps available via the official App Store. Using this app, you can easily and quickly clean your phone's space being taken by junk files. Magic Phone Cleaner uses quick and easy methods to save space. It has an option where the user can see all the large files and see if they are useful. The app gets updates frequent in the App Store so you can get the latest tweaks. In fact, this app can be downloaded onto your iPhone directly.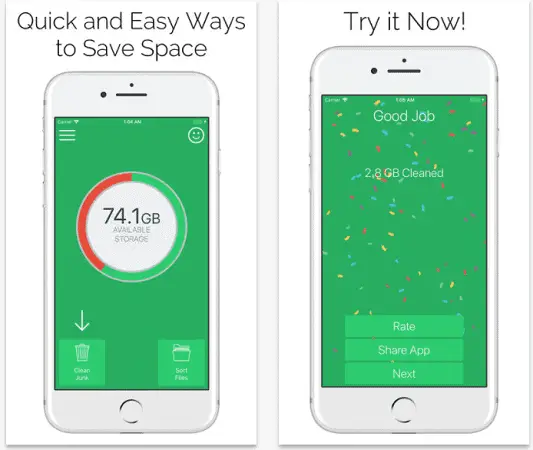 The Magic Phone Cleaner app makes sure that your memory and cache are at par with other equivalent software. If your iPhone is getting sluggish day by day, you should consider downloading this app on your device. The developer gives out the tips for the users. This goes a long way in helping the developers and thus the further development of the apps. This is best among the various iPhone Cleaner Apps.
Clean Doctor
This app is available for both your iPhone and iPad. Clean Doctor is one of the best iPhone cleaner apps that help in better management of storage on your iPhone. It has many features like automated photo cleanup and video cleanup. However, the feature that makes the app stand out is the duplicates cleaner.
It automatically searches your device for duplicate photos, videos, and contacts. These duplicates are only deleted after the user authorizes to delete them. The app also provides a graphical representation of the types of files that are consuming storage on your device. Apart from this, you can remove spam invitations or ads in the calendar app. The latest version of the Clean Doctor app is a complete pack with new stability and performance improvements.
Please note that this and some other iPhone cleaner apps are available only for iOS versions 8.0 and higher. It is always a good idea for you to keep your iPhone software up to date (including the iOS updates) for better performance and resource management. The app has a complementary Network Device Scanner which in turn will help to see devices connected to your network. This can help in identifying any trespassing devices connected to your network in real-time.
Download:  Clean Doctor
SYS Activity Manager
SYS Activity Manager is a popular app for memory, process and other device stats monitoring. However, this app has been discontinued by the developer and is only for older devices running iOS 8 or higher. Using this app, you can check the list of processes and apps running in the background.
Cleaning or uninstalling any such apps may help in improving your iPhone's performance and storage management. The app also provides the user with data and Wi-Fi monitoring portion, which can be used for improving your iPhone's phone network and Wi-Fi connectivity. This is one of the complete iPhone cleaner apps that you need to consider if you own an old iOS device.
Even if you are on a newer device, you can still try using this app on your iPhone device. Earlier this app used to retail for around $0.99 and is available as a free download right now. Probably this should get you to try the app. However, some users have faced problems while using this app in landscape view. Thus, the orientation must be portrait.
Download:  SYS Activity Manager
Dr. Clean
Dr. Clean is the best looking cleaner app out of all the other iPhone cleaner apps on the list. This might be something that some of you might be looking for. It provides almost all of the features that the other apps on this list provide. The app has an automatic junk removal mode; all you need to do is hit the Start button. This app also has the duplicate image scanner, which automatically selects the best photo out of the lot and recommends the ones to remove.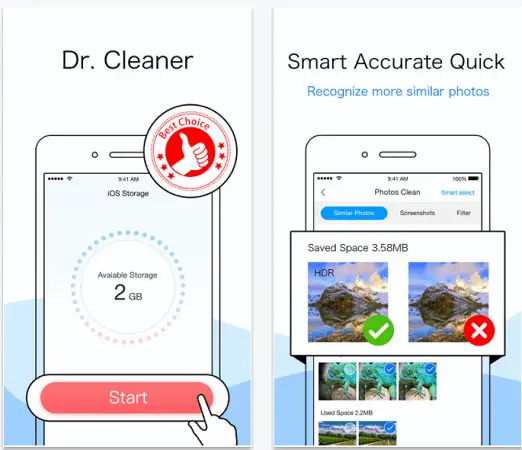 The app is packed with trigger system storage maintenance. You can also search for large videos that can be easily and quickly be cleaned using this app. The app gets frequent updates and currently fully supports the iPhone X. Dr. Clean is an app made by Trend Micro Inc. which is a company that provides professional security solutions. Thus, you can put your trust in this app.
Download:  Dr. Clean
Conclusion
In this world of computers, tablets, and iPhones, we all have our devices filled with Images, videos, and documents. Sometimes our device gets slow due to viruses but mostly these large files are the primary reason for the slowing down of your devices. To make our devices faster, we have summarized you the list of top iPhone cleaner apps that will help you to clean up your device storage and speed up the performance of it.