We spend most of our days sitting in front of our computers or laptops. Working on weekdays and binging on weekends. There is heaps of stuff saved on those not-so-huge devices with incredible memories. There are folders on folders and directories on directories containing element that is all-important to us. As significant all those files are, their humungous size contributes to slowing the system down. The computers, thus, require occasional cleaning, which requires the best RAM cleaner for PC.
Moreover, the system should be capable enough to survive the complex instructions. It is commonly observed that the PC gets slow with prolonged usage. Also, it affects the overall performance of the system and its components. Therefore, the best way to counter this problem is by using the best RAM cleaner for PC. You can also check your RAM frequency through this guide. There is no doubt in the fact that cleaning the RAM will boost the speed of the system. The application manages the RAM storage and deletes all the unnecessary files. Also, you can optimize the memory and use it more effectively.
See also: [Fix] 100% Disk Usage By System and Compressed Memory
Best RAM Cleaner For PC
Thus, here are some of the best RAM cleaner for Windows 10 operating systems. These are available on the internet and can be easily downloaded. Make sure that your system is compatible with the software.
Many users are looking for an effective RAM memory cleaner and similar software for their computers. RAMRush is a free-to-use optimization tool to improve memory utilization.
If your system struggles from frequent crashes due to too much resource consumption, we recommend the best RAM cleaner for PC which will save the day for you. It has pretty diverse features like it shows how much memory is actually being used. This can be useful in minimizing that usage to some extent if you want to.
Moreover, the software uses the latest algorithm to find the blocked memory locations and deletes them. This will eventually decrease the frequency of system cash and apply the recommended settings. Also, the software defrags the primary memory for better allocation.
It does all the usual work, though, like releasing the occupied memory, clearing blocked cache, scanning and alerting about viruses, and all sorts of that stuff. Not to mention that the windows memory cleaner also improves the performance of your system significantly. In short, a package deal, what more would you need?
Visit: RamRush
Advanced System Optimizer
The next in the list of best RAM cleaner for PC is Advanced System Optimizer. The name says a lot about this memory cleaner for windows, advanced, top-notch, high-end, whatever you'd like to call it. What makes it a splendid choice for the best memory cleaner is the fact that it has a system for detecting that your drivers are out of date or going bizarre. It fixes them by downloading the branded ones or by other troubleshooting measures.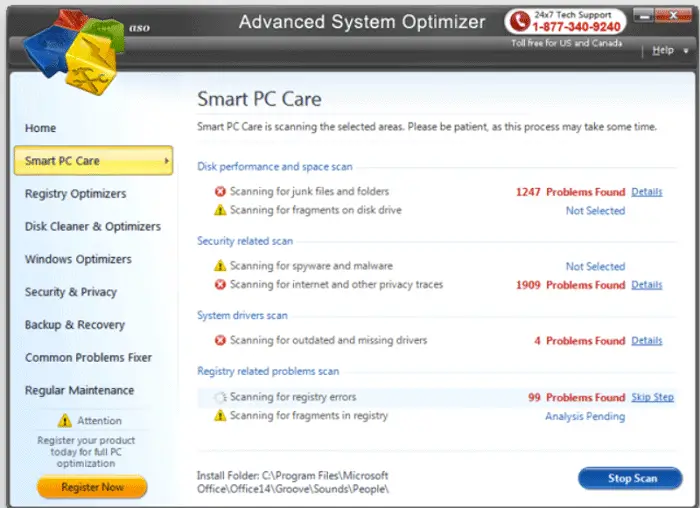 It is one of the better ways to clean, maintain, and protect your system without going overboard. This program analyzes the structure and does what it requires to be done. This RAM cleaner encrypts confidential information to save from prying eyes or dividing your disk into multiple ones for easy management.
Moreover, you only need a single click to perform the complete scan and delete junk files in RAM. Users can access it directly from the Start button and get the job done.
It would also help you out if you're looking to back your important data up and retrieve something that you pushed to the trash by mistake. This cleaner could be your new cleaning buddy. If you're someone who likes everything a Lil extra, you could go ahead and buy the premium version for extra features.
Visit: Advanced System Optimizer
See also: 7 Best Android Optimizing Apps | Best Android Optimizer
The next best RAM cleaner for pc software inline works on the most critical resource for your system's overall functioning. It is so vital that people end up spending extra money on more memory. But that is a different story. The memory optimizer here is hands-down, the best RAM cleaner for PC one could ask for. One tap, and it does all the work for you, from clearing all those sneaky apps working in the background to freeing up space so that your PUBG doesn't lack.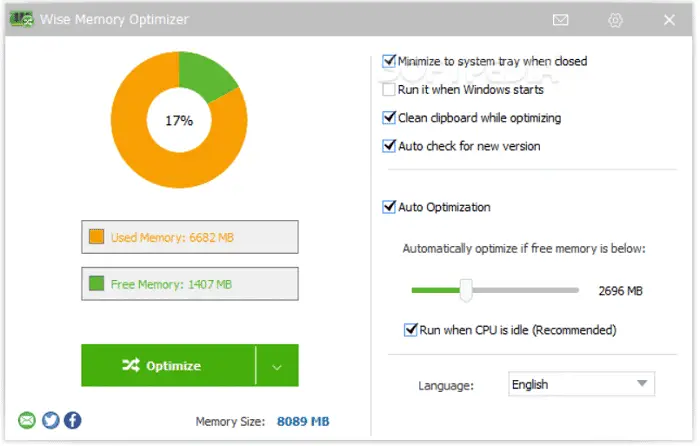 It is a common trend for the computer to run background apps in the system. These programs often take a lot of space in the RAM and can slow down other processes.
It stops these useless processes and improves the performance of the system. Thus, the PC will have a better response time and resource management. Along with the hard drive, it also scans any flash drive connected to the system.
It supports most variants of windows and is a teeny tiny app so that it won't deck up your system. Though the interface might be a little tricky initially, that is just a small price to pay for a super-efficient PC.
Visit: Memory Optimizer
See Also: What Is Memtest64 & Should You Use It? [Detailed Review]
Super PC Care
If you think each best RAM cleaner for pc works similarly and does an identical task, this one would tell you that you could not be more wrong. Super PC care tells you what is the RAM cleaning exactly. The trait that stands out is that it even block non-essential, intrusive, and offending advertisements and annoying Pop-up stuff. Bestowing a flawless and mesmerizing browsing experience, flinging it up there in the race to be the best memory cleaner.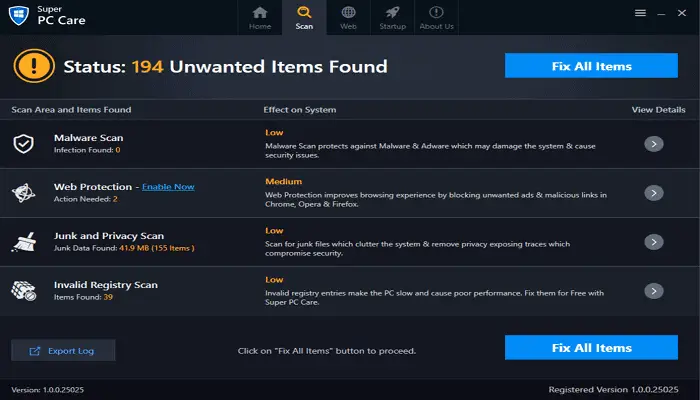 It has a full-fledged routine for all kinds of elements that could potentially harm your system along with the usual RAM cleaning duties. The details could be viruses along with the emails you open or hidden in the apps. They could be lodged in files in your system. Pc care software deals with all of them. 
It also makes your web browser-related stuff squeaky clean. Which means anything that could compromise your privacy like cookies or what you searched for, and things of that sort.
Visit: Super PC Care
See also: How to Clean MacBook | Top 9 Methods (Both Air and Pro)
Almost every PC user is quite aware of the CCleaner application. Apart from the veteran users, the new generation also benefits from this RAM cleaner for PC.
Moreover, the software is capable of optimizing the internal memory and eventually clean it. All the junk files are removed from the system to allow some free space for the new programs.
It also deletes the browser cache files and various cookies around it. Further, users can purchase the premium version of Piriform CCleaner for a better experience.
Download: Piriform CCleaner
Memory Cleaner
As the name suggests, Memory Cleaner is the best RAM cleaner for PC and laptop users. It keeps a regular track of all the memory locations in the system. It is commonly observed that cache files take a lot of space in the storage. Thus, the new software is unable to proceed due to a lack of internal storage.
Hence, Memory cleaner will shut down all the useless applications and generates more space. The user interface is quite simple, and everything can be done with a single click.
Visit: Memory Cleaner
See also: 7 Best Free And Paid iPhone Cleaner Apps [Updated 2021]
Iolo System Mechanic
This software is among the popular RAM cleaner and system care tools in the industry. Apart from saving valuable space in the computer, it also boosts performance. Your PC will run at a different level of speed using the Iolo system mechanic.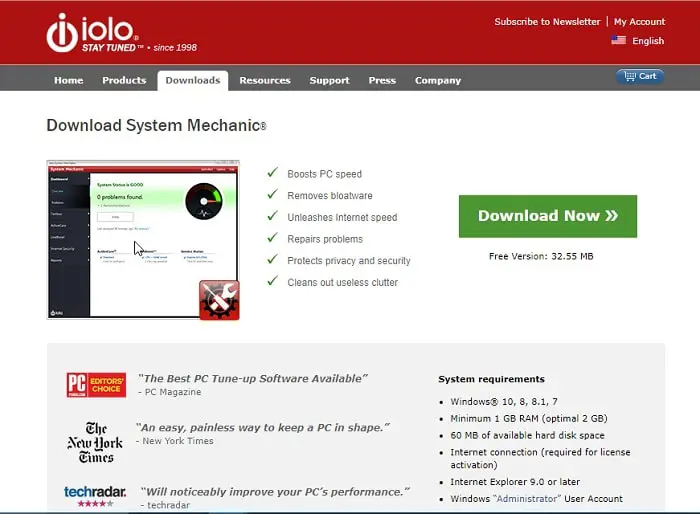 The software also assists in blocking various unwanted settings. The system is compatible with detecting and removing more than 50 types of scrap folders. It can also delete the cache and cookies of the internet browser. And hence, it falls under this category of best RAM cleaner for PC.
Visit: Iolo System Mechanic
CleanMem is more of an auto RAM cleaner for PC with some advanced features. This software is absolutely free, and the user doesn't need to purchase any kind of subscription. After you install it in the system, CleanMem will automatically scan the computer.
It will take the help of the Windows Task Manager to run the scan after a timer of 15 minutes. Moreover, the user can manipulate the additional settings of the software.
It stops these useless processes and improves the performance of the system. Thus, the PC will have a better response time and resource management. Along with the hard drive, it also scans any flash drive connected to the system.
Visit: CleanMem
See Also: How To Enable Or Disable The Auto Start Manager App?
Razer Cortex
If you are a gaming freak, Razer Cortex will be the best RAM cleaner for PC and other components. The computer often freezes while handling large game files. Thus, you require a complete tool that will reduce the game lag.
Razer will detect the unwanted background processes and remove them while you are playing games. Further, it also provides a game boost feature for regular gaming users.
Visit: Razer Cortex
Tenorshare Windows Care Genius
This will not only be the last addition on the list of best RAM cleaner for PC but the most important too. The Tenorshare Windows Care Genius is capable enough to upgrade old computers to new ones. Yes, you will feel the difference between the speed before and after installing it.
The software also removes the extra icons from the desktop and menu bar. Moreover, the in-built feature of File Manager helps to delete bulk files. Eventually, there will be free memory in the system for new applications.
Download: Tenorshare Windows Care Genius
See also: How to Remove MPC Cleaner from Windows [4 Ways]
IObit
IObit Cleaner will boost your amount of memory and report memory consumption in the menu bar with a single click. IObit Cleaner is a great application for keeping your laptop running at peak performance and optimizing your memory (RAM) use with a single click.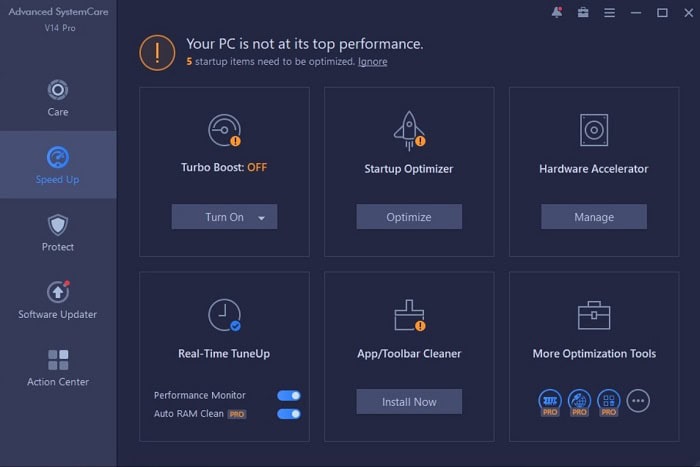 By monitoring and optimizing memory use, IObit Cleaner keeps your system's memory (RAM) clean. From your menu bar, you may rapidly access extensive memory information and identification, as well as CLEAN your memory with a single click.
Visit: IObit
RAM Saver Control Panel
This is a free RAM cleaner that cleans your PC and optimizes its performance. With this software, you can track which apps/software is operating in the background and how much RAM they are eating.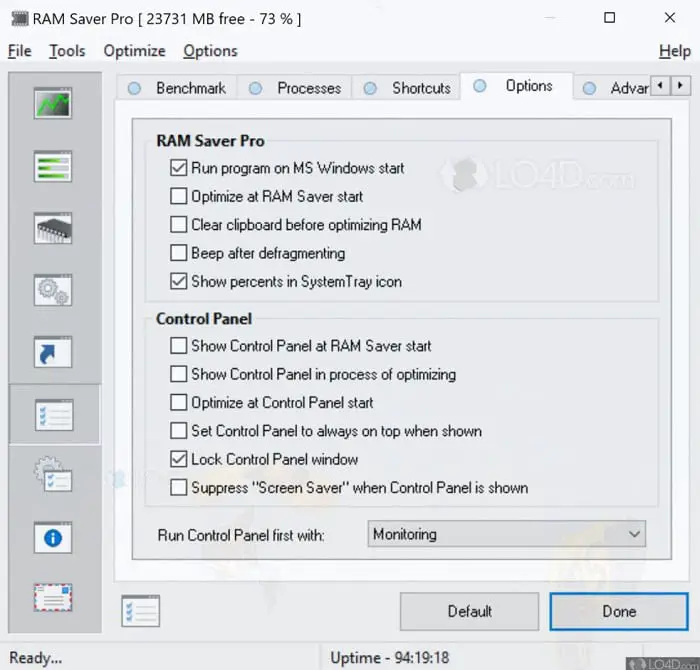 It also allows you to terminate ongoing processes, much like Windows' default Task Manager. With a simple click on the Optimize button, you may clear RAM and enhance the speed of your computer.
Visit: RAM Saver Control Panel
Speed It Up
Speed it Up is the go-to software for instant clean. According to the official comments from the creator, it should only take 2 minutes for a boost in performance. It displays real-time data on overall RAM use. Apart from increasing RAM, it also conducts several other tasks to improve the speed and efficiency of your system.
Functions such as Windows optimization are also available. You can do any or all of these things at the same time. To boost the performance, you only need to click Speed It Up Now! Button. It's Hard Disk Management application cleans up your disc and frees up space on your system by removing hidden/unnecessary files.
Visit: Speed It Up
Cloud System Booster
A free Windows PC cleanup and optimizer tool. It comes with several utilities, one of which being PC Boost. PC Boost drastically improves PC performance by getting rid of programs eating up RAM. Smart Mode and Game Mode are the two PC Boost modes available. Smart Mode optimizes RAM for everyday PC use, while Gaming Mode optimizes and cleans more RAM to ensure seamless gameplay.
Both types can be manually adjusted. When you select the Boost option, it will begin cleaning the RAM. A RAM monitor is also shown, which displays RAM use as a percentage. On the UI, it also indicates enhanced stuff and released RAM data.
Visit: Cloud System Booster
MemPlus
MemPlus will keep track of how much RAM your device is using. By pressing the "Clear memory" button in the main window, you may clear the memory of any non-essential activities. If the FileSystem cache is enabled, this can eliminate each of the operational sets of functions as well.
You may also have the ability to clear the current group or FileSystem cache on an individual basis. MemPlus is known for reducing the amount of RAM used by your system's programmes. In other words, you're freeing up RAM so that you may have more!
See also: MemPlus
Conclusion
So, its time you got a relief from all those memory leaks, slow responses from the PC, and system crashes at the most embarrassing times. All you have to do is pick one of these super-duper best RAM cleaner for PC tools and let it do your bidding for you.
So what are you waiting for? Your computer is not getting any faster, not until you get a move. Also, hang in there for more such articles.
Also read our article on 8 Best Free Online CPU Stress Test Software. Click here!