So, there you are with your final PC build, one that you have spent days, sourcing the best hardware at the most economical price. Of course, you want to make sure that the build is perfect and performing at its peak – no CPU bottleneck, the Graphics card that you have installed is running at its peak, and all the parts are working at their optimum level. It is the very idea behind building an assembled PC, where you get the maximum bang for your buck. Thus, you must know how to perform a CPU Stress Test and the tools to do that.
You don't need to download any third-party software to stress test your CPU. There are a lot of online free CPU Stress Test tools that do the job just fine.
Read our review on Comparium to know whether you should choose it over other tools.
Things to Know Before Stress Testing
Now, before you begin stress testing your CPU, you need to make sure of a couple of things.
Since, the stress testing would be done through a browser, close all other non-essential and background processes. It's because you want your PC to be free from any external load, and the entire processing capability focussed during the stress test.
Make sure that you have disabled any screen-saver and sleep mode before starting the test.
Stress testing your PC can push its components to perform at their peak, which can significantly drive up the heat released. There is a safeguard that comes with most PC components today, whereby they shut down automatically if the temperature gets too high.
Download HWMonitor to keep a check on the heat. The general rule of the thumb is that CPU temp should not cross 70 degree Celsius and GPU temp not above 100 degree Celsius. If the components exceed this limit, stop the stress test immediately. Also, it's better to perform the stress test in an air-conditioned room.
With that taken care of, let's have a look at some of the free CPU stress testing tools.
See also: CPU Temperature Monitor Software 
CPU Stress Test Software
BaseMark Web 3.0
BaseMark is an online CPU Stress Test tool which has got all the bells and whistles of a traditional software tool, developed by RockSolid, a graphics rendering company based in Helsinki. It performs a total of 20 pc stress test to push the processor to the brink – Bitwise test, Built-in objects test, WebGL Test, Shader Pipeline Test, among others.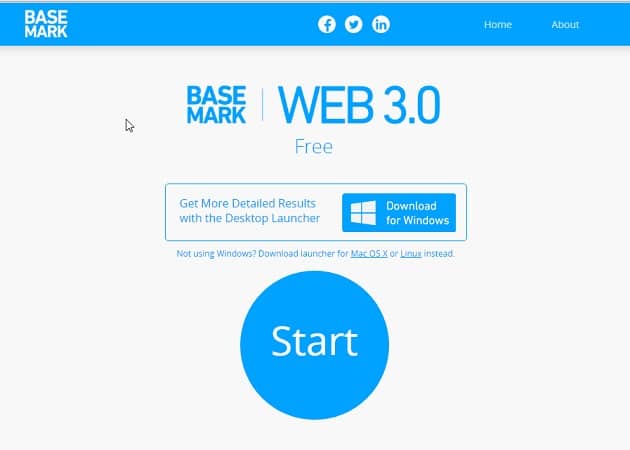 The total test time is around 3-20 minutes, depending on your processor. Also, to get fair results, don't perform any tasks while the test is going on. You can even run the tool in demo mode, but it won't provide accurate results.
If you are running the computer stress test on a laptop, keep the charger connected for maximum performance. The online tool is only available for Windows, so if you are on a Mac or Linux, you can download the offline launcher.
PROS:
It effectively improves the performance of your device.
One click operation.
CONS:
The test time may sometimes extend over 20 mins.
Download BaseMark Web 3.0 here
SilverBench
SilverBench is another CPU Stress Test created under the project Urih.com available for Windows. It is an online multicore CPU Stress test tool to benchmark computer performance using raytracing. In raytracing, an image is generated by tracing the path of light as pixels in an image plane and simulating the effects it has with the virtual objects.
There are a total of three benchmark options available – Performance, Extreme and Stress test. Raytracing is performed by the CPU alone. Stress test comes in handy when testing for CPU burn-in, temperature, and stability testing.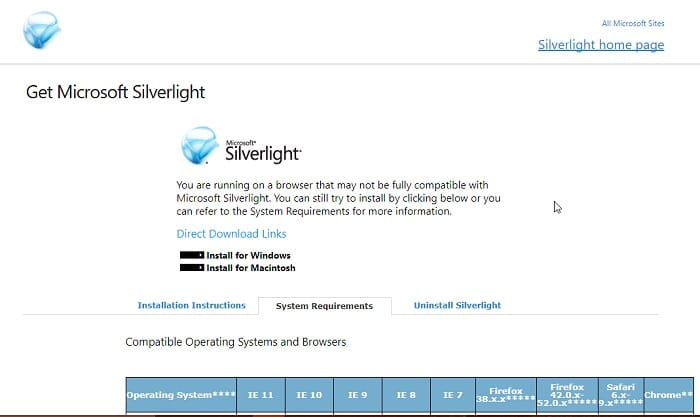 However, due to the limitation of web browser thread implementation, the stress test pc developers have said that it is not possible to achieve 100% CPU utilization, but sill the CPU stress test and benchmarking does go to about 90% almost all the time.
Another nifty feature is that you can check the history and the top 50 charts of standard and extreme tests scores of users all around the world.
According to SilverBench stats, a total of over 1.5 million users have used this CPU Stress Test tool so far. Also, the FPS on it has intentionally been keeping low to monitor the progress as SilverBench adds more CPU cores to their computers.
It is worth mentioning that this software is using Trademark Microsoft Silverlight Technology, and you need to install the Microsoft Silverlight add-on to perform the test on a browser.
PROS:
It consist of different modes to run which you can choose according to personal use.
Easy installation and operation.
CONS:
Does not guarantee 100% optimisation.
CPU Speed Test
The last one on the list is a self-made project by an individual on "Scratch" – a platform where users can share their creations with the online community.
This CPU Stress Test tool mostly focuses on your core CPU speed, and in its simulation, it will try to achieve the maximum clock rate of your processor. The stress test cpu interface is simple, and it will show your max clock speed within a minute or so.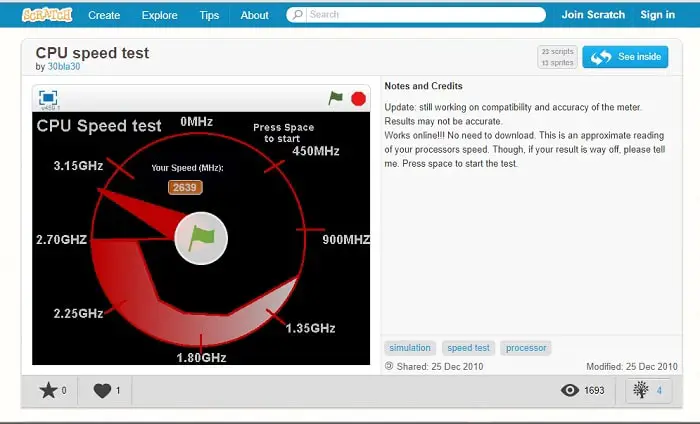 This online tool requires the flash add-on, and while running it, make sure to close any open tabs or browser windows.
PROS:
It helps you identify the strongest and the weakest component in your device.
It makes it very easy to compare your pc performance based on various characteristics.
CONS:
It may degrade component lifespan.
HeavyLoad
HeavyLoad is one of the best CPU stress test software that is available for your PC, for free. This is one of those software which really puts your workstation to a heavy workload and tests how it behaves under extreme processing pressure this stress test computer freeware puts your CPU under variable loads and displays a graph of performance versus throttling or any other parameter of your choice and updates them every few seconds. You can obviously choose the frequency of updation of the chart, just to give you a better idea about your own system's performance under stress.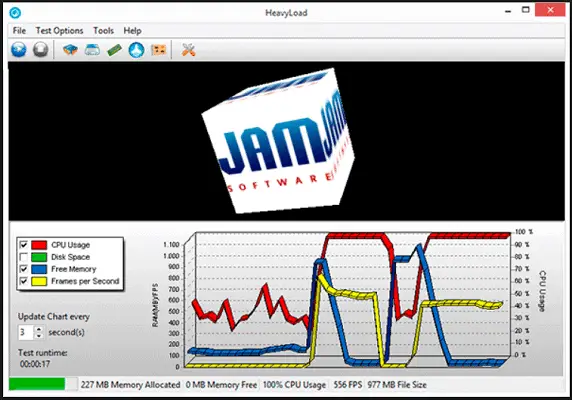 Not only can you stress test your CPU, but you can also test the read and write speeds of your files check how efficiently memory is being allocated in your RAM, simulate a very high disk access scenario and see how your system handles it, and so much more. You can also stress test your GPU using HeavyLoad, which is very handy.
This cpu load test software is compatible with a lot of Windows operating system versions such as Windows 10, Windows 8, and even Windows 7. So even you have a moderately old system, it should still run fine on it. You should take this tool for a spin. Go ahead and get stress testing!
PROS:
It provides the absolute speeds of various operations such as reading and writing.
CONS:
The interface is a bit difficult to master.
Novabench
I think it is pretty evident that I am a nerd and I love benchmarking hardware. So in the world of PC benchmarking, Novabench is a very well-known name. This thing has been around ever since the days of 2007. Feel old yet?
With this CPU stress test software. Not only can you test your computer's performance easily within a few minutes. But you can also compare the test results with similar models online. And see if you are model lives up to its expected performance numbers.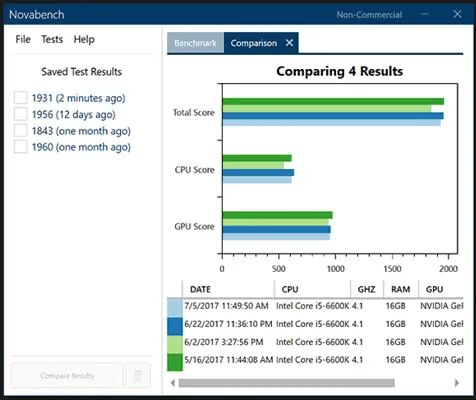 Interestingly, you can also optimize and repair your system by tuning or upgrading the component based on your benchmark results. Then again over that if the sole purpose of a benchmark anyway. Measuring system for optimal performance and not just to randomly compare some numbers with each other and see who's Boss, right?
The section on their website called scores and stats where they have listed all the popular CPU, RAM, and GPU combinations submitted by users. So if you do not want to download the software and just want to take a look at the scores for reference you are more than welcome to do so. I mean, why else would they make this public, right? But I suggest you download this software and run a benchmark on your hardware anyway, you know, just for fun.
Run it and compare your test scores with others to get a better idea of your current hardware setup. Unlike the computers made by some fruity computer manufacturers out there, we can upgrade as we wish!
PROS:
Very fast operation.
Provides a wide range of functions.
CONS:
Limited options in advanced applications.
AIDA64
In case you are not cheap like me and don't mind paying a little bit for your benchmarking software, then AIDA64 is an excellent choice for you. They even have an Android app which I use personally to check the official hardware and other details of any smartphone that I want to test myself you simply install the app on your phone and open it that's all.
It will fetch all the details and show it to you in well-sorted sections. They will have a PC benchmarking tool, obviously, which happens to be a paid CPU stress test software.
But like most other freeware that you get in the market, this Diagnostics tool is incredibly comprehensive and is geared towards professionals and engineers. Along with other utilities the most useful feature that AIDA64 offers is the system stability test, which involves stress testing your CPU, RAM as well as GPU.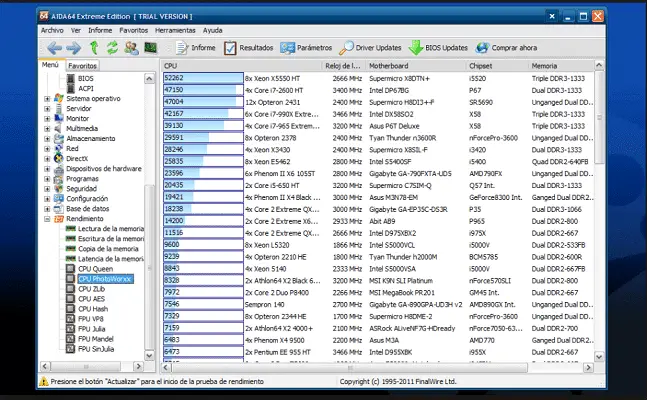 If you have recently overclocked your CPU or GPU. Or maybe you got yourself a new error correcting them trip and wanted to test performance. This install will give you pretty much exact stuff that you need to know about your newly equipped hardware. It was sure if your CPU starts to throttle due to thermals. Maybe your GPU overclocking has compromised system stability and needs to be turned down a bit.
If you don't want to buy this software out of the blue. Then there is a trial version for you available in the Windows Marketplace itself. You can download the AIDA64 Extreme as a self-installing exe file. Or even a Zip file which you can manually install according to your preferences.
There are different versions of the product which you can buy. At variable prices ranging from anywhere around $40 all the way up to $200. On their website, there are a total of four available product variations. For system limitation tests and CPU stress testing. I recommend the extreme edition. Which also happens to be the cheapest one among the four.
PROS:
It immediately alarms the user if the system becomes unstable.
It has features to display CPU utilisation of each of the running process.
CONS:
FPS spikes may be experienced during game-play.
Intel Extreme Tuning Utility
As the name suggests, Intel is not playing around with this one. For all of you who are running on an Intel-based system, this CPU stress testing tool is by far the best stress testing tools to stress test your CPU, GPU, and RAM. See how they will perform under heavy workloads. While stress testing this story gives complete details about the CPU such as its utilization, temperature, any existing thermal throttling, frequency, and threading information.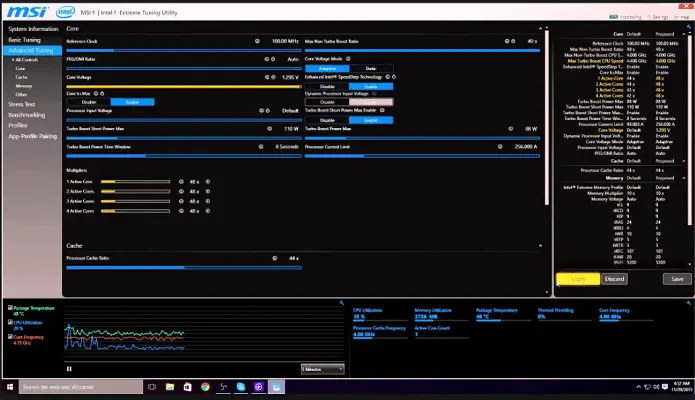 The XTU or Extreme training utility is available to download for free at this website. You just have to accept their terms and conditions before proceeding to download it. As if anyone reads them, right? Just scroll to the and then click on I accept and your file will begin download immediately. It's only about 34 megabytes so it should be quick, depending on your internet connection of course!
PROS:
Can be used for basic as well as advanced applications.
CONS:
PC Mark 10
PC Mark took the Microsoft route and ditched the version 9 upgrade for some reason. And chose the mark 10 as the upgrade for the mark 8. This is one of the oldest PC benchmarking software available in the market.
Bear in mind that this is not intense algorithmic. Not that other bank was put on your CPU in the name of stress testing.
This software on the other hand what's your CPU through a bunch of real world things. Such as image processing, video rendering, browsing the web and a lot of other tasks, trying to simulate a real world heavy work day.
Of course, there is a healthy mix of graphical rendering and simulation parts there too. So overall, this is a very well balanced benchmark. In case you are trying to use your system as an average consumer, which I think you most probably are.
Bear in mind that this is a paid software and not a freeware. Apparently they are going to shift their website to some other place. Which they have kept as a reminder over at their site.
PROS:
Provides accurate results.
The tests performed are relevant and displays visible results.
CONS:
It is not licensed for business usage.
Intel Processor Diagnostic Tool
If you have an Intel CPU – based framework, a standout amongst other CPU stress testing computer will come straightforwardly from the organization that manufactures your processor.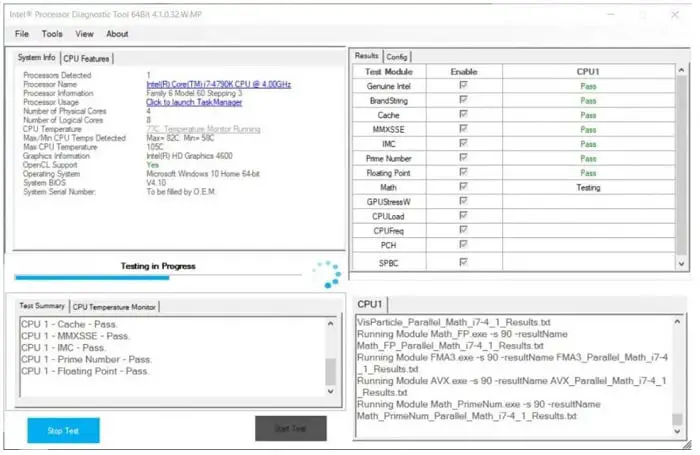 The Intel Processor Diagnostic Tool checks the processor, its working recurrence, and tests its incorporated capacities. Then, at that point, quite possibly the most exceptional methods of stress testing. On the off chance that the CPU overheats, this test can be designed to circle or even shut down automatically.
Download: Intel Processor Diagnostic Tool
CPU-Z
CPUZ is a superb lightweight pc testing software for checking the specifications of the CPU, memory, motherboard, and RAM. Since it is probably already installed, I generally run a fast CPUZ stress test, which isn't just about as extreme as Prime95.
However, it puts stress on the CPU; if you're directly on edge in terms of stability, you'll still get an opportunity to turn it down a bit.
Download: CPU-Z
Prime95
For CPU stress testing, Prime95 is one of the most seasoned and free utilities for CPU stress testing. Prime95 utilizes the CPU to discover Mersenne prime numbers, and in the process, creates an exceptionally huge CPU load. Under typical conditions, the consistent working time is 6 hours. Prime95 implies that the CPU is sound, and there will be no issues during its life cycle. Nonetheless, guarantee that the temperature is kept inside a sensible reach.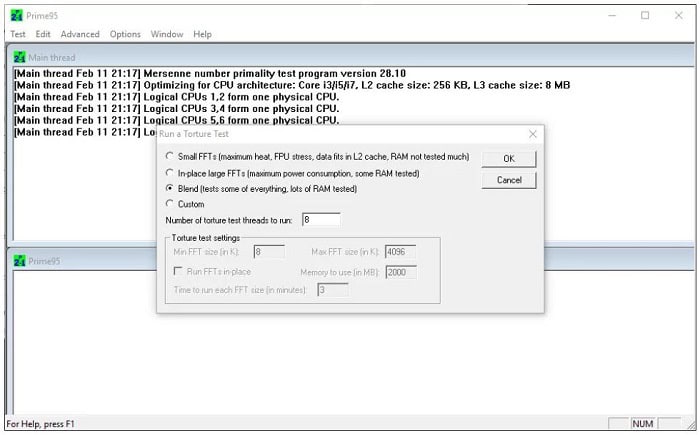 Prime95 has a few use choices to run CPU stress tests. The most concentrated test is the small FFT stress test, which overloads the CPU however much as could reasonably be expected and guarantees that potential issues are found in time. Another great test not only loads the CPU yet additionally loads the RAM. If you have less time, this is a decent method to test the CPU and RAM simultaneously.
Download: Prime95
Cinebench R20
Cinebench has been one of our #1 computer testing software for a long time. With the long-term delayed arrival of Cinebench R20, the test is presently much challenging, thanks to a more mind-boggling scene that must now be rendered.
Notwithstanding the increased complexity, Cinebench R20 currently gives the capacity to set the shortest time for test runs, making this test tool an amazingly incredible CPU stress test that simulates workloads. 3D video rendering. PC for video rendering, 3D modeling, or photograph editing, this test is certainly for you.
Download: Cinebench R20
Final Verdict
So, these were some of the best benchmarking software. By which you can stress test your CPU and get an idea of its working under heavy loads. Make sure you try out one or more of them. And show off numbers to the world (provided that there is something you want to be shown!). Or you might be one of the most practical people and just want to know how capable your hardware really is. Whatever be your use case, these softwares will deliver for you. Cheers!
Also read our article on Steps to Convert Your Laptop to A Desktop At Home. Click here!
FAQs
How do I stress test my CPU?
The Intel Burn Test is not an official Intel tool; however, it is one of the easiest stress tests to utilize. Open the application, tap the Stress level and select the most extreme value. Click Start and allow it to run for some time and check whether your PC can deal with the load.
How do I know if my CPU is stable?
An ideal approach to pass through the stress test rapidly is to run IBT or Prime95 CPU tester and play challenging games simultaneously. This will tell you if your CPU is stable or not.
How hot is too hot for a CPU?
Temperatures, however high as 70 degrees Celsius, maybe ordinary, yet issues emerge when the temperature rises," Silverman said. Your CPU and GPU will generally drop by 90 to 105 degrees Celsius, contingent upon the model.
Can I check CPU stress online?
"CPU Stress Test Online" or basically "CPU Load Test" is a free processor execution test permitting you to check online your processor at heavy load.