Microsoft has been one of the best IT companies in this technological generation. It has been proving itself by updating its apps and launching updated OS systems. Microsoft has started developing OS systems since a long time. Windows OS has been very much used and has gained popularity worldwide. They have also launched its in-built applications that are very much useful for people. Windows has applications like Cortana, Skype, News and all the other applications that users can have access and enjoy them. Thus, you should be knowing how to Check Graphics Card On Windows 10.
A laptop/PC may contain different parts to run a laptop/PC. There is Ethernet card, graphics card, PCI's and many other ports and cards for a PC to run in a good way. Graphics card is such an essential part of the computer that lets you control your system's display and also the resolution of the PC. Not only these things but a graphics card lets you play 3D games on your PC. Graphics card helps you manage graphic for a particular game and also change the graphics and set it as you require.
Windows lets you install a graphics card on your system based on the requirement of your system. Graphics card is also required for video editing as rendering and CUDA codes are all powered by your graphics card in your PC. Some of the games and applications are accessible only if you a graphics card of particular version or size, i.e., Check Graphics Card On Windows 10 that the graphic card should be compatible to access the games and applications on your PC.
Don't you know which graphics card is present in your PC? Do you want to know about the dedicated space of your graphics card? You need not open your PC to check all these. You just need to perform some simple actions using your keyboard, i.e., all you need to do is push some keys on your keyboard, and you will know the dedicated memory and the type of graphics card on your PC.
See Also: What is a Level 3 Background Check? [Complete Guide]
First, let's know about a graphic card. What is it? What is it meant for? How does it work?
A graphic card is something that controls the display, resolution of your PC screen. A graphics card is necessary to produce images. It has its RAM and processor for producing images, and basically, it doesn't slow down your PC. The images on your screen are made of small dots, so a graphic card convert's data into these dots and these dots form a complete picture on your screen.
If you happen to have a powerful graphics card then you can also be able to record games on your computer. If your computer has graphics in built in your motherboard, then there is no need of a graphics card but if it is not then you will need a basic graphics card. Intel processors have Intel 3D graphics card for basic systems. NVidia and AMD are one of the best graphic cards till date.
Check This Out How To Turn Off NVIDIA Overlay | Explained With Pictures
How To Check Graphics Card On Windows 10?
To Check Graphics Card On Windows 10 is not a big task. You need not open your PC to see the version of your PC and the details about it. As I mentioned earlier, you need to just press some keys from your keyboard to know details about your card.
1. Press Windows+X from your keyboard.
2. Now open system from the list of options.
3. In system open display.
4. in display go to advance options.
5. As soon as you click advanced options a dialogue box opens on your screen with the information about your graphics card present on your PC. You can also see the dedicated memory and shared memory on your PC in the dialogue box.
See Also: Fixes To Windows 10 Narrator Won't Turn Off
DirectX Diagnostic Tool
DirectX is an old and best tool to know about the display and properties of your computer. It works well on Windows 10, so you can access it on any computer. As it is an old software, it may also work on Windows 7, 8.1, 8.0.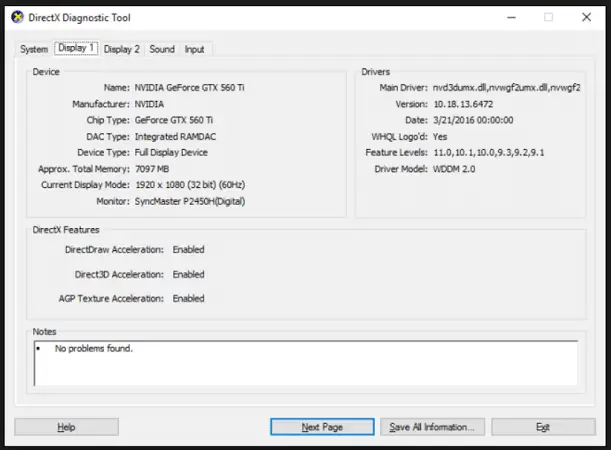 All you need to is open RUN by typing it in the search box or by pressing Win+R and then in the dialogue box you need to write"dxdiag." Then if you click Ok a dialogue box appears. In the dialogue box, you need to click display, and then here you go, all the information about your screen display and graphics card will be present there. You may Check Graphics Card On Windows 10 you are having and also the shared and dedicated video memory. You can also update drivers if needed.
See Also: Killer Network Service – One-stop Guide
TechPowerUp GPU-Z
Tech power GPU-Z a software you need to install on your PC to have a detailed view on your graphics card. It is the most detailed and easisest way to Check Graphics Card On Windows 10. It is free, and you can download it from the official website and then have access to it. As you go to the official site to download the application after hitting the download button, you may be asked to select a country to continue fast download then you can select the USA or some other country near to your home country.
After the download is finished, a dialogue box appears which asks you either to install TechPower GPU-Z or not. That will depend on you, if you fancy to install you can or just click not now the application normally runs even if you don't install it.
After the installation box disappears, you will be shown all the data regarding your graphics card. The data is accurate, and also all the description (wanted and unwanted) is given. If a beginner has access to this, he may not know what the information is about. So he can just look at the name and then have complete research about the details in the dialogue box. You have options that will let you know about every specification in the tab.
These were some of the methods that are normally used by people to view the type and specifications of the graphics card.
See also: Easily Record Your Computer Screen With VideoProc (With Tutorial)