People tend to surf the internet in search of the thing they want. However, a hurdle in the way can be advertisements, the most important thing that people want to avoid. Ads are something that annoys and frustrates people. Most of the time they have some vulgar content that might irritate the user very much. Although ads are helpful for some, others want to get rid of them. ads and try to remove them but do not find any good app or software to do so. Ads not only consume the space of your screen but also waste your time. You need to do one thing but because of the ads you will be taken to another page, and you will be stuck there. Adblock vs Adblock Plus shows you the pros and cons of the most popular software to get rid of these ads.
Ads
Ads are a popular mode of publicity and making money for the creators. However, ads can get annoying and the users have to resort to restarting the browser or by looking through another site. To get rid of these apps many applications have been wandering around the Internet nowadays but the best among them are Adblock and Adblock plus. But, this article is to settle the debate of Adblock vs Adblock Plus.
Adblock and Adblock Plus have been around the internet for a long time. They are the most efficient and widely used ad blockers since their launch. People majorly want to remove ads because they consume a lot of space. Besides it also makes the browsing slower and the web page does not load fast enough. A lot of people think that Adblock only blocks the popups and only some of the ads on your screen, but it also blocks the ads that are played during a youtube video and also the ads during any playback which consume a lot of time. People think ad blockers are only for occupying space on your PC, but they are very effective and reduce the ads.
Since Adblock vs Adblock Plus has come into existence, they have been very popularly knowing for reducing the ads. They are user-friendly and can be turned on and off by just clicking a button beside the address bar of your browser.
Adblock vs Adblock Plus
Let's have a look at Adblock vs Adblock Plus:
ADBLOCK PLUS
When discussing Adblock vs Adblock Plus, Adblock Plus first won the hearts of the users. It completely reduced the ads and has been consistent even after the growth of users. It has 50 million users around the globe and still counting.
People thought that this also would reduce one or two ads and then stop working, but it reduced 95% display ads, 98% text ads, 87% pop-ups. This is far better than other ad blockers as they only reduced 95% of pop-up ads.
See Also: How to Block a Channel on YouTube (Top 5 Methods) – TechWhoop
The main features of Adblock are that it is fast and very easy to use. Even a beginner also can use it very effectively without any confusion. You can add any exceptions to it, and it is very easy to use.
As I mentioned earlier, you can turn it on and turn it off by just clicking on one button.
You cannot disable individual pages except for Firefox. In chrome either you should disable it completely or enable it completely.
The disadvantage of the Ad-block is that it only shows some other ads. These ads can be removed if you pay some bugs to the agency.
Get: ADBLOCK PLUS FOR MOZILLA FIREFOX
ADBLOCK
Adblock is also the same as Adblock plus and also functions the same as the previous one. It also reduces ads effectively but not as compared to Adblock plus. For starters in Adblock vs Adblock Plus, Adblock is faster and easier to use than AdblockPlus. But if you open more tabs on your PC, then it may cause lags and then your PC might get slow because of this.
Adblock was able to remove only 20% of pop-up ads which was very much less than Adblock plus.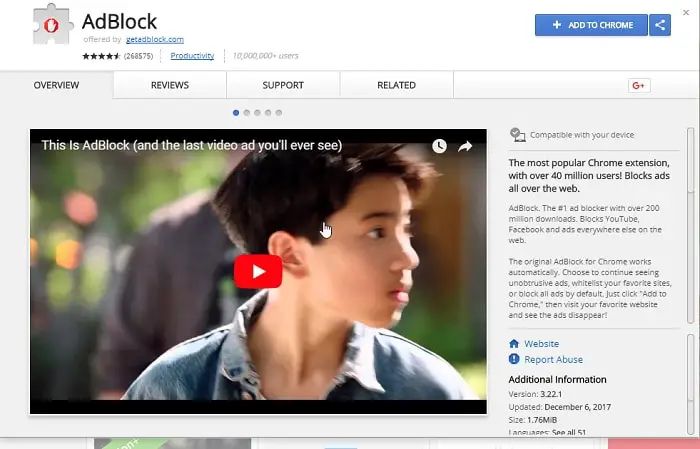 It also accepts exceptions. You can turn it on and turn it off by using a single click.
See Also: 17 Best Trusted Ad Blocker Software for Windows (2019)
Some of the drawbacks are you require bugs to remove some ads
It also slows down your browser when you open multiple tabs
It is also less effective regarding Adblocking
You can disable individual pages
Get: ADBLOCK FOR CHROME
Get: ADBLOCK FOR MOZILLA FIREFOX
Performance Parameters
Adblockers are widely used to avoid unwanted ads for a smoother experience. Hence, it is vital to pick an efficient adblocker. Even while looking at the best adblockers, users get confused about which one to choose. The ad blockers can be judged based on specific performance parameters, as mentioned below. Although they are both great at their work, this can help you compare Adblock and Adblock plus and take the best pick between the two.
Essentially both the software are browser extensions to do the work of blocking the ads. While both the adblockers share the ability to blacklist, whitelist, allow chosen ads, and so on. They have a few feature differences to set them apart.
Key Feature
Adblock's feature of blocking a page element is known to be popularly used. You can block any element by just right-clicking on the element. For example, if an unwanted video shows up while you're browsing, you can right-click on it to see the element blocking option to block it from the web page. This feature gives Adblock an advantage over Adblock Plus.
On the other hand, Adblock has the added benefit of showing the blocking status. Unlike Adblock, it shows the user how many ads have been blocked. Even though both the software are easy to install and provide a simplified user experience, the user interface of Adblock Plus is known to be liked better.
Browser Support
Both Adblock and Adblock Plus do a fair job. They both manage to block full ads and popups, but the speed of Adblock may differ depending on the browser. For instance, Adblock is slower than the other in Firefox. However, that factor is negligible when you consider Adblock Plus's ability to perform with maximum tabs open. There are no such slowdowns. There are no performance issues when working with multiple tabs, provided that the internet and system performance is good too.
User Interface
Adblock has good filters to block the ads that you don't want to see. It is also good at keeping the malware out. Its selling point is the element blocking feature, as mentioned before. However, the downside to it is the Interface which can be a tad bit confusing and not very appealing in comparison to Adblock Plus. Non-intrusive ads do not have a filter. They show by default.
Adblock Plus is open-source software. Most users already have Adblocker Plus rather than Adblock because it has a good interface. Adblocking software should be easy to use, and Adblock Plus serves right in this case. If you are a person who gives the UI a lot of importance, this point may be a deciding factor for you.
As advertisements are a source of income for websites, some websites pay to restrict the working of adblockers.
See Also: uBlock Origin vs Adblock Plus: Which Is Better?
Concluding Words on Adblock vs Adblock Plus

Coming to a conclusion of Adblock vs Adblock Plus, both are good in their aspects, and you require them if ads are annoying you and want to get rid of them. As Ad-block plus was first developed for Firefox, we strongly recommend it for Firefox users, and you may appreciate the decision. But for Chrome Ad block has high recommendations and it works quite well for Chrome as the design is primary for Chrome itself.