On the internet, there are many things available which people want. There are some other things that people want to neglect, and the most important thing people want to neglect is advertisements. Ads are something that annoys and frustrate people. Most of the times they have some vulgar content that might irritate the user very much. People often want to get rid of these ads and try to remove them but do not find any good app or software to remove them. Ads not only consume space of your screen but also waste your time. You need to do one thing but because of the ads you will be taken to another page, and you will be stuck there. Adblock vs Adblock Plus shows you the pros and cons of the most popular apps to get rid of these ads.
See Also: Top 10 Websites to Post Free Classified Ads in India
Ads
Ads are the primary mode of payment to the creators and them make huge amounts of money by these ads. The users, at last, have to satisfy themselves either by restarting the browser or by looking through another site. They confuse a lot.To get rid of these apps many applications have been wandering around the Internet nowadays but the best among them are Adblock and Adblock plus. But, this article is about settling the debate of Adblock vs Adblock Plus.
Adblock and Adblock Plus have been around the internet for a long time. They are the most efficient and widely used ad blockers since their launch. People majorly want to remove ads because they consume a lot of space and also slower the internet as they take more time to load and hence the web page doesn't load fastly. A lot of people think that Adblock only blocks the popups and only some o the ads on your screen, but it also blocks the ads that are played during a youtube video and also the ads during any playback which consume a lot of time. People think ad blockers are only for occupying space on your PC, but they are very effective and reduce the ads.
Since Adblock vs Adblock Plus has come into existence, they have been very popularly knowing for reducing the ads. They are user-friendly and can be turned on and off by just clicking a button beside the address bar of your browser.
Adblock vs Adblock Plus
Let's have a look on Adblock vs Adblock Plus:
ADBLOCK PLUS
When discussing Adblock vs Adblock Plus, Adblock Plus first won hearts of the users. It completely reduced the ads and has been consistent even after the growth of users. It has 50 million users around the globe and still counting.
People thought that this also would reduce one or two ads and then stop working, but it reduced 95% display ads, 98% text ads, 87% pop-ups. This is far better than other ad blockers as they only reduced 95% of pop-up adds.
See Also: How to Block a Channel on YouTube (Top 5 Methods) – TechWhoop
The main features of Adblock are that it is fast and very easy to use. Even a beginner also can use it very effectively without any confusion. You can add any exceptions in it, and it is very easy to use.
As I mentioned earlier, you can turn it on and turn it off by just clicking on one button.
You cannot disable individual pages except for Firefox.In chrome either you should disable it completely or enable it completely.
The disadvantage of the Ad block is that it only shows some other ads. These ads can be removed if you pay some bugs to the agency.
Get: ADBLOCK PLUS FOR MOZILLA FIREFOX
ADBLOCK
Adblock is also same as Adblock plus and also functions same as the previous one. It also reduces ads effectively but not as compared to Adblock plus. For starters in Adblock vs Adblock Plus, Adblock is faster and easier to use then AdblockPlus. But if you open more tabs on your PC, then it may cause lags and then your PC might get slow because of this.
Adblock was able to remove only 20% of pop-up ads which was very much less than Adblock plus.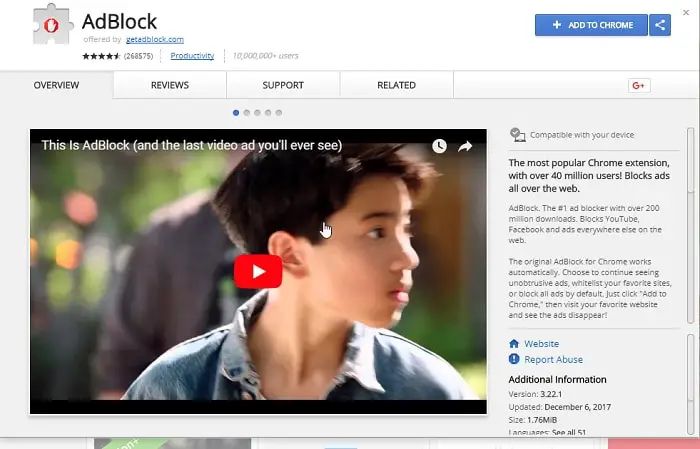 Some of the key features of Adblock are that it is faster and easier than Adblock Plus.
It also accepts exceptions. You can turn it on and turn it off by using a single click.
See Also: 17 Best Trusted Ad Blocker Software for Windows (2019)
Some of the drawbacks are you require bugs to remove some ads
It also slows down your browser when you open multiple tabs
It is also less effective regarding Ad blocking
You can disable individual pages
Get: ADBLOCK FOR CHROME
Get: ADBLOCK FOR MOZILLA FIREFOX
Final Words
Coming to a conclusion of Adblock vs Adblock Plus, both are good in their aspects, and you require them if ads are annoying you and want to get rid of them. As Ad block plus was first developed for Firefox, we strongly recommend it for Firefox users, and you may appreciate the decision. But for Chrome Ad block has high recommendation and it works quite well for Chrome as the design is primary for Chrome itself.
Also Refer: 6 Best Free Internet Blockers to Boost Your Productivity