The primary source of revenue from the Internet is advertising. Most of the famous internet personalities rely on advertising for their income. Content creators and others directly dependent on this ad revenue can't earn without placing these ads. On the other hand, the industries that use advertisements depend heavily on these advertisements for sales. Thus, you must know the difference between uBlock Origin and Adblock Plus.
The ads are displayed based on a user's data statistics while browsing the internet. Thus, these ads are almost always related to something you might need.
However, this is not always the case. Also, if you're just a fan of Adblock, then this comparison of Adblock vs. Adblock Plus will be a perfect fit for you.
Why Should You Consider Blocking Ads?
Companies spend millions on advertising to reach out to the audience. Then why should one try to block these ads that someone spent so much on? The user does not always prefer these ads, and it is common for users to run into ads that might be offensive to them.
Apart from this, these ads take valuable internet bandwidth to load. Sometimes, these ads may even install scripts or  malicious software into a user's device without permission.
Lastly, one of the primary reasons for using tools to block ads is that free tools often contain ads that can easily be removed. Due to these reasons, the need for a tool that blocks these ads arises.
There are countless tools available over the internet to block these ads. However, some of these tools may be suspicious and extract your data or plant malicious scripts into your system.
2 Most Popular Ad Blockers
The two most popular and safe tools available for ad blocking are uBlock Origin vs Adblock Plus. This is where the uBlock Origin vs. Adblock Plus issue arises. Before diving deep into the uBlock vs. Adblock debate, here is some information about both tools:
uBlock
uBlock is an entirely free and open-source advertisement-blocking tool that comes as a browser extension. It features content blocking and content filtering based on filters.
It was developed by Raymond Hill three years ago. The tool is available on all platforms as it is written in JavaScript. The tool earns money through donations on the official site.
Adblock
Adblock is also an open-source ad-blocking tool that Eyeo GmbH developed. It is a more mature tool that came out about twelve years ago.
The tool is an extension written in Javascript, XUL, and CSS. The feature that sets it apart from the other tools is the Allow non-intrusive ads feature.
It depends mainly on the donations made for revenue. However, there have been reports that big sites like Google and Facebook pay vast amounts of money to get their ads white list on Adblock.
uBlock Origin vs Adblock Plus: An In-depth Comparison
uBlock and Adblock are both ad-blocking tools that rely on a list of ad-injecting domains to function. The uBlock tool relies on Adblock's lists to function.
Both tools are supposed to serve the same purpose- blocking ads. So what is the need to consider the uBlock Origin vs. Adblock Plus competition? The difference lies in memory usage and the algorithms used for blocking ads.
While uBlock has better memory management, Adblock has the Acceptable ads feature. Adblock remains the most popular tool, but uBlock also has some tricks that make it a worthy competitor in the uBlock Origin vs. Adblock Plus competition. Regarding ad blocking, uBlock Origin is more effective than Adblock Plus as it blocks all ads and popups, whereas AdBlock Plus allows some ads to be seen.
History
The first version of AdBlock was released in 2002 by Henrik Sorensen, a Danish university student. This version didn't show the Ads from view, but you could also not prevent it from downloading. While AdBlock Plus was launched in the market in 2010. It was initially available only for Google Chrome but later onto other popular browsers. 
Whereas uBlock is more recent than AdBlock Plus, it was first released in 2014 as μBlock. In 2015, Chris Aljoudi and Raymond Hill split the project into two parts and took control of one each.
Installation
Visit https://adblockplus.org/ to install AdBlock Plus. It will automatically recognize your browser and provide an appropriate download link. This process usually takes a few seconds.
As I mentioned earlier, uBlock and uBlock Origin are two different entities. So stay clear from www.ublock.org as this is a site for installing uBlock and not uBlock Origin. To install the correct version of uBlock, you need to go to the extension section of your web browser. Find uBlock Origin and then click "install."
Another simple way to install uBlock Origin is to type "uBlock Origin," followed by your web browser name into Google. Once you find the right extension, click "install."
Compatibility
AdBlock Plus is highly compatible and works fine on any computer, iOS, and Android devices. It is available in Internet Explorer, Opera, Firefox, Chrome, Chromium, Safari, Yandex, and Maxthon.
While uBlock is also equally compatible and currently available in Opera, Chrome, Chromium, Firefox, Safari, and Microsoft Edge.
The performance factor comes into the picture depending on your web browser. If you are facing problems in running the programs, it is advisable to either update the existing browser or switch to a new one. Taking this into account, AdBlock is better off in this category.
Price
As mentioned in the introduction, both AdBlockers are entirely free. You need not have to worry about paying a single dime. However, if you wish to donate, you could do that. 
So, the uBlock Origin vs. AdBlock Plus comparison doesn't apply here.
System Load
AdBlock Plus uses more of the system RAM when compared to uBlock Origin as it is a slightly older technology. In the case of AdBlock Plus, you can witness massive slowdowns, especially if you are blocking Ads on multiple tabs. 
You may also experience slowdowns in uBlock Origin, but it is not evident. Here uBlock is better compared to AdBlock Plus.
Effectiveness
Sometimes when using AdBlock Plus, you may still see some ads on your screen. If you are wondering why, it is because many companies pay extra money to ensure their ads remain visible. These are called Acceptable Ads and should meet certain conditions to stay visible. So, AdBlock Plus blocks most Ads, but not all.
However, this is not the case with uBlock Origin. It does what it is supposed to do. It blocks every ad that it comes across.
Filter Options
This is a tricky section in the uBlock Origin vs. AdBlock Plus comparison, and you wouldn't want to consider it if you wish to know which blocker is the winner. Both blockers allow users to import as many lists (Third Party) as they like.
However, uBlock Origin has more in-built ad lists than Adblock Plus. But this is not a big deal.
Design
uBlock offers the user a more straightforward and more minimalist panel, while Adblock allows users to fine-tune almost every setting there is. uBlock does provide some settings.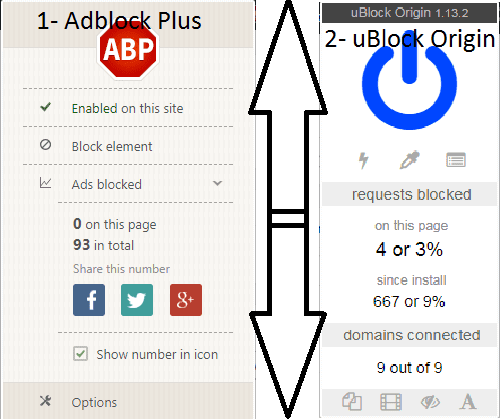 However, there are not many available. Thus, the uBlock aims at an average audience while Adblock points at the more advanced user. This, however, does not mean that the average user can't use Adblock. Both programs allow users to disable the plugins on specific domains added by the user.
Features
Continuing with the uBlock Origin vs. Adblock Plus debate, the Acceptable ads feature on Adblock allows some ads to be displayed that the Adblock team verified. 
These ads help content creators and others by letting their ads display. These ads are either non-invasive, or the advertisers have an agreement with the program. uBlock doesn't have any such feature and blocks all the ads.
Support
Finally, Adblock supports considerably more browsers and platforms than uBlock, including Yandex and Internet Explorer. This might be the point to consider if you run an older version of Windows like Windows XP, which still runs Internet Explorer. 
Both Adblock and uBlock are also available for Android. However, you can't install uBlock as a standalone app, like you can with Adblock. You can also add uBlock to your Firefox Android app as an extension. You do not need to root your device to block these ads.
Winner Among uBlock Origin vs. Adblock Plus
The winner of the uBlock Origin vs. Adblock Plus conflict is a matter of personal preference. While some people will prefer the uBlock for its resource management and simplicity, other users will prefer the Adblock for its Acceptable ads and advanced features. 
Both tools shine brightly in their spheres; finding the best depends on the user. With that, a new user is more inclined to use the Adblock extension because of its vast popularity and frequent update cycle.
We, however, recommend using both tools to find the one that suits you the best. Are you a gamer? Then try these games on Origin Access. Click here!
FAQs
Can I trust Adblock Plus?
Downloading Adblock Plus from the official website or an authorized browser extension store is safe. Nevertheless, obtaining Adblock Plus from any other source carries the potential risk of malware inclusion.
Is uBlock Origin still the best?
When blocking ads on YouTube, reducing ad tracking, or eliminating website takeover ads, consider uBlock Origin an excellent ad blocker. It adeptly removes ads from YouTube videos, various social media platforms, and websites.
What is the disadvantage of Adblock Plus?
AdBlock Plus mandates that publishers make an 'undisclosed payment' for their ads to be safely listed by the service. This practice has drawn criticism from various quarters, who argue that it resembles extortion. They assert that the approach involves depriving publishers of a revenue stream and demanding payment to reinstate it.
Does uBlock Origin sell my data?
uBlock makes a clear statement: it does not tamper with your information. The company explicitly states that it has never done it yet, nor will it sell your personal information to any third party without your consent.