There is something wrong with the new versions of NVIDIA drivers. After the installation of Windows 10 from Windows 8.1, your PC may malfunction and experience some problems regarding the graphics and the drivers. It includes freezing of your PC, blacking out of the screen and driver crashing depending on the graphics card and the drivers you have on your PC. It not only effects the programme you're working on but also effects the background processes. Thus, you must know how to Fix NVIDIA Driver Crashing. To know how to turn off NVIDIA overlay, click here!
If your PC is facing these issues due to the graphics and drivers, here are some of the things you can try to fix it.
See Also: Top 10 Best Video Enhancement Software for Windows
Methods to Fix NVIDIA Driver Crashing
Here are few methods to fix NVIDIA Driver Crashing
Download and Install the Latest NVIDIA Graphics
Although you have updated your Windows to Windows 10, there might be a chance that your Graphics drivers are not updated. In some cases, it may happen that the drivers are updated, but they're not compatible with your PC. So, it's important that you check the compatibility of the driver with your PC as per the configuration of your computer before downloading and installing any particular diver because if it's not compatible with your PC, you are not solving anything.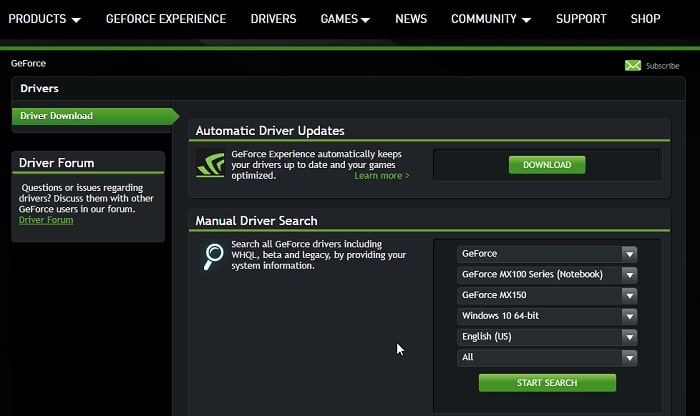 I would suggest, always download the drivers from the official website of NVIDIA and not from any other site. It maybe happens to be faulty, or it may contain bugs which affect the functioning of your driver as well as the graphics card resulting driver crashing and blacking out of the screen.
Here is the link to the official website of NVIDIA graphics, from where you can download the drives you need.  Although even for doing that you should know about the hardware your PC is using, i.e., which NVIDIA Graphic card your PC has because the website asks for the product details to find out the required drivers.
See Also: Top 10 Free Malware Removal Tool For Windows (Updated)
Don't worry if you are not sure. Here are the steps you can follow to know about the product details.
Press WIN + R. A small dialogue box will appear at the bottom left your screen.
Type 'dxdiag' and press 'Enter.'
A dialogue box will appear. There will be two display tabs in it. One of the integrated graphics card and other for NVIDIA graphic. Switch to 'Display 2′.
And there you have all the information about your graphics card that you need.
See also: How To use Nvidia ShadowPlay To Record Games?
Switch Back to the Previous Driver
As the new version of the NVIDIA drivers has some bugs which are leading to the malfunctioning of the driver, the company will be releasing the new version shortly. But if NVIDIA driver is crashing is very frequent with your PC and affecting your work, you can also switch back to your previous driver to Fix NVIDIA Driver Crashing and wait till NVIDIA releases the fixed version of the driver. This would definitely be going to help and improve the functioning of your PC.
Here are the following steps you can follow to switch back to your previous driver:
Go to 'Device Manager.'
Expand 'Display adapters'.
Right click on 'NVIDIA graphic Card' and select 'Properties'.
A dialogue boll will appear. Switch to the 'Driver' tab.
Press 'Roll Back Driver'.
Let your PC reboot once the process is done. This will definitely stop NVIDIA driver crashing in your PC.
There is also an alternate method for the same. You can simply uninstall the NVIDIA driver you are using right now and then download the previous version of the driver from the official website.
Here are the following steps to uninstall the previous version of the NVIDIA driver.
Go to the 'Control Panel'
Click on the 'Programme and Features'
Right-click on the 'NVIDIA Graphics Driver' and press 'Uninstall'.
Download the previous version of the driver from here.
Change Power Management Setting
Usually, there are three power saving plans in our computer. They are Balanced mode, High-performance mode and Power saver mode of which Balance mode is recommendable but sometimes there is a chance that power is saving drivers effects the process of your graphics card.
It depends on the power saving mode you have chosen. So to prevent that you can simply set your computer in High-performance mode and do a minor change in your graphics setting. This can Fix NVIDIA Driver Crashing.
Here are the steps you need to follow to make these minor changes. It may seem to be a little longer but it works:
A dialogue box will open showing your power plan. Set it to High-performance mode.
After that click on the 'Change in plan' written right in front of High performance.
Another dialogue box will open. If you see there will be an 'Advance power setting' written at the bottom. Click on it.
Expand PCI Express and make sure 'Link state power management' is Off.
Now close all the tabs, go to your desktop. Right click and go to NVIDIA control panel.
Click on 'Manage 3D settings' and go to the 'Global setting' tab.
Click on the Power management mode to 'Prefer maximum performance'.
And finally, press the 'Apply' button.
And now you are all set. By setting your power setting on Maximum performance mode, it wouldn't restrict graphics card to work at its maximum efficiency. Thus it would prevent NVIDIA driver crashing.
You can follow either of the three methods to Fix NVIDIA Driver Crashing in your PC. I hope this article was helpful to you.