There is something wrong with the new versions of NVIDIA drivers. After installing Windows 10 from Windows 8.1, your PC may malfunction and experience problems regarding the graphics and the drivers. It includes freezing your PC, blacking out of the screen, and driver crashing depending on the graphics card and the drivers you have on your PC. It affects the program you're working on and the background processes. Thus, you must know how to Fix NVIDIA Driver Crashing. Also, you may like to know which Nvidia is better, GTX or RTX.
Nvidia's driver crashed defective or outdated drivers may be the root of a Windows 10 problem. You can solve the issue by removing and reinstalling the most recent drivers. Even if it is foreseeable, cleaning your graphics card is another efficient way to resolve the crash problem.
If your PC faces these issues due to the graphics and drivers, here are some things you can try to fix. Also, if you want to know how to turn off the NVIDIA overlay, click here!
See Also: How To Tell If A Graphics Card Is Bad I Here Are Five Ways To Know
Methods to Fix NVIDIA Driver Crashing
Here are a few ways to fix NVIDIA Driver Crashing
Download and Install the Latest NVIDIA Graphics
Although you have updated your Windows to Windows 10, there might be a chance that your Graphics drivers are not updated. Sometimes, the drivers may be updated, but they're incompatible with your PC. So, you must check the driver's compatibility with your PC as per the configuration of your computer before downloading and installing any particular diver because if it's not compatible with your PC, you are not solving anything.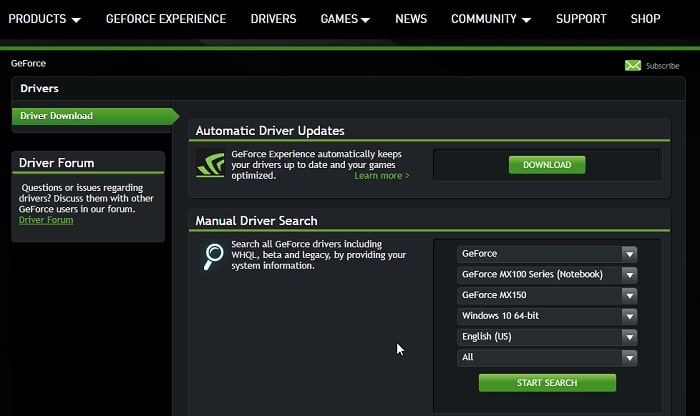 I would suggest constantly downloading the drivers from the official website of NVIDIA and not from any other site. It may be faulty or contain bugs affecting your driver's functioning and the graphics card, resulting driver crashing and blacking out the screen.
Here is the link to the official website of NVIDIA graphics, from where you can download the drives you need. However, even to do that, you should know about the hardware your PC uses, i.e., which NVIDIA Graphic card your PC has, because the website asks for the product details to find the required drivers. Also, if you want to know which Nvidia is better, Quadro or Geforce, click here.
See Also: Top 10 Free Malware Removal Tools For Windows (Updated)
Don't worry if you are not sure. Here are the steps you can follow to learn about the product details.
Press WIN + R. A small dialogue box will appear at the bottom left of your screen.
A dialogue box will appear. There will be two display tabs on it—one for the integrated graphics cards and the other for NVIDIA graphics. Switch to 'Display 2'.
And there you have all the necessary information about your graphics card.
Switch Back to the Previous Driver
As the new version of the NVIDIA drivers has some bugs leading to the driver's malfunctioning, the company will release the new version shortly. But suppose the NVIDIA driver crashes frequently with your PC and affects your work. In that case, you can switch back to your previous driver to Fix NVIDIA Driver Crashing and wait until NVIDIA releases the driver's fixed version. This would be going to help improve the functioning of your PC.
Here are the following steps you can follow to switch back to your previous driver:
Let your PC reboot once the process is done. This will stop the NVIDIA driver from crashing on your PC.
There is also an alternate method for the same. You can uninstall the NVIDIA driver you are using and then download the previous version from the official website.
See Also: Nvidia Can't Find Compatible Hardware: How To Fix?
Here are the following steps to uninstall the previous version of the NVIDIA driver.
Go to the 'Control Panel'
Click on the 'Programme and Features'
Download the previous version of the driver from here.
See Also: How to Install and Play Steam on Nvidia Shield
Change Power Management Setting
Usually, there are three power-saving plans on our computer. They are Balanced mode, High-performance mode, and Power saver mode, of which Balance mode is recommendable, but sometimes there is a chance that power-saving drivers affect the process of your graphics card.
It depends on the power-saving mode you have chosen. So, to prevent that, you can set your computer in High-performance mode and make a minor change in your graphics setting. This can Fix NVIDIA Driver Crashing. Click Here to learn about NVIDIA Cuda Cores
Here are the steps you need to follow to make these minor changes. It may seem to be a little longer, but it works:
Go to 'Control Panel'
Click on the 'Power' options.
After that, click on the 'Change in plan' written right before High Performance.
Another dialogue box will open. If you see, an 'Advance power setting' will be written at the bottom. Click on it.
Expand PCI Express and ensure 'Link state power management' is Off.
Now close all the tabs and go to your desktop. Right-click and go to the NVIDIA control panel.
Click on the Power management mode to 'Prefer maximum performance.'
And finally, press the 'Apply' button.
See Also: 20 Free & Paid Video Stabilizer Software For Windows
Learn about NVIDIA Container HERE!
FAQs
What is the most probable reason behind a user's driver from NVIDIA crashing?
What is the best possible way for me to mend a graphics driver that has crashed?
There are a few possible methods. Still, you can try the one mentioned here. First of all, you will be required to update the graphics driver. Once you have done it, you must roll back the driver. Then, you have to go to DirectX and make sure that it is updated to its latest version again. If you have ensured that is done, you must now reset the software you have for your graphics driver. You could also play the Valorant game differently; i.e., you can try playing in the windowed mode. Another fix you could try is to stop overworking your device and then shut down all apps, possibly working in the background. If all these do not work, you could try switching off Vsync and see if that finally fixes the issue. At least one of these fixes is capable of fixing the issue in the long term and suits you and your needs.
What is the most probable reason behind the crashing of my display driver?
This issue can crop up due to multiple reasons. You might be facing this problem due to an outdated driver version or just using the wrong one. Surprisingly, that occurs more often than most people think it does. Updating the driver is the best way to mend the issue in these cases. Usually, this fixes the problem, but if it persists, you might have to update the display driver all by yourself in a manual fashion. However, suppose you do not feel confident doing that or feel like you do not have enough expertise. In that case, you can employ Driver Easy to do it for you.
What would be the easiest way for me to update my Nvidia drivers on Microsoft devices?
There are a lot of ways through which you can achieve that. But the most easily accessible way would be through the control panel. All you have to do is press the desktop button for the Microsoft devices and then follow it up to the control panel. Once you are there, you can go to the help section and then choose the option to Update.
Conclusion
And now you are all set. Setting your power on Maximum performance mode wouldn't restrict the graphics cards from working at their maximum efficiency. Thus it would prevent NVIDIA drivers from crashing. You can also use NVIDIA Lightboost for better performance in gaming. To learn how to enable it, click here.
You can follow either of the three methods to Fix the NVIDIA Driver Crashing in your PC. I hope this article was helpful to you.