In today's technological era, everyone is surrounded by smartphones in their lives. Smartphones are indulging in our daily routine like they are the basic necessity of the present time. Smartphones have nearly immense features, but one feature for which phones have been invented is to make a call, and it is the primary and foremost feature. In this article, we are going to discuss a few dialer apps you should try using soon.
See Also: How to Make Anonymous Calls from Any Phone – TechWhoop
6 Dialer Apps Ranking High in Market in 2023
The following are a few dialer apps recommended by the editor's choice. These dialer apps may provide free or paid services. So without any delay, let's have a look at them.
True Phone Dialer & Contacts
This is one of the amazing dialer apps which provides the user with an experience that is worth remembering. True phone dialer has full management support but easy-to-use.
It works faster than any other dialer, has an abundance of unique features and besides, it includes a built-in theme manager. There is a list of a few of its main characteristics.
Characteristics
Recent calls grouping
Supports multiple languages
Reliable navigation
View and edit your contacts in a single place
Powerful organizing of your contacts
View desired contact information
Easily contact your friends on social networks
Smartly link your similar contacts
Download: True Phone Dialer and Contacts
Drupe
The app has a count of 10 million + users all over the globe. This app is the right app if you Want to see Caller ID and spam indications, and block spammers.
Drupe delivers the phone screen with a fresh look and amazing view. This app has eye-catching features, which are given below.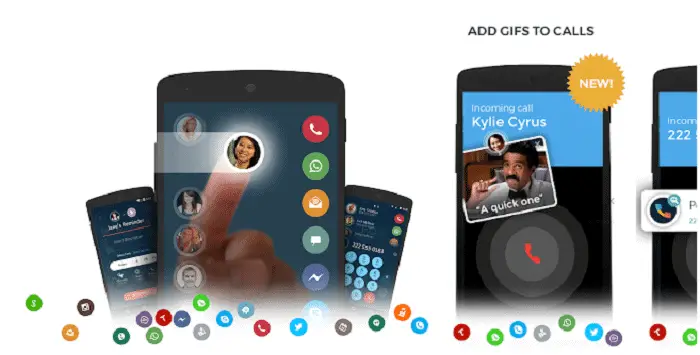 Characteristics
Smart dialer
A built-in call recorder
unique caller ID tracker & blocker to find out the unknown caller.
Add animated GIFs to your outgoing calls
Organize your address book / Phone-book
Contact based reminders
Missed calls manager
An integrated call blocker
A built-in call recorder
Download: Contacts, Phone Dialer & Caller ID: drupe
My Photo Phone Dialer – Phone Dialer – Contacts
My photo phone dialer is one of the dialer apps to add to your phone. This app helps to connect people with its diverse personalizing calling dial screen feature.
You can place a photo of your choice to create a dial screen of your own. Design it the way you find it interesting and use the whole new phone's calling dial pad.
Characteristics
Receive incoming calls and process outgoing calls
Directly call phone numbers.
Read your contacts.
Take pictures and videos / Record audio.
Download: My Photo Phone Dialer – Phone Dialer – Contacts
Contacts, Dialer, and Phone by Facetocall
Contacts, Dialer, and Phone by Facetocall were made by Gazman, and the latest version of Contacts, Dialer, and Phone by Facetocall 3.01.05 was updated recently in February. Currently, this app is free.
You can download this app on APKFab or Google Play. Facetocall improves calls by providing large contact images, a dialer keypad, and contact management!
Characteristics
Allow deleting call logs
Auto-fixing call logs dates, according to local time, have been changed during the call Bugs.
Merge duplicate contacts
Simple dialer
Simple address book
Large interface
Download: Contacts, Dialer, and Phone by Facetocall
Dialer +
Adding one of the dialer apps like this to your phone makes it smarter. Dialer+ is awarded among various apps as the – "top developer" by the Google Play Dtore. Dialer + is winning the heart of people right from the very beginning.
It is easily available on the Google Play Store for android iOS users to take benefit from it and enjoy uninterpreted calling in just a blink of an eye.
Characteristics
Helps in Connect with friends and block spammers
Highly protect your contact
Gesture for single touch calling and messaging.
Vibration while connecting/disconnecting calls
Friendly interface
Download: Dialer+
Truecaller: Caller ID, SMS, spam block & Payments
Truecaller app for dialing purposes has supported over 500+ million in the play store. People are going crazy about its multitasking it gives information about caller ID and also blocks spam calls and SMS. Making the process of communication safe and well organized is an advantage if you add this one to a few fantastic dialer apps.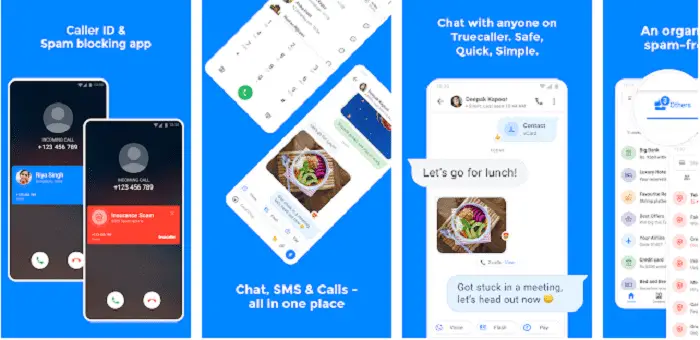 Characteristics
Smart Messaging
Powerful Dialer
Identify in seconds if anyone unknown is calling you
Block spam and telemarketers
Keep in check with call history
The Call Recording feature records important phone calls and saves them in the memory.
You can share your location, emoji & status with your friends in a glimpse.
Everything has a backup like a call history, contacts, messages, and settings to Google Drive
A special feature like Truecaller Pay – UPI Payments and recharges
You can also have Truecaller Premium – Upgrade and get access to:
Record phone calls (not supported on Android Pie)
Know who viewed your profile
Option to view profiles privately
Get the Premium badge on your profile
Download: Truecaller: Caller ID, SMS, spam block & payments
Contacts+
Considered one of the android dialers apps, Contacts+ might be a fantastic replacement for your current OEM-based keypad. Contact managing, combining, and detecting duplicates are just a few of the amazing features available in this application.
You could also change how it displays your contacts and call records to make it more useful. It also functions as a portal through which you may communicate with your acquaintances and other individuals. It's one of the few programs that can backup your data.
Additionally, this is one of the finest free Android applications for integrating all of your social network profiles and many other messaging applications into a single, smart UI (User Interface) structure.
This finest mobile dialer application for Android and iPhone performs a variety of activities, including metadata extraction, cross-platform synchronization, automated contact enhancement, and much more.
See Also: 15 Best Websites for Free Unlimited Spoof Calling (Latest)
Download: Contacts+
Simple Dialer
Simple Dialler is the best android dialer app for Android, and it's ideal for people who like their dialer keypads to have simple and efficient functions. This auto dialer software, which is regarded as the finest Android dialer alternative, features big keypads that assist those who are unable to see tiny icons owing to poor vision.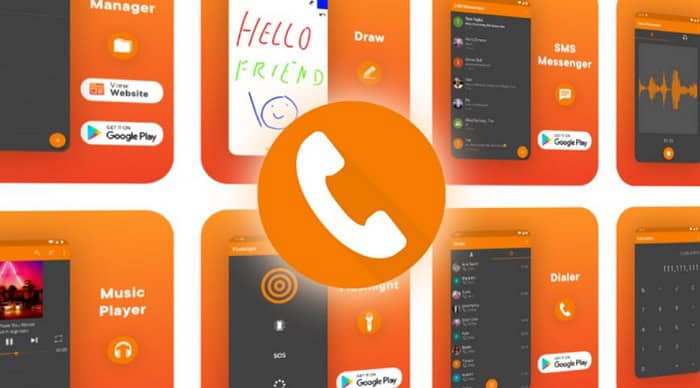 Furthermore, the automatic dialer app's keypad features may be modified according to the user's preferences. This auto dialer program allows you to change the font colour and size. This auto-dialing software has large buttons for a rapid display and simple dialing.
Adding a contact button that calls straight from the phone contacts is an option. Before each call, the contact dialer with a consent prompt appears, etc., are some of the extra features.
Download: Simple Dialer
Speed Dial
Speed dial might be your best android dialer if you're seeking the greatest call dialing applications for Android that enables speed dialing to be simple.
It has a birds' eye view function that allows you to quickly navigate between speed dial screens. And thanks to Apple Watch connectivity, you can call and message without delay using this dialer and contacts application.
Customers will be able to instantly get photos using this top Android dialer application's smart dialer and contacts functionality if they have their contact information available.
The app's creators incorporated FaceTime audio and visual call features to make everything more user-friendly. The application has other features like support for several languages and calls notifications and reminders.
Download: Speed Dial
Simple Contacts Pro
One of the best phone apps for android gives it all, from standard number dialing to personalized calling capabilities with vibrant colours and styles. This finest Android dialer is simple to use and rigged up. To execute all of the dialer features perfectly, it, like all other dialer applications, needs approval from the users to access the contact list.
Other mobile phone operations can be combined with dialer app capabilities for greater device usability. This dialer software has no advertising and provides a pleasant user engagement.
The software can also be configured in a variety of languages, including English, Czech, Spanish, Danish, and Dutch, making it accessible to people all around the world.
Download: Simple Contacts Pro
Conclusion
By adding these top dialer apps to your smartphone, you can explore a whole new way of the virtual world in your hands. Each of the apps can manage your calls and make your call logs a lot easier than as compared to earlier.