Some of the networking companies provide you with the facility of call forwarding. It is an easy way to divert phone calls to a particular number chosen by the customer. If you're changing to a new number, then this is the best feature that you can try. Though it is mostly available as an inbuilt feature in cell phones. You can also use an app that does this job. As an Android user, you need not worry much. Thus, you must know about the call forwarding apps for android out there.
See Also: How To Dial An Extension Properly
List of Best Call Forwarding Apps
Here are some of the phone forwarding apps that seal the deal for you. You can use any one of them and forwarding calls and texts to another phone will never be easier.
Call Forwarding
The 2.0 MB small app, designed for the sole purpose of diverting calls is first on my list. T-company is the developer of this app. Call Forwarding is a one-step ready-to-go app that takes care of everything. You just have to tap into the app.
Select the number to which you want to divert calls. Then enter the number on which you wish to attend calls. In simple and easy ways all your work will be done. The app has a 3-star rating on the Play Store. It is compatible with all android versions.
Download: Call Forwarding
Automatic Call Forwarding
Bong Cheung develops this app. Automatic Call Forwarding is a 1.5 MB small-sized app. This remote call forwarding app for android has a cool feature with which you can divert calls using Wi-Fi. As soon as you enter the home WiFi network, it starts diverting your call to a given number.
If you are fed up with irritating calls even after your work hours, this app is a great help. It lessens your burden of swapping sim cards. This 4-star app can help you not only divert calls but also make your business and home life better.
Download: Automatic Call Forwarding
Call Forwarding
Next up is an app called Call Forwarding. From the name itself, the app is very clear about its function. You just have to add numbers to your list and enable the call forwarding option. While you are away, all your calls will divert.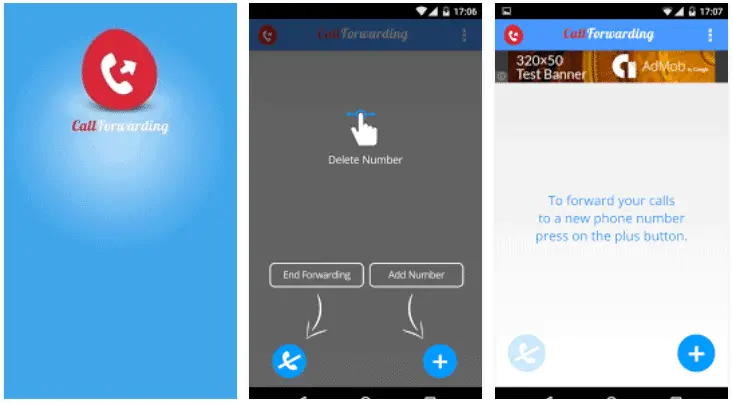 After the work is over, you have to remove the number. The app is straightforward to function and use. The app size is tiny. It has a download size of just 3.68 MB. This 3.8-star rated app can be claimed as one of the best call forwarding apps.
Download: Call Forwarding
Call Divert
Offered by Appshive with more than 100k downloads, the Call Divert app gives you complete command over all your calls. With this call diverting app, you can easily manage time. It has six different settings to control the app, including activating and deactivating the app as well as checking status and erasing calls. It also gives you access to useful USSD codes.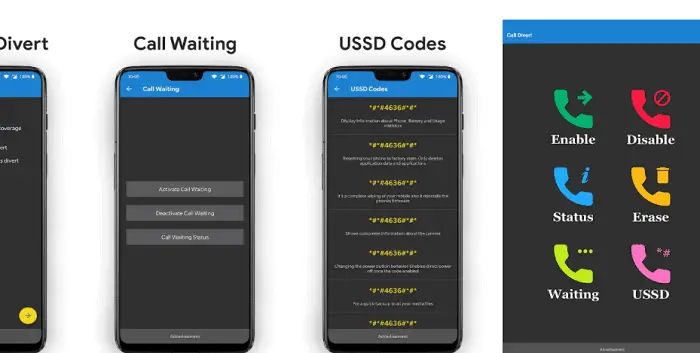 Moreover, with this app, you can rest on your weekends without suffering disturbing calls. Especially, these modes come in handy to handle the app wisely. Also, another one of the 6 Features is 'call waiting,' which also sends you a notification if the call is important.
Thanks to this 6.3MB app, you can divert any call numbers for zero cost.
Download: Call Divert
See Also: Fix "Emergency Calls Only" Errror on Android Quickly With This Guide
Remote Divert
For those who carry multiple devices, it's common to have days when you forget one. What do you do if you forget your smartphone at home? If you have remote Divert set up on your device, you won't need to be worried. Setting up Remote Divert is easy; all you need to do is install the app and set a password.
The free app works best for android smartphones. Once done with the software setup, you can access the phone from any distance and set the call forward option. This way, even on days when you forget your phone, you can, without any difficulty, forward your calls to any number you like.
Download: Remote Divert
WiFi call forwarding
If you are seeking a device that works well with WiFi and effectively forwards your calls, here is the app for you. You can download this from Playstore for zero cost, and it also takes only 1.6MB to download.
Moreover, it has an excellent rating of 4.2 stars. The Manolatos tech group developed the app. It does what the name indicates – it connects to WiFi; however, it only connects one number to each WiFi network name.
Download: WiFi call forwarding
See Also: How to Recover Username and Password of Your Router
Smart call forwarding
Since its release in 2017 by Mobinprotect, it has been downloaded over 10000 times. The download size of this app is 2.0 MB. As the app name suggests, Smart call forwarding users get smart options to forward their call.
Some included options are setting call preferences, enabling or deactivating call forwarding by simply sending messages, choosing numbers for call forwarding with text forwarding, etc. Moreover, there are options to set the device for call forwarding smartly.
For instance, you can select your office network as an indication to call forwarding, and all the call will be diverted when it connects to office WiFi.
Similarly, you can even activate call forwarding on battery levels. This can be useful when mobile batteries are low, and the call will be forwarded to other linked devices.
If you are a traveler or planning a vacation, or maybe your battery runs out fast, this is the best option to stay connected with contacts. This software is designed for users who want to stay connected to certain people and unreachable to some.
Download: Smart call forwarding
See also: 11 Best WiFi Routers For Home (And Office Purposes)
SMS Call Forward/ Divert
SMS Call Forward is an all-in-one app that is packed up with a lot of cool options and unusual features. It might seem like a very technical app from the first look but you are wrong. You just have to understand a few things about it and then you are ready to go.
The meaning of keywords like 'pass' and 'all' are essential to be understood. The app size is just about 1.1 MB. It has a rating of 4 stars on the Play store app. The advantage of this app is that you can divert calls as well as SMS.
Download: SMS Call Forward/ Divert
Forward My Calls
It is a one-click step app. Forward My Calls remembers the last used number from which calls are diverted. It can divert you're your calls from even a landline.
The WiFi feature of this app is a great help for people who want to divert their essential calls after work. It is just 0.93 MB in size. The app has a 4-star rating on the Play store.
Download: Forward My Calls 
Advanced Call Settings
Next is the Advanced Call settings app. The name is well justified by the functions of this app. Amongst all the call forwarding apps this one has a UI similar to your Android phone.
From simple call forwarding features to SMS services, this is all in one app. The app has a download size of 1.5 MB. If you wish to have advanced call settings on your phone, then I suggest you use this app.
Download: Advanced Call Settings
See Also: 4 Ways to Fix Uplay Failed to Start Download Error 
RedirectCall – call forwarding
This is one of the unique call forwarding android apps trending on the Play store. The reason for its popularity is that you can select zero seconds redirecting. The RedirectCall feature enables you to save time and effort.
You can even watch the history of the numbers that you have chosen earlier. It makes it easier to remember the contacts and also add them as per the need. The 3.6 rated app has a download size of 1.1 MB.
Download: RedirectCall – call forwarding
CallForwarder
There is an exceptional reason why I have chosen this app to put up on my list. You might be surprised to know that the CallForwarder app has the most positive response among many other call forwarding apps.
The app has a very tiny download size of just 726 KB. It has a rating of 3.6 on the Play Store. It comprises the basic feature of call forwarding. I find it very simple to use and efficient.
Download: CallForwarder
Call Forwarding & scheduled
As you can see in the name itself, this app can even schedule your diverting time of calls. Call Forwarding & Scheduled edges over other call forwarding apps only because of the schedule feature that it provides.
The 3.1-rated app has a download size of just 770 KB.
Download: Call Forwarding & Scheduled
See also: Best Video Calling App For PC | 2023
Call Forwarding
And the last one on this list is Call Forwarding. Mobilekidunia develops this app with a download size of 840 KB. It has the most basic features that you would expect from any of the android call forwarding apps.
For people who want to stay away from complications, I recommend this app to you.
Know more: How to Make Anonymous Calls from Any Phone