We all like to have fun with our voice for fun. There may be many reasons for which a person might need to change their voice. Many youngsters use voice changing applications for fun or to prank others. While some people use Anonymous Voice Changer Tools to mask or hide their identity for individual or safety purposes.
With the advance in technology, we can now easily change the voice, at least digitally. This voice changing can be of medical help also, but we are concerned with what we can do related to computers. There are many applications accessible in the market which can be used for voice changing.
The Anonymous Voice Changer Tools can come in handy in different situations. This type of software can also be used for wrong purposes, so we need to use them carefully. Those using such software must have a clear concept and idea of what they are about to use. Their use of intent should be sound and morally correct.
The best Anonymous Voice Changer Tools
There are many kinds of Anonymous Voice Changer Tools available in the market which claim to provide the best voice changing. So, before using any software carefully get the details and reviews of the tool. To reduce this effort, I have compiled a list of the best voice changing applications in the market.
MorphVox
MorphVox is one of the best and simplest Anonymous Voice Changer Tools available. This tool follows a very simple basic principle. Users are provided with three voices, one of male, the second one is a female and the third one of a kid. Using this simple principle easily change your voice and mislead someone into thinking they have different age and also a different gender.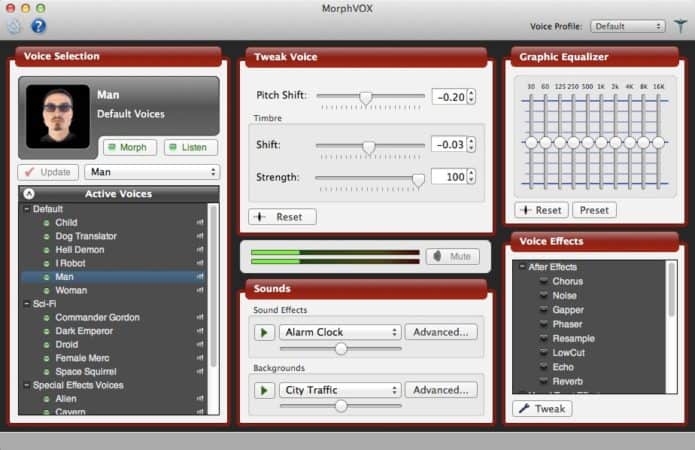 This great tool can be easily used during live conversations. This feature is very useful during phone calls and also live online conversation. And also, as per the setting, the voice is changed, but mainly for comic and entertainment purposes. Hence, this tool is quite efficient and simple to use.
Visit: MorphVox
See Also: How to Make Anonymous Calls from Any Phone
Virtual Personality
Virtual Personality is another tool in the list of great voice changing software. You must have wondered of being some other personality, someday. You cannot do that in real life, but you can sound like them. This tool allows you to change your voice into any personality.
You can use this tool during live sessions and for multiple types of recording. Use this service during a live phone call or during skype sessions to fool your friends. You will find lots of celebrities on the list.
Visit: Virtual Personality
Fake Voice
Fake Voice is nice and clean voice changer application for windows. This software has a range of modulating the voice as per the user's choice. This tool also has a very simple mechanics. Moreover, this tool provides a lot of options to the user for voice changing.
Using a few sliders, you can change the voice and get very funny and awesome results. You can change your voice from a small kid to an old person. In addition to this, this tool has very simple and easy interface.
Visit: Fake Voice
See Also: Top 11 Prank Apps for Android & iOS Devices
Voxal Voice Changer
Voxal Voice Changer is one of the excellent voice changers found in the market. If you think of voice changing, the first thing that should come into your mind be Voxal Voice Changer. The user interface is very manageable and also friendly to use.
You can use the tool even while you are talking. You can also change recorded voices. Make your voice sound like a man or a female, and even a robot or an alien. Use this tool to crack pranks on others and enjoy. Finally, this tool is free of cost.
Visit: Voxal Voice Changer
Viscom Voice Changer
Viscom Voice Changer is an offline Voice Changer. Which means you can only change pre-recorded voice or audio only. Since it works offline, you can find great tools for voice changing. This tool supports only three audio formats:.MP3, .WAV and .WMA. These formats are the most common audio formats, but a wider variety of acceptance should have been there.
As you all now know the software cannot be used live, so, you cannot enjoy live pranks. However, to mask and change your voice for other uses, this tool is great. This tool is a freeware.
Visit: Viscom Voice Changer
See Also: 10 Best Prank Websites You Must Use Right Now
Skype Voice Changer
Skype has developed its voice changing software known as Skype Voice Changer. This tool comes inbuilt in the Skype software. Skype calls are quite sporadic. So, the time taken to activate a third-party voice changer is lengthy. To reduce this time Skype Voice Changer is very useful. Even though, there are voice changing software for Skype out there.
A mobile version of the software is also available in the market. This is a great tool. You can do your skype pranks on the move.
Visit: Skype Voice Changer
All-in-One Voice Changer
All-in-One Voice Changer is just another Voice Changing tool. It is very good for voice calls and lives chats. This software is paired with a lot much other software like Yahoo Messenger and Skype. It is compatible with most IM services.
If you are not fond of the Skype Voice Changer, you can always use All-in-One as an alternative. You can change your voice in the middle of the call and even easily shift between voices at ease. This tool is free of cost.
Visit: All-in-One Voice Changer
Voice Master
Voice Master is a simple Voice Changer. This tool is manageable and easy to use. It does most of the voice changing just like other sibling tools.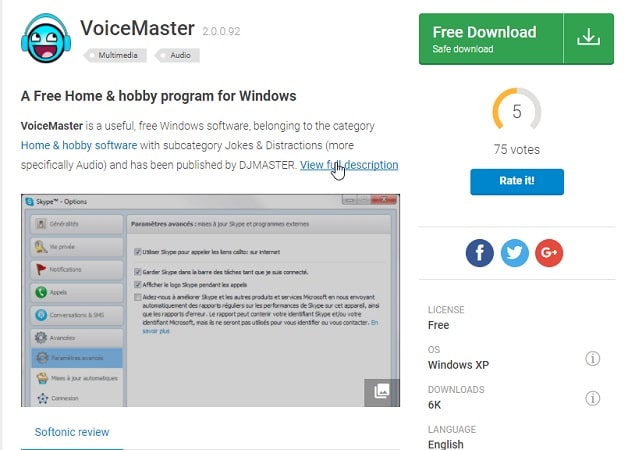 This tool is compatible with most messaging services.
Visit: Voice Master
Athtek Voice Changer
Athtek voice changer is one of the anonymous voice changer tools with smooth UI , that means it will give you one of the most compatible and smoothest performances you have ever seen. With its preset pitches for male and female and many more sounds, it sure isn't a time-consuming voice modulator.
You can also download emoticons such as smile, laughter, heart to send in chats and make it livelier. If smooth performance and a fun voice modulation is all that you're looking for, Athtek voice changer is the best option for you.
Visit: Athtek Voice Changer
Clownfish Voice Changer
Clownfish voice changer is one of the extensively used anonymous voice changer tools not only in Skype but also across many live streaming websites like hangouts, Viber etc. You can use it to add background music to your sounds, as well as send pre-recorded sounds like laughing, clapping etc.
You can turn your voice into one of the robots. It's built-in spell-check and voice recording features are one found rarely across other software's. if you want to come across as funny and also want it to be easy, Clownfish voice changer is the one for you.
Visit: Clownfish
Conclusion
Voice Changing is great fun but can land you in serious troubles. Use them thoughtfully and at your own risk. The mentioned tools are the best Voice Changing tools in the industry. Any addition to the list is always welcome. Have fun Changing your natural Voice.