Are you feeling bored? Want some enjoyment with friends or cousins? Then you should know about Free Unlimited Spoof Calling. You can make prank calls to your friends. Now you must think how….As they are very well aware of your number. So to your surprise, you can do this.
Just read our article to get complete knowledge about what spoofing is. How to make it through different websites? You should know that prank calls should not be made to threaten or trouble anyone. It is made only for fun purposes. Check out how to set up voice mail on AAndroid here.
15 Websites for Free Unlimited Spoof Calling
Covert Calling
This is one of the reputable websites one can recommend to help you with your pranks. The interface of this website is user-friendly and top-notch. You can make calls to any destination with your identity hidden. Avail of the free trial now, and you can get the premium account, too, to discover more features.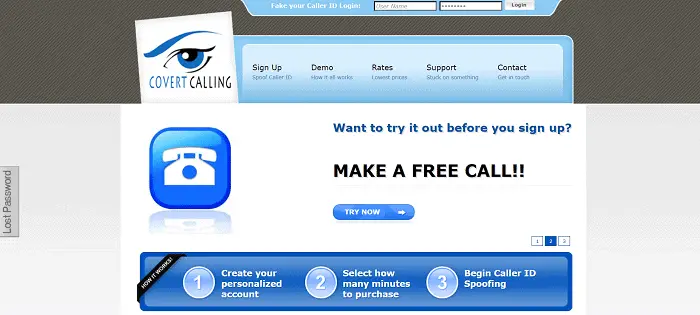 Like SpoofTel, this website includes the "voice change" and the "call recording" features. Click on the link below to make the most of this site and prank your buddies now!
See Also: 5 Easy Methods to Block Unknown Calls on iPhone (2023)
BluffMyCall
BluffMyCall allows you to make calls for 2 minutes free and charge when the limit exceeds. Many users complain about the annoying ads and pop-ups this website shows periodically. However, you can go for the premium version to relieve yourself of annoying ads.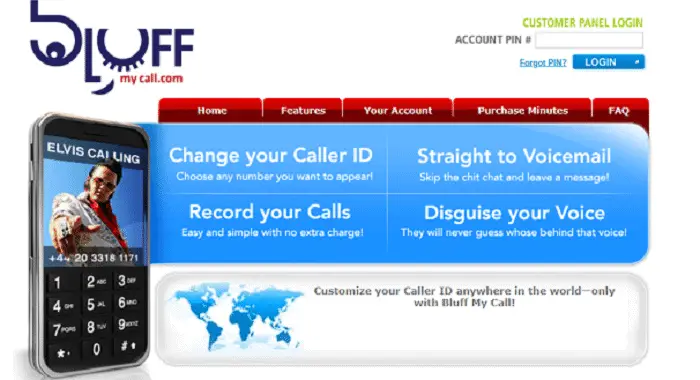 It works well on both Android as well as iOS platforms. You can change your caller ID and use a fake ID before making calls. Moreover, through the "voice change" option, you can change your voice and make prank calls.
See Also: Top 5 Free Calling Apps For Android In 2023
iEvaphone.com
If you want a website that doesn't annoy you with annoying ads, Kudos, you're at the right place. This makes it stand out from the rest of the websites. It is effortless and free to use.
This website is reliable, and it provides a discreet service. Like other websites, this website allows you to change your voice and record your calls. Moreover, this website doesn't record any personal information or data. You can make free spoof calls from your place to an end.
Visit: iEvaphone.com
See Also:  6 Best Dialer Apps for Android in 2023 [Updated]
Comedy Calls
This allows you to make a spoof call accessible unlimited to your friends. It offers a long list of funny calls from which you can select whatever you want.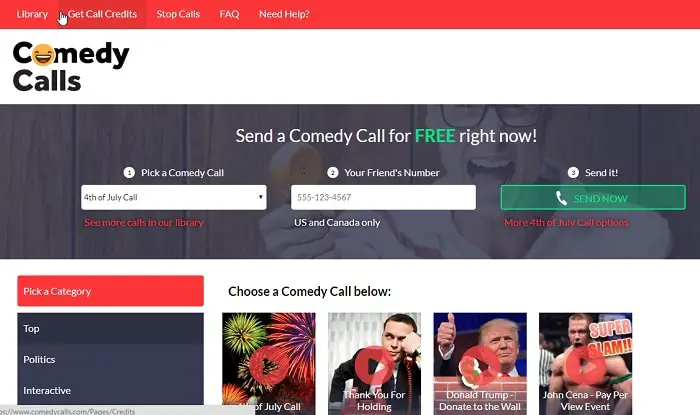 To make a call from this site, follow the below steps:
First, navigate to ComedyCalls in your search engine.
Then, pick a comedy call from the drop-down menu.
Then you have to enter your friend's number.
4. And at the end, click on send now button.
Visit: ComedyCalls
PrankDial
PrankDial contains an extensive list of pranks that you can send to anyone you want. You have to choose a joke, and you can freely send it to any person. You can try free spoof calling someone with PrankDail quickly.
To send, you must enter your friends' number and any unknown number and finally click the send button. You get some additional features after buying its premium version or getting tokens.
Visit: PrankDial
Phone Losers
Phone Losers is an American prank-calling website with an extensive database of hilarious calls. This unlimited free spoof calls site offers an MP3 file for a prank call you can send to the person you want to make fun of.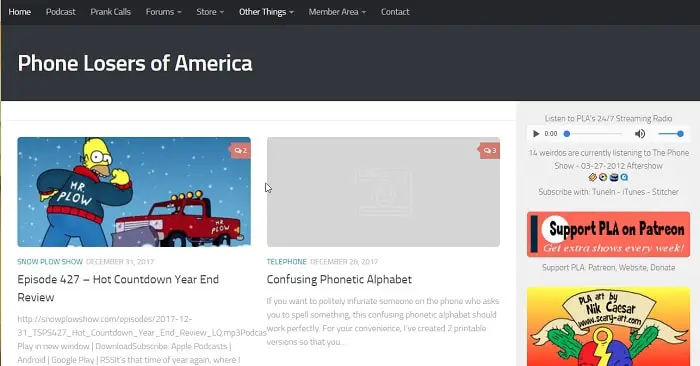 Variously available prank calls are from funny, humorous, ridiculous, and nonsense sections.
Visit: Phone Losers
Prank Call Nation
Prank Call Nation is one of the largest free unlimited caller id spoofing prank call stations, as it has an extensive database of prank calls. It is designed for US and Canadian citizens. You can also view details of Free Unlimited Spoof Calling so that you can sort which file has to send to which person.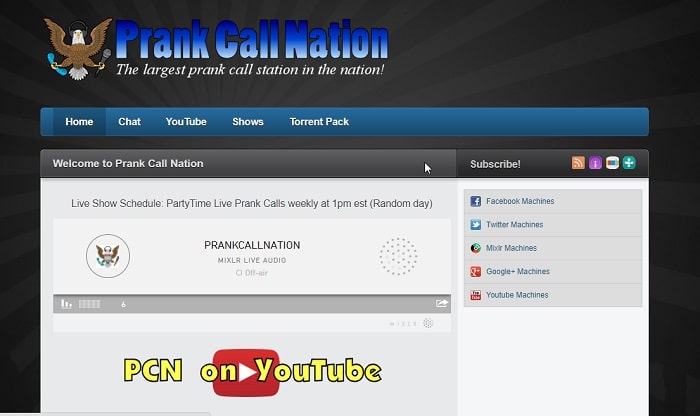 And that sums up our list of the top 10 Free Unlimited Spoof Calling Sites.
Visit: Prank Call Nation 
Crazy Call
It is the most popular website used for Free Unlimited Spoof Calling. But as you can use spoof or prank calls in crimes, also that's why this site is blocked in many countries. You can make a call from any number using this website. It also allows the user to change their voice while initiating any call.
To make a call from this site, follow the below steps:
First, navigate to CrazyCall in your search engine.
Then you have to select your country.
Then enter the number you want to show on your friend's phone in the Enter Caller ID you want to display.
After that, enter the number you want to call in the Enter the number you wish to name field.
Then, you can change your voice if you want to by selecting low, average, and high pitches.
After that, you have to click on the Get Me a Code button.
It will display your unique code and phone numbers to initiate a call by entering the code.
And you are done. You call connected to the victim.
MyPhoneRobot
It is another website that offers free spoof calls to your friend or anyone you want. You can also send pre-recorded prank calls on this website. MyPhoneRobot offers you 30 free calls.
You can also make fake messages with an unknown number. One can also view call history. But this service is only available for US and Canadian citizens.
Foxycall
Foxycall also allows you to do Free Unlimited Spoof Calling to your friends from your computer. You can also send messages from an unknown number. With this, you can use any Caller ID and Sender ID. You can change your voice too. You can also record the calls with this website.
But as this site is in the beta stage, you can use these features only after invitation. With each invitation, you get a free spoof call.
EasyPrank
EsayPrank offers you a wide range of funny calls. You can make a free prank call. It won't allow you to spoof your caller ID, but you can use an anonymous number to initiate a call. Through this, you can send your prank call to anyone.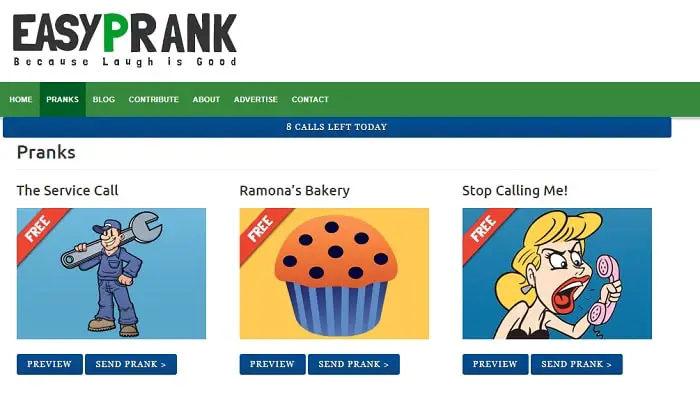 You must enter the number you want to make a free spoof call. Then enter the number that you want to show. And then enter the country where you want to send the prank call. Finally, click on Send The Prank button.
Wacky Prank Calls
It also lets you choose a call you want to make from various prank calls.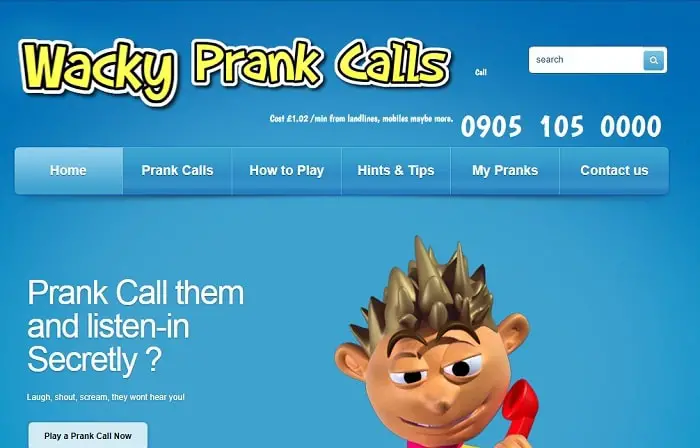 This allows you to do Free Unlimited Spoof Calling from your mobile. You must tell your friend's name and enter their phone number for call bluffing. Wacky Prank will do the rest task Themselves. You don't have to download any software for this to work.
Prankowl
It is a prank-calling website that allows you to make free prank calls to your friends. Here you can record your call to hear your fake conversation later. It will enable two unknown people to call each other and finally listen to it with the help of the Operator Prank function.
After taking their premium version, you can also listen to the receiver's reaction. You can also use prank apps if you're willing to do it via your Smartphone.
To make a call from this site, follow the below steps:
First, Go to PrankOwl in your browser.
Then, you have to pick a sound from various available options.
Then you have to enter a phone number on which you want to make a prank call.
In the caller ID(optional) field, you can select a caller id that you want to appear on the victim's phone number.
Then, you have to click on the start call button to start the call.
You can make three free prank calls.
SpoofCard
This is undoubtedly one of cyberspace's best websites for free unlimited spoof calling. It brags about having many extraordinary elements for spoof calling. This includes delivering calls instantly to the recipient's voicemail and group calling. Free spoof calls are unlimited here.

Check out this link below to try it's the free version now. Also, to uncover more features and elements of this site, you can have a premium or a paid account. Like BluffMyCall, this website is available on Android and iOS platforms.
SpoofTel
It is one of the best websites for free unlimited spoof calling. It offers an option of "change your voice" so that you change your normal voice and prank your friends. Also, it lets the users send SMS messages and record calls apart from spoof calling.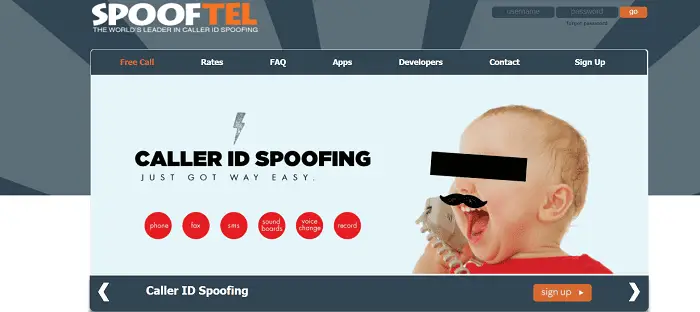 You must enter the Captcha code, and SpoofTel will do the rest. It will connect you to the person you want to talk to without displaying your name. So what are you waiting for? Visit this website now and take digs at your friends.
Visit: SpoofTel
FAQs
What does 'spoof calling' mean?
In order to hide their identity, callers that spoof caller ID intentionally alter the data sent to the display.
Is it legitimate to spoof a phone call?
In general, spoofing phone numbers is acceptable in the United States, barring instances when the purpose is to hurt or defraud.
How can one identify if a call is fake?
By running a telephone number lookup on the phone, you can determine if it is a faked number. A major warning sign is if your search yields no results. This could imply that perhaps the caller's number isn't actually an authentic one.
What transpires if you pick up a hoax call?
You should merely disconnect whenever a caller or a recorded voice asks you to press a button to end receiving phone calls after you decide to pick up the phone. Cybercriminals commonly employ this technique to locate potential victims.
Conclusion
The top 15 free unlimited spoof calling services are listed above. It quickly concocts endlessly free fake visitor identification and fools your friends. On these websites, there are a tonne of free preloaded tricks available. Change voices for men, women, robots, and a lot more. Change and incorporate a strong call that is increasingly realistic and persuasive. I hope you find this post helpful in your search for the finest Free Unlimited Spoof Calling.