Have you ever felt insecure while you are online? Are you very conscious regarding your details? It's OK. Many of us, at some point in time, have felt the need to keep our personal information to ourselves only instead of sharing it with random people over the internet. But now, the worry is over as many tools are available today, like Fake Name Generator, that generate names with random and fake details of yours and keep you safe and sound without worrying about nasty strangers.
A fake name generator may be used to generate creative counterfeit names.
Adelaide Frost.
Holden Vale.
Esme Storm.
Sawyer Drake.
Aria Locke.
Xander Stone.
Eden Rain.
Felix Hale.
These are known as Fake Name Generator Tools. Today, we will briefly describe a few of the best online fake name generators to help you create your phoney ID and numerous counterfeit details. A link is provided with each tool name from where you can download them.
Top 7 Fake Name Generator Tools
The following are the top seven fake name generators you should try using for protecting your personal information or creating your fake ID.
Fake Name Generator
Fake Name Generator tops the chart and is one of the most visited fake name generator sites. The site is straightforward to use, and with which it is also an ad-free site.
Fake Name Generator offers users options like Name, Address, Contact number, Date of Birth, Gender, Country, Postal code, SSN, and other personal details. To generate a fake identity, the user must fill in the blanks against each attribute and click the "Generate" button.
It also allows you to sign up with your Google Plus account so that you can see your whole SSN, and also you can save the fake names for using them later.
One cool thing Fake Name Generator provides its users is that you can generate or customize your smiley using free tools.
Visit: Fake Generator 
Fakena. me
Fakena is second on our list of fake name-generator tools. The site is full of unique features, and the company assures its users that it can create a fake identity of anyone with some random fill to the attributes like Name, Address, Phone number, email ID, username, etc.
The most crucial thing about this site is that it provides you with a 30-day deadline by which you can save all your fake details for free, supplied with complete security by the company.
The site is claimed to be a user-friendly site with some easy-to-understand and use features. All you have to do is click on "Generate Fake Name," the area will generate your fake identity with some random Name and other personal details.
You can also generate your fake SSN or any random fake address within the US and cause some random English words.
Visit: Fakena
Online Name Generator
Online Name Generator: The name itself describes what it does. Yes, it lets you generate one or more random names online with just a single click. The user can create multiple numbers of fake names for any company, project, superhero, etc.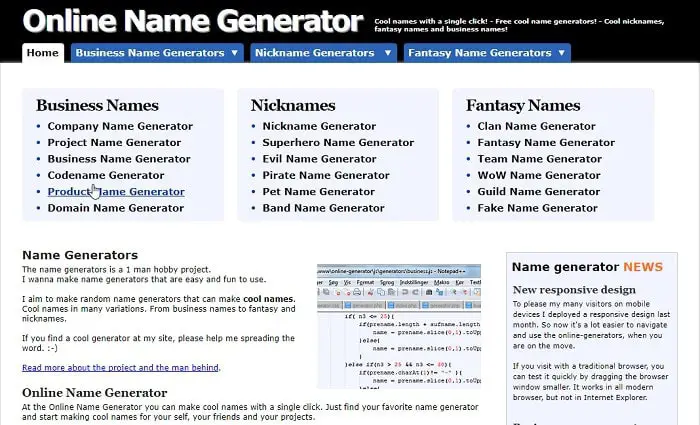 The site is user-friendly. With the power to generate numerous names in a single go, there are also some disadvantages; it only produces the name.
Other than building fake names, it cannot generate additional personal details, phone numbers, addresses, credit card numbers, SSNs, etc., of the user.
Visit: Online Name Generator
User INFO Generator
User INFO Generator, with some of its compelling features of generating the fake identity of a user, makes it enter into the list. It holds the fourth position in the list of counterfeit name generator tools.

To produce your fake personality, you only need to choose an option from the screen's sidebar and click the "build and create" button. You can create phoney information about yourself by selecting the options from the sidebar per your requirements.
See Also: [Updated] 9 Best Free Tiny Text Generator Tools (2023)
The site is being observed as the most trending site at times. This is so because, with just two simple clicks, anyone can generate a fake identity along with some fake personal details.
Uinames
Uinames is another fake name generator and ad-free site with a very easy-to-understand user interface. The website's page layout is designed with limited features for the user to generate a phoney name. In other words, the site does not offer its users a wide range of functionalities, but whichever it provides, all of them are very useful.
Along with the simplified features, you are just four steps ahead of generating your fake name.
To create your fake name, you must enter and fill in your gender, region, and mode. Once you fill in the entries, press the space bar on your keyboard; you have successfully generated your random fake name.
Visit: Uinames
Name Generators
Name Generators is a promising site offering users fascinating and surprising features for generating fake names. It can produce a wide range of counterfeit names for males and females. Not only this. The site also helps create bogus characters for other purposes like company names, domain names, usernames, etc.
Creating a false identity is pretty simple, including only a one-step process. All you need to do is click the "Name Generator" button on the sidebar per the required specifications.
The process will directly create your preferred random fake information about yourself. But, sometimes, the site may redirect you to unwanted pages or links during the process. Apart from that, the site is handy.
SpinXO
SpinXO is best known for creating fake usernames. It's a fantastic artificial name-generator tool. So, if you are looking for a site that can generate a fake and random username. Then you must visit the website.
The user can use the username made by the website to log into social networking sites like Facebook, Twitter, Instagram, Kik, etc. and other websites like YouTube. The process for generating a fake username is something very fresh and unique.
All you need to do is fill in the entries like your name, nickname, hobbies, and other necessary info. After you complete the form, you will get an option, "SPIN."
You will get suggestions for your username if you click the SPIN button. You can again click the SPIN button if you are unsatisfied with the recommendations.
Visit: SpinXO
FAQ's
What is the use of a fake name generator?
A fake name generator is a tool that creates fictional names for various purposes like online identities, creative writing, or privacy protection. It's particularly useful when you need a pseudonym or placeholder name, ensuring your real identity remains private while maintaining authenticity in different scenarios.
What can be a fake name?
A fake name is a fictitious identity used to conceal one's real identity. It can include made-up first and last names, along with other details like age and location. These names are often used for online accounts, writing, or scenarios where privacy or anonymity is desired while maintaining a semblance of authenticity.
What are some good fake name generators?
Some reliable fake name generators include 'Fake Name Generator,' 'Name Generator Fun,' and 'Fantasy Name Generators.' These tools provide a variety of realistic-sounding names for different purposes, like creating character names, online identities, or placeholders for privacy. Always be cautious and ethical while using such tools.
Can I use a fake name on Google?
Yes, you can use a fake name on Google, but there are limitations. Google's policies require using accurate information for important services like Gmail and Google accounts. While you might use a different display name, critical information should remain truthful. Some discretion is possible in non-essential areas like YouTube channels or social profiles.
How do I pick a good fake name?
Choosing a convincing fake name involves considering the context and purpose. Start by selecting a name that matches the culture and time period, if applicable. It should sound authentic, with a balanced combination of common and unique elements. Avoid overly elaborate or suspicious names, and ensure it's easy to remember.
What is a name to hide your identity?
A pseudonym or alias is often used to conceal one's true identity. This alternative name can be employed for various purposes, such as writing, online activities, or privacy. It's important to note that while pseudonyms can offer anonymity, they might not provide complete protection of your identity in all situations.
Conclusion
Here are some of the best fake name generator tools you should try using to explore the internet world. Let us know about your experience in the comment section. Don't forget to visit us for more articles.
See Also: 8 Best Anagram Generator Websites That You Must Know (2023)