Posting sarcastic Twitter images has become one of the most incredible things in town! We encounter so many tweet images that are so humorously quoted that they make our day. Well, you know how much these tweets are trending on Facebook and Instagram. Thus, you must know about the best Fake Tweet Generators out there.
People use these fake tweets to post their statuses to look cool among their peers. Be it Instagram or Facebook, posting these fantastic tweets and creating a dedicated page may bring you fame and more followers.
So, if you think you have the whimsical sense to make a successful, funny fake tweet, we present you the following. Use these fake Twitter generator apps and make it as hilarious as possible! If you're thinking of downloading an app and creating some fake tweets, please read this article, as it will tell you about some excellent, readily available online artificial tweet generator tools.
See Also: 8 Best Anonymous Voice Changer Tools You Can Use
Top 13 Fake Tweet Generators Tools
Here is the descriptive list of the Best Fake Tweet Generators for you.
Zeoob
This is one of the best fake tweet generators available today. You can easily customize your tweets as per your requirements and generate cool and funky usernames.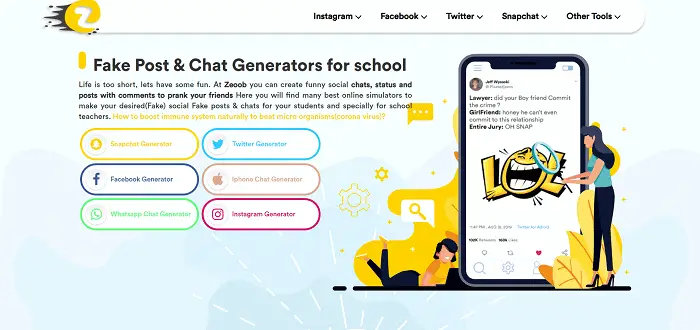 This site not only lets the users generate tweets but also helps them to keep their identity secure. They can create a fake account and post random tweets without fear. Moreover, this tool lets users insert images of their choices. Check out the link below to learn more.
Visit: Zeoob
Tweetgen
This popularity, as well as ratings for this site, are pretty high. This site lets Twitter users generate fake tweets and authorizes them to block or delete tweets that they find inappropriate.
This site stands out from the rest of the sites because it allows users to generate a verified tick mark. Thus, you can quickly get attention and brag about the verified spot among your friends. Make fantastic tweets to share with your kin and kin. Click the link below to discover more new features. You can also Check out the Best Skype Chatting Tricks And Tips You Must Know.
Visit: Tweetgen
Dizwa
This site is increasingly becoming popular among the Twitter community. It has many unique features you don't want to miss out on. You can edit tweets as you wish and insert images of your choice. Also, you can generate funny usernames to complement your hilarious tweets.
Moreover, this site is also helpful for people active on other social media platforms like Facebook and Instagram. Through this tool, you can effortlessly create fake posts to prank your friends through the site and take digs at them. So what are you waiting for? Visit the site now.
Wofox
This is one of the decent fake tweet generators that can let you create hilarious tweets in a go. You can edit and customize the tweets you wish to post and prank your pals. All you have to do is effortlessly make the changes you want in your tweets before downloading. Now, you can preview them before posting and editing.
When you are all set to post your tweet, you can download the screenshot of your fake tweet and share it with your friends. This is undoubtedly an excellent way to prank someone harmlessly. Thus, you can have lots of fun without causing trouble for anyone. So what are you waiting for? Check out the link below to uncover more new features.
Visit: Wofox
See Also: 10 Best Free Fake WhatsApp Chat Generator Tools (2023)
Fake Twitter Generators
Regarding online fake tweet generators, Twitter Generators are better than the rest. You can create not only fake tweets but also send fake messages. You can use this online resource for.
Here's a video tutorial on how to generate fake tweets:
Fake Twitter Generators are better than the rest regarding artificial online tweet generation. You can create counterfeit tweets and send fake messages, and it is possible to use this online resource to generate Yahoo question answers to fake Facebook statuses. You can build fake Facebook posts and create a fake conversation that never happens!
Visit: Fake Tweet Generator
TweetFake
This tool enables everyone to create fake tweets that look like another person has tweeted something.
Screenshot that tweet and share it with your friends like a pro! One can create fake tweets in the name of anyone. It is advised not to hurt anyone's sentiment in this process of fun.
Twitterino
Twitterino lets you create fake tweets with any Twitter user.
You only need to search for a username and create your fake tweet! At tweeterino.com, you can quickly generate a Fake Tweet image with any Twitter user and share it with your friends for laughs.
See Also: How to See Who Views Your Facebook Profile?
PrankMeNot
Contrary to the name suggests, Prank Me does not let users generate fun fake tweets and messages.
Here, you can also create fake Facebook posts and fake Facebook chats. Conversations that never really take place! One can use it for both Twitter and Facebook.
Visit: Prankmenot
Simitator
Simitator.com is one website that provides an easy method to create fake Twitter tweets. Like the artificial tweet generator tools listed above, this online tool lets you prank your friends and fool them by making believable counterfeit tweets.
On simitator.com all you need to do is:
Select a profile picture
Choose a name
Type your desired message
Enter date
Decide following yes or no
Then, fill in the embed text, retweet text, reply tweet, favourite reader, and more text. After completing the above procedures, you can download your fake tweet in jpeg format or, for better quality, you can take a screenshot of it.
Visit: Simitator
FakeTrumpTweet
If you want to impersonate America's president and make some really "Huge!" and hilarious tweets, this one's the perfect Fake Tweet Generator for you! After going to this website, you can directly and instantly create fake tweets. This makes it one of the best phoney tweet generators out there!
Navigating through different pages and searching for the tweet generator is no hassle. Put your text in the text box, and there you go! If you're a Telegram user, you can use the Telegram bot to make your messages great again! In the same way, if you're a Slack user, you have a Slack bot at your bay to make your messages unforgettable!
If you're wondering how to use these bots, then worry not. On this website, they have also enlisted the instructions to use the bots step by step. So what are you waiting for?! Go ahead and generate a hilarious fake tweet right now, as this is one of the Best Fake Tweet Generators.
Visit: FakeTrumpTweet
Random Tweet Generator
Among all these Fake Tweet Generators comes the Random Tweet Generator. When using the Random Tweet Generator, you will face no hassle of navigation. Using this outstanding software, you can tell your whole story in limited words.
All you have to do is copy/enter the text in the text box and click on the button. Here you go, you have generated your Tweet. Random Tweet Generator is one of the most hassle-free Fake Tweet Generators you will find online.
Visit: Random Tweet Generator
Fake Twitter Generator for School
Fake Twitter Generator for School is a website that primarily targets school-going students. It is a pranking tool for students to use. Students can use this fake tweet-generating tool to fool their classmates and enjoy it.
As the main focus of this website is on students, it is elementary to use a simple User Interface. It does not expect any form of registration. You can visit the website, type your tweet with any name & generate the tweet by clicking the button.
Visit: Fake Twitter Generator for School
Fake Twitter DM
It is always fun to send fake messages to your friends. Mock Twitter DM is a website that lets you do that. Here, you can send as many fake messages as you want to any number of people. It is a simple-to-use website where you send fake messages staying Anonymous.
Fake Twitter DM allows you to send a message without revealing your identity. The individual receiving the message will have no idea who is sending the message. It does an excellent job of hiding your identity. This is one of the Best Fake Tweet Generators for DMs.
Also Refer: Top 8 Best Meme Generator Tools to Make Memes (2023)
FAQ's
How to create a tweet?
Creating a tweet is simple. Log in to your Twitter account, and hit the 'Compose' button after locating it. Type your message in the text box, preserving the 280-character constraint. You can add hashtags, mentions, and emojis. Once done, click 'Tweet' to share your message with the world.
How to make a fake Twitter account?
Twitter's service policy prohibits creating a fake Twitter account and can result in termination or legal repercussions. It's critical to utilize the platform sensibly and ethically. If you need an account, sign up with accurate information and engage in genuine interactions to contribute positively to the online community.
How long is 1 tweet?
A single tweet on Twitter can contain up to 280 characters. This includes letters, numbers, symbols, and spaces. However, keep in mind that images, videos, and certain types of media attachments may reduce the available character count for your tweet.
What should my 1st tweet be?
Your first tweet can be a simple introduction of yourself or your interests. Share something positive, engaging, or a small achievement. It's a great chance to connect and build your internet visibility. Keep it friendly, authentic, and reflective of your personality or purpose on Twitter.
How do you tweet and get paid?
You can earn through sponsored tweets, affiliate marketing, or by building a strong following and selling products or services. Brands pay for sponsored content to reach your audience. Affiliates pay for sales made through your tweets. Build engagement and followers to attract opportunities for monetization on platforms like Twitter.
How do you copy a tweet?
To copy a tweet, click on the three dots (more options) icon under the tweet and select 'Copy link to Tweet.' This copies the tweet's URL to your clipboard. Paste the tweet's URL anywhere you wish to forward the tweet or view it. Remember to respect copyright and always give credit.
Conclusion
Social Media is a weird place. Here, anybody who is nobody can get fame at a shot. The Digital boom has undoubtedly created an expectation explosion. Thus, it is becoming difficult for people to get heed and reap more followers. Many people buy Instagram likes and followers so they do not get phased out. Thus, posting hilarious and creative content through these Fake Tweet Generators can keep you engaged on social media platforms.