.In our childhood, the first and foremost thing we learn when we start writing the English alphabet is to write them in Cursive handwriting. And many of us have struggled a lot in accomplishing that beautiful cursive writing. Even as an adult, we sometimes wish to have sophisticated handwriting, i.e. flowy cursive handwriting. Therefore, we understand your emotions and are here to help you with your writing problem with the help of cursive text generator tools.
We know this article won't going to improve your handwriting skills, but can definitely fulfill your desire to at least see your name in the lavish Cursive font. Apart from generating cursive text, you might want to generate fancy text. Generate your fancy text here.
Top 13 Cursive Text Generator
Today in this article, we have listed out the 13 best online free Cursive Text Generators. So, go ahead and try out creating some cool and attractive phrases in cursive.
FontVilla
FontVilla, as the name suggests, harbors all kinds of fonts. Thus, it works well as a cursive font generator as well. Other than the basic cursive font style, it has specialized fonts for your various social media handles. From Instagram, and Facebook to Discord and even Tumblr – it has a motley of font styles.
The process is rather easy, you choose your favorite cursive font. Next, feed in the text you want in cursive words, and leave the rest to this amazing website. Soon you will be able to see the result, just as you imagined!
Moreover, FontVilla has a variety of other tools. These include wide lettering, various forms of calligraphy, and cute texts. They even have a category for generating 'weird' text! Well, if you're curious enough by now, go visit their site and generate your favorite cursive texts
Visit: FontVilla
See Also: [Updated] 9 Best Free Tiny Text Generator Tools (2023)
Made-In-Text
Made-In-Text is yet another great cursive text generator, that is capable of transforming plain text to flowy, hand-written-like cursive texts. You just need to copy-paste your content in the box, and let the magic happen!
Like the others, it too uses the Unicode text characters and symbols, to convert the texts. However, since we humans cannot understand computer language, we will see only the cursive result.
Certain websites do not support the Unicode text symbols. For instance, you may have seen while sending an emoji, sometimes it transcripts into an un-understandable script of special symbols. That is the Unicode text that most social media websites are coded with.
Thus, you can enjoy this tool without any problems. Moreover, Made-In-Text also offers translating services. This enables one to convert their texts into different languages, even morse-code! I'm sure, Star Wars fans will run to this website to update their bios now!
Visit: Made-In-Text
Yay Text
Yay Text will make you go Yay! Within minutes! This up-to-date text generator is capable of generating all kinds of text. You can make your bio-data and taglines with beautiful and flowy cursive texts. Update your status now!
Furthermore, it offers various other modifications to your cursive texts. You can transform it all into bubble writing or intricate calligraphic writing. Just like the others mentioned in this list, you have to copy and paste your text –  and that's all.
The script style can be of good use to promote your online business and create slogans, posters, graphics, and more. In this digital world, who doesn't like a human touch? And this generator, does exactly so, by generating cursive texts that look surreal. Go try it now!
Visit: Yay Text
See Also: Free fonts for Cricut
Qwerty.Dev
Looking for a generator for that old cursive handwriting that makes you feel as if you have written it yourself? Qwerty. Dev here allows you to generate exactly that for your bio on Instagram. Facebook, Twitter, and wherever else your presence signifies!
Its working is simple as it converts the regular letters you type in, into cursive texts, governed by alpha-numeric combinations. The result, however, will not be the programming language of course! But your desired text, to make your bio stand out. Not only bios but the texts you generate can be used in messages as well.
It is perfect for writing heartfelt wishes through text. Cursive letters make the text more impactful. You can use it to emphasize a point during a tweet-war or write a lovely letter or poem on Facebook for your friends.
Visit: Qwerty.Dev
Font Meme
Font Meme is a multi-font generating tool. Once you head to the site, you will get 30+ fonts style categories. Scroll a little bit and find Cursive Font, click on that.
Under this cursive translator, you will get many customizing options. And also, you can select any of the cursive handwriting among a wide range of variety of 70+ cursive fonts.
You will find a text box followed by other customizing options. After you complete typing the text, select a cursive font and the effect from their respective drop-down list, and set the size and color of the font.
Click the "Generate" button and it will give you the output in image format. Right-click (if on PC) or long-Tap (if on a mobile device) to save the image. Fond of memes? Try out generating some here.
Visit: Font Meme
Lingojam
Lingojam is the simplest and the most straightforward Cursive text generator. Any user can handle the site without facing any problems. The web page offers you a simple user interface where you only need to enter any text and it will automatically generate the cursive font.
You don't need to click or tap anywhere to create it. The output contains two cursive fonts; one is of normal size, and the other is in bold. To use the text, copy it and paste it wherever you want.
Visit: Lingojam 
Can't think of any text for trail? Generate some dummy text with these best dummy generator websites.
Find Tattoo Design
This site is one of the best cursive generator sites I have ever used, and I bet you would also say the same. Not only does it have a very captivating and straightforward interface, but it also gives you many options. You can generate your text in various font styles.
There are also different themes according to your gender or choice, e.g., it gives options for the army, women, men, etc. But what is so different about this site?
Not only does it generate your cursive text but also gives you suggestions, various designs, and, last but not least tags. Tags like cool, badass, fancy, etc. Isn't it exciting?
What are you thinking about now? Go and use this cursive text generator site with a pool of options that it provides. The link is given below.
See Also: Best Fake Social Security Number Generator Tools
Text Anim
Introducing Text Anim 2.O, a must cursive text generator website one must use. This website has a very cool, captivating, and eye-catching interface. Now you might be wondering what makes this app different from others.
No worries, we will let you know every detail about this app. First of all, it generates super cool animated text. You can create GIFs too.
You have to put in your text, select a font type preview, font size, background color, and direction, and where you want your text to be at the top, side, or middle, etc also choose a shadow text side along with the delayed movement.
After this, choose from millions of background designs, click on generate, and your beautiful cursive text or gif will be created. Now, you can download this font on your computer and share it. The link is provided below for easy access. Want to create a random identity? Then, use this site for free.
Visit: Text Anim 
Rapid Resizer
This Cursive text generator website comes in with a super simple interface. It will offer numerous options for you to create your text and transform it into beautiful cursive writing. It also provides a free stencil maker with exclusive opportunities.
You can choose from various fonts. Not only this, but you can also change the thickness of the generated cursive letters. Once the text gets created, you can either download it on one page or directly share it with the desired person or location.
It also gives you options to download to any size onto one or more pages. Go ahead and use the site via the following link.
Adjust letter overlapping and color of the lines as per your choice. Also, explore more with a premium membership. Tired of thinking of a good username? Don't worry try generating some good ones here.
Visit: Rapid Resizer
Letter Generator
Letter Generator is the most efficient Cursive text generator available. Navigate to Letter Generator and after it opens the website, scroll down a little, you will find the entries and settings options.
Type your name, place, or anything in the designated text box. Select the cursive font style from the drop-down list. You will also need to provide the resolution of the generated image in which you want the cursive text.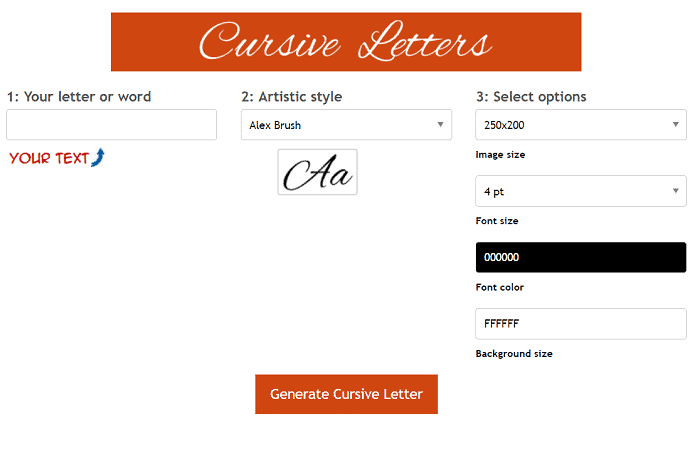 Set the font sizes in "pt", font colour, and background colour. Once you are done typing the text and setting all the parameters, click on the "Generate Cursive Letter" button.
After clicking it, within a few seconds of time, a small window will pop up containing the output image. You will also get two links; one is the image link and the other, the image BBcode link.
To share the picture, you can copy either of the two links, or you can save the image to a Right-click and Save as and then send it to whoever you want to.
Mess Letters
Let us talk about another cursive text generator, Mess Letters. This site generates a very catchy and fancy text generator. This site will produce your text in many fonts. You can add emoticons, emojis, shapes, symbols, characters, and text art.
You will be able to generate mirrored text, stacked text, large text, and waves. Go to this cursive text generator website and check it out yourself with the link provided below.
Visit: Mess Letters 
See Also: Best Email Spoofing tools with New Advanced features
Font Generator
Font Generator is the ultra-cool Cursive text generator that you will come across. The website offers you more than 10 font categories and furthermore, each category contains numerous font styles.
It also has got some advanced features where you can sort the order of the generated fonts, filter them, and also set the restrictions as a visitor or a registered user. And according to that, you will get the output displayed below.
To generate the cursive font, type anything in the given input text box. After you are done typing, click on the Go button. It will show you the output of the generated cursive text as per your settings. If you like or find attractive a particular font, you are allowed to customize it further.
Just click on the font and it will take you to another page where you can customize the generated image. Remember, you cannot copy the cursive text.
If you are satisfied with the default font or have done the customizing, scroll down and click on any of the downloading options. And alternatively, you can also directly print the font as a PDF. Also, use the following cursive text generator websites if this site did not satisfy you.
Visit: Font Generator 
Want to generate Anagram? This site is made just for you.
Online Text Generator
Online Text Generator is a customizable Cursive text generator on the list. If you get into the site, you will find a lot of similarities with our third mention, "Letter Generator".
As we have said, everything is the same except the font styles. Here, you get some different font styles. To generate a Cursive text, you have to enter the text in the text box and set all the parameters as per your preference.
After you are done typing, selecting the font style, font size, resolution of the image, font colour, and background colour, click on "Create Cursive Text Letter". It will take one or two seconds of time and within that, you will get a small window pop-up.
The pop-up holds you the cursive text image along with two links; the image link and the image BBcode link. You can directly share the image by clicking on the "Copy" button to copy the link and send it to someone. Or you can also save the image to a Right-click and then send the downloaded image to anyone. Do you own a channel on youtube but can't think of some catchy Channel name? Do not worry, try generating some here.
Visit: Online Text Generator 
FAQS
How can I type in cursive?
To type in cursive on a computer, you can use various fonts that mimic cursive handwriting. Select a cursive font in your word processing software or online text editor. Alternatively, you can enable cursive handwriting input on some devices or use cursive fonts available in word processing programs like Microsoft Word. Practice to improve your cursive typing skills.
What is a nice cursive font?
One popular cursive font is 'Lobster.' It's elegant and widely used for various design and writing projects. Another beautiful choice is 'Dancing Script,' known for its smooth, flowing appearance. Both fonts add a touch of sophistication to any text, making them nice options for cursive writing.
What are some good cursive text generators?
There are several good cursive text generators available online. Some popular ones include: 1. Cool Symbol 2. LingoJam 3. Cursive Text Generator 4. Fancy Text Generator These generators allow you to convert your text into various cursive styles, giving your projects a unique and elegant touch.
What text format is cursive?
A writing style known as cursive joins letters together in a fluid fashion. It's usually written in a script format, where each letter is joined to the next, creating a smooth and continuous appearance. Cursive is often used for a more elegant or handwritten look in documents and designs.
Conclusion
All of the above-mentioned Cursive font generator websites are very effective and efficient in generating you with cursive text. They are absolutely free services; the only thing on which you will have to spend is getting a data card. Without an Internet connection, none of these will work.