Are you bored seeing the plain texts or the predefined fonts of your computer or Smartphone? Do you also want to update your social media status and post with some cool and eye attracting font styles? But, wondering how to get one of those? Do not worry; we are here to aid you out with your social media posts. Below you can find Fancy Text Generator tools or websites with brief details.
Promptly, you can also get those cool and funky texts and show off before your friends. Some websites help you in creating or converting your everyday text styles and furnish it a brand new look with some breezy fonts.
See Also: Top 6 Reporting Tools to Maximize Business Productivity
List Of Best Fancy Text Generator Websites
Here is the list of 12 best fancy text generator tools that you can find on the Internet and utilize them for free.
CoolSymbol
CoolSymbol is a free website from where you can explore and generate some really innovative text styles or fonts. The UI is simple and easy to use and one of the top Fancy Text Generator .
Once you get into the Fancy Text Generator, you can select among a wide range of font styles like Bubble, Currency, Magic, etc. You will get more than 70 font styles on the website for each text line you enter.
Initially, you will need to enter any text or text line and it will automatically generate fonts in various styles. If you want to use them simply, click on the "Copy" button that you will find beside every font style and paste to your social media post, blogs, pictures, etc.
Mega Cool Text
Mega Cool Text is another automated fancy text generator that you can use for free of cost. It has even more font styles compared to Cool Fancy Generator.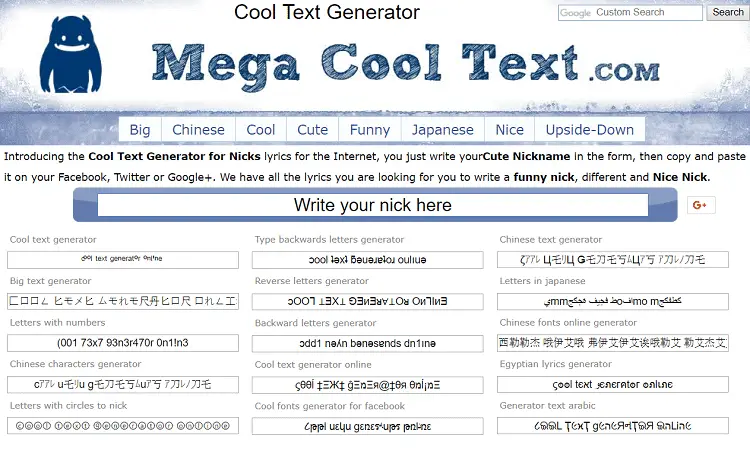 The layout of the webpage is quite simple and easy to handle for any user. After you open the webpage, you can see a text box saying, "Write your nick here"; write a text or any phrase here and you will be offered with over 90 font styles for the same text that you have entered.
You don't need to click on any button or elsewhere to generate the fancy texts. It will do the job by itself. You can scroll up and down to find the font that you are looking for and then copy the text and paste it to wherever you want that text to be.
Messletters
You can bring in access to the features of this website with very ease. Messletters is a generous fancy text generator that extends you to numerous font styles.
The fun part of this Fancy Text Generator is you can expand your hands and legs a bit more here, compared to the previous two generators. Here, you will find a text box where you have to enter any text or text line and it will generate a number of different font styles.
But along with that, you will also get few buttons just beside the text box. There is an option, "More," click on that and you will be taken to another page. On the next page, you can customize your font by adding any unique character or symbols to it.
See Also: Reverse Number Lookup Tool For Business: How You Should Use It
Cool Letters Generator
As the name suggests, Cool Letters Generator is categorically a cool and fun fancy text generator where you can play around with different font styles.
All you need to do is enter plain text or any text line and it will automatically generate some fancy fonts. Above the text box, you will get three options, Sublime1, Sublime2, Sublime3, and besides that a Zalgo slider.
Each sublime hold numerous font styles but at a time it only displays 30 font styles. If you want more you can click on the option "Click here to change," and it will accompany you more fonts for the selected Sublime. You can use those fancy fonts just by selecting them, copying them and pasting it to the desired sheet.
Weirdmaker
Weirdmaker is an advanced Fancy Text Generator. You can not only generate elegant texts but also you get many manual customizing options.
All you need to do after you go to their website is type the text in the text box and it will automatically create fancy fonts for you under several categories like; handwriting, new font, classic, decorate, etc.
On the left side of the window, you can find two categories; Smiley, and Text. And under each category, there have some subcategories from where you can actually customize your font and give a look according to your preferences. All these features are genuinely for free.
Yal
Yal is just an ordinary free fancy text generator with very limited options. You can only change the font style by clicking on the options, every time you want to convert them.
It is not an automated website that generates fancy texts for you, automatically. You get only four categories; Tweaks, Shapes, Fonts, and Styles. And under each category, there retain 6-7 options only.
It works well for the users who want simplicity and it's effortless to use primarily for those who have learned to browse recently. It's for the beginners, you can say.
See Also: Top 8 Free Voice to Text Apps for Android (2020)
Fancy Text
Fancy Text is a manually generated free online fancy & tiny text generator. Once you get into the website, you will find a text box and below that there are buttons which contain alphabets A to Z in 12 different fonts, along with numbers from 0 to 9, and various symbols and special characters.
The only problem with this generator is, every time you want to create any fancy text, you have to click on the buttons of your choice. It won't generate the fonts by itself; you have to put your effort. Once you are done with any text or phrase, copy it and you are free to paste it anywhere you want.
Font Villa
For many instances, different types of fancy fonts we want to use are available online, but many apps and websites don't include our required font. In some Photoshop, we can locate an unusual font online and download it, and only then we use it on Photoshop if we want to use a font that is not already accessible. Hence Font Villa will make you to like it.
This is not only a problem, but requires plenty of effort and time, and all your efforts are lost if you decide to change your mind on the font. There is also a solution to this like every other problem which is available here. Also this is one of the best Fancy Text Generator.
See Also: Top 14 Best Dummy Text Generator Tools in 2020 (Updated)
Instagram Fonts
You will create the best fancy text fonts on this platform that you can copy and paste into your Instagram profile with this Fancy Text Generator . To help the pattern stand out and have a little personality, it is helpful to create Instagram bio symbols. Hence, this is one of the best fancy fonts makers for your Instagram.
After typing some text in the text entry box, you can continue to click on the button "show more fonts" and generate several Instagram fonts, or you can either type one of the "proven, and real" fonts like cursive text, or other stylish font fonts-that is, those who are a bit "newer" than those who use a set of symbols closer to the standard.
Fancy Text Generator – Lingojam
This fancy font converter creates intricate symbols instead of generating fancy fonts within the time. Also, the Unicode begins with the definition, a standard for the industry which defines thousands of different logos and characters which may be liked by you.
The Unicode standard is probably used to determine all the characters you see on your electronic equipment and printed in books.
Beautiful Dingbats
The Fancy Font Generator of Beautiful Dingbats converts regular characters into Alphanumeric Mathematical Symbols. The characters are mainly added to Unicode for the writing of equations by mathematicians.
With many different things, so the patterns stay the same, everywhere they appear. Hence the fancy font is vital. These are used almost as well in social media posts, profiles, and thoughts. Also used in Facebook, Twitter, Linkedin, Pinterest, and Quora included – WeChat, instant messages, browser bookmarks, wi-fi networks, and many more.
See Also: Top 8 Free Voice to Text Apps for Android (2019)
MalluBar
Grant a beautiful look to your usual email. Make your myspace, your face, or any social networking sites funny text looking. Use this sophisticated text to post comments. Only insert the code and choose a nice text check in the first Text box. You must translate the text you are entering into another type.
The MalluBar algorithm translates a regular text into various free and vibrant and fancy fonts, such as tattoo fonts, calligraphy fonts, web script fonts, cursive fonts, handwriting fonts, old fonts in English, terms, lovely fonts, fount art.
Note: – These Fancy Text Generator websites made it easy for anyone to create or convert your boring and plain text. Into some eye catchy and attractive fonts, with minimal manual effort to these Fancy Text Generator websites.