So YouTube is getting popular these days, right? Maybe you too are thinking to go live on YouTube. If you are on the verge of creating your own YouTube channel, chances are you are stuck deciding a banner template for the same. Here's the list of best websites for you to get YouTube Banner Templates for your upcoming channel.
After all, that banner would be important to represent your channel, right?
Top 9 Websites to Download YouTube Banner Templates
Crello
Crello's YouTube banner maker offers 25,000+ beautifully pre-designed templates so you could create a unique YouTube cover art in minutes. Its intuitive drag-n-drop editor is super easy to use even if you don't have any graphic design skills at all.
Editing features are numerous. You can add or remove objects from your banner, change color, place icons and animations there, apply filters, add texts, remove backgrounds, blur, flip, resize, rotate, etc. With Crello, you can create trendy YouTube covers effortlessly.
This graphic design tool is free to use. Besides banners, thumbnails, and intros for YouTube, you can create dozens of other content formats here: social media posts, blog images, ads, infographics, presentations, print materials, and more.
Crello will save your time on YouTube content creation and boost your productivity as a graphic designer, no matter if you're a beginner or an advanced user of corresponding tools.
Visme
You can simply download one of the 50 banners for free from Visme. Visme offers a diverse range of themes, from a musical banner to a perfect banner for your online cooking class, the list is endless.
So, banners for music channels, cooking classes, some cool Vlog style videos, a cryptic tech channel for the upcoming geek in you are already covered here. You can sign up for free, choose any one of the 50 templates, and moreover, add text according to your liking.
Download it, UPLOAD, ENJOY! Visme has been used by most of the professionals of YouTube.
See also: Top 10 Money Borrowing Apps For Emergency Situations
Template.net
Template website offers dozens of graphics assets including YouTube banners. If you are up for some anime or cartoon banners, this site is the right place for you. You can select a banner and then based on your liking, add text to it. It offers a wide range of themes to choose.
Moreover; all the images provided here are high definition images, with stunning quality. More importantly, it's free, straightforward and easy to use.
Used by many of the professionals on YouTube, although a great tool for beginners as well.
Fotor.com
Fotor offers endless customization for your YouTube banners. It's not just exclusive to YouTube banners. Fotor offers you unlimited options to create and customize your YouTube banners, along with a wide range of themes to choose.
You can add overlays, filter effects, your custom photos, minor tune settings, etc. The wallpapers, offered here are all high quality, have high definition. Every template has its uniqueness.
The customization options are endless. Moreover; the graphics offered here are high resolution, high on quality. Fotor is free, but to access its premium features, you can upgrade to its PRO version.
It's easy to use interface and reliable website with a top of the line GUI makes it fun to use and create banners. This website offers the straightforward interface, although the customization options are limited when compared to other websites, its interface makes it fun to use and improves productivity.
NOTE: The free version, adds a watermark, so you will have to go for the PRO version to remove the watermark.
SalesLion
SalesLion offers free templates as well. Not only models, but you can also create and download thumbnails with thumbnail maker for your videos for free as well. You can add great contrast texts, along with the different options available at the tip of your finger.
Dozens of genres, tons of customizing options and endless combinations of themes. Offers high quality and high-resolution images, all for free. Moreover; it's free. It's simplified the interface, proper website design is always a bonus and makes it fun to use.
TutsPlus
41 is an odd number right? Yeah, it's an odd number, but seems like it may soon be your lucky number as well.
TutsPlus offers you 41 unique templates to choose from. Moreover, you can want to edit or add text for YouTube Banner Templates. Every template offered here has its uniqueness.
The wallpapers and graphics offered here are all high resolution and have stunning quality. Covers a wide range of genres, making it one of the better and more straightforward options to download YouTube templates for your upcoming channel.
Although it offers unique and straightforward interface, it has many more limitations compared to the options aforementioned in the list.
BannerSnack
BannerSnack is not just downloaded and done a website. On BannerSnack, you can create your YouTube banner right from the go, a perfect YouTube Banner Templates Generator sort of thing.
It offers dozens of customization options, themes to choose. There are thousands of themes, from different genres to choose from. From music to the tech cryptic, the options are just endless. So your upcoming music or tech channel is covered here.
It consists of high-resolution graphics to enhance your experience. Moreover, it's simple and unified interface helps you boost your productivity.
You can make banners for any of your genres for your upcoming YouTube channel. Moreover, it does not add any watermarks to your templates and offers ready to use templates.
It offers straightforward interface which boosts your productivity but is also light on your pocket as it's completely free, and doesn't offer any pro versions to pay for.
YTGraphics.com
YTGraphics is a simple but good YouTube Banner Templates website where you can directly download YouTube banners. You have dozens of themes to choose from. The graphics provided here are abstract and artistic. Moreover; high resolution and quality graphics would make your day.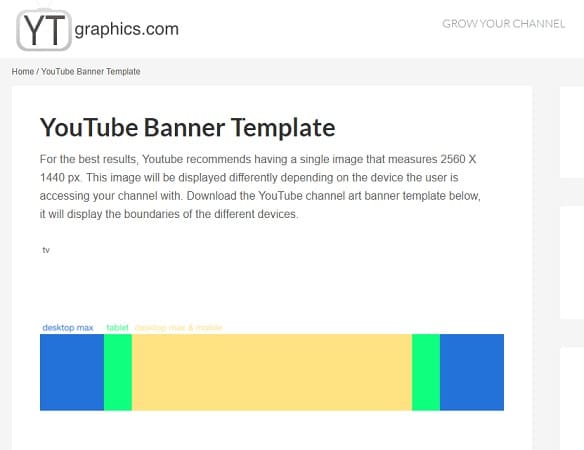 Unlike options mentioned above, you don't have the choice to customize on the site itself; instead, you can directly download one of the hundred banners and customize it locally on your PC, edit, and upload. It's simple and free. No pro versions available, also light on your pocket.
NOTE: Watermarks may be added.
Final Words
So, these are all the great resources which you can use to download YouTube Banner Templates or even better, create themselves for you. Do share your thoughts and let me know if you're going ahead with these sites or not!