Many users have been reporting the problem of a Red Screen when they launch the game or start Training or Conventional missions. Thus, you must know how to fix XCOM 2 Red Screen.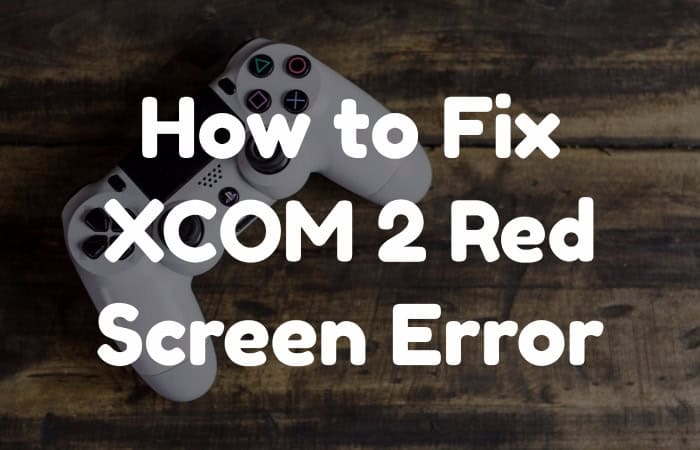 Let's quickly check how to solve xcom 2 crash on startup Windows 10. Check the game cache's integrity. The corrupt game cache likely is to blame for the XCOM 2 crash on the startup issue. In this situation, you must check the game cache's integrity.
To create a shortcut, right-click on the xcom2.exe file in your computer's directory. The lines below can be copied to your clipboard or temporarily stored in Notepad to make your job easier.
Locate "Destination" under the "Shortcut" tab and click to alter it.
Add this line, "-NORAD screens -review," after "object," or copy it from above.
After clicking "Apply," click "OK." Click "Continue" when prompted for administrator approval.
The Red Screen issue has nothing to do with your PC or Monitor's software or hardware. It is a minor glitch in the Game that is easily fixable. This article will help you understand what is Red Screen error is and how you can fix it.
Solve XCOM 2 Red Screen Error
The following are some ways to solve XCOM 2 red screen errors. But before that, let's know the description of the red screen error.
What is Red Screen Error?
Red Screens are a form of tool which developers use to capture severe but non-destructive bugs. They don't show anything going wrong with the gameplay but report what would be buggy. They are just an audaciously precise detecting mechanism.
Red Screens should not appear in release versions of any game. They should only be present when launching in debug mode (Through SDK or with appropriate command-line arguments).
If we usually get Red Screens while playing, it's not favorable to experience them, and there is no harm in fixing them manually.
Are you a Tom Clancy Fan and facing a delta-20000984 error? Click here to get rid of it.
Steps to Solve XCOM 2 Red Screen Issue
As such, no specific tool or download is required to fix the problem. All you need to do is create a shortcut of the xcom2.exe file on the desktop, taskbar, or anywhere you want.
See Also: How to Send an Anonymous Email with Four Different Ways
Following are the steps to fix the Red Screen Error:
Locate the xcom2.exe file in the directory of your computer. (E.g., C:\games\binaries\win64\xcom2)
Right-click on the xcom2.exe file and click on 'send to' and select 'Desktop (Create shortcut)' or copy and paste the file at your desired location, Right-click and select 'create a shortcut.'
Now, Right-click on the created shortcut file and select 'Properties,' which will open the Properties dialog box.
Now copy the following lines to your clipboard or keep it temporarily in Notepad for ease of work.
"-noRedScreens -review"
In the 'Shortcut' tab, locate 'Target' and click to edit it.
At the end of "object," add this line, "-NORAD screens -review," or directly paste it from above.
Click on 'Apply' and then click 'OK.' If you are asked to provide administration permission, click 'Continue.'
FAQs
Why is my XCOM 2 not working properly?
If your XCOM 2 is facing launching issues, it's most likely due to outdated graphics drivers or corrupted game files. Update graphics drivers to fix XCOM 2 launch issues. By doing so, you guarantee a smooth and optimized gaming environment that maximizes the capabilities of your hardware.
Was XCOM 2 a success?
Indeed, XCOM 2 experienced a resounding success. Within its inaugural week of release, the game achieved a remarkable milestone by selling over 500,000 digital copies on the Steam platform alone. This accomplishment notably outpaced the sales performance of the original game, which had been concurrently launched on various platforms.
Is XCOM 3 being made?
On June 11, 2022, Firaxis announced the ongoing development of XCOM 3. In a bid to reassure fans, DeAngelis emphatically affirmed the enduring status of the XCOM franchise. He elaborated that the studio encountered an opportunity too enticing to pass up, prompting the question: 'Where else can we go?'
Is XCOM an AAA game?
Unfortunately, XCOM is not an AAA game. Furthermore, XCOM offers players a deep and engaging strategic experience and actively prioritizes inclusivity. It ensures that disabled gamers have the same opportunity to participate and enjoy the game as their able-bodied counterparts. This emphasis on accessibility and equality highlights the exceptional nature of XCOM 2 in the broader landscape of the gaming industry.
Conclusion
That's it. Following these steps will fix the XCOM 2 Red Screen, and you won't experience it when you launch the game. If the problem persists, then you can contact the Game Administrators for more support about the issue.
See Also : 3 Ways to Fix The Division Black Screen Error {Tom Clancy}