A massive number of users have been reporting about the problem of Red Screen when they launch the game or start Training or Conventional missions. Thus, you must know how to fix XCOM 2 Red Screen.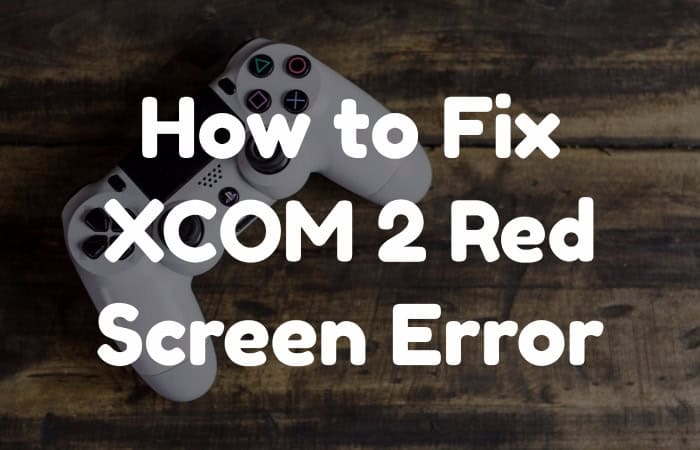 Red Screen issue has nothing to do with your PC or Monitor's software or hardware. It is a small glitch in the Game which is easily fixable. This article will help you understand what is Red Screen error and how can you fix it.
See Also : Understanding "Your Location Is Currently in Use" in Windows 10
Solve XCOM 2 Red Screen Error
The following are some of the ways to solve XCOM 2 red screen error. But before that, let's know the description of red screen error.
What is Red Screen Error?
Red Screens are a form of tool which is used by developers to capture severe but non-destructive bugs.They don't evidently show anything going wrong with the gameplay but reports what was going to be buggy. They are just an audaciously precise detecting mechanism.
Red Screens should not appear in release versions of any game. They should only be present when launching in debug mode (Launching through SDK, or with appropriate command-line arguments).
If we get Red Screens while playing usually, it's not favorable to experience them, and there is no harm in fixing it manually.
Are you a Tom Clancy Fan and facing delta-20000984 error. Click here to get rid of it.
Steps to Solve XCOM 2 Red Screen Issue
As such, there is no specific tool or download required to fix the problem, all you need to do is create a shortcut of the xcom2.exe file on the desktop, taskbar or anywhere you would like.
See Also : How to Send an Anonymous Email with Four Different Ways
Following are the steps to fix XCOM 2 Red Screen Error:
Locate the xcom2.exe file in the directory of your computer. (For e.g. C:\games\binaries\win64\xcom2)
Right-click on the xcom2.exe file and click on 'send to' and select 'Desktop (Create shortcut)' or just copy and paste the file at your desired location, Right-click and select 'create a shortcut.'
Now, Right-click on the created shortcut file and select 'Properties' which will open the Properties dialog box.
Now copy the following lines to your clipboard or keep it temporarily in Notepad for ease of work.
"-noRedScreens -review"
In the 'Shortcut' tab, locate 'Target' and click to edit it.
At the end of "object," add this line, "-noRedScreens -review" or directly paste it from above.
Click on 'Apply' and then click 'OK.' If you are asked to provide administration permission, then click on 'Continue.'
Conclusion
That's it, following these steps will fix the XCOM 2 Red Screen and you won't experience it when you launch the game. If the problem persists, then you can contact the Game Administrators for more support about the issue.
See Also : 3 Ways to Fix The Division Black Screen Error {Tom Clancy}