All famous YouTuber's in India like AIB, Geeky Ranjit, Superwoman, etc. have their intro videos which you will get to see at the beginning of their every video. This intro video usually is of 2-4 seconds with some jingle and their logo in it. Such intro videos add a more professional touch to their videos. The intro videos of these Youtubers are made by professional graphic designers. Thus, you must know about the best Free Online YouTube Intro Makers.
Most of the YouTubers start the channel with a very tight budget and hence cannot afford a professional for making an intro video as well as banner templates. This doesn't mean that you should ignore intro video. Intro videos can be easily made by you with the help of online YouTube intro makers.
The best part about these tools is that you don't have to spend any cash at all for making an intro video. You also don't have to invest a lot of time in making an intro video.
A good intro video helps you in grabbing the attention of your viewers completely at the beginning of your video, and also helps you in gaining new subscribers. There are many free online YouTube intro makers.
See Also: 
Best Free Online YouTube Intro Makers
Here are the best online YouTube intro makers which can be effective for any Youtuber.
Wondershare Filmora9
It's one of the best free online YouTube intro makers that offers amazing built-in transitions, animations, and designs. You can edit videos of any size effortlessly. It includes everything you need to make the kind of videos you want.
The key features include audio mixer, video stabilization, and amazing 4K edit support. They can certainly make your YouTube videos look cool and help to enhance your editing skills. Moreover, you can access a plethora of royalty-free music through a paid version. If you don't mind paying a bit, it's quite good. To get an honest review of Filmora9, refer to this article.
Visit: Wondershare Filmora9
See Also: FilmoraPro Review – Give a Boost to Your Video Editing Skills 
movietools.info
This website allows you to download a variety of video intro templates and edit them according to your requirements. Customize them as you wish, add the logos of your channel, insert texts, and remove watermarks.
With a user-friendly interface, it is beneficial for beginners. You have to download the background, and the website will do the rest. Try using it now and get familiar with the fantastic features this website has covered for you.
Visit: movietools.info
OFFEO
It is yet another free online video editing platform that you can use to generate amazing videos. It provides users with an abundance of cool templates that they can insert in their videos.
Now grab the attention of the audience easily with a cool intro and catchy texts. The popularity and ratings for this site are quite great and lets you pretty much all other websites combined let you do.
Visit: OFFEO
YouTube Intro Maker
It is one of the best tools available in the market today to make one-of-a-kind videos. You can make the most of this tool by getting a premium version for $10-$20. Moreover, it lets you add texts over your videos and allows you to add logos too.
As the name suggests, it is specially designed for YouTube videos. However, you can use it for your office projects too, and modify the intro style as per your needs. So what are you waiting for? Download it now and start creating intros with amazing templates that this site prides about.
Visit: YouTube Intro Maker
Quik
It is one of the best YouTube intro makers that is specifically designed for Android users. You can add up to 75 images, set a custom duration, and add music of your choice. Make the format apt and impress your channel visitors.
This application is increasingly becoming popular among YouTubers. Now, make your videos quickly with Quik application and enhance your editing skills. The interface is quite user-friendly. Thus, allowing the newbies to make videos effortlessly.
Visit: Quik 
See Also: VideoSolo Screen Recorder Review – Simplify Recording Work
Free Intro Maker
Free Intro Maker is a website which will let you make some high-quality intro videos for YouTube. You can choose from among many templates that the website provides for free. You can add cool effects and animations and create your intro video very easily.
It suggests you templates according to the category and target audience of your video. You can add your logo if you want and add some cool effects to it. As its name suggests, this intro maker is completely free.
Visit: Free Intro Maker
RenderForest
So, here is another fantastic free online youtube intro maker which offers various professional animations which add an immersive beauty to your video intro.
It is also user-friendly, you have to choose an animation which best fits your video type and which will directly affect your target audience.
Visit: RenderForest
Tube Arsenal
Tube Arsenal is the new user-friendly Youtube Intro maker that will be going to help create beautiful and unusual looking animated intro along with the logo and whatever the text you want to add.
It is simple as it does not need any technical skills for making professional video intro.
Its editing interface is straightforward, and you will quickly understand what the options available are for you.
Visit: Tube Arsenal
VideoHive
Here is the VideoHive, which is by Envato Marketplace offers you a fantastic collection of animation and some stunning designs. It gives access to nearly 700k video effects and stock pictures for your custom use.
This site also offers some great and stunning designs every month for free, so keep an eye on them and grab an amazing one for free.
So, these are some of the best five free online Youtube Intro makers in 2019 for free.
Make use of these best and great professional video intro maker tools and create great, amazing, and stunning looking video intro for a great and wide impact on your audience.
Visit: VideoHive
Intro Maker
It is a very basic one of the Free Online YouTube Intro Makers which can be used for making intro videos for your YouTube channel. Intro maker is the easiest method for creating an intro video. No download or signup is required.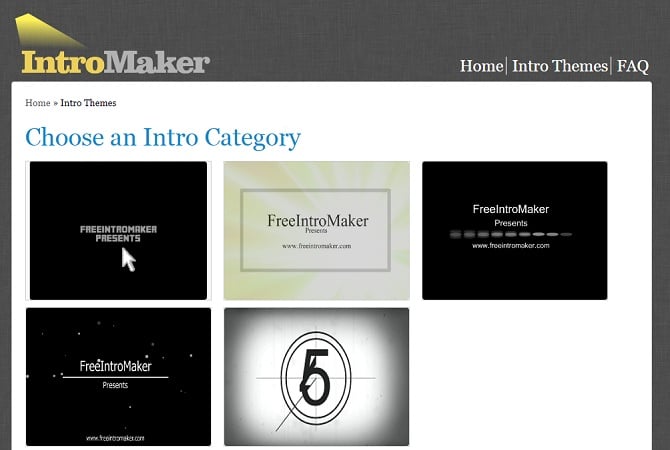 You can simply create an intro video by selecting the category of your video and selecting a theme of your choice. There are lots of different themes for different categories like fun intros, business intros, Video game intros, etc.
Biteable
Biteable is one of the best Free Online YouTube Intro Makers with a professional touch. If you want to make some really good and professional intro video for your business or YouTube channel, Biteable is the website for you.
You can easily create intro video by adding your logo, channel's name to the theme of your choice. You can also add some credits to it. After doing all this, you can preview the video on the website itself. If you like the preview, you can download it by clicking on the download button. This website is totally free.
Visit: Biteable
Also see: 10 Best Webcam Software For Windows – TechWhoop
Panzoid
Panzoid is another free YouTube intro making website. The best thing about this website is that you can add some cool 3D animations and effects to your intro videos. If you don't like the background of your video, you can change it easily on Panzoid.
On its homepage, you will get to see intro videos created on Panzoid by other users. You can select from these intro videos and add whatever you want to it and create your own intro video.
Visit: Panzoid
See Also: Wondershare Free Video Converter | The Ultimate Converter of 2023?
RendrFX
RendrFX can be used for creating high-quality intro and outro videos for your YouTube channel. You can add text, audio, video, logo for games as well as your videos. And, customize your own intro video.
If you don't want to spend time on creating your own theme, you can select from thousands of available themes and music. RendrFX is a very easy and quick way of creating intro videos for your website. On its homepage, you will see some intro videos created by other users with the help of RendrFX.
Intromaker.net
Intromaker.net is a free website for creating intro videos for your YouTube channel. You can add and customize your own logo by adding animation effects to it.
It has got a lot of cool animations and effects which can be used for making your video look more professional. You can also use this website for creating a logo for your YouTube channel if you don't have one already. This is one of the highest used websites for creating intro videos.
Visit: Intromaker.net
Ivipid
You can use this website if you want to add some really complex and cool graphics to your intro video. You can pick the theme of your preference from the list. They keep adding more and more theme to the website almost on a daily basis.
Once you choose the theme of your choice, you can add text, audio, logo, animations, effects, etc. and make an intro video easily. Once you have completed this, you can download and share your videos.
Visit: Ivipid
See Also: 12 Best YouTube Channel Name Generator Tools
Flixpress
Flixpress is a website which you can use for making intro videos for YouTube. The reason this website is last in the list is that this website is not completely free. It is a very cheap option for creating intro videos if you want to create really professional intro videos.
This website has lots of cool templates and animations to choose from. You can add your own audio file to your intro video. You can also preview before downloading it.
Visit: FileExpress
IntroCave
IntroCave allows you to choose a simple video, then, at that point, add awesome content, and afterward render it as per your download needs. This device permits you to utilize different resolution levels. It's the best intro maker for YouTube.
The eye-catching particle effects you can use when creating videos are the most eye-catching because these designs are easy to create in a matter of minutes.
Visit: IntroCave
Intro Champ
The most intriguing thing about utilizing Intro Champ is that you can alter this tool to meet your creation needs surprisingly fast. With Intro Champ, you can make convincing videos with YouTube video intro maker.
The video is mainly used for the logo introductions, and every video can be tweaked by the particular logo design you need to incorporate. The different top-quality screensavers you can utilize will assist you with making captivating videos anyplace.
Visit: Intro Champ
Videobolt
Videobolt permits you to make a video in almost no time. The site is named for its focus on making fascinating video effects promptly.
Which settles on it an unexpected decision for some limited time occasions you should mastermind. The video is edited as you would prefer to set up the arrangement.
Visit: Videobolt
MakeWebVideo
MakeWebVideo is another significant viewing choice. For the most part, creators make commercial videos and commentary videos, even though you can utilize this tool to create short introduction videos for your YouTube videos. All the content in this tool is displayed on the Internet, so you don't have to download anything you would prefer not to use for work.
A few templates are incorporated, although a portion of the more alluring templates includes whiteboards and logo animation solutions. With MakeWebVideo, you can make a YouTube intro, utilize any logo style you have, including text styles.
Visit: MakeWebVideo
Moovly
Moovly's web-based editing tools are ideal for some things that may be valuable to you. Moovly assists you with making awesome videos through the built-in drag-and-drop interface and keeps everything working. The best free YouTube intro maker.
The UI improves admittance to your work and permits you to get ready new videos for various purposes. This content is reasonable for basic intro videos; however, you can likewise utilize Moovly to make explainers, guides, and instructional videos. Each of these categories contains custom templates, giving you additional control over the content used.
Visit: Moovly
Explee
Explee's fascinating design to assist individuals with making interesting videos settles an extraordinary decision for your tool needs. Explee gives a total format that permits you to create videos in minutes, including instructional videos and so on. Nonetheless, the best thing about Explee is that the tool mainly centers around amazing custom videos, incorporating recordings with interesting illustrations.
When creating compelling videos, Explee prides itself on being a tool that emphasizes the art of surprise. This is the best YouTube intro creator
Visit: Explee
Also see: 8 Best Facebook Private Video Downloader Websites – TechWhoop