Pokémon! We all have had our share memories of our favorite Pokemon games since childhood, but some of us still can't get enough. The franchise has also translated into a trading card game, and you might be wondering if you could put together your cards. Well, you can! There are several apps and online services that allow you to create your Pokemon cards.
Top 12 Pokemon Card Makers
You can use our imagination and come up with new and weirdly entertaining characters for your card game. So I compiled a list of the best ones for you. These are the 5 best Pokemon card makers available on the internet right now.
See also: 10 Top AR Games like Pokemon Go in 2023
ThatPokemon
ThatPokemon is one of the top Pokemon Card Makers available in the cyberspace today. It has undoubtedly made the task of designing apt Pokemon card makers easy for game freaks. All you need to do is select custom designs for your card as per your requirements, adjust the size of the card, and save.
You can also preview the card while making selections so you can edit the things you don't like. It is a decent website that has all the options you require to make custom cards. Check out the link below and generate your Pokemon card now!
Pokécharms
If you are looking for a site that doesn't keep bothering you with periodic advertisements and pop-ups, then Kudos, your quest has come to an end. Pokécharms allows the users to create custom cards and make cartoons by offering them a variety of selections that best suits their taste.
You can generate your desired custom card in a jiffy with a few clicks. Share the card with your kith and kins and make a Pokemon card library of your own. However, the only shortcoming of this site is that after generating a Pokemon card, a watermark occurs that can not be eliminated.
Visit: Pokécharms
Imgflip
This is one of the best Pokemon Card Maker sites that can generate cards for free to share with your friends. It pretty much lets you do everything that other sites allow you to do. Moreover, it has a fantastic feature of viewing trending Pokemon memes, so you can have a good laugh.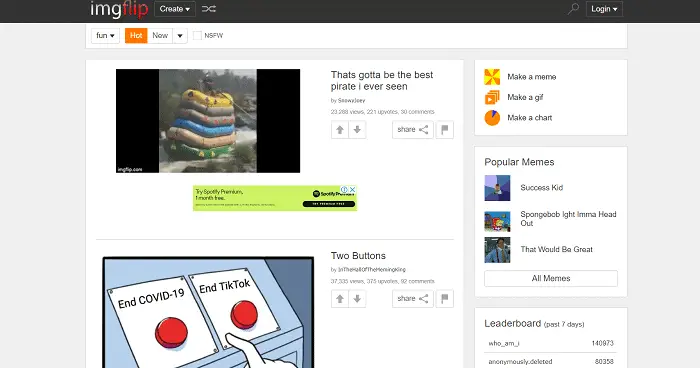 There are two versions a viable for this site- free and a paid version. If you don't want to have watermarks present in your cards and block annoying ads, you can avail of the benefit by paying a small sum of money. However, if you are completely fine with the watermarks, you can pursue the free version.
Visit: Imgflip
See Also: Top 14 Websites for Safe & Free GameCube ROMs Download
Pokestadium
This website is very famous among users for its top-notch design yet easy to operate interface. You can get the best experience of generating your favorite Pokemon cards for free. There are no annoying ads and pop-ups to bother you.
Add the desired Pokemon to the card and fill in the required information. When you are done, click on the "Generate" button that appears on the screen. You can download and get ready to brag about your collection.
Visit: Pokestadium
Magic Card Maker
This website is not as modern as other websites as its quite old. However, it allows the game freaks to generate realistic custom cards for free. You are free to choose the color of the card as per your wants and fill in the other details.
The interface is quite simple to operate, and newbies would love to generate cards here. You can include artifacts in your custom card using your imaginative skills. Click the link below to design your Pokemon card now!
Visit: Magic Card Maker
Pokecard.net
Pokecard is one of the straightforward online Pokemon card makers out there. It gives you a form to fill out by your card, and it shows you a preview on the right-hand side corner. You enter the name of your Pokémon, enter its type, specify a high power (HP), select its stage among basic, stage 1 and stage 2, and more.
You can't see the things change in the preview live, as you enter the info on the form. The changes will be visible once you hit the 'Generate" button. If you like what you've made and how it came out, then you can click on 'Save' button. It will then prompt you to log in to save your cards.
The best part about this website is that it doesn't add any watermarks to your card and mess it up. It leaves it looking clean, for free! SO try this one out, it's excellent. Go through below mentioned video tutorial on how to use Pokecard to create Pokemon cards for free:
See Also: 5 Best GameCube Emulators for Windows (Updated 2023)
Pokémon Card Maker 2
This is from GitHub repository, so you'll have some nice features to see. Pokémon Card Maker 2 gives you an option to select the Pokémon type for each stage, select the image dimensions, add the predecessor name if it is an evolution card, disable evolution if you want to, specify the number of power-ups and a lot more.
All the changes that you do on the right are updated live on the preview shown on the left-hand side. There's just one thing to note here. You cannot upload the images from your native storage. You'll have to provide the URLs of the images available online.
That won't be an issue I assume because there isn't any shortage of high-resolution Pokémon images on the Internet!
This creator tool allows you even to rotate your image and set X, Y scales to it. It is one of the advanced tool kits out there regarding Pokemon card makers.
Pokemoncardmaker
This card maker is one of the most feature-rich ones out there on the web. But beware, Pokemoncardmaker is crowded with ads. As long as the interface cleanliness does not bother you, you'll be just fine with this one.
You need to click on the card to edit the type of card. You can download the preset skins for it as well. Note that you will have to install flash player on your browser to access the card creator and editor. This is also a live editor, meaning that it will show you the changes in the final result, as you do it on the editor side.
You can even edit the symbol on your card, or add your symbol with custom colour and required text. Once you're done with editing, just click on the save button to convert it into a jpg format file.
You can download it onto your computer or print it using the embedded button on the creation tool itself. The cartoon buttons and the smooth interface make it a fun toolkit to use, just don't mind the ads too much.
Mypokecard
This is another clean Pokémon card maker online. Mypokecard doesn't have too far obtrusive as and does not require you to enable a flash player to load up the editor. The editor updates live, as you do changes on the details.
That details form on the right gives you options to upload an image from your local store directly. You can select the series from the drop-down menu, like 1st generation, HeartGold and SoulSilver, Diamond and Pearl, Black and white, and a couple more of them. You can set the evolution stages and the hit points as well.
Once you're done working on your Pokémon card, you can click on 'Publish my card' button down below. And you're good to go.
Visit: Mypokecard
Pokemoncardapp
This is a website of the iOS app called by the name Pokémon card app. But you need not have an iOS device to download this app on; you can do it online. The editor is very clean and straightforward. You enter the Pokémon name and other details. You can also upload an image from your system to the card you're making.
It doesn't seem to be a live updatable editor, so the card you see will only update after you complete the captcha down below and hit the Make My Pokémon button. The preview is the image itself, which you can save to your system by simply right-clicking on it and select ''Save image as'' option.
You can see what other people have been doing on this editor. You can log in with your Facebook account and like other people's work. One can save them too, just don't upload them under your name, as your IP address isn't something that they cannot track. Have fun with your Pokemon card makers & share them with your friends.
Visit: Pokémon card app
CardMaker for Pokemon
Release your innovativeness with Pokemon Card Maker, Construct your fantasy deck. Have a fabulous time learning and making your very own Pokemon card game. With this android application, you can plan and prepare your Pokemon exchanging cards rapidly and effectively, utilizing basic popup and menu, and offer your card with companions or informal community. I genuinely like this site since you can make any card you want. A stunning card producer. The quality and designs are amazing.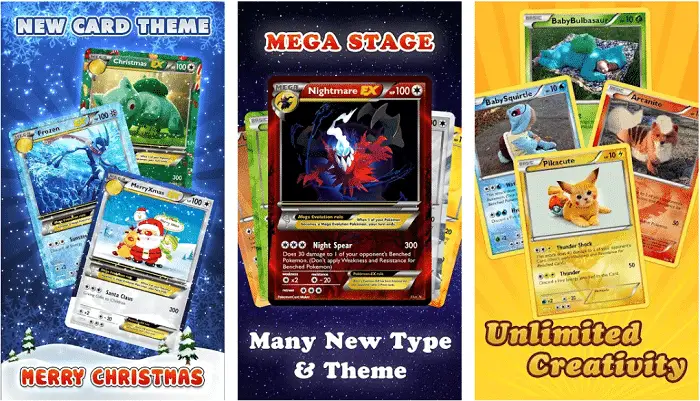 I was glancing through the in-game display (which is a decent include). The interface makes it easy to figure out how to structure your Pokemon cards. You can assemble your deck out of differed cards with new capacities. You can now bolster different phase of Pokemon card (essential stage card, second stage card, EX card… ). It has many free card topics to pick from. You can test the premium card and more cards in the following update. You can use your spare card ever prepared to refresh your cards.
Download: Card Maker for Pokemon
Poke Pics
Poke Pics is an iOS app where you can customize your own Pokemon cards. It is super easy to customize, and also you can directly share the cards to your social media using the app. You can select any photo from your photo library. You can also swap the card type. They also allow you to edit the card's name, description, stats, attacks, and more. Moreover, you can save your card in the gallery and add it to the deck later on. It is genuinely a cool app for iOS users interested in making their own customized Pokemon cards.
This is a pretty good app, especially considering that it's free, but there are issues with it nonetheless. There are no stage 1 or 2 cards, which makes it a problem, but we are sure it will be fixed in the updates to follow. The retreat cost and move energy things only have till two energy levels on them; if upgraded, it can add more authenticity to the cards. It doesn't have poke-bodies and abilities in the card, which isn't entirely a necessity but will make the cards look more authentic. They don't have the option to sort the cards using Pokedex #, which is a letdown, but still, the app is highly functional even without these suggestions. The app will give you a great experience of creating Pokemon cards and playing them
Download: Poke Pics
See Also: 4 Best Online YuGiOh Card Maker Tools | Updated
Conclusion
Now, make custom cards effortlessly through these Pokemon Card Makers. Choose your favorite character, design, animate and adjust size as per your wish. Generate Pokemon Custom Cards and share them with your friends. Make an exclusive collection of Pokemon Cards through these tools now!