The world of trading card games is enormous. You may be a fan and loyal follower of one of these and might be looking to set up your custom deck of cards. We all are big anime fans. The show is popular in Japanese language, but it never stopped us from watching dubbed anime shows or online anime cartoons.
If you call yourself a YuGiOh master and want to create your exclusive cards, there are magical online Yugioh Card Maker tools to help you with that.
Here are the 4 best online Yugioh Card Maker tools for satisfying your inner anime nerd. And don't forget to check out our top picks for free online Pokemon Card Makers as well!
Top 4 YuGiOh Card Maker Tools
Here is the list of Top 4 Yugioh Card Maker tool.
yugiohcardmaker
This is pretty much the go to a website for all your YuGiOh creation needs. It does not involve you downloading any third party software or any toolkits to do the job, but you get things done directly in the baked in the online editor.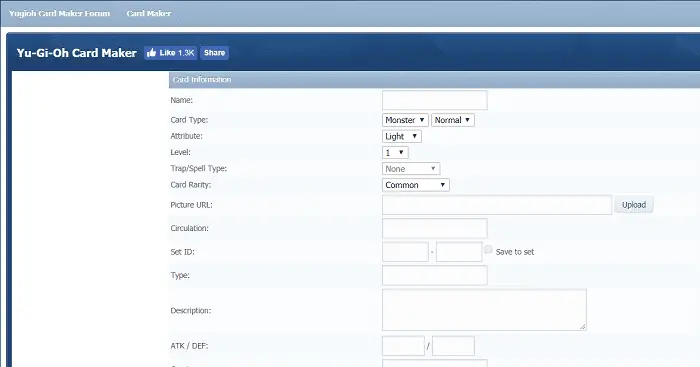 If you wish to use the forums, you will have to register. But if not, you can start creating your card straight away. It gives you menus to provide card info on the left, with a preview of your card to the right. You get to enter a name, card type, select an attribute, level of the card, etc.
You can't upload pictures from your native device storage it seems. It asks for the URL of the image to put on your card. Isn't that a cool feature of a Yugioh Card Maker?
Just search for the one you want online, and paste its address there. You can add a description and a year of creation as well.
There is an option at the end which lets you specify your custom serial number if that fits your fancy. Or you can click on the 'random' button and let the generator decide on it.
Once you finish with it, click on the generate button. You're all done! Just right-click on it and download it as an image. If you log in, you can save your card on the website and let others access it, if you wish. This way, you can get it from there later if you want.
Visit: yugiohcardmaker
Yugico
This website also offers you an online YuGiOh Card creator. It asks for the card details on your card on the left side and shows you a review on its right side.
You enter the card title, card text, creature rarity and other things. You can upload a picture directly from your native computer storage to this website, no need to scavenge the internet for an interesting image.
There is a serial number option as well, and you can generate random numbers too. But you must be aware of one thing; you cannot save your card directly. You can preview it, but you need to be logged in to save your custom card.
So if you don't want the hassle of registering yourself, go with the option above. But if you don't mind a one-time registry, then the card maker on this website will serve you well.
One thing to note is that the server seems to be down or something from a few days. I tried to access a cached version of the same, which worked for a while. Wait for a while until the guys figure this stuff out.
Visit: Yugico
Magic Set Editor
This is a magic card generator, but feature a template for YuGiOh cards as well. This is a program that you need to install on your system. It's called as MSE2 for short, as it happens to be the second version.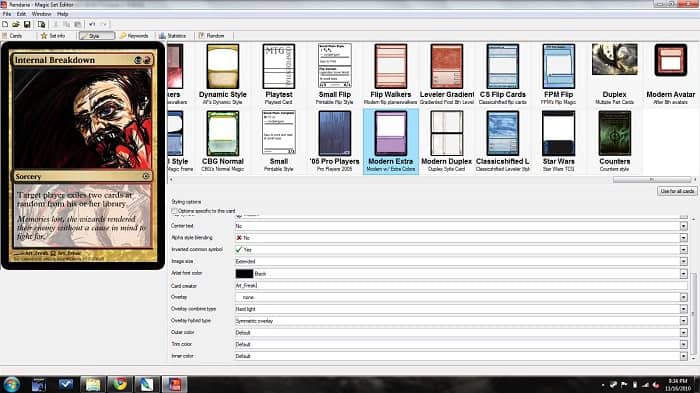 Some elements of the program require an internet connection, like downloading new templates and creating new feature sets. But some everyday things like card details and images don't need to be connected. The advantage is that you can do these things on the go, while you're away from an internet source.
Since we can download additional effects and templates as needed, this is pretty much the same as a native online editor. It just requires you to download the software, of count 80 MB size, onto your system and install it. Most people won't care because installing it doesn't take very long, and it's a one-time thing anyway.
Visit: Magic Set Editor
YuGiOh Orica Maker 3.0
This is something that I found while I was searching for creator tools, on YouTube. There's this guy called kungfumaster12, and he has made this software, with a download link in his description.
This is the video for you to check out:
The software is pretty good and seemingly easy to use. You can directly drag and drop the image you want to put on your card, set the rank, set the character level ranging from 1 to 12. To remove a parameter that you added to the card, just click on it and it will be removed.
You can set the border color, and there is also an option to print the card directly. You can save it to your system instantly. Now granted, there are a few bugs like the print option did not work at all for me, and the app crashed 3 out of 5 times I tried to launch it. But I think the sped of this interface, and the ease of use beats all these shortcomings. Once it somehow loaded up, it did not force close midway.
So it's reliable. You can do some pretty cool things like blurring the background or change the transparency of the image, which you cannot do on a website-based creator. So this Yugioh Card Maker has its perks. Check out that video if you want to try it out for yourself and create an awesome card using Yugioh Card Maker.
See Also: 11 Best Online Free Flashcards Maker Services Of 2023
FAQs
Can I share the Yu-Gi-Oh Cards I create with others?
Yes, you can share the Yu-Gi-Oh! Cards you create with others. Many card makers allow you to save and export your custom cards as images, which you can then share on social media, forums, or with friends. It's a great way to showcase creativity and share your custom card designs with the Yu-Gi-Oh! Community.
Are there any restrictions on the designs I can create with a Yu-Gi-Oh Card maker?
While you have creative freedom when using a Yu-Gi-Oh! Card makers, it's important to respect copyright and intellectual property laws. Avoid using copyrighted images or infringing on others' designs. Additionally, ensure that the card's effects and attributes adhere to the rules and mechanics of the Yu-Gi-Oh! Trading card game.
Can I print the Yu-Gi-Oh Cards I make with a card maker?
Yes, many Yu-Gi-Oh! Card makers allow you to print the cards you create. Once you have finalized the design, you can save the card as an image file and print it using a color printer. Printing the cards gives you physical copies of your custom designs, making them more tangible and collectible.
Are there any mobile apps for creating Yu-Gi-Oh Cards?
Yes, there are mobile apps available for creating Yu-Gi-Oh! Cards. These apps provide similar functionality to online card makers, allowing you to design and customize cards directly on your mobile device. Search for Yu-Gi-Oh! card maker in your device's app store to find options.
Can I sell or monetize the Yu-Gi-Oh Cards I create with a card maker?
Generally, it is not advisable to sell or monetize the Yu-Gi-Oh! Cards you create with a card maker. Selling custom Yu-Gi-Oh! Cards may infringe on copyright laws and the intellectual property of the original creators. Using cardmakers for personal enjoyment and creativity rather than commercial purposes is best.
Conclusion
And this was our list of Top 4 YuGiOh Card Maker Tools. We hope you will be benefited from them. Let us know down in the comments which one is your favorite.