Steganography software lets you secure data of any type viz. textual, video, audio, etc. in the form of image files and other file formats as well. The Steganography software is available to download for Windows without putting a load on your pockets. This software can hide text files into images, files of different formats like ZIP, DOCX, XLSX, RAR, etc. The various image formats include JPG, GIF, PNG, BMP, etc. You can also encrypt your information in MP3, AVI, WAV, etc. formats.
See Also:- 10 Best DXF File Viewer Tools for Windows – TechWhoop
Top 15 Steganography Software
So here are 15 best free Steganography software for Windows.
Hide'N'Send
Hide'N'Send is considered as one of the most efficient Steganography software in the market. This app encrypts your data as an Image, especially in JPEG format only. The F5 steganography algorithm is utilized to encrypt the files and hide the data.
The Least Significant Bit (LSB) algorithm is used to hide the important data. This software hides the data as image formats instead of encrypting it as a file structure
Visit: Hide'N'Send 
OpenStego
Want to hide your data as an image and also watermark it to give your data uniqueness? Then OpenStego is the software you that can help encrypt your data with a watermark. OpenStego was developed using Java and is an open-source freeware for steganography. This app's top priority is concealing the data and steganography.
Users can Steganograph their image file, irrespective of the format like JPEG, GIF, PNG, BMP, JPG, etc. very efficiently using this software. The result of this software is however, only a PNG file. This freeware also provides you to put invisible watermarks on your encrypted images. This helps prevent unauthorized duplication of data.
Visit: OpenStego
See also: 8 Simple Tools To Convert GIF to JPG 
SSuite Piscel
SSuite Piscel is the leading product from the SSuite office software. This steganography software is portable and the best of its kind. SSuite Piscel is also a standalone application. You don't even need to run into the hassle of installing it. This freeware helps you encrypt data using pictures; no password is required.
The encryption data steps are also simple, just upload the image, and the relevant text and press encrypt. That's it! Piscel uses image formats like WMF, BMP, JPEG, and JPG. If you need to decrypt an image, upload it on the same software, and the text editor will reveal the hidden text.
Visit: SSuite Piscel 
RSteg
Another robust Steganography software developed by Java is RSteg. Make sure to pre-install Java on your Personal Computer before using this software. This is also a portable software, which implies that you don't need to install it. Simply run the software, and a pop-up screen will appear.
It uses a simple algorithm to encrypt your photos. You only need an image, the text that will be encrypted on this image, and a password that will be used to decrypt the image. The final result of encryption is a PNG file. To decrypt the image, just load it on this Steganography tool and input the password, and voila! You have your image decrypted. 
Visit: RSteg 
See also: How to Password Protect a Word Document
Crypture
Crypture is a very light Steganography software, which is only 6KB in size. It is extremely portable, and being of such low size; you don't even need to install it into your computer. It encrypts your important data utilizing BMP format images.
The only requirement to use this steganography software is that the image file must be eight times bigger than the information you want to encrypt.
Visit: Crypture 
Camouflage
Camouflage is a Photoshop application for image editors that provide you with custom camouflage patterns so that you can add specialized effects to your images. It is helping hand for the military operations as specialists on the ground find how camouflage pattern will merge with a specific environment.
Your hands are free to take a chance on a broad range of patterns suitable for your requirements. You have the option to enhance the base model to fit into a diverse environment and add many colors to the pattern before integrating it into your pictures.
Visit: Camouflage
Our Secret
It is a lightweight and reliable software that proves to be handy when you wish to hide your secret information into other files. It is a brilliant software for securing private data and files. Also, it gives you the power to defend any file or message in any file format. You are facilitated with the hand to set a password and encrypt your file to a new location with a different name using the "Hide" button.
You must choose the file, enter the password and press the "Unhide" button. Moreover, you can view the messages and save the information within the interface. It is available at no extra cost, and it works on low hardware system resources and finishes the tasks in a flick.
Visit: Our Secret
Steganofile
This beast lets you lock up your confidential files in one or more host files. It allows you encode and decode with the buttons for same on the interface. Also, it has a password choice for extra security for in case you need to hide essential data in one or more hosts and secure it from an unauthorized user.
Not to mention, it hands you the option to select different hosts and then spread the source file into various sections and makes it arduous to pack it into a single file without the program.
Visit: Steganofile
See also: 9 Best Password Decoder Tools 
SteganPEG
SteganPEG is a trustful software that can encrypt important information inside JPEG files. It supports a clean and straightforward interface to embed images into a working environment with the built-in browser option.
The software shows the space occupied by hidden files for you to calculate space for storing more files. You can attach files to JPEG image with password protection securely. The files look like standard image after performing the embedding process.
See also: – 10 Best Working Ad Blocker Software for Windows – TechWhoop
Visit: SteganPEG
SteganographX Plus
It is one of the best programs for users to hide a text inside a bitmap picture. The text remains invisible for nobody to notice the changes to the bitmap in BMP format with 16, 24 or 32-bit color. It is only 496 KB in ZIP format.
It is a user-friendly program, and it is effortless to hide your confidential files, images, and hidden messages. Its simple interface makes it easier to understand and easy to use. You just need to insert your text and press encrypt to protect your text or open the encrypted photo. Similarly, you can decrypt the files to access your hidden files.
Visit: SteganographX Plus
Trojan
It is a free steganography software that lets you hide secret message or file in standard image formats. The input file can be of any of the following formats: JPG, BMP, GIF, TIF, PNG, MNG, PCS or TGA.
It supports output files in the following formats: PNG, BMP, and TIF. The program has a large window with a clear structure and several options. You can save the encrypted image to file by creating its name, format and destination folder. Overall, it performs its jobs well with a fast and straightforward method for encryption of files.
Visit: Trojan
Anubis
It is a lightweight and reliable steganography software that facilitates the user to hide and encrypt any critical information. Similarly, it lets your data masquerade as a regular file.
Also, It provides an extra security layer over your essential files. You can transport sensitive information to your colleagues and friends after encrypting it in different file formats. This user-friendly interface has a main window with all the essential options.
Visit: Anubis
See also: 7 Best Free Ceaser Cipher Decoder  
Xiao Steganography
It is a free Steganography Software for hiding secret files in BMP images or WAV format with encryption support. It provides access to only a few configuration settings. You just have to add files to the encryption list with the help of predefined buttons. One drawback here is that you don't have the drag and drop option.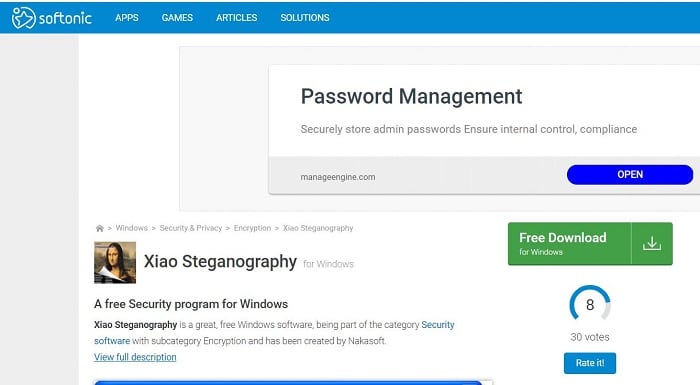 To proceed further, you must select between multiple algorithms of encryption viz. DES, RC2, DES or MD5 and then assign a password. After choosing the destination, you enter the file name.
Visit: Xiao Steganography
Image Steganography
It is a free and simple Steganography Software for hiding sensitive files inside images. This software has few handy easy to use options for locking up sensitive data.
You will have to drag and drop feature to do this. Also, ycan encrypt the file with a password and by clicking "Encrypt" checkbox. Not to mention, you can decode this program by clicking the "Decode" button.
Visit: Image Steganography
See also: 10 Best Random Password Generators
OpenPuff
This Steganography Software is available at no extra cost for you to secure your confidential data in image files. It is available in ZIP format.
You can hide up to 256 bytes of data in BMP file. You can use the "Hide Data" button and save the output file in the desired location.
Visit: OpenPuff
Conclusion
This is our list of 15 Best Free Steganography Software for Windows. We hope you liked our collection. In case, you have any doubts or questions, feel free to shoot them down in the comments.
See also: The 5 Best Article Writing Software for Aspired Writers