Tumblr is a social networking website founded by David Karp in 2007. It is basically a micro-blogging website where users can post any form of multimedia files, but in short- form blog. To make a fantastic entry to this social platform you can try using Tumblr Username Generator to generate a cool username identity of yours.
Like any other social networking site, users can follow other users and their blogs on Tumblr. Coming to the security system of an individual user, one can keep their account private or public, depending on their preferences.
By now, Tumblr has attracted more than 300 million users and the figure is growing day by day. Hence from this, we can deduce the fact that it's not an easy task create an original username for creating a new account. It would be very hectic in creating a unique username and some people face a lot of trouble in creating one. Therefore, many websites were developed that came into action in generating usernames for you.
See Also: How to Login into Comcast Xfinity Router in 3 Easy Steps
The UI is pretty simple and customizable by the user, and it provides its users with features like a dashboard, queue, tags, and HTML editing. The panel allows you to perform all the essential functions that any other social media lets you do like uploading your media file, sharing a link, comment, like, reblog, etc.
And also you can make your post to spread over several hours or days through the queue feature. Tags help in finding any particular post or blog. Whereas, HTML coding allow its users to edit and make changes to the actual HTML coding for setting the theme of their blogs. Tumblr also supports instant messaging among users.
List of Best Tumblr Username Generator
We have further, cared a bit for you and tried to dig out some of the best Tumblr username generator tools which can help you in creating your Tumblr username automatically with minimal entry fields.
SpinXO
SpinXO can generate your Tumblr username by combining your name, nickname, excellent unique keywords provided by you. There is a spin button, on clicking that for a single time; it will produce some random usernames.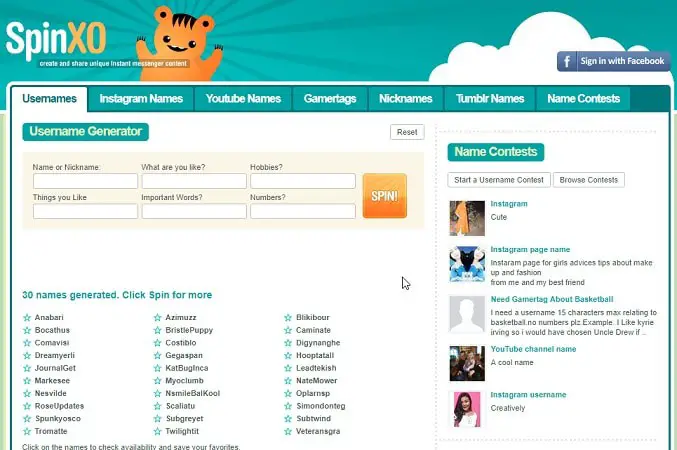 And the best part is that you can click as many times you want and it will generate the same amount of usernames against each click on that spin button.
You can also give your nature, character, hobbies or any lucky number so that the generated username includes those keywords which will be easy to remember for any user.
If any user handles multiple social media account, then he/she can get into their official website to generate some cool and unique usernames for their Twitter, Facebook, YouTube, or any other accounts.
Visit: SpinXO 
Mookychick
Mookychick is another Tumblr username generator that hits the list. The website is designed with non-customizable and straightforward UI. Despite being a convenient tool, Mookychick does not allow you to give any input that would sum up together in the generated random username.
The only value that you can provide is the total number of usernames you want for a single click on the button. But, the maximum number of usernames it can generate at a single go is 20, keeping the lowest as 1.
So, if you are the one who doesn't care about selecting any random name or are too lazy to fill the entries, then you must visit their website.
Visit: Mookychick 
Cool Tumblr Usernames
This Tumblr Username Generator website is quite organized and has got a reputation for generating some random but appropriate Tumblr usernames. Cool Tumblr Usernames offers you only two fields; enter any name or thing you like, and to choose the length of the string ranged up to less than or equal to 18.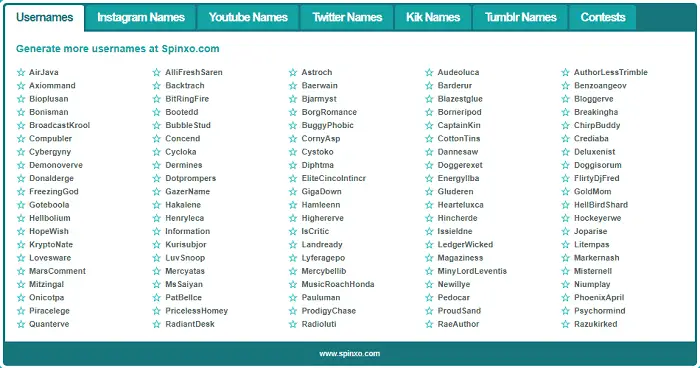 Once you fill up the entries, click on the Generate button and it will automatically produce a vast number of suggestions and if you want more opinions with the same entries then just click on the refresh button and it will produce some more, new, fresh suggestions.
You can also save any username among the suggested ones in the form of a collection named "My favorite usernames."
Visit: Cool Tumblr Usernames
Jimpix
Jimpix is another cool and comfortable to use Tumblr username generator. In this website, you will find a single field entry along with a drop-down list that includes the categories in which your entered string or value will produce the suggestions, and this is what makes it stand a bit out of the box in the list.
It is the most advanced Tumblr Username Generator website because it offers you with optional settings where you can set and specify the exact length, starting alphabet or randomness of the word that you have entered along with the category to generate a number of suggestions for your username.
See Also: [Updated] 7 Best Duplicate Content Checker Tools (2019)
With this Tumblr Username Generator website you, not only can get suggestions for your username but also for any other social networking site's username like Twitter, Facebook, etc. At the end, it's a reliable tumblr name generator tool.
Visit:  Jimpix 
Conclusion
All of these websites mentioned above works well and efficiently in their respective way. They are undoubtedly some of the best random Tumblr username generator tools.
Therefore, it entirely depends on the user, how and what they want to include in their username because some might care and prefer to cover some of their details or keywords those are close to the heart and on the contrary, some might not even bother or hesitate to add their personal information and use any random username just for the sake of using the services.
In either of the way, we hope that this article has helped you in overcoming your difficulties while creating a username manually.
See Also: 10 Websites to Generate Instagram Names | Instagram Name Generator