Comcast is a high-speed internet service provider for your business through a coaxial cable which carries television and internet signals. Comcast modem basically separates these two networks and provides you the real internet connection for your work. This modem can also connect directly to a single computer or a network router. Thus, you must know how to Login into Comcast Xfinity Router now!
Now, are you facing problems with Login? Well, no need to worry about it anymore because here's the solution. There are just three simple steps that you need to follow to do Comcast Xfinity Router login.
Steps to Login into Comcast Xfinity Router
Make sure you're connected to your network
Connect the Ethernet cable from your Comcast to the Ethernet port of your computer, or you can also use your in-home Wi-Fi network to perform comcast router login.
Go to your browser
Once you are connected to the internet, open your browser and type '192.168.100.1' in the address bar for xfinity modem login. If it fails to open, you can access the Admin tool at http://10.0.0.1. And if still doesn't open, take out the user manual which came along with your Comcast and checks for the IP address.
Finally Login
If the above steps worked for you, you would now be on the Login screen. It asks for your username and password. Every wireless gateway comes with a default username and password for the admin use.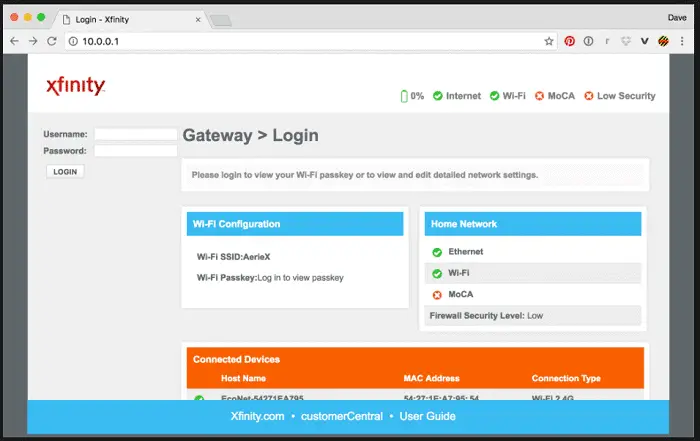 Your standard username is 'admin,' and your password is 'password.' If your username doesn't work try 'user' as your username. Once you've filled these details, click on the 'Login' button below.
Since your username and password which you just used were the default username and password. So, we highly recommend that change them in xfinity router settings accessing the Admin Tool once you do xfinity router setup to protect it from the other people.
See also: – 5 Best WiFi Password Decryptor Tools | Free Download
You can also change the Wireless Gateway's Default Security Mode according to your requirements.
By now you must be able to Login into Comcast Xfinity Router. I hope this article was useful to you.