We all use social media apps. Pretty much all of us have a presence on Facebook. Like it or not, you have to admit that some great stuff gets uploaded there by tons of users every second. If you found an excellent video over there and want to save it on your device, you may not be able to do that directly. If you are in your browser and are checking out some juicy content on Facebook that you want to download, you can make use of online Facebook Video Downloader for that.
These sites listed here are online tools that help you download videos from your Facebook wall or anywhere else that you stumbled upon. So if you are interested, go through this compiled list of 5 best online Facebook video downloaders, and get your favorite content offloaded from their servers on your machine's local storage, to enjoy offline. Let's get started.
Top 6 Facebook Video Downloader Tools
Here are some of the finest Facebook Downloader tools for your use.
This site is another great option for downloading videos from Facebook. The website interface is very intuitive and is advertisement free. The website offers you two downloads formats, HD quality and SD quality. You can even use their private Facebook video downloader to get videos that are not public.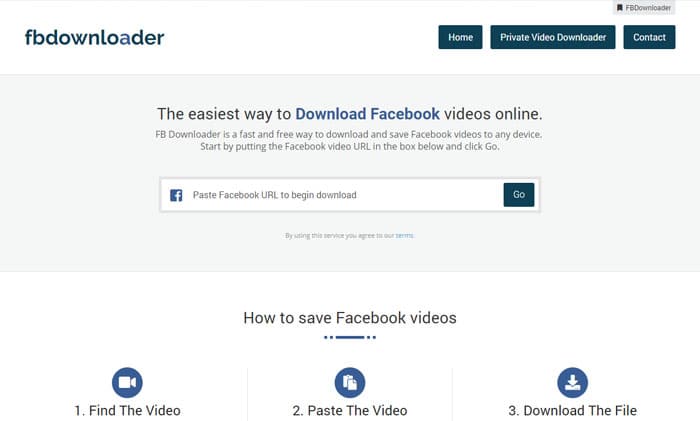 To get started paste the Facebook video link into the input box on the homepage. Tap the "Go" button and anticipate for the website to display the download options. Once the page reloads, click on the download button corresponding to the quality of the video that you'd like to save to your device.
I tried out several other websites, and some of them do not work as expected. But thankfully, this one does work pretty well. It is a simple downloader where you just have a text field. You need to paste the link of the Facebook video you want.
To get the link, just click on the video and it will start to play in a small pop up window in the Facebook tab. Right-click on that window and you will see an option like "show video URL." Click on it and copy the video URL from there, and paste it in this website. Simply click on the download button, and it will give you two options to download.
You get to download in High Definition or download in Standard Definition. Sizes of the file will obviously vary based on the option you choose, but downloads do begin immediately. That is great.
There are a few minor as, but that is ok. They need to eat too you know! You can check out this Facebook Video Downloader website for free and easy Facebook video downloads.
See Also: – How to Download Facebook Live Videos (Best Methods) – TechWhoop
This website is one of the more elegant ones I've seen out there. It has a colorful, but clean looking interface compared to many others of its kind. It works just like any other video downloaders.
You need to paste the video URL of the one you want to download from Facebook and select one of the three available options. Download as mp3, mp4 or mp4 HD. This Facebook Video Downloader works well enough, as expected. Downloads begin almost immediately as you hit one of the buttons. Check it out yourselves; it has worked every time I tried it.
See Also: –How to See Who Views Your Facebook Profile? (2017) – TechWhoop
This is a simple and straightforward website for downloading Facebook videos directly to your native computer's storage. This site has a ton of ads, and even onclick pop-up ads, so be aware of that. But it works as a universal content downloader. Along with Facebook videos, you can also use it to download YouTube videos too! Just paste the required video URL, the same drill.
There are no options here to select the quality though. It downloads every video in the maximum HD quality. If the video was unable to download for some reason, you could give them feedback on it, using the two thumbs icons that show up after you hit the download button.
It even gives you a QR code, if you are on your computer, but want to download that video to your phone. No need to send the video to your phone later on, just scan the QR code, and you will have the download link from this Facebook Video Downloader on your device. Pretty neat, right?!
Give this website a go; it might be exactly what you were looking for!
See Also: – 8 Best Podcast Downloader Tools (Free and Paid) – TechWhoop
This website is meant for any video that you want to download from the web. And yes, it works well for Facebook video downloads too. This site asks for the video URL, as usual. Paste the one you want to download and hit the download button.
It gives you two download options in clarity. Download in low quality and download in high quality. Both start off pretty fast, depending on your internet connection speed. It works reasonably well and serves our purpose of getting videos from Facebook onto our computer's hard drive.
Check out filevid and see how it suits you.
See Also: – 8 Best Interesting Sites Over the Web – TechWhoop
This is a familiar name to many of you I believe. Keepvid isa Facebook Video Downloader which gives you the freedom to download Facebook videos from your preferred URL that you posted, and provides downloads in 3 qualities. There is a 4K mode which is depicted as a pro mode.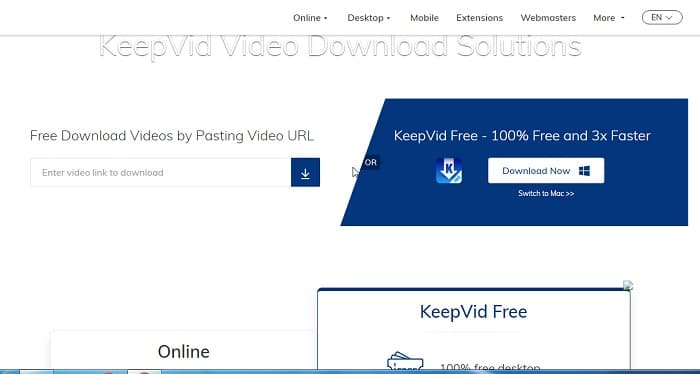 You need to download the paid extension to your system, which directly allows you to download videos without visiting the website every single time. Convenient I guess. But we don't like paying for stuff, so let us ignore that one.
The other two are the standard HD mode and the SD mode; all files will be saved in mp4 format by default. It's a pretty cool Facebook Video Downloader site for downloading Facebook videos for free. Check it out, you may prefer it to others, as I did.
Not just Facebook, you can download videos from a ton of other websites like YouTube, Hulu, Twitter, Vimeo and more. Happy downloading!