We all use social media apps. Pretty much all of us have a presence on Facebook. Like it or not, you have to admit that some great stuff gets uploaded there by tons of users every second. If you found an excellent video over there and want to save it on your device, you may not be able to do that directly. If you are in your browser and are checking out some juicy content on Facebook that you want to download, like live videos or post videos, then you can use the online Facebook Video Downloader for that. Not only this but through these Facebook video downloaders, you may also download any private videos with a simple effort.
Best Facebook Video Downloader
SaveFrom.net
Catchvideo.net
Converto.io
AmoyShare's Free YouTube Downloader
DistillVideo
ClipConverter.CC
Video Grabber
Savethevideo.net
These sites listed here are online tools that help you download videos from your Facebook wall or anywhere else that you stumbled upon. So if you are interested, go through this compiled list of the 5 best online Facebook video downloaders, and get your favorite content offloaded from their servers on your machine's local storage to enjoy offline. Let's get started.
See Also: How To Download Embedded Video Easily? (2023)
Top 19 Facebook Video Downloader Tools
Here are some of the finest Facebook Video Downloader tools for your use.
4Hub
4hub is one of the amazing Facebook Video Downloader Websites. Like other websites, it offers a simple, clean, straightforward interface, i.e., easing users' work.
If you wish to download a Facebook video through 4hub.net, then,
Copy the video URL.
Open the new tab, and search for 4hub.net/facebook-video-downloader.
A dialogue box will appear. Paste the URL in it.
Press Download. Select the format of your choice.
Visit: 4hub.net
GetfVid
GetfVid is another available online Facebook Video Downloader tool through which one can convert videos to audio. Also, the software/website features allow file download for free. One can use this website on mobile phones, tablets, and computers. The downloading procedure is as simple as copy and pasting.
The steps are as follows-
Enter the URL in the given text box.
And press the download button to download the video as per the format.
Visit: GetfVid
Free Make Video Downloader
Free Make Video Downloader is a software developed by Ellora Assets Corporation. The software is free to use for Windows users. However, a premium version must be purchased if the file is above three minutes.
This Facebook Video Downloader software downloads videos in different formats. Also, multiple output options are available, like AVI, WMV, MPG, and MP4.
Visit: Free Make Video Downloader
iTube
iTube is a platform created by Aimersoft, and it can download from the smallest to largest of videos in good quality. The developers claim that iTube can download videos from over ten thousand websites. Therefore, you can download your Facebook videos using this platform easily.
This downloader isn't a free platform, but you can easily use the free trial version to complete your work. Apart from downloading, it provides a few other features, such as video conversion, sharing, etc.
Visit: iTube
ClipGrab
You may be familiar with ClipGrab as it is a popular platform for downloading Youtube videos. But many don't know you can also download FB videos to iphone or Android using this downloader. You can easily download your Facebook video using its URL in any quality you like.
You can also download and convert the video in a format of your choice and save them to your device. This platform is available not only for Windows and Mac but also for Linux systems, so it is a platform that those with Linux should try. Also, it's completely free!
Visit: Clipgrab
Yoo Download
YooDownload is one of the many Facebook Video Downloader tools. Like other websites, it offers videos in different formats. Not only the website offers the free version, but also it is helpful when used for other social media sites.
The steps to download videos from YooDownload are as follows-
Copy the URL of the video you wish to download.
Return to the homepage of YooDownload and paste the link in the given URL box.
Then, a third page will open with a list of formats. Choose your format and download the video.
Visit: YooDownload
Save As
SaveAs is another Facebook Video Downloader website. The site works well both on Windows and Mac. Like other websites, the process of downloading is straightforward. Besides, the website offers a free version for easy accessibility to users.
2. Paste the URL on the homepage of SaveAs.
Click the Download button to save the video as per the choice of resolution. (High/Low)
Visit: SaveAs 
FDOWN
FBDOWN is a downloader developed especially for downloading Facebook videos. As it is a Facebook-centered platform, you can easily download your video using its link without downloading any other tool.
The best tool is also available as a Chrome extension to download your videos in just a couple of clicks. If you need a platform to download videos often, then the FBDOWN Chrome extension is surely what you should install, as it is easier to work with often.
This platform is also free and available easily.
Visit: Fdown
4K Video Downloader
If you need a tool that can download all kinds of videos in amazing quality, then a 4K downloader is a great option. This downloader specializes in customizing its videos so that you get better quality videos, and it is free!
Along with your normal videos, if you need to download 3D and 360-degree videos, you can also download them using this downloader. It is compatible with Windows, Mac, and even Ubuntu systems. So if you always want your videos to be of amazing quality and can never compromise, a 4K video downloader is the best option.
Visit: 4K Video Downloader
FB Downloader
This site is another great option for downloading videos from Facebook. The website interface is very intuitive and advertisement free. The website offers you two download formats: HD and SD. You can even use their private Facebook video downloader to get videos that are not public.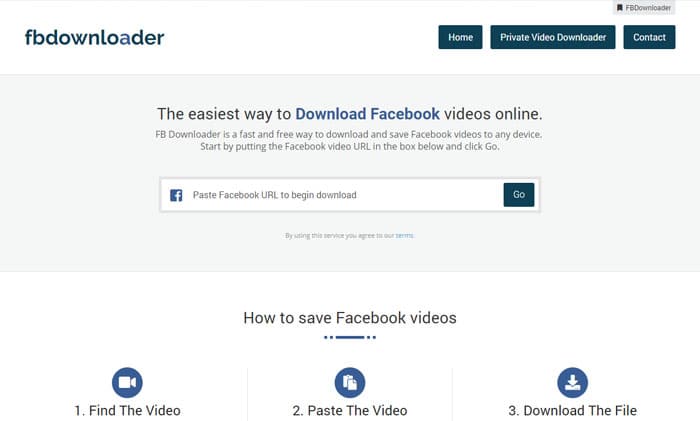 To get started, paste the Facebook video link into the input box on the homepage. Tap the "Go" button and anticipate the website to display the download options. Once the page reloads, click the download button corresponding to the video quality you want to save to your device.
Visit: FB Downloader 
Getfbstuff
I tried several other websites, some of which do not work as expected. But thankfully, this one does work pretty well. It is a simple downloader where you just have a text field. You need to paste the link to the Facebook video you want.
To get the link, just click on the video, and it will play in a small pop-up window in the Facebook tab. Right-click on that window to see an option like "show video URL." Click on it, copy the video URL, and paste it into this website. Simply click on the download button, which will give you two options.
You get to download in High Definition or download in Standard Definition. The file sizes will vary based on your chosen option, but downloads begin immediately. That is great.
There are a few minors as, but that is ok. They need to eat too, you know! You can check out this Facebook Video Downloader website for free and easy Facebook video downloads.
Visit: GetfbStuff 
See Also: – How to Download Facebook Live Videos (Best Methods) – TechWhoop
Downloadvideosfrom
This website is one of the more elegant ones I've seen. It has a colorful but clean-looking interface compared to many others. It works just like any other video downloader.
You need to paste the video URL of the one you want to download from Facebook and select one of the three available options. Download as mp3, mp4, or mp4 HD. This Facebook Video Downloader works well enough, as expected. Downloads begin almost immediately as you hit one of the buttons. Check it out yourselves; it has worked every time I tried it.
Visit : Downloadvideosfrom 
iDownloader
If you just want your videos in MP4 format and don't want to go through any complicated process, then iDownloader may be very useful.
Just pick the video you want to download, paste its link, and click the GO button, and you will get your video downloaded on your device easily. It's a free and simple platform if you don't like to complicate your downloading process.
Visit: iDownloader
FB Video Saver
FB Video Saver is again one of the specialized downloading tools for Facebook. If you are wondering how to download private Facebook videos, you can download them and live streaming videos using this platform.
All you need is the source code of the Facebook page and use it, and you can easily download the video of your choice. This Facebook story downloader is a quick, reliable, and completely free solution!
Visit: FB Video Saver
DownVids
This is a simple and straightforward Facebook ripper website for downloading Facebook videos directly to your native computer's storage. This site has a ton of ads and even click pop-up ads, so be aware of that.
But it works as a universal content downloader. Along with Facebook videos, you can also use it to download YouTube videos too! Just paste the required video URL and the same drill.
There are no options here to select the quality, though. It downloads every video in the maximum HD quality. If the video could not download, you could give them feedback using the two thumbs icons after you hit the download button.
It even gives you a QR code if you are on your computer but want to download that video to your phone. No need to send the video to your phone later; just scan the QR code, and you will have the download link from this Facebook Video Downloader on your device. Pretty neat, right?!
Give this Facebook Video Downloader website a go; it might be exactly what you were looking for!
Visit: DownVids 
See Also: How to See Who Views Your Facebook Profile? (2023)
FileVid
This website is meant for any video that you want to download from the web. And yes, it works well for Facebook video downloads too. This site asks for the video URL, as usual. Paste the one you want to download and hit the download button.
It gives you two download options in clarity. Download in low quality and download in high quality. Both start off pretty fast, depending on your internet connection speed. It works reasonably well and serves our purpose of getting videos from Facebook onto our computer's hard drive.
See Also: 6 Best YouTube Shorts Downloader In 4K Quality
Visit: FileVid
KeepVid
This is a familiar name to many of you, I believe. Keepvid is a Facebook Video Downloader that allows you to download Facebook videos to your iphone from your preferred URL that you posted, and it provides downloads in 3 qualities. There is a 4K mode which is depicted as a pro mode.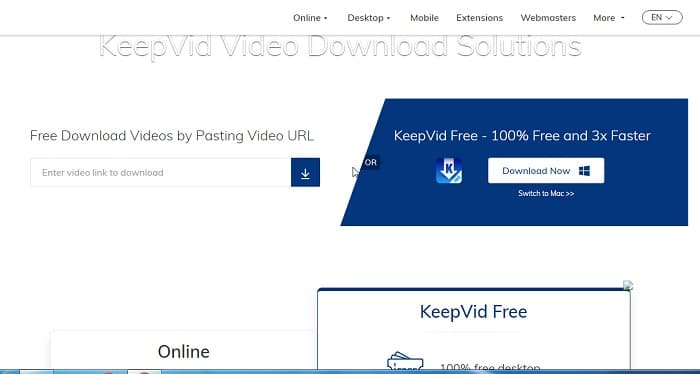 You need to download the paid extension to your system, which directly allows you to download videos without visiting the website every single time. Convenient, I guess. But we don't like paying for stuff, so let us ignore that.
The other two are the standard HD and SD modes; all files will be saved in mp4 format by default. It's a pretty cool Facebook Video Downloader site for downloading Facebook videos for free. Check it out; you may prefer it to others, as I did.
Not just Facebook, you can download videos from many other websites like YouTube, Hulu, Twitter, Vimeo, and more.
Visit: KeepVid 
See also: How to Download TikTok Videos on PC | Simple Guide 
Social Downloader Plus 
Social Downloader Plus is another tool for downloading Facebook videos. This app has a rating of only 3.7 stars out of 645 reviews, clearly stating how underrated this application is. This application is launched by "mobisailors." It does contain apps, but the best thing is that it has no premium plans.
This space only takes a meager amount of storage space, 6.3 MB. One bad side of this application is as this app does not contain any premium plan. You have to bear the advertisement anyway.
But this app is not intrusive to mess with the FB video download. One more special feature of this app is that it can download from Facebook, Instagram, and Twitter.
See Also: Close Facebook App Manager | Complete Guide 2023
The save video option on Facebook. 
It is an integrated or inbuilt tool Facebook has recently inserted into its system. Previously it used to download only photos from Facebook. But now, with the rise of popular memes and reel videos, there is an urge to download Facebook videos now and then.
This built-in save option in Facebook has replaced so many Facebook video downloaders. The perk of this inbuilt video downloader is that it has now successfully helped to save space in the mobile phone by replacing many facebook video download apps. The save video will download your video once pressed. 
See Also: How To Download Photos From Facebook [Complete Guide]
FAQs
How can I download from FB?
It is 2022, and there are always multiple choices available to do a thing. More ways have evolved to complete a single task. So it applies to Facebook video download online and offline. You can install tools like Getfbstuff, Social Downloader Plus, FBDOWN, Downloadvideosfrom, iDownloader, FB Downloader, and 4K Video Downloader.
What is the best Facebook download?
Many tools are available, but our preference is Social Downloader Plus. It is because it can work for other social media as well. Other than that, Getfbstuff, FBDOWN, Downloadvideosfrom, iDownloader, FB Downloader, and 4K Video Downloader are a few other apps to try.
Can you download posts from Facebook?
Yes, you can download posts from Facebook. Scroll through the Facebook wall. Choose the post you want to keep to yourself. Then click the image. Then opt for double click. Once you do, you will see the option of downloading. Press it, and it is now downloaded to your device. Other than that, you can use various free social download applications.
How to download private Facebook Videos?
Private video download can sometimes be a task. But when apps like snap save and FBDown are present, you will face no problem. Also, this app serves high-quality videos like 2k and 4k too. Just have a good internet connection. Please copy the link and paste it into the link box. Opt for download, and download the video on the device at any minute.
Conclusion
These were some of the amazing sites for Facebook Video Downloader. If you choose any, let us know about your great experiences. Happy downloading!
See Also: How To Convert YouTube Video To WAV File {Updated}