Social media has become a vital part of our lives. Everything that we do, social media becomes the place for telecasting it. Some people have this issue of forgetting passwords that they had set for their social media account. If you fall in this category, there is nothing to worry about, especially when it comes to Tumblr. Here we present with 3 simple ways on how to backup Tumblr blog.
Now here are the steps of one of the method on how to backup Tumblr blog:
Navigate to the "Settings" option available on your dashboard.
On the right side of the page, select the blog you intend to export.
Scroll down to the "Export" option, where you'll find a button labeled "Export" followed by your blog's name.
Sometimes, you may just want to stop using Tumblr. However, you might want to keep a copy of your previous work with you. In this case, you have to download all Tumblr posts to ensure they are stored safely. In such cases, backups come very handy, be it case of Tumblr or any other place. You should save your data and create back of data like servers, sites, music, and other important data.
See Also: 10 Best Free and Paid Backup Software for Mac in 2023
Simple Ways on How on Backup Tumblr Blog
It is reiterated that you do not need to spend time learning anything technical. The methods that have been put forward are extremely basic. Read through the article properly so that you do not make any mistakes. After you read the article properly, you will be able to decide the best method for you.
Method 1: Using WordPress to Backup Tumblr
If you are a writer on WordPress.com, you might want to take advantage of this method. You must be knowing that WordPress has taken over Tumblr. Therefore, it has become easier to export data there.
Get yourself an account on WordPress by signing up. It is extremely simple to get your account. Choose a username and enter your email to confirm your account. It is better that you choose a plan that does not involve any payments. It would be better that you take up such a thing before subscribing to any paid versions.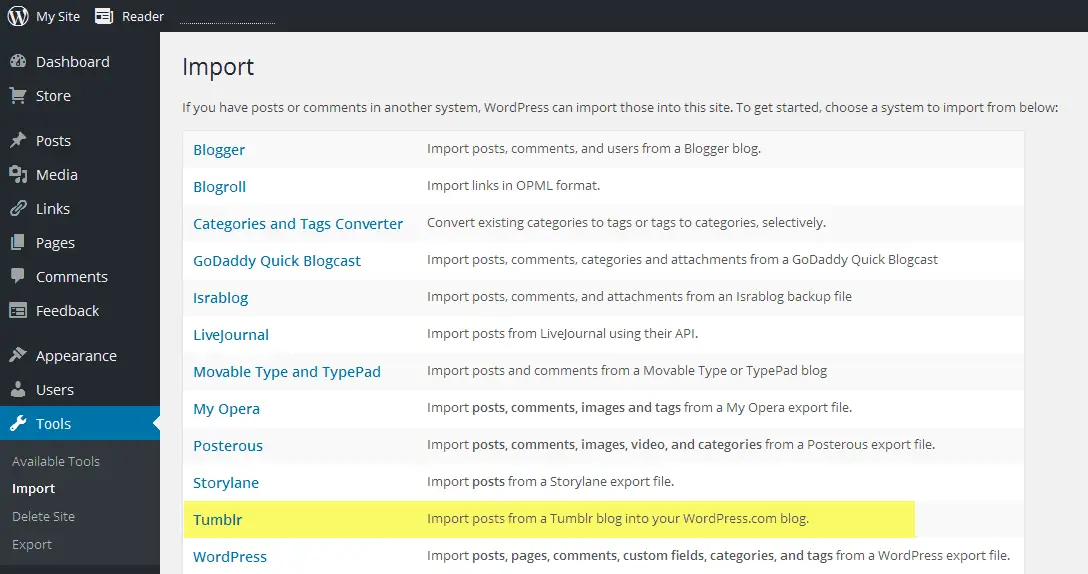 After the account creation is successful, you should head on to the admin section. There will be an option to import. Here will be a variety of platforms from where you can solve how to backup the Tumblr blog. In case you do not see Tumblr here, move to other importers.
Select Tumblr from the other options that pop up. Allowing Tumblr access will take you one step closer to getting the backup. Connecting to Tumblr would be the basis for you to proceed. Logging into Tumblr would be the first step for you to connect to Tumblr. You will then have to import the blog that you wish to back up. WordPress.com will then allow you to take the backup of your blogs from Tumblr.
See Also: Top 5 Tumblr Alternative Tools for 2023 | You Must Check Out!
Method 2: Using Export Tumblr
Another way on how to backup the Tumblr blog is by using export Tumblr. Many people are unaware that Tumblr has a feature that will help you to resolve how to download your Tumblr blog. Go through the method to understand how to backup a Tumblr blog.

The first thing is to head to the Settings option that is present on the dashboard. The right side of the page will ask you to choose the blog that you wish to export. Once you scroll down to Export, you will see the button of Export with the name of the blog that needs to be backed up. As soon as you click that, the backup will begin to process. The Download Backup button needs to be pressed, after which you will get a ZIP file of your blog's content.
Each blog would have to be extracted separately to access its content.
See also: Wondering How To Block Tags On Tumblr? Here's How
Method 3: Copy Paste Tumblr Blogs
If nothing works, you can copy and paste your content from the blog. This is the most traditional method that you can use. Additionally, copy-pasting does not require any technical knowledge. You also have the freedom to copy only what you want while leaving out what is useless to you.
The drawback of this traditional method is that it takes a lot of time. You will have to copy the content and then format the content. A word document or Notepad would be your place of storage.
Besides that, there is no proof that this content has already been posted on Tumblr. You might encounter some issues under this aspect. Therefore, keep this option as the last one on your checklist.
See also: How To Switch Primary Blog On Tumblr | Simple Steps
Conclusion
The methods above will help you to solve how to backup the Tumblr blog. As it is very hard to recover data that is once lost or deleted. You need to note that you do not need to obtain any technical knowledge. Following the steps in the prescribed order will be beneficial for you to backup your data.
As a WordPress user, you will have an advantage in knowing how to back up the Tumblr blog. Consider it as the easiest way to get your blogs in one place. You also have the freedom to post it on WordPress later on.
Copying and pasting should be your last resort as it compromises the authenticity of Tumblr. It is just plain content that you have in front of you. Any comments or likes would not be displayed. There is no point in only copying the content where you cannot flex about how well your post did!
See Also: Top 5 Free Writing Software of 2023 | Create Better Content Faster