The Internet is a source of personal exposure. In most situations online, we are supposed to enter our details to get our work done. But, how far are our details safe? Nobody can assure you the safety of your details, once you have entered and submitted online. Privacy is a significant concern when we are connected to a network. This article would guide you to find Random US Address Generator websites online.
We cannot predict if the website we are working on is a genuine one or a fraud one. To ensure privacy, we try to fake our details by providing a fake name, age, date of birth, phone number, address, etc. Faking a name or age is not a big deal. But, when it comes to addressing, we may not be as quick as faking a name. Because, addresses are more comprehensive concepts, where we may not be familiar with the streets and the areas that are interlinked. To help you provide a valid US identity with a valid address, random address generators are built.
Here are few websites, that help you in generating a fake address to hide your identity online. They are very simple to use and are available for free.
Top 7 Random US Address Generator
Fake Address Generator
Fake Address Generator is a simple address generator which works with just a click. You can customize the address as required, by specifying, gender, state, city, or zip code and click on 'Generate.' A more accurate address that meets the address image in your mind is displayed on the screen.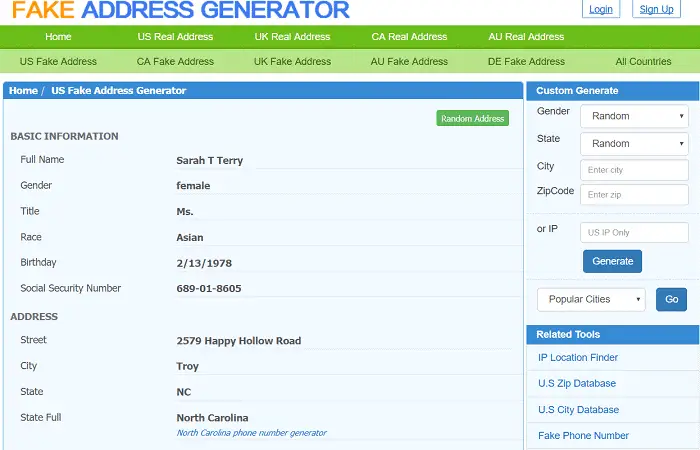 A more detailed information is presented that includes name, date of birth, social security number, height, weight, address, phone number and the much more personal information is displayed which helps you disguise as the generated person. The generator is also capable of creating addresses of 120+ countries with local information.
See Also: – 4 Best Fake Social Security Number Generator Tools – TechWhoop
RandomLists
RandomLists generate addresses of US states randomly. You can get any number of addresses at a time by specifying the quantity in the text box provided and click on refresh. The specified number of random addresses are generated on refresh.
RandomLists is not just a random address generator but also supports many other random generations. It works for names, adjectives, nouns, songs, animals, movies, countries and much more. It is simple and easy to use. Just a click to get what you want. These fake addresses are short and realistic.
Fake Person Generator
Fake Person Generator is a random address generator with 2 options. The first choice is to generate a complete random address by clicking on 'Refresh' and the second option is specifying your state, city or zip code and click on 'Generate' to get the results on your query.
The address includes street address, city, state, zip code, telephone number, mobile number, time zone, latitude and longitudinal details as well. The street names in the address may exist, but the house number may not exist, and it is fake. So, you do not have to worry about troubling some random person at some random address.
See Also: – 10 Best Random Address Generator Websites – TechWhoop
Fake Name Generator
Fake Name Generator is a fake identity generator that gives you a disguise of a US citizen. Just click on 'Generate' to get a random address and details of a fake individual. If you want to specify the desired outcome category, click on 'Advanced Options' to explore the advanced specification categories.
Now, click on 'Generate' and watch your query related data. To get back to the basic data, click on 'Basic options.' It is a simple and understandable website that fulfills your requirement of obtaining the fake details of a US identity.
See Also: – Top 10 Best Random Word Generator Websites – TechWhoop
Generate Data
Generate Data is a more specific random generator that follows a particular order to give a result that is unambiguous. Fill in some input fields like country name, column, and respective field category and select the export type as Excel, to obtain the results in Excel format.
If you are familiar with other export types like HTML, CSV, JSON, XML, etc., you choose one among them. As Excel is the most used format, for a clear result, select Excel and click on 'Generate.' An Excel file is downloaded with random fields that you have previously entered in the form.
See Also: – Top 10 Best Dummy Text Generator Websites – TechWhoop
Names.IGOPAYGO.com
Names.IGOPAYGO.com is a random information generator. You can generate random addresses by clicking on 'Create Profile' for a random address of a random identity. If you want to specify few attributes like gender, region, etc. you can enter such preferences in the fields and click on 'Create Profile.' The address generates with all personal details that meet your requirement. The generated addresses and information are fake but seem to be very realistic.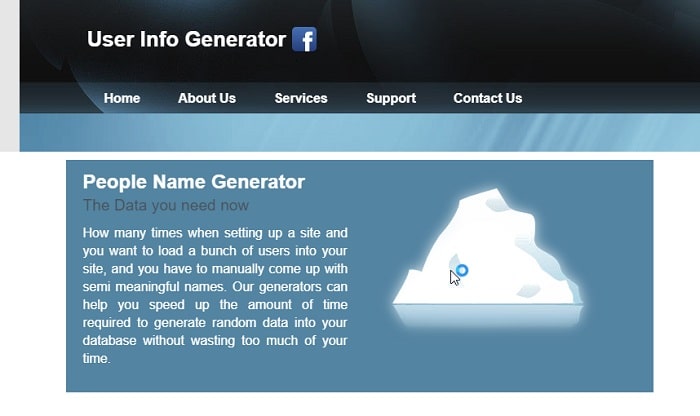 You can generate details of a specific location. Now, the details generated include name, gender, address, parents' details, birthday, credit card details, occupation, blood group, latitude and longitudinal details as well. Also, you can change your region by just dragging the pointer on the map which changes your latitude and longitudinal information.
Fakena
Fakena helps you create a fake identity by generating a random name, gender, date of birth, social security number, address, phone number, username, password and email address. Also, visit the home page and click on 'Generate Fake Name' and watch random details that you can display on your screen.
You can use these details while logging into any of the online websites or filling any survey forms. This site helps you hide your original identity and disguise as a US citizen with necessary information. Now you can go online without any fear of tracking or exposing to the Internet World.
See Also: – 8 Best Random Name Generator Websites – TechWhoop