Alright, now, let's be completely understandable. Everyone likes having the peace of mind of knowing without monitoring their online presence. I don't go on the deep dark web to make bombs, but I still don't want my ISP creeping on what I search on the internet. No one likes that crap! But do you know what the smart kids do? They use a VPN like this service for Chrome.
See Also: How to Set Up VPN on Mikrotik Router | Complete Guide
What is a VPN?
It's kind of like your private connection to a server by which you can browse for stuff without the prying eyes of your ISPs, or your creepy neighbor/hacker. If you don't have this kind of problem (you lucky prick!), online VPN helps you bypass that annoying ISP throttling, where the limit your data speeds. So if you are on the internet a lot, which you probably are, you should highly consider getting a Free VPN download service going.
Provided that you have the incredibly capable google chrome as your go-to browser, I have made a list of four of the best, Free VPN for Chrome that you can get yourself. These entries may also include a paid version with an optional upgrade if you want to step things up a notch.
See also: What is Split Tunneling VPN? | Completely Explained
Top 4 Free VPN for Chrome to Use in 2023
Google chrome is one of my favorites, mainly because of the vast choices of add-ons it has known as extensions. You get from adblockers to VPNs using directly downloadable code snippets that are seconds away from being set up. With that said, let's get on with it.
Here are the Top Free VPN for Chrome.
See Also : How to Remove Fuq.com Virus from Windows/Mac/Safari
DotVPN
DotVPN is one of those services where you don't go wrong with getting it. It provides excellent features such as unlimited locations switching and unlimited bandwidth. You can choose from a wide range of VPN connection points, all of which employ 4096-bit key encryption end-to-end.
With the Best Free VPN for Chrome, according to them, you can reduce your data usage, compress organic traffic, etc. You can even access exclusive VPN extension network-based on sites using the DotVPN service, mainly because of the implement Tor web functionality.
As I said, they do have a paid plan, which will cost about 6 USD per month. It might seem expensive/reasonable to you, depending on your internet usage. But the reason it made this list of Free VPN for Chrome is that you can also use it for free, with the premium services being available as a trial for one month.
DotVPN is a simple extension of Google Chrome VPN. Like I said earlier, Chrome can do a lot of awesome things just using seemingly innocent extensions.
Visit : DotVPN
See also: How to Cancel Avast VPN Trial | Cancel Avast Secure-line
TunnelBear
I don't know about you being an active YouTube viewer, but I am frankly tired of seeing TunnelBear ads everywhere. They're all over the place and are very popular. It turns out they're famous for the right reasons too!
TunnelBear was made most popular free VPN for chrome due to its security assurance. Even on public Wi-Fi, allowing you to open any blocked site and also, my favorite, eliminate data capping. Awesome! You can start using this service for free and access any blocked site to download some otherwise-expensive games illegally. Yay! (If you get caught pirating, you don't know this site).
See Also : How to Fix Google Chrome Error NET::ERR_CERT_INVALID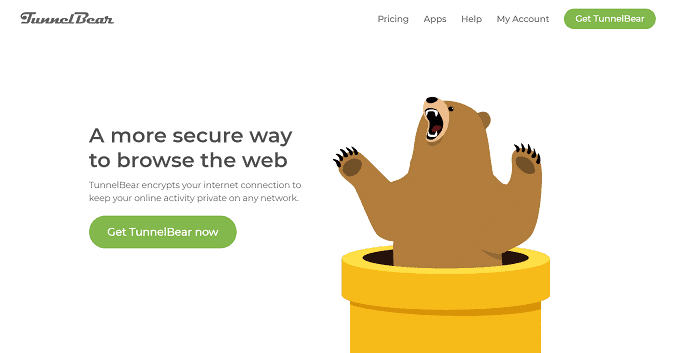 There is one catch, though. It is only free for the first 500 MB. After that, you will have to pay like 10 USD per month or 60 USD to get unlimited access for the whole year. That data limit will not suffice if you plan on doing massive downloads, or watch some TV shows online. But I guess it should work for a quick little chore of yours, which revolves around a blocked website. Their service works amazingly, and it is free for the right amount of your usage.
Visit : TunnelBear
See also: How To See Downloads In Chrome On Android?
ZenMate VPN
ZenMate VPN is not as impressive as TunnelBear or DotVPN; I can say that off the bat. But that does not mean it is incapable of anything. It wouldn't have made its way into this list in that case. Also, unlike the other two options above, ZenMate VPN Chrome is mostly free and unlimited, meaning you need not upgrade if you don't want to. Not that anyone needs such a hardcore VPN service, but it is always good to have no expiry.
Though a lot of the useful features advertised are only for paid users, it still offers unlimited browsing experience for everybody. Such decent chaps, aren't they! It is capable enough to block trackers from ads, analytic tools, and other web crawlers that monitor your system activity with or without your intent. It also gets you through geo-blocking and secures your connection on public Wi-Fi.
Get yourself the ZenMate VPN if you want unlimited browsing under moderate protection of free VPN for Chrome server, and you don't care about high-end encryption and all that jazz.
Visit : ZenMate VPN
Click Here to solve the slow VPN issue!
Betternet
Kind of speaks for itself, doesn't it? Betternet is a one-click interface for a VPN and helps you get on a private network without needing to sign in to your account and other annoying stuff like that.
If you like simplicity, then you will be happier to hear that it is free and unlimited as well. Though it is free, there is no ads insight, and it is not slow at all. The interface of this free VPN for chrome is exceedingly simple, and it is snappy.
It is not the most effective Free VPN for Chrome out there, meaning that it will give you the necessary privacy when you are on that crappy café Wi-Fi. But it may not provide other high-end stuff like dig through ISP blocking and get you all the blocked websites, or provide end to end encryption, as per my knowledge. But if you don't care about all that stuff, then BetterNet is a healthy option to beat.
See Also : How to fix "ERR_SPDY_PROTOCOL_ERROR" in Google Chrome
There might be, however, a video ad that would require you to click on it and play it. I mean, you can't blame anyone.
Visit : Betternet
How To Choose The Best VPN?
Choosing the best virtual private network is tough, especially when you're doing it for the first time. Although it can be very tempting to select the first VPN that you come across, you should never do it as this can compromise the safety of your data. This is especially important if you're going to use your VPN for a growing or progressing business.
To ensure that none of these will happen, consider the following when choosing the best free VPN for Chrome:
Figure Out What You Need A VPN For
VPNs are ordinary nowadays, and different people will use them for various purposes. While some will only use it in their homes, others require more users as they'll incorporate the network to their businesses.
To help you choose the free VPN for chrome, figure out what you need the VPN for. This information will make it very easy for you to narrow down your options and cross out opportunities that aren't suitable for your unique needs.
See Also : How to Send an Anonymous Email with Four Different Ways
Make Sure It's User-Friendly
Regardless of how tech-savvy you are, you'll need time and effort to familiarize yourself with the interface of the VPN. To make this process easier and faster for you, it's best if you choose a user-friendly VPN and, if possible, offer 24/7 customer support.
Look For A Money-Back Guarantee
As mentioned, you will need a certain amount of time to adapt to a new and free VPN for chrome. A money-back guarantee is the safest option to look for VPN. It will allow you to use the VPN for a limited period. Also, you may get your money back if you're not happy with the outcomes.
Conclusion
There are several free VPN for chrome available today. If you want to find that one VPN suiting your requirements, consider the pros and cons of all the four mentioned above. This process might be challenging, but if it helps you narrow down your choices, your efforts will surely be worth it in the end!