If you're a gamer, you will do anything to get access to the latest games in the market. But, sometimes you have your limitations, you maybe a PC gamer who wish to try a console game or you are held back from playing some games because of your budget issues. Because many of these gaming consoles and even their games are costly and may not always fit within your budget. Thus, you must know about the best Xbox One Emulator for PC out there.
This can prevent you from getting your hands on the best quality but costly games in the market. However, we are here today with a solution to that problem. The best way to play console games on your PC is to try the various Xbox emulator programs which are available for your Windows PC.
An emulator will make your PC capable of playing the latest motorcycle games and others that are otherwise only available for Xbox One. These best Xbox One emulators will surely change the way you play games forever.
An emulator is a kind of a sophisticated program that allows your computer to emulate a fake environment. The environment emulated by the program could be anything from an operating system to a game controller, mobile device or even a specific application. In simple terms, it is a program that allows your PC to mimic something else.
If you're not aware of the capabilities of emulators, then just for your knowledge, they are capable of emulating the operating system of a game controller or an entire android operating system. Today, there are lots of game controller emulators available in the market, for example, the Xbox 360 Emulator, PSP emulator, NES emulator or the one we are talking about, the Xbox One emulator for PC.
See Also: How to Remove Credit Card from Xbox one Console | Explained
The Best Xbox One Emulator For PC
There are numerous emulators available on the internet, but all of them do not keep up to the standards we expect on a good emulator, so we have handpicked the best two which are sure to holds up to their reputation and keep you entertained for very long. However, there are few negatives or disadvantages related when using an emulator.
The actual benefit of using emulators to play xbox roms is that you do not have to by an actual Xbox gaming console. But you would still have to buy the emulator games with money because pirating the paid games might end up in legal issues as it is nonlegal. So there is still expenditure to play the games, but not as much as you would've initially had when buying a console.
These best Xbox one emulators that are in the market claims to be incredible at delivering an amazing gaming experience. While most of the other nintendo emulator fail to do so. Emulating console quality games need a lot of processing and GPU power to handle heavy graphics. So let's have a look at the Best Xbox one emulator for PC.
See also: Simple Steps to Gameshare on Xbox One Console – TechWhoop
HackiNations Emulator
HackiNation Emulator is one of the best Xbox one emulator designed to provide best and seamless gaming experience to those users who wish to play Xbox One games on their PC. It can practically run almost any game, no matter how heavy the game is. HackiNations will make sure that the game runs without any major glitches and frame drops. You can download the HackiNations Xbox one emulator from their official site.
Features of HackiNations Emulator
Supports a wide range of ROM and Disc file formats.
Supports an external USB controller.
It supports Keyboard controls and enables custom mapping of keys.
Supports Multiplayer games via Xbox Live.
Supports HD graphics and full-screen gameplay window.
No lags and frame drop even during heavy gameplay.
How to Use HackiNations
To enjoy Xbox one games on PC, you will have to download the Xbox one emulator from HackiNations official website.
Insert the game that you have on the disc in your computers disc drive or download the game in ROM format from a reliable and legal source.
If you are using downloaded ROM file type of the game, then you will need to move the ROM file in the folder with the address C:\Desktop\Xbox One Emulator v.1.0.3\Game Data.
Open the application with the name "Xbox Emu v.1.0.3', which you will find in the emulator program folder.
Click on "Plugins" and then activate all the available plugins.
Set the game controls as per your preferences by clicking "Controls."
Setup the audio and video options as per your preferences by clicking on "Options."
If you are using a disc, then you will need to click on the "File" option and then click on "Open from Disc drive option. If you are using the downloaded ROM file type for your game, then you will need to click on "File" and then click on "refresh ROM list."
Click on the game that you want to play from the list of games.
In addition to HackiNations, we have added one more Xbox one emulator to this article, just in case you wanted to try something different.
See also: How to Change NAT Type on Xbox One? (Best Method) – TechWhoop
Xeon Emulator
Xeon is one of the best Xbox one emulator that also supports low specs games and offers great stability and incredible game graphics. If you wish to enjoy the famous game title Halo, then this emulator would be the best for that job. The emulator supports many low spec game titles and excels in emulating them well.
You can download Xeon Emulator from its official website. The major disadvantages of this nes emulator are that it only supports the game Halo. This limitation makes Xeon emulator a weak competitor for the best Xbox on the emulator, especially in front of HackiNations.
Modify the appearance of the your Overwatch heroes with these Overwatch skins, Click here to know more.
Features of Xeon Emulator
Supports few low specs games.
Supports for external Controller and Keyboard are available.
There are No Lag or frame drops while playing the games.
High stability emulator for PC.
See Also: Xbox One Sync Button Not Working? A Step-by-Step Guide to Fix
CXBX Emulator
CXBX is perhaps the best Xbox one emulator for pc windows 10 for running Xbox 360 and Xbox One games on Windows. With this amazing Xbox One emulator, you can change over any Xbox game into an executable document so that you can partake in the game without a virtual environment.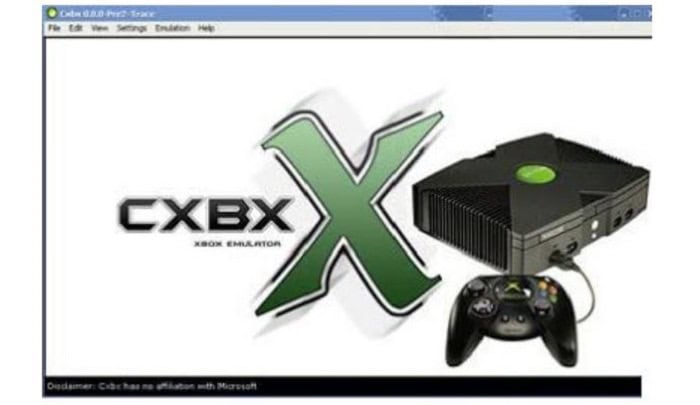 It will even reduce the chance of delays. Installing this emulator on a Windows PC is exceptionally basic. The CXBX emulator just backings five games: Smashing Drive, Battle Cry, Whacked, Futurama, and Turok. To begin playing Xbox, you are ready to start with these. It is one of the best Xbox 1 emulators for pc.
Download: CXBX
Dxbx
In addition to other things, Dxbx depends on the Cxbx code theory and its center driver emulation. Reset the block since it is viable with Windows 2000 and later. The 64-bit version has quit working, so you need to run it in compatibility mode; in case you are utilizing the most recent working framework/OS.
Graphics rendering ought not to be an issue for Direct 3D engines (HAL and REF). It is reasonable for practically all games: upheld screen resolution Full HD, 1920 x 1080 pixels.
The controllers can be associated; however, the keys can't be planned to the keyboard. Clients need to depend on standard keyboard keys. When you introduce Dxbx, you will likewise get Xbe Explore, which is a superior method to oversee XBE executable files.
Download: Dxbx
Xenia Emulator
It is another great Xbox one emulator for pc, and it shows up on our rundown. Xenia is an Xbox 360 emulator that can run over 50 Xbox 360 and Xbox One games. Indeed, you may feel a little lag when playing heavy games. One reason for remembering it for our rundown is a result of its broad support for games.
Best of all, the designers are continually attempting to update it. We have seen that the most recent update version fixes a ton of issues, contrasted with numerous other best Xbox One emulation programming; these updates make it more steady and quicker.
Download: Xenia
XQEMU
XQEMU is an early version of the XEMU emulator, an open-source low-level framework emulator for Xbox and Sega Chihiro. Concerning the controller emulator, the application utilizes SDL2 compatible information devices to reproduce the Xbox emulator. If it's not too much trouble for keyboard clients, refer to the information page for more data on the assigned keys that can't be changed.
Through tap networking, clients can combine actual network gadgets with genuine Xbox gadgets to play. As designers move to a steadier Xbox1 emulator, you can check the compatibility of the game. It is the best Xbox 1 emulator for pc
Download: XQEMU
See also: 13 Ways to Fix Xbox One Controller Won't Connect Error
Final Words
So this sums up the search for best Xbox one emulator out there. I hope you got the answer for the best Xbox one emulator for PC to play your favorite games. We highly recommend you download these emulators from trusted sources like their official website to avoid viruses.
And also we suggest that you scan these emulators with your antivirus before installing them to protect your system. So, enjoy the best console games on your PC with these Xbox one emulators.
See also: 10 Ways to Fix PS4 Won't Turn On Error
FAQs
Are Xbox emulators illegal?
The actual Emulator isn't illegal. It is also not denied to play games on explicit emulators. Be that as it may, it is illegal to download and play games (ROM) from the Internet without the original game on the emulation framework.
Do ROMs have viruses?
For the most part, yes. As others have brought up, the ROM and, surprisingly, the emulator program itself can be maliciously infected. So everything relies upon your ROM "source" as well as the emulator.
Can I go to jail for downloading ROMs?
Nobody has at any point been indicted for downloading ROM documents from the Internet. On the off chance that you don't sell/circulate them, no, never. Nearly anything you download can get you in prison, not to mention attempting to sell the copyrighted material.