Do you remember the Nintendo 64 from back in the days of 2000s? It was released back in 1996, so that year people witnessed the birth of two phenomenal entities, N64 and myself! Jokes aside, the N64 emulator for pc is genuinely a great gaming console, one of the legends.
It was named so because it was based on a 64-bit processing unit, which was a pretty big deal at the time. It was apparently planned to be called as the Ultra 64 which would've been slightly more impressive in my opinion, but the N64 is fine too, I guess.
I missed my chance with it because you know, I was a toddler and was slightly underage to know how a gaming controller is different from a chew toy. You can get more N64 emulators from Premiuminfo. If you were like me and love to play around with the N64 but couldn't, not to worry mate! Because I'm here to let you know that you can run the N64 games on your Windows machine just fine!
But of course, you knew that already from the title of this article, which I just realized when typing this line. But I've already spent some of my finger-power on those words, and I cannot be asked to go back by pressing the forbidden backspace key! Just carry on reading, alright?
A Brief Information About N64 Emulators
Coming back to the point, you can get some N64 emulators for your Windows PC and run N64 games on it, which is fantastic. But I have to be honest with you about one thing. No emulator for N64 works flawlessly on Windows, okay?
Perfection is hard to demand especially when the development of the platform is so scarce; it has become more of a history project now. The ones that are on the list are some of the most functional ones that you can find on the internet as of now, but they will not be perfect.
List of Best N64 Emulators for Windows
That's still better than nothing and will help you understand what video games used to be versus what they have become today. So go ahead and get one for yourself. But as with any software and freeware that you get for windows, there is always a chance of some crappy malware sneaking in and messing up your ethical system, right?
So just follow along with this article and find out some good, clean sources to download the best N64 emulators for your Windows platform. Let's get to it.
Project64
Project64 is one of the most ambitious ones out there with a relatively cleaned out UI and better menus for offloading game ROMs. Many games such as the Mario Kart 64 will run satisfactorily on this nintendo 64 emulator pc.
Provided that you have the right plugin for video and controls (Something like Jabo's Direct3D8), the games should be well mapped to you keyboard equivalents of the controller inputs. If not, you can play games with any plug and play game pads to your system on this N64 emulator.
Also depending on your plugin, you can change the resolution of the video rendering as well as the texture quality of your graphics. You will be in awe to see that how much details Nintendo put in the Project64, considering it came over a decade ago! There is one annoying issue in this N64 emulator though, and that is relates to sound.
As I mentioned earlier, N64 emulators are far from perfect. If the sound plugin is not the right one for a particular game ROM, it will start playing some weird noises and glitched up sounds altogether.
That is the complaint with the fairly latest build of this N64 emulator, version 2.2. For the sake of better performance and solid execution, I suggest getting the slightly older 1.6 version of this N64 emulator.
Now, when you do the project 64 download, your security software might warn you that this software can harm your computer. This is because the original emulator comes bundled with software which is an adware. It is the means of monetization by the team behind Project64.
It isn't bad to expect rewards for hard work such as they have done here, but if you want an ad-free version, I think I have found the link to that as well.
Visit Here: Project 64 Emulator
Nemu
Nemu 64 is another efficient emulator for the Windows system. It is lesser known than the others in the list. But it is extremely compact as an N64 Emulator. With no hassle of specific installations, it provides smooth emulation for your games.
Among its many features, the most eminent one is the offline multiplayer feature. This allows gamers to enjoy a competitive multi-player game offline. Unlike other emulators that function online, Nemu allows offline play as well.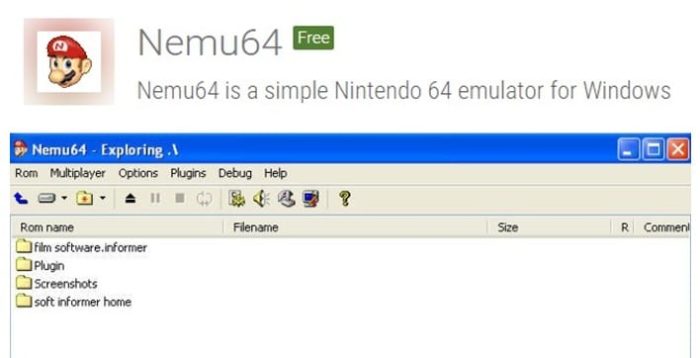 Other than that, the compatibility to the various joysticks and gamepads is on-point. You can save the progress of a game at any point of time because it creates backups. Nemu64 is light and condensed, which makes it one of the best N64 emulators for Windows PCs.
Furthermore, it supports a lot of the Nintendo 64 games and emulates various console hardware functions. Also, it uses DirectInput and Direct3D, to run on almost any 3D-card enabled system. To top it all off, this is 100% safe and virus-free. Thus, Nemu is easy-to-use, compatible and overall a great 64 emulator.
Visit Here: Nemu N64 Emulator
Mupen64Plus
These guys are probably the only real competition that Project64 will ever face when it comes to N64 emulators. Some things work better on this, but only one thing bothers me about this emulator program. It does not have a guided GUI set up.
It entirely is reliant on a primitive command line interpreter, so that makes the process a bit more difficult for beginners and altogether more annoying for everybody. But since you are on this article looking for emulator software to get N64 games running on Windows, I assume that you are relatively tech savvy.
Although there is one bright side to this command line madness. The developers seem slightly bit more "into it" as compared to Project64. We can easily see any issues and bugs that developers iron out relatively quicker, as soon as one gives his/her attention to the development team.
Moreover, If you are curious about the Mupen64Plus N64 emulator, you can check out ore at their website and see what they are up to.
Visit Here: Mupen64Plus N64
Supra HLE
Supra HLE has highly advanced customization features. Due to this reason it is generally preferred by professionals rather than casual couch gamers. HLE stands for High-Level Emulators that provides higher level and extensive features which are absent in the other N64 emulators.
However, if you are a constant user of N64 emulation, then the Supra HLE will marvel you! It is not advised for new users to use this advanced emulator because of its complicated functioning.
This emulator allows a lot of adjustment options. You can change the graphics, resolution and sound according to your whims. Additionally, it is compatible with all kinds of gamepads and joysticks. Moreover, the Supra HLE allows you to set the video plugin, audio plugin and buffer size. Thus, in simple terms it delivers smooth emulation through its highly complex processing. That too without disturbing the Windows system.
However certain features of the Supra HLE are even advanced for the professionals. As a result the advanced configuration options may be very difficult to understand. Interestingly this emulator is supported by Windows 7 with no errors at all. But on the Windows 10 system it is not as smooth.
Also keep in mind that you need to configure the Supra Configurator 2 before running the Supra HLE. The complicated system may seem to be prone to viruses. However, if downloaded from the official site, you will face no such issues.
Thus, overall the Supra HLE is a rather efficient emulator with advanced features, that is perfect for professionals, but not as good for the beginners.
Visit Here: Supra HLE
Final Words
There were several others which I thought were not worth your time because most of them don't work very well. So I found that these two were the most functional depending on public opinions as well as the development rate and health.
So feel free to download this software. Throw some ROMs on there and start playing till you've had enough of Donkey Kong and the classic Mario Kart 64. But I doubt you will ever switch back after starting on these titles. But I wouldn't either. So go ahead and knock yourselves out with these n64 emulators.