One of the things that I find best about Windows operating system is its ability to harness the power of a wide range of emulators. Emulators are basically a software suite that mimics the functionality of a similar, or an entirely different platform altogether. They are great if you want to work on some app or an interface that is not natively supported on Windows OS. One of the most common applications that emulators have is among the gamers. They use it all the time to get stuff from one platform to work on another.
Even someone who has never played any games at all has used an emulator in their life. A workaholic programmer for instance (not me), who rarely uses anything other than a text editor and a command window, also uses an emulator! The terminal itself is emulating the shell functionality in the user mode, so there is no way cool things would get done without the use of powerful tools like the terminal emulator. What I'm saying here is, emulators are powerful software tools, and you should include them on your Windows PC to get the most out of your machine.
I mean sure, there are plenty of great games that are compatible with Windows on its own. But a PC often does not get all the types of game that are meant for dedicated game consoles, like PlayStation and Xbox. So, we use our good old simulators to bridge the software gap and allow us to play games from those consoles on our (significantly) more capable PCs. Yeah, that's right! I am taking the PC gamers' side. Mainly because we can easily download Xbox 360 Emulator for our Windows 10/8.1/8/7 operating systems and you can't do the same. Anyway, Xbox roasts aside, let us see how we can download some emulators for Xbox 360.
Why do I need an Xbox 360 emulator?
If you saw some Xbox 360-only games, such as motorcycle games, Fable II, Dead or Alive 4, Dance Central 2 and more, you might be tempted try them out once. But you may not have an Xbox to play those titles on, but that is the point of this whole article. You don't need one!
So whether you are a true PC gamer, who has fought valiantly through many onscreen battles at max FPS, or you are someone who calls themselves a "gamer" after playing candy crush saga, take a look at how you can run Xbox games on Windows. You never know when you might get into it and start a super hit streaming channel over at twitch or something! Alright then, let's get straight to it.
Steps to Install & Download Xbox 360 emulator on Windows 10/8/8.1/7
Requirements
A Windows PC.
Microsoft Net Framework 4.0 installed.
Non-crappy hardware specs
If you have not installed Microsoft Net Framework 4.0 already, you need to go ahead and get that done first. The process itself is very simple:
Download the file needed from Microsoft's official download link.
Right-click on the file that you just downloaded click on Run as Administrator option.
The installation process begins almost immediately. Accept the terms and conditions and move ahead.
Here on, you know the usual drill with software installation on a Windows system. Just follow the easy instructions given to you by the installation wizard and just click the 'next' button until you are done.
Now that you have Microsoft Net Framework 4.0 installed, you are ready to roll with the new emulators for Xbox 360 on Windows. Installing the emulator file is an equally simple task. It is called Xenia and is pretty much the go-to emulator that everyone uses right now.
Downloading Xenia Emulator
Head over to Xbox 360 Emulator and download the Xenia emulator on your computer.
After it has been downloaded, open the file and tap on the install button to install it on your Windows PC.
You will need a serial number that is given on an Xbox and enter it in the text box in the emulator. The number is usually written at the back of the USB door or on the box itself, in case you were wondering.
Next, you need to select a BIOS image for yourself. Go into the option that says 'BIOS' and select any one of the listed BIOS to run the emulator on.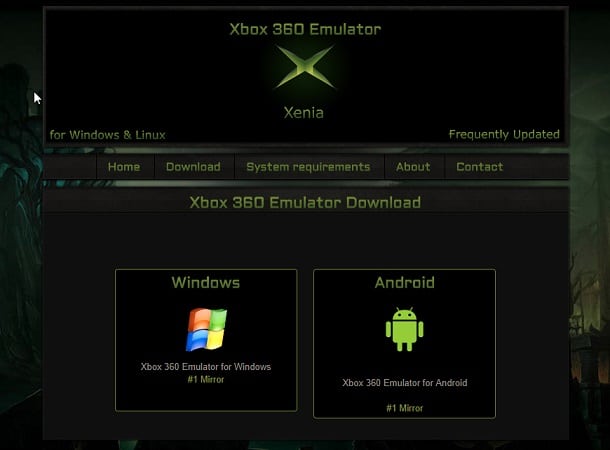 Games can be downloaded directly in their flash-able image formats known as ISOs. If you have them in the popular ISO format, then you can make use of inbuilt ISO Format tool.
After selecting the ISO of the game of your choice, it will start to load and initialize the hardware on board, just like it would on a traditional Xbox 360. That's about it! Once it completely loads up, all you need to do is click on start and start playing it.
Congratulations! You have successfully installed Xenia emulator on your Windows PC. Now, you can easily play all the native console games. It works very well on PC hardware. Pair it up with a Bluetooth controller, and you're set.
Final Words
I should leave you off with a word of warning though. The emulators are unconventional programs, which is to that say they can be a treat to the system's security. Though you may not use it heavily to put any unhealthy levels of strain on your system hardware. However, if you do, no one is to be blamed but yourself. I am not saying that your PC may not be able to "handle it," oh no. Modern computers are often far more capable than we ever give them credit for. That's not it.
You see, emulators are only meant to mimic the functionality of the original thing only to a certain extent. There's a reason why they usually prompt a warning message on their web pages which we often ignore. If you have a reliable antivirus installed, it might show this emulator as a virus.
It happened to me, with the BitDefender antivirus I have on mine. It is not a deadly virus, and won't harm your system as long as you exercise some moderation. To avoid those annoying antivirus pop-ups every 2 minutes, I suggest disabling the antivirus on your system. So, whenever you install any software or game, you wouldn't find any difficulty. But being a gamer that you are, I trust you already know all that, so enjoy! Hope, this guide helped you to download Xbox 360 emulator on your system.
See Also: Xbox One Sync Button Not Working? A Step-by-Step Guide to Fix