The GameCube released by Nintendo is a home video gaming console. Nintendo managed to sell 22 million units worldwide before it got discontinued in 2007. Regarding graphics, GameCube graphics were slightly better in definition than Sony's PS2, but not the same kind of experience that Xbox users enjoy. It was the transition between retro-style gaming and pleasing to the sight – 3D environments and effects. But just because the gaming console got discontinued doesn't mean you can't relive the titles again. Yes, you read that right. GameCube emulators have been in development for over a decade, and with little or no success some emulators run the games at near perfection.
We have done the researching for you, and come up with the list of GameCube emulators that do what they claim to be.
Best GameCube Emulators
Dolphin
Platform: Windows/ OS X 10.10 / Linux/ Android
Price: Free
Author: F|RES, Henrik Rydgård
Developer: Dolphin Emulator Project
Download Page: https://dolphin-emu.org/download/?ref=btn
Dolphin is a GameCube emulator that is currently in development for the GameCube and Wii (has been hugely successful so far).
This gamecube emulator for pc had its initial release in 2003 as freeware for Windows Operating System.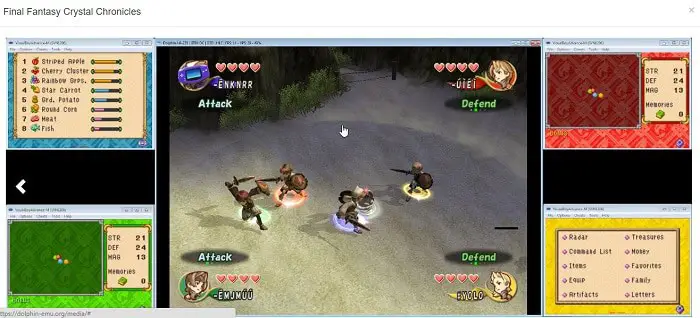 About Dolphin
It was the first GameCube emulator to run any commercial game title ever successfully.
This GameCube and Wii emulator has been around for more than a decade now, a long time for any emulator to be in active development.
It was born as a rough, limited software for GameCube emulators before growing into an open source project in 2008.
The Dolphin GameCube emulator's features include the ability start games irrespective of region, record tool-assisted speedruns, and cheating in the game with Action Replay and Gecko cheat codes.
Dolphin emulator supports original GameCube controllers via a USB adapter and Wii Remotes via Bluetooth support. GameCube's expansions, such as Nunchuk, MotionPlus adapter, Classic controller, DrumsGuitar, and Turntable.
See also: – 4 Best NES Emulators for Windows in 2017
See also: – 10 Best Windows Emulator for Mac (Free & Paid) – TechWhoop
Dolphin allows mapping functions of the original GameCube controllers and Wii Remotes – with or without expansions – to PC controllers.
The Dolphin provides two kinds of netplay support: Emulated local multiplayer and the Nintendo WiFi Connection.
The first only works for Dolphin emulator users. It applies to games that have no default option for playing online. The second is for online gameplay and WFC supports Wii games with other Dolphin emulator users as well as real Wii users.
You can save your in-game progress on virtual GameCube "Memory Cards," virtual Wii "flash memory," and "save states." much like other emulators that allow you to save your game at any given point during the gameplay.
Dolphin features a Memory Card Manager which enables transfer of save files to and from virtual GameCube memory cards.
In conjunction with the VBA-M Game Boy Advance emulator, Dolphin supports linking GameCube and Game Boy Advance titles just like the GameBoy Player attachment would function on a real GameCube console.
Dolwin
Platform: Windows
Price: Free
Author: or9
Developer: Dolwin Development Team
Download Page: http://www.emulation64.com/files/getdownload/1117/
Dolwin emulator for Nintendo GameCube console basically runs on Power PC derivative processor.
It is one among other GameCube Emulators that were operates on C language and used techniques like interpreter and just in time compiler.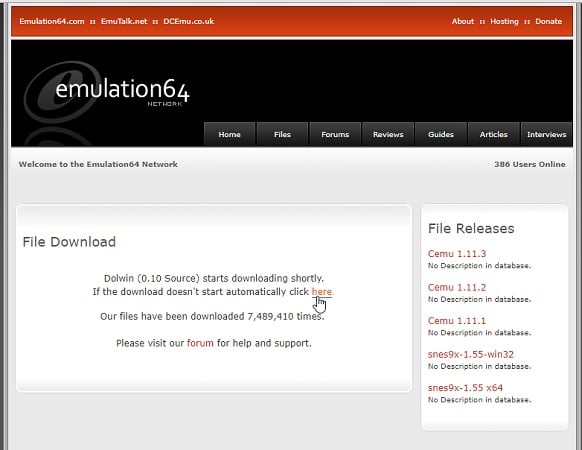 About Dolwin Emulation 64
Dolwin emulator also has a very friendly user interface. This gamecube emulator pc supports high-level emulation and hardware emulation that runs on the system plugins.
Dolwin emulator is a very accurate GameCube emulator. However, this game cube emulator requires a reasonably fast computer but still does not possess the ability to run commercial game titles.
In this aspect, Dolwin and many other GameCube emulators available in today's time still lag behind the Dolphin GameCube emulator. Its development was dropped in 2012.
Among several other experimental GameCube emulators, WhineCube is one such emulator of language C++. WhineCube can load and run DOL, ELF format with great graphics and sound emulation.
See also: – 3 Best SNES Emulators for Windows 10/8.1/8/7/XP
See also: – 8 Best Android Emulators for PC | Windows XP/7/8/8.1/10
The emulator can not run any commercial games yet but can run few of the homebrew games. WhineCube also provides the option to turn debug logging on and off. The emulator has a dynamic compiler and an interpreter plus there is also a primitive HLE system present over here.
What about other GameCube emulators?
So far, Dolphin is one of the only GameCube emulators that we know is capable of running almost any commercial game with a completion rate of hundred percent in most cases.
All other nintendo gamecube emulator work only for testing purposes (Nintendo released their own Dolphin before the one we so fondly use and know now).
Besides that, several GameCube emulators are now offline or during development or maybe not in usage due to lack of traction from the community.
The team at Dolphin Emulator Project has been at work with GameCube emulators for years and still release monthly updates with stable features and nightly builds for testing by other users in the community.