The Store State feature of emulators allows you to save and resume where you left off in the game so that it will load automatically the next time you want to play. This is excellent for older games without automatic or manual saves, which force you to locate a save location to record your progress or titles with challenging bosses. Still, one needs to learn how to import Wii saves into Dolphin.
Dolphin makes it simple to save games. If you have a save from another computer or the internet, drop it into the designated folder, and it should start loading the files as usual. The default location of the folder is in your Documents folder, but you can modify that location using the settings.
To learn how to import Wii saves into Dolphin, refer to the guide, and complete it within minutes.
See Also: 10 Best Windows Emulator For Mac (Free & Paid) | Updated For 2023
What Is Dolphin?
It is one of the most widely used emulators right now. The Dolphin emulator supports both Wii and Gamecube games and those for the Gamecube. It has been actively developed since 2003, roughly two years after the Gamecube's debut.
The sheer number of games available to them across both systems is astounding, even though it may appear on their website that not all of them are "fully" operating. It offers complete motion control compatibility for Wii games and works with all controllers, including those that emulate the Donkey Kong Bongos.
The Gamecube emulator can also downscale games for those with less powerful computers and upscale them to 4K and beyond. On the other hand, Dolphin can smoothly run Gamecube games on a wide range of PCs at native resolution.
Almost any controller is compatible, and the original Wii Remote and Nunchuck are fully supported if you connect them through Bluetooth. The extensive configuration options allow you to fully map the controller sticks or any button to shakes, pointers, and other special features. Even with the slight jerkiness in how the sticks are mapped to act as the star bit pointer, playing Mario Galaxy in 4K is a delight.
See Also: Websites To Download Wii ROMs – Top 14 Best And Free
How To Import Wii Saves Into Dolphin?
Dolphin is a Nintendo Wii and Gamecube emulator that lets you use your computer to play every game available for those consoles. By using a "save-state" file that is saved as an a.gci file, Dolphin enables you to keep your game's progress.
This saves your standing in the game right now. When you restart the game, it loads that saved state and starts from where you left off. This will teach you how to import Wii saves to Dolphin.
You can check this article if you want to know about the websites to download Wii ROMs.
See Also: How to Fix Dolphin Lag: Optimize Your Gaming Experience
By Downloading Dolphin Emulator
Follow the steps to learn how to import Wii saves into Dolphin:
Download Dolphin Emulator from the developer's website and open it
Choose the Gamecube game file you wish to use, Dolphin, to play by finding it on your computer. To load it into Dolphin, click "OK."
On the main Dolphin software window, select "Emulation" from the menu, then select "Load State." The last location where you stored the Gamecube game will load when you click "Last Saved State."
While the game is running, use the "F11" key to load the most recent saved game file. 
Dolphin emulators suffer slow functioning speed at times. Check out How To Make Dolphin Emulator Run Faster [Configuration] to fix this issue.
See Also: Best Of Top GBA Emulators For PC 2023 (Latest)
By using the .bin file
Follow the steps to Wii save files to Dolphin: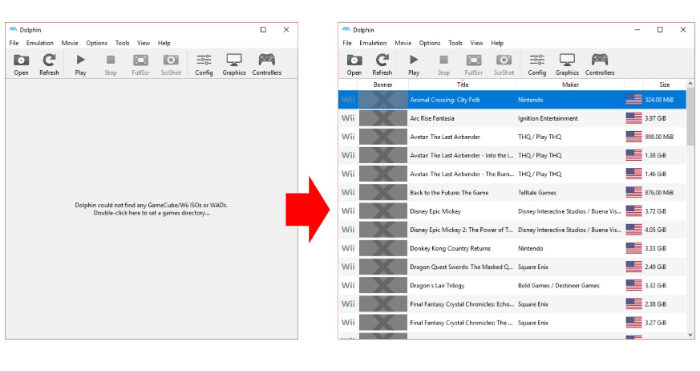 Launch the Dolphin emulator. Tools > Select Import Wii Save. Find the.bin file for your savedata and click "Open." The save file will import, and then you're good to go.
See Also: 12 Best Free Online Android Emulators You Can Use (2023)
By Importing Wii SaveData
Only if the first approach is unsuccessful, follow the steps to know how to import Wii saves into Dolphin:
See Also: 12 Best Android Emulators For PC | Windows XP/7/8/8.1/10
How To Move Saved Games From Wii To Dolphin?
Follow the steps to move the saved games:
Go to the Wii's save data manager. Copy the saved files you need to Dolphin to your SD card. Go to Dolphin's Tools menu, select Wii Save Import, and locate your save file.
There should be a data.bin file in one of those files, which you will find under SD Card Rootprivatewiititle. You intend to import that. Then hit OK, and it is done.
FAQs
What file type do they employ?
Dolphin can import and export Wii saves in the common data format. Wii System Menu-generated bin format.
Does Dolphin support multiplayer games?
Yes, Dolphin supports multiplayer games. Playing multiplayer games is easy, but it requires setting it up and requires a controller to play.
Can I download Dolphin on my system?
You can easily download Dolphin. You can download Dolphin on any device, like a laptop or PC, to use it. Downloading it is very easy, but you must follow certain steps to download it successfully. It downloads in a few minutes.
Where are the Wii save game files kept?
Connect the SD card, then go to the /private/Wii/title/ directory. All the saved games you moved to the SD card are here.
Is game data kept on the console or disc?
Yes, game discs are read-only and exclude data or saved games. Your game and system won't notice a difference if you replace the disc!
Can a Wii be jailbroken?
By jailbreaking it, you may convert your outdated Wii into a complete Nintendo entertainment hub. It takes a few minutes to open up the Wii and give you full control of the console using the method we'll discuss in this guide, which is referred to as a SoftMod.
Conclusion
Thus, the best platform, Wii, provides easy ways to import Wii saves into a dolphin without extra costs. Wii is the best file supporter, and Dolphin is one software that supports and allows you to import Wii saves.
If you were looking for how to import Wii saves into Dolphin, this article has helped you solve your problem.