Is there anything that a modern day computer is not capable of doing? No! Modern day computer does countless jobs for us reducing our time and effort. Starting from the very primary computer, PC to the computers in workplaces and educations, they have been helping us with their advanced and fast algorithms. Computers help us not only to do our work but also in learning new things. One of those things is, learning and playing music with a Piano Software.
For all of us, it is every time about the budget, primarily when you invest your money on such a thing where you are not guaranteed to achieve the desired output and hence you block your money on purchasing those instruments. At times, many of us wanted to have a guitar (which you can get from GuitarSquid) or piano. But buying a good quality instrument requires quite a right amount of money.
But thanks to the software engineers that they have designed such program through which we can learn and play musical instruments like guitar, piano, drums, etc.
Folks, who are interested in learning piano, you can directly download and install the software and play on your computer. Here are some best free piano softwares that you can download.
6 Best Piano Software
If you are someone wanting to learn the art of beautifully echoing the notes of the piano but are still wondering about the big hole it might create in your pocket. Then your bubble of worries needs to stop here for we bring you the collection of 5 Best piano software for your windows.
You need not go through your budget to buy them. All you need is your PC, and there you are on your verge to polish your skills or give your wish a new practice.
Everyone Piano
Be it a beginner or a professional musician, everyone Piano is the perfect Piano Software  for you. This is a versatile form of piano that stimulates the piano's pedal from its voice.  It serves you with a no. of facilities like a record, playback music, music score, play halftone and much more.
Download this, and you will get various plugins to increase your knowledge about this. Also, it fosters you with several downloadable skins that help one to improve the aesthetics of the user interface.
Apart from this, it also furnishes you with multiple modes like children mode for the beginners, an adult mode for the practices and the elder mode for the pros.
The software is loaded with full of exciting feature that will enhance your learning and playing process. It is also effortless to use software with a user-friendly UI along with a virtual piano keyboard as well as a virtual computer keyboard piled on the top of the virtual piano.
The alphanumeric keyboard of the virtual computer is designated to specific tasks, shortcuts, and toggles for settings and customizing.
Everyone Piano is supported by the VSTi database, True Pianos, and Pianissimo Grand Piano. The best part of this software is that it also helps an external MIDI keyboard that you can plug-in into your computer and change the audio output. You can also record your playing and can change the theme of the software from a variety of skins.
Visit: Everyone Piano
See also: – 5 Best Free Voice Chat Software for Windows – TechWhoop
My Piano Phone
This is a handy Piano Software both for your phone and windows. This is one stop for a wide variety of songs to play and learn. Another calling feature of this is its ability to use two keyboards
simultaneously. It also furnishes you with a drum kit which adds additional charm to your music.
Apart from this, My Piano Phone software also allows you to try your hands on a variety of instruments like an electric guitar, acoustic guitar, trumpet, violin, electric piano
and many more instruments to explore.
Now that all its pros are discussed, there is one drawback that needs to be mentioned, the inability of the recording feature. So if you wish to be a true live musician, then this is the apt app for you.
Visit: My Piano Phone
Virtual MIDI Piano Keyboard
If you are one fed up of the unnecessary functions then the Virtual MIDI Piano keyboard is the sure stop for you. The user interface is quite plain and straightforward and might fail to please you, but the design supports practical piano, hence is away from aesthetical virtualism which pleases a professional musician. It does not provide you with any external sound system.
Virtual MIDI Piano Keyboard is stuffed with a lot of impressive features. With the surplus options, you can quickly learn to play piano within a brief period. The software also allows you to play MIDI notes through your computer keyboard and mouse along with which you can even compel the hardware and software MIDI synthesizers.
Other impressive features of this include phaser depth, app include, expression, and modulation. It enables you to produce a wide variety of sounds using the preset programs such as tango accordion, grand piano. Since the Virtual MIDI Piano Keyboard makes use of extremely professional tools and options, this should be the first choice of professionals.
You can also connect some other musical instrument externally through the MIDI port and the notes played on the instrument will be displayed on the monitor. Base Octave and Transpose can also be obtained while playing and other settings and controls are customizable by the user.
Visit: Virtual MIDI Piano Keyboard
A73 Piano Station
Now, this is the step by step professional creator. For the beginners, it presents a full-sized octave keyboard that in addition to polishing your talent, allows you to tackle over 100 musical instruments at once inclusive drums, guitar, and bass.
Not only does it give you a feature of the multiple instruments but provides you with the ability to save your masterpiece. The benefit of this is the omission of third-party programs to combine and record your creations.
A73 Piano Station does not lack in any feature and for sure stands out of the box with a fantastic User Interface, a UI that lets you control the virtual keyboard with functionalities similar to that of a real keyboard.
This Piano Software offers a replica of the real musical instrument, piano along with the slider control and also a display that shows all the information regarding your settings, tone, etc.
The virtual keyboard is pretty significant because it is a 6 octave piano keyboard and also you can play on various instrument modes; guitar, drums, etc. isn't it cool?
Yes, it is, with no doubt. Beyond playing on different musical instrument modes, you can also change the BPM within a range from 20-220 Beats per Minute. Using this software, you can play three different instruments simultaneously which helps you in developing your sense in harmonizing the notes, and at the same time, you can also record your mixed tone.
Visit: A73 Piano Station
See also: – How to Make Background Transparent in Paint.NET – TechWhoop
FreePiano
This Piano Software is minimal in size as it comes in a 2mb packet. But, despite being so small in size, it does not lack from any other piano software.
It gives a tough fight. The main advantage of this software is, you don't need to install the program because it is portable software. The UI of the program is pretty simple and straightforward to the user.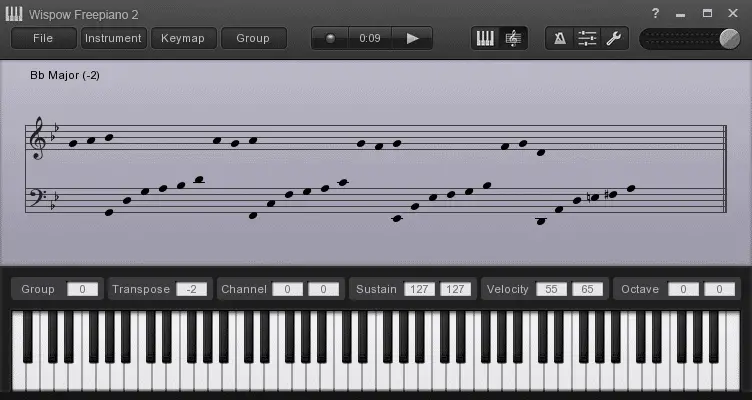 You will find similarities in the UI with the above mentioned, Everyone Piano. The virtual piano is displayed at the bottom of the screen and the virtual computer keyboard above it. Each key in the virtual computer keyboard is assigned to produce a particular tone or perform a specific task.
Visit: FreePiano
See also: – 10 Best Free EPS Editor Software for Windows – TechWhoop
This Piano Software is very compatible as it gets the full support from the vast database system, VSTi. It also can produce a wide variety of audio outputs, DirectSound and WASAPI. The keyboard layout and the keyboard functions and display are customizable and can be switched during the playback session also.
Sweet Little Piano
If you are one wishing for a simple version of the Piano Software, then this might be the best choice for you to choose. This will act as a beginner level to serve the purpose. It is incredibly versatile and enables users to change the interface and keyboard layout.
As the name suggests, Sweet Little Piano is perhaps the easiest and most straightforward Piano Software one will ever experience.
The software has all the essential features packed in it which makes it a versatile software platform where you can not only play and learn piano, but also you can play other devices such as Accordion, Guitar, Flute, and Draw Organ.
The keys on the virtual keyboard are pre-defined by the developer, and on pressing any particular key, the software produces a specific MIDI note. Generation of notes takes place which comes out from the sound cards.
The sound card is a MIDI compatible hardware device. The benefit of this is that they are easy to record and edit. It offers a pretty simple and straightforward UI to the user that makes it the most honest software, till date. So give this a try if you are one just stepping to imbibe your talent into your daily routine.
The keys are simple too, they are flat without any high graphics, and the control bars switching is quite simple as well. You can also make a change in the input and output value by changing the transpose and channel values. All in All, a great Piano Software.
Visit: Sweet Little Piano
See also: – Top 7 Free Raw Image Editor Software for Windows – TechWhoop
Conclusion
Whether you are a beginner or a professional, these five Piano Software are there to be of some use. An additional feature is an offline play where it subsides the cost of your data plans. Choose for yourself and head towards polishing your skills.