Ever heard of note-naming games? If you are learning note names and struggling with identifying them on the staff or just want to make it a bit more fun, some games can come in handy. Later in life, a lot of individuals regret not learning an instrument. But learning is never too late! It's great to start by learning a few piano chords using Note naming games. Nothing compares to the pleasure of playing an attractive instrument like the piano and letting out a lovely sound. And indeed, the piano is among the few instruments that can make music with only a small amount of learning.
How could you recall all the notes on the piano? We'll cover 8 entertaining piano games you can play online to practice your notes and keys! These games include Skoove, Synthesia, NoteCard, The Piano Player, Zebra Keys – Piano Keyboard Trainer, Music Cards, Note Trainer, and Staff Wars.
You can handle mastering the instrument or training to perform an entire song when you first start. Mastering a few piano notes will enable you to put this instrument to life and pique your interest. In this article, we will cover the best Note naming games. See our recommendations below to find entertaining games that will teach you how to tickle the ivories!
Top 8 Note Naming Games
Here is the list of the top note-naming games to help you learn music notes:

Skoove
It is one of the best Note naming games for beginners. Skoove is an engaging game that one can play on all platforms. It has a mechanical keyboard that displays the precise notes and where your hands should be placed for various songs. This keyboard app's ability to teach you pop songs and rock favorites along the road rather than only concentrating on classical music is fun.
According to our assessment of Skoove, it's a good online practice for newbies. It is very practical, simple to use, and very inexpensive. In light of this, Skoove provides 441 distinct lessons targeted at the beginning and intermediate pianists.
Synthesia
If you've ever played Guitar Hero, you'll be prepared to take on Synesthesia, an online free piano game on YouTube. This channel aims to promote beautiful piano music and make it possible for anyone to learn the instrument. This is fantastic, too.
The films include a series of piano notes that slide down the screen and land on their correct keys, like the original video game. You memorize the piano notes and simultaneously learn a new song by matching your fingers to about the same notes with your piano to play together with the song! You can see these videos for free online or buy the program to gain access to more content.
See Also: How To Delete Your Spotify Account With Ease | Updated
NoteCard
With the help of NoteCard, you may quickly learn the notes for the piano, guitar, and other instruments. Individuals of all ages may use it because of its engaging and straightforward user interface. You will be able to detect and understand the music notes thanks to its simple, graphical training modules.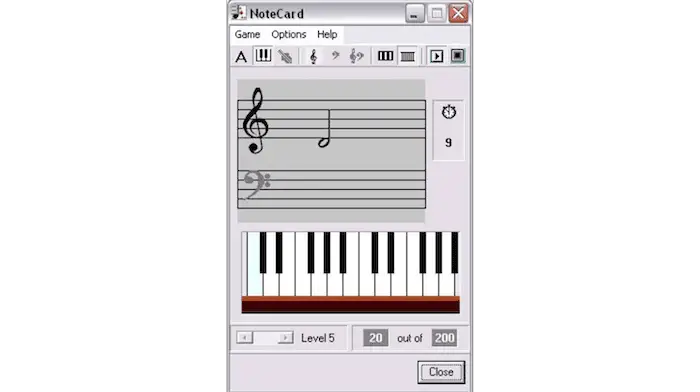 You can put your knowledge of piano key identification or staff notation to the test. Your responses are graded, and the program allows many users to save their data to individual accounts. Additionally, a testing component keeps track of your findings and progress.
The Piano Player
This game has four degrees of difficulty. It is one of the best Note naming games. The simplest level requires you to select the correct keyboard key after being shown a note on the staff.
The keys have labels on this level. In harder stages, the labels are removed, and more notes are added. Although this game is aimed at children, everyone can benefit from it, and using it is very simple.
Zebra Keys Piano Keyboard Trainer
Zebra Keys Piano Keyboard Trainer adopts a different strategy with its keyboard game. The letter corresponding to the keyboard's highlighted key must be selected using this software. When using these various applications, switching between selecting the letter and selecting the key is a terrific approach to solidifying your understanding.
Ricci Adams is the developer of the Zebra Key Piano Keyboard Trainer. You can practice using this very helpful musical tool to understand the names of the black and white keys on this piano keyboard.
Visit: Zebra Keys Piano Keyboard Trainer
Music Cards
The trainer for the musical staff will do the job, no doubt, but that's about it. You have to guess the right note and click to reveal the solution. You can learn the notes on the musical staff with these flashcards on music. Choose from the treble, bass, alto, tenor, or all of the clefs, as mentioned above! If you are not aware of what it is, figure it out using your preferred method. By clicking or touching the flashcard, you can verify your response.
You want to eventually reach the stage where you can name these notes Instantaneously, without any form of conscious thought. But if you're looking for something better to try, it's free and functions online, so it's worth a chance.
Download: Android
Note Trainer
This trainer displays a little more advanced game. As you play, it keeps track of your percentage and score. Students ask their friends to discuss their results to foster a healthy rivalry among them. This game differs from others in that it will mix multiple clefs, preventing you from selecting just one (if that's your thing).
The fact that the alto and tenor clefs are automatically picked at first is my main gripe; if you don't go ahead and disable them, these unusual clefs will always pop up.
Staff Wars
These days, Staff Wars are all the rage. The game is entertaining for kids to play and has appealing visuals. In essence, you play Note-naming games with a Star Wars theme. However, the game's free component is no longer available.
The original download URLs are mostly no longer active, and it is now accessible as an application on iTunes and Android. Sadly, it is $0.99 to purchase, but there are these all free games that you can play instead. However, it is compatible with Chrome, so if you can afford to purchase it for your pupils, do so.
FAQ
What does a musical note name mean?
In Western music, particularly in English-speaking nations, the first 7 letters of the alphabet—A, B, C, D, E, F, and G—are repeated to name notes in Western music, particularly in English-speaking nations. The notes A & B, C & D, F & G, and G & A are sandwiched between five additional pitches.
Which note naming games are the best?
All the games mentioned in the above list are the best; you can explore them and have a lot of fun while learning with them.
Can these games help me if I'm a beginner?
Yes, there are different levels in these games. If you're a novice, start with the simple level, and after some practice, try the harder ones as well.
See Also: Top 10 Best Idle Games to Play While You're Bored
Conclusion
We have covered some best Note naming games. We hope you like this list. While having fun with these piano games online is a terrific approach to getting familiar with this instrument. You can discover free piano games online that can help you with this, but you can also play one-on-one with a teacher or another student without technology.
Simply get one person to play or sing a specific note, and the other one finds that note on the piano, matches it, and tells you the name of the note. This makes distinguishing the sounds from each note easier and motivates you to learn its name and key on the keyboard.
See also: The 10 Best Story Games for Android to Install in 2021