Golf Swing Analyzers are an essential device in golf playing, which helps the players to give their best. The latest technical equipment, like a golf swing analyzer, plays a significant role in games, which makes playing games like Golf more facile and flexible. They bring change not only when bought as a device but also through the simplest apps constructed for your IOS and Android smartphone. If you are a golf player who needs to comprehend your performance better, you could use the best golf swing analyzer made for golf players.
These tiny devices, like USBs, are attached to the club to capture numerous aspects of your swing. It sends information to your mobile (iOS device or Android) through Bluetooth technology. The data transmitted by the analyzer to golfers helps them know about their swings and makes them decide where they fall behind. As we are talking of technology, you can also optimize your phones for a better Golf experience.
Analyzers can be fixed onto your glove like a tracker or attached to your club. You can buy a standard and elemental analyzer if you play Golf casually. Still, you must choose the best and ideal analyzer if you need to be a professional golfer. Click here to learn the 6 Best Projectors For Golf Simulators.
Top 11 Best Golf Swing Analyzer
In this article, we look at the best golf swing analyzer available and help you make the most suitable choice for yourself.
Mobitee

 & 

PIQ

 

Golf

 

Sport

 

Tracker
This Golf Swing Analyzer may be your one-stop solution for improving your game, replacing your range finder, and tracking your shot. Also, it tracks and motivates your improvement in the game.
Pros-
The shot tracking feature provides recommendations and tracks the average distance per club.
Cons-
Manual function to edit the location before playing your shot.
User

 

Guide
For using this device, you may turn it on with the red button. You will know the working of the device once the screen shows PIQ.
The first few steps begin with creating your account and logging in. Further, download the app and sign up for the features. Before your registration on the app, your phone number is verified through the code sent to your smartphone.
If you are one of the existing Mobitee users, sign up to sync your Mobitee data. Once the data is imported, fill in all your necessary details and save them. During the game, switch on Bluetooth if not done. Like other Bluetooth devices, it scans and searches for the available devices. Connect it with your smartphone and pair it with the sensor. Remember to unpair the Bluetooth from your smartphone if pairing with the other device.
Features 
It attaches to each club when you insert a small device into the end of every grip. After installing it, download the app to learn more about the string and the distance parameters.
The shot tracking feature provides recommendations and tracks the average distance per club. The app is convertible into a Gps provider with a button click.
Visit: Mobitee & PIQ Golf Sport Tracker 
Arccos

 

Golf

 

360

 

Performance

 

Tracking

 

System
Across 360 is the new tool update in the market. It has proven to be the best game golf swing analyzer by earning the Golf Digest Editor's Choice Award.
Pros –
See Also: 6 Best Online Whiteboard Tools of 2023 | Best Virtual Whiteboard
Cons-
You cannot play without attaching the belt to your waist.
User

 

Guide
Before using the tool, it is advisable to connect fourteen lightweight sensors to every club on your list. Once done, pair it with the free smartphone app. Like the hands-free feature in your smartphones, this tool is also hands-free.
This is, before swinging and analyzing your swings, there is no requirement or effort to be placed during the task.
Features 
It provides a permanent enlisting battery for five years, up to a warranty of two years. It works efficiently until a call intervenes in your game. Rest, it records everything while your game plays.
It offers a hands-free option like the one on your cell phone. Along with the fantastic tracking features, it provides updated centers and tool analytics.
Visit: Arccos Golf 360 Performance Tracking System
Game Golf Life
Developed and released by Arccos in 2016, this software changed the experience for aspiring golfers, amateurs, and beginners with its new software, i.e., Game Golf Live, an improved version of its older Game Golf.
Pros-
Cons-
It is a little loose to attach.
User Guide
The software comes with a device and a phone app supported on Android and Apple platforms. It is also an intelligent watch enabled. The device needs to be charged, its tags must be attached to the golf club grip, and pair the device with your phone using Bluetooth pairing.
The tag attached to the gold club is the sensor that picks up all the information about your golf swing and feeds it to the phone app. Using this software, you can do real-time short tracking, analyze, set new goals and challenges, and store and compare your performance.
See Also: Top 11 Best Vine Editing Apps for Android in 2023
This simple swing analyzing app and complete software allows you to track your golf performance statistics and challenge your other friends using the app.
Features
The golf swing analyzers software has a free version that allows users to use limited features like Real-Time On Course Statistics, Tracking, Rangefinder, etc.
There is a paid classic version that allows more features like Hands-free devices, etc., but does not have syncing and Smart GPS, which is only available in the Live paid version.
Ratings and Reviews
These golf swing analyzers have been highly rated and reviewed by game experts like Graeme McDowell (PGA Tour Player). The Live game feature that allows analyzing each round of play while it is going on makes the whole experience enjoyable. Still, the most frustrating element is remembering to tap after every shot so that the data gets recorded.
The GPS tracking technology of the software is considerably advanced, giving precise positioning of shot range. This tap can become increasingly frustrating during a tough match or training session, where you can forget to tap and lose all the data. The app rates a high 4 out of 5 on Amazon, Google Play, and Apple App Store.
Visit: Game Golf Life
Rapsodo R-Motion
The Rapsodo R-Motion is a golf swing analyzer and a golf simulator. It has given tough competition to its competitors due to its excellent features. The accuracy, metrics, and simulation it provides are unparalleled. Only available for Windows yet; it will soon be available on Mac.
Pros-
Fast-load information about swing path, speed of the ball, speed of club, distance, etc.
No launch monitor or projector is required.
Superb Accuracy. Its high efficiency is +/- 1mph and +/- 2 degrees horizontal launch angle.
Cons-
A little towards the expensive side
It doesn't work under bad weather conditions
User Guide
It comprises fourteen clips which you are to attach to the clubs. After that, download the free app to sync all the data.
Its app has a clear layout and is easy to use. As you address the ball, pause it first so it can sync, and then swing that club!
Features
Rapsodo R-Motion's most enticing feature is its Simulator Mode, which has 15 preloaded courses! And a driving mode, too, to add the cherry on the cake. Further, it allows Multiplayer mode – wherein you can play Golf with your 'golfriends' from any part of the world!
Yet another feature of this marvel is the immediate data analyzer that provides valuable information on the shots you played. Be it where the hooks or pushes, pulls, and fades are all accounted for in detail, thus providing a surreal ball-flight trajectory.
Visit: Rapsodo R Motion Golf Swing Analyser
Sky Pro Golf Swing Analyzer
Price: $149.95
The winner of the 2012 Best Full Swing Analyzer, this Gold Swing analyzer software comes with a small sensor device and a phone app that will help you monitor the details of your golf swing and help you improve it.
This SkyPro analyzer gives you a 360-degree view of the golfer's swing. This analyzer also recognizes the weakness of the swing, and the golfer can adjust the swing as it needs. It is a good and helpful product for beginners. The golfer can connect it to his Android
and iOS devices. It provides variable speed for real-time protection.
This gold swing analyzer's most significant selling point is its precise and accurate measurements, capable of measuring 3600 heights in a second, and the information is also fed in automatically to your phone app without any manual intervention like pressing a button.
Pros-
It provides you a 3D Freedom of view, either than one camera
angle.
The golfer can compare his different swings from his swing library.
It is effortless to use and set up.
Cons-     
It is pretty expensive and bulky, which can affect your shot since it
is big enough.
There is no option to see whether the face is open or closed.
User Guide
Like other golf swing analyzers, you must plug in the sensor to your gold club using the thumb screw with the sensor.
When you download the app, connect to the sensor and complete the calibration process.
Features
The app provides a detailed analysis of your swing at each point so that you can check if anything is amiss at any part of your swing.
A 3D virtual view of your golf swing allows considerable freedom of viewing, where you can zoom in at any point and play the golf swing in real-time speed and slow motion to allow more detailed analysis.
The software also has a very long battery life, cloud storage to store all your data, seamless integration with your music library, and sharing data with friends.
Ratings and Reviews
This app has received mixed reviews from the golf community, with complaints like the app is not working on HTC phones, user errors of not registering your swings every time, and some versions, like 6.0.1, are not working.
The app is relatively expensive, and its functions are limited to only swing analysis and no other vital golf stats.
But, many positive reviews stated the app's ease of use and calibration, instant feedback, and tips fed in to improve swing quality and consistency, and the app is endorsed by Michael Breed, who was the PGA Teacher of the Year in 2012.
Sky Pro Golf Swing Analyzer is rated 3.5 out of 5 stars in Google Play and 3 out of 5 stars in the Apple App Store and -Amazon.
Visit: Sky Pro Golf Swing Analyzer
See Also: Top 15 Word Game Apps for Android and iOS – TechWhoop
Motion Golf
From the makers of a suite of sports and active motion capture solutions, Blast Motion, comes a comprehensive golf swing analyzers software, i.e., Blast Motion Golf. It's one of the ideal Golf swing analyzers out there.
Using a susceptible sensor that employs real-time motion metrics, this golf swing analyzer lets you analyze your golf swing in detail and also captures short videos for a video highlight.
Users Guide
The sensor attachment mechanism with the golf club is different for this software, as there is a rubber sleeve with the sensor, which has to be slid over the butt of the golf club.
Once in place, the sensor has to be connected and calibrated using the Blast Golf 360 phone app, which is extremely easy to use and customize.
Features
This set of Golf Swing analyzers focuses less on tracking the swing and more on the timing and tempo of the swing while also capturing videos that gives information about life swing length and putter rotation and lets you watch your swings over and over again and share them on social media.
The battery allows 8 hours of life with continuous play and seamless wireless charging in just 1.5 hours.
Ratings and Reviews
Blast Motion, the California-based developers of this Golf Swing analyzer, are famous for their motion capture and sports analyzing technology.
They have brought together their expertise and experience in the field to build this app, which has received excellent reviews from the gold community.
The most helpful feature of the app is the help with putting. The availability of the app is restricted to iTunes only hosting the app. But it is a very highly rated app getting 4.5 stars out of five from customer ratings.
Visit: Motion Golf
Zepp Golf 3D Swing Analyzer
Price: £130.00 – ₹ 10157.03.
Pros-
Very easy to use.
Records your swing.
Splendid in-app interface.
Cons-
It can't always provide an accurate score.
Prominence on speed and length of the backswing is not perfect for all players.
Zepp rolled out the successor of their trendy Golf in 2016. It's one of the most reliable Golf Swing Analyzers out there. This new model is Golf 2 and is substantially similar to its predecessor, with significant changes in the device's design.
User's Guide
The sensor attachment for the first version of Zepp Golf was one of the smartest in the market, with its small square-shaped device attaching directly to your golf gloves. This tradition is still alive in the newer version, with shape modification into a sphere.
The sensor measures a small 25.4 x 25.4 x 12.3mm and weighs 6.25g. The small size is exceptionally convenient given the nature of the attachment, as more significant and cumbersome sensors would affect your swing adversely.
Once strapped in, you have to connect the device to the phone app using Bluetooth pairing, and you are ready to go.
Features
This golf swing analyzer allows HD recording of your swings so that you can sit back and analyze (and admire) your golf swings with the advanced 3D swing analyzer giving features like tempo, club speed, swing length, etc. analysis.
Syncing the sensor and the phone app is comfortable, and smooth data transfer occurs to your phone after each swing.
The most prominent addition of the Golf 2 is the new Smart Coach, which will allow you to customize your training sessions according to your strengths and weaknesses with coaching provided by LPGA and PGA players.
See Also: How to Install SportsDevil on Kodi Krypton v17 and Jarvis 16
The latest version of these golf swing analyzers are also lighter, have a better battery life, smoother connectivity with Bluetooth LE, and an additional accelerometer allowing faster and more accurate measurements.
Ratings and Reviews
Carrying on the tradition of its predecessor, the sensor remains one of the most convenient wearable sensors in the business, giving powerful performance too.
The intelligent coach makes training exciting and compelling with its highly developed Artificial Intelligence.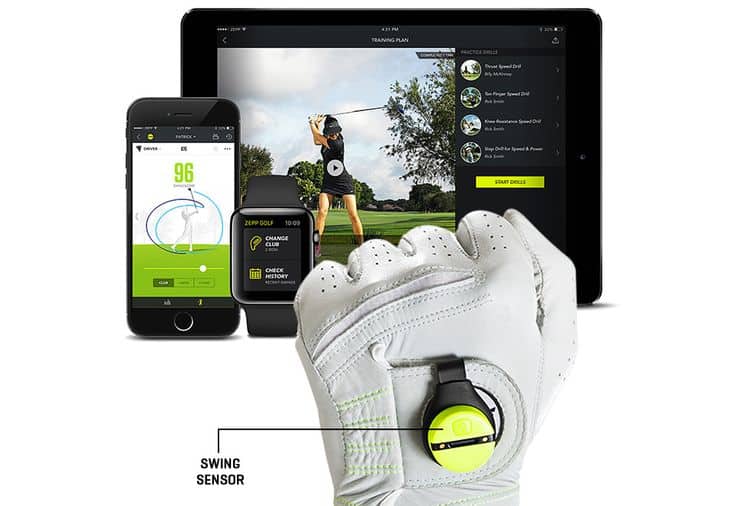 Direct data comparison to provide a progress report is one feature that is missing.
But, calibration of the sensor can be challenging, and the app is not compatible with older operating systems like iOS 9.3. The app ranks 4.4 out of 5 stars in Google Play Store and 4 out of 5 stars in Apple App Store.
Epson M – Tracer Golf Swing Analyzer
Epson has developed Another very advanced Golf Swing analyzer with the help of zone metrics technology and the company's patented nine-axis system. You can consider it one of the most affordable Golf swing analyzers.
User's Guide
The system has a small sensor/tracking device that easily attaches to your Golf Club.
The fact that the device is very lightweight, portable, and attaches easily makes it unobtrusive in your swinging technique.
After attachment, the device connects to the phone app and calibrates itself before use. The LED lights on the device show the operational status of the device.
When you switch on the device, the LED turns on for a second, flashing every two seconds to indicate that it is communicating with the app and transmitting data.
The red LED flashing indicates the battery is running out of the device. A flashing red light indicates an error in the machine, whereas if the light remains on for 5 seconds and then turns off and repeats this, it indicates a hardware error.
Features
The accuracy of this system is frankly breathtaking, with the Epson's state-of-the-art technology allowing tracking with up to one-tenth of a degree of accuracy.
The V Zone viewing feature will enable you to review your swings at several angles and also analyze the swings at every checkpoint of the process (follow-through, downswing, and backswing).
The device is oval, small (dimensions are 1×0.6×2 inches), and lightweight, which makes it convenient to use and carry.
The app can store around 300 swings, with the cloud storage allowing 2000 swings. The built-in battery has a lifetime of 3 years and a warranty of 1 year.
Ratings and Reviews
The device has been highly rated all across the golf community, with endorsements from many professional players and trainers showcasing just how good the software is.
The advanced patented technology gives an unparalleled performance with the accurate golf swing analyzers.
The design is highly portable and lightweight, with a superb V-zone view that helps users immensely. But, the system isn't flawless, as the data reporting is not always convenient and can confuse users.
See also: – 2 Easy Ways to Block Unknown Calls on iPhone.
The device is overall on the expensive side too. The Epson M-Tracer for Golf phone app contains a sensor that supports iOS and Android platforms. The app has received 4 out of 5 stars in Google Play Store.
Visit: Epsilon M Tracer Golf Swing Analyzer
Garmin TruSwing Golf Swing Analyzer
Garmin has emerged as a famous player in the market for tech devices. Its TruSwing is an intricately designed gadget that can measure your near-perfect shot. Critiquing your swing on club head speed, impact, tempo, alignment, shaft angle, and other minute details provides an accurate description within seconds.
Pros-
The lightweight design doesn't cause the club to be unbalanced
A tight grip and secure fit
100% accuracy
Cons-
Screwing and unscrewing the clip is a tedious task
No sensor
Changing clubs is not easy
User Guide
One needs to pair the TruSwing with your favorite Garmin GPS device. After which, download the Garmin Connect app, and start syncing and swinging! A white mark on top helps the user align the club in the correct position before screwing it.
The option of saving the shots' history allows the users to practice and re-practice their photos.
Features
TruSwing allows a 3D recording of your swing if you want to observe your shot! Its sensor weighing only 28g does not cause any difference to your stance.
The real-time analysis provided with all the precise coordinates is an excellent achievement. It's a hit if you're a professional and an easy miss if you're a rookie!
Visit: Garmin
SwingTalk Golf Swing Analyzers with Voice Feedback
It uses a digital camera that records the entire process, which connects with the software of this analyzer. It provides the tip for your swing.
Pros-
Cons-
Weak battery.
Bluetooth problems.
Blast Golf 360 Swing and Stroke Analyzer
It uses Bluetooth Smart technology to connect the mobile with its analyzer. Also, notice your motion and records it in a 3D action. Moreover helps the golfer to share their highlights on social media like Facebook, Twitter, etc.
Pros-
Cons-
Visit: Blast Golf 360 Swing and Stroke Analyzer
FAQs
What is a golf swing analyzer?
Golf Swing Analyzer is a website where the swing of the golf practice can be detected and improved. It uses the latest technologies in GPS and calculates the most suitable swing according to the person.
Is Swing Analyzer worth it?
Swing Analyzer does not provide any real-time experience. Still, it is worthy for people who take the game seriously.
How do you track your golf swing?
The best way to track golf swing is Blast Motion, and it works amazingly on finding range and practice in the comfort of home. It is beneficial for beginners as well.
Can Apple Watch detect golf swings?
The Apple Watch can truly control one's whole life. Ensure you wear the watch on your leading hand and that it is connected to AutoTracking.
Conclusion
So far, this was our in-depth guide on some of the best Golf Swing Analyzers.
See Also: Top 10 Health Apps For Overall Health to Use in 2023